Modern
Modern Kitchen Ideas
For an idea of modern kitchen ideas and design, take a look at these gorgeous kitchens.
---
Kitchen design trends are always changing while it always seems as though the cabinets are the last place in the kitchen to change with trends. Counters, backsplashes, and flooring all seem to get makeovers and completely new styles every few years, while cabinets tend to remain the same. And while this is good news for homeowners who want their kitchen design to last as long as possible and not become dated in just a few years, every so often some new cabinet trends emerge that tend to change everything. These eight new trends emerging we found on houzz.com are showing kitchen cabinets at their best, and are not in any danger of becoming dated any time soon. Consider any of these hot new cabinet ideas for your new kitchen design to get more out of your space.
Having a kitchen island that contrasts with the perimeter cabinets isn't exactly new, but having cabinets that are truly two-toned is a very hot new trend. With more personalized cabinets available, and more homeowners choosing to do what makes them happy, you'll find a variety of different two-tone designs, including the use of two colors within one row of cabinets, or even using splashes of color on single drawers or doors.
In this kitchen, the dark color on the island is amplified by the upper cabinets framing out the stove. Completing the look in this kitchen cabinet concept, the countertops match the two different cabinet colors, further emphasizing their color and design. The effect creates an optical illusion, pulling the darker cabinets toward you visually, while pushing the cooler toned white cabinets away. This in turn makes a small kitchen feel much larger and spacious than it actually is, while adding depth and interest to the design as a whole. The stainless steel appliances add a metal element to this kitchen design and help to ground the space.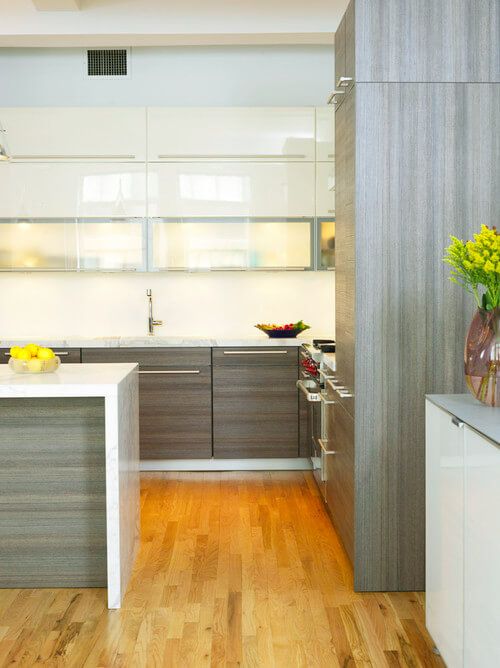 Gray is the most popular hue for interior design right now. Gray, unlike the kitchen ideas presented in 2021, has been a popular choice among those seeking to create a modern kitchen design in Europe and the United States. Both gray and its partner "greige" give you a neutral backdrop that has a lot more interest and depth to it than cream, biscuit, or beige can give you. Gray can be a cool color, or a warm color depending on the tone, which means you can easily pair it with white, blue, green, tan, or brown to complete your design.
Gray kitchen cabinets allow you to achieve a neutral backdrop for the rest of your kitchen design, while still keeping some interest on the cabinets themselves. Gray cabinets work well in every type of kitchen from modern to traditional, and their also pair well with other cabinet colors, such as the white, glass door cabinets used in this kitchen. The slight amount of warm undertone to these cabinets picks up the wood floor as well, giving the kitchen a lot of color and depth without actually introducing a dominate color to the scheme. This give the kitchen a appeal of a living space , rather than just a place to prepare meals.
While we have you, are you interested in learning more about how Mod Cabinetry can help you create a beautiful modern kitchen with one of these trending finishes - Gray Kitchen Cabinets: The New Style.

Can you spot the refrigerator in this kitchen? What about the dishwasher? For those that don't want the clean lines of their cabinetry interrupted by appliances, more and more people are turning to appliance panels to complete the look of the room. Appliance panels are custom made paneling that fits perfectly over your appliance doors, and in some cases take the place of your appliance doors. They match your kitchen cabinets perfectly and blend them in with the rest of your cabinetry and décor.
Appliance panels are not a new idea, but until fairly recently they were mostly only used in very traditional, ornate, and formal kitchens. Today they are being used in kitchens of every size, color, shape, and style including more modern designs so you can keep the sleek look of the room uninterrupted. For those that are tired of ubiquitous stainless steel, appliance panels can make a great addition to the room. Custom cabinetry has outdone itself with this latest kitchen trend.

Shaker cabinets have long been a popular choice for modern and transitional kitchen designs. In 2016, however, they seem poised to take over the world, with an estimated 90% of homeowners polled stating that they liked the design or would choose it for their own homes. The Shaker cabinet design emphasizes the clean lines and sharp edges that many people are beginning to embrace for their homes, allowing them to achieve a modern design in the kitchen that still nods toward tradition, and that still has more interest than a slab door may have.
Shaker cabinets look great in natural wood tones or painted in any of today's hot colors. This makes them a versatile solution for homeowners that want a cabinet that can work with anything they plan on doing in the kitchen, yet still remain on-trend. In this kitchen, the Shaker doors are paired with slab drawer fronts to further emphasize the contemporary look. Get more shaker cabinet ideas on "Shaker Style Kitchen Cabinets, What You Need to Know".
Loving the wood in this kitchen? Check out "The Complete Guide to Natural Wood Kitchen Cabinets" to get this beautiful look in your own home.

Right behind Shaker cabinets, the next most popular cabinet style right now is the frameless, sleek, slab cabinet door. As more homeowners begin to embrace modern design in their homes, they're turning away from fussy cabinets with traditional overlays and details, and are moving toward cleaner, crisper designs instead.
In this kitchen, the sleek lines of the doors are emphasized by their shape, and by the grain of the wood. While once most slab doors were left white or painted in bold colors, today's slab doors are being produced in a multitude of different woods and finishes to help you get the exact look and style that you're after for your home. Because slab cabinet doors blend in so perfectly with one another, you can change up the sizes of the cabinets as well to get the perfect amount of storage and space in your kitchen, without creating something that's fussy or too busy for the space the way that more traditional cabinetry would. Check out our article, "10 Modern Kitchen Design Ideas People Love" and get inspired for your new kitchen design!

Right behind gray in popularity is the white kitchen. White kitchens are timeless and classic, but also sleek and contemporary when paired with slab-style doors or when used as a glossy finish. In the latest kitchen cabinet styles, white is one of the best colors to use in a small kitchen because of the way that it reflects light. A small kitchen done with glossy white cabinets will appear much larger and brighter than the same kitchen done with darker cabinets. If you have a small kitchen like the one above, you will definitely benefit from reading "Top 12 Modern Small Kitchen Ideas" in The Modernist.
For those that like the idea of a white kitchen, but want to have some fun with the design, white also pairs very well with nearly any color to give the room a two-tone look like this white and orange kitchen design. The single orange doors really pop against the white background, without diminishing any of the white's effect on the rest of the room. The kitchen looks, bright, spacious, and modern while also personal, fun, and whimsical at the same time.
Get more fun and colorful ideas for your modern kitchen in our article, "Color Your Kitchen Cabinets - The Next Best Kitchen Trend!"

With the latest modern kitchen trends 2021 and so many options available for kitchen cabinets these days, it makes sense for anyone designing a new kitchen to put those cabinets to work for you. That means maximizing your function and the space to fit your needs. The latest style kitchen cabinets can be built to accommodate any kind of pull out, from pantries such as the ones shown here in this white kitchen, to pull out, rolling islands, knife drawers and cutting boards, and completely accessible corner cabinets that will allow items to come to you, rather than you having to hunt for them.
When the cabinets are closed, they look just like standard cabinets, so you don't have to interrupt the design of the space to achieve the function you need. Some cabinet doors will still swing out before the sliding rack follows, and some will simply pull straight away, taking the shelving out with them to save you even more time and space.

There was a time when most kitchens were fairly cookie cutter in style and design. You chose stock cabinetry or maybe a few semi-custom pieces to fit odd areas, and your kitchen looked pretty much like everyone else's. Today's cabinetry, however, is all about personalization and custom design. This means that you can get the types of cabinetry and kitchen design that are perfect for you – your style, your needs, and your aesthetics. In turn, you no longer have to settle for what's available, and can design something that works for you instead.
In this kitchen, there are several areas of personalization from the two-toned cabinets to the way that shelves are mixed in with the cabinet designs. The personalization is carried right down into the countertop with the butcher block cutting board, which matches the clean lines of the cabinets and shelves themselves. The entire space is custom designed for the user, which is how it should be. Latest in kitchen cabinets, the flat panels displayed as seen above gives that design a more sleek and contemporary look, without compromising on the functionality or the storage space that is available.
Final Thoughts
Kitchen cabinets are arguably the most important part of your new kitchen design. They have to combine form and function, set the tone for the overall style of the space, and last for years to come both functionally and aesthetically. While this is certainly a tall order for most cabinets to accomplish, today's latest kitchen design trends seem poised to make a lasting statement in any home – not one that will fade away in just a few years. Consider investing in any of these on-trend cabinet designs for your new kitchen remodel to make the most of your entire space. Brand new kitchen designs are not just about having the latest appliances or fixtures, but also about making sure that your kitchen cabinets are up to date and on trend.
Browse Mod Cabinetry
Looking for specialized design assistance and the best in modern cabinetry for your dream home? Mod Cabinetry has experts in high-end modern design to help you design the layout using state-of-the-art rendering and panoramic software, which helps give you a realistic perspective of how your kitchen will look and pricing!