Modern
The Ultimate Guide to the Modern Farmhouse Kitchen
Modern Farmhouse Kitchen for a look that combines a rustic, homey vibe with a sleek, modern edge, a farmhouse kitchen is just what you need.
---
What do you think of when you hear the phrase modern farmhouse kitchen? White subway tile, stainless steel appliances, and rustic wood furniture? If so, then chances are you're already familiar with the farmhouse-style movement.
For those who aren't, though, the farmhouse kitchen style is just that – a combination of old-fashioned charm and modern comforts that originated in kitchens all over rural Europe.
What you'll learn:
What is a Modern Farmhouse Kitchen?
Modern Farmhouse vs. Traditional

Modern Farmhouse colors

7 Modern Farmhouse Kitchen Ideas
4 Tips For Creating a Modern Farmhouse Kitchen
Final Note-Materials in a Modern Farmhouse Kitchen
Click Play For Quick Summary
What is a Modern Farmhouse Kitchen?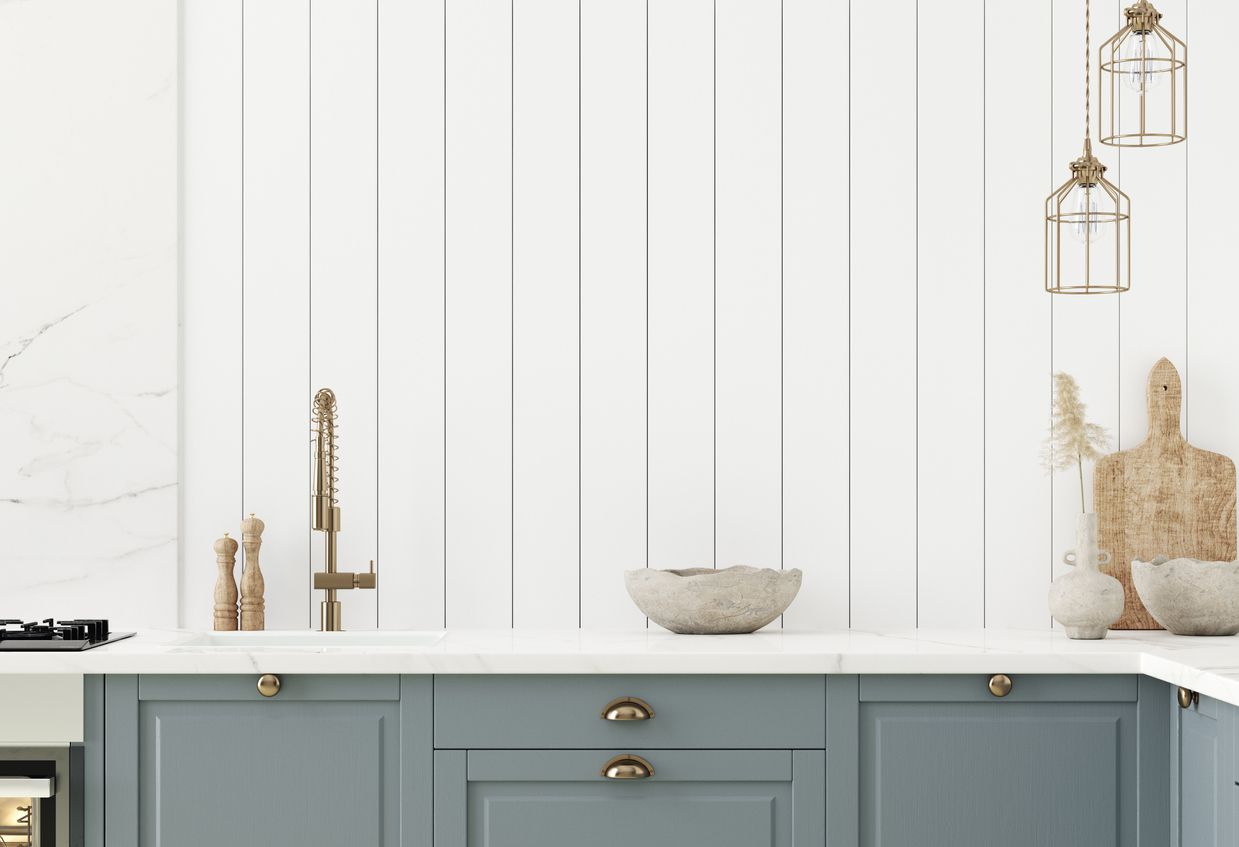 Modern Farmhouse kitchen style has become a popular design style in recent years. You can see elements of this style everywhere, from celebrity chef cooking, shows to home decor magazines to ultra-trendy upscale restaurants in the big cities and small-town diners alike. But what exactly does it mean? And how do you know if it's the right style for your own kitchen?
First, let's start with some common features of a beautiful modern farmhouse kitchen. Cabinets are usually painted white or very light colors to match granite countertops. Open shelving is common. Appliances such as dishwashers, ovens, stoves, and refrigerators tend to be hidden behind doors or underneath cabinets because they aren't considered furniture in farmhouse design philosophy; these also tend to have clean simple lines instead of frilly details that some think detract from the overall look. Some people add decorative touches with antique items but keep in mind that items too old looking may clash with simplicity goals of being new & current. And no matter how much stuff you collect - it never looks cluttered!
Want some inspo? See gorgeous photos below or click through ingenious tips for designing a functional yet beautiful kitchen. There are so many gorgeous combinations possible with today's gorgeous cabinetry! Which ones will inspire you? How would you bring together lots of pretty pieces in one classic space? We want to know which aspects are most important to you when creating your own dream farmhouse.
Modern Farmhouse vs. Traditional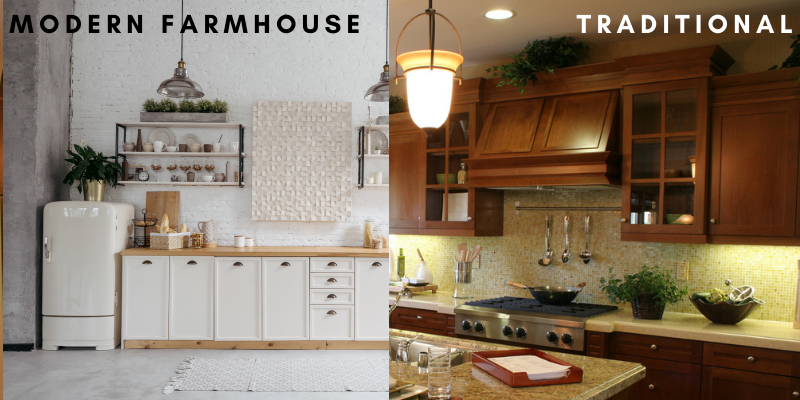 What's The Difference? Traditional kitchens were originally designed for convenience. Although some of these spaces still exist, kitchens have become a destination and an entertainment room in many homes. Forgoing convenience for style is not always an easy decision for homeowners, but thankfully there are designers working on creative ideas that can help you incorporate your own style without sacrificing functionality. If you find yourself confused about what kind of kitchen will work best in your home, keep reading to get some tips on how you can make it work!
Modern Farmhouse Colors
Modern Farmhouse kitchens are all about clean, modern lines and a farmhouse flair. Modern Farmhouse kitchen cabinets come in many styles and finishes, meaning you can find the perfect look for your own home. Modern colors like blue or green work well with this style of cabinetry because they add some color to the space while still maintaining that clean aesthetic. Modern white is also a popular choice because it creates an airy feel without being too dark.
Green Cabinets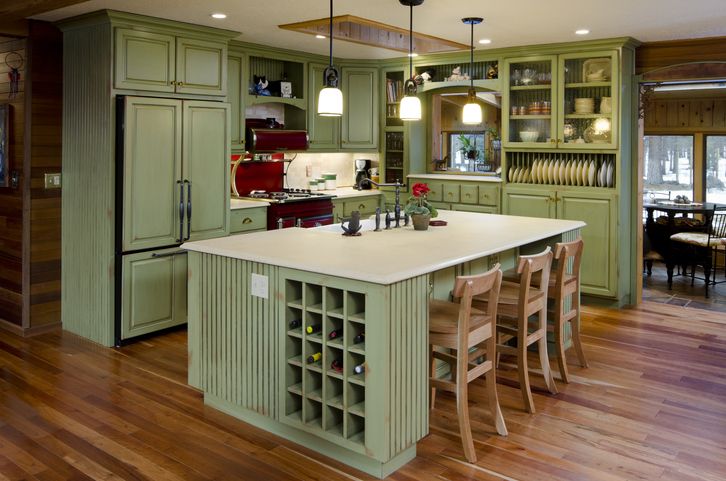 Green is often associated with nature which makes it a great option for those who want to have that natural feeling in their kitchen while still creating something sleek and modern at the same time. It's also more inviting than other shades since people associate green with growth which will make them feel comfortable while they cook or prepare food. You can get the same effect by using greenery around your home as well.
Modern Blue Cabinets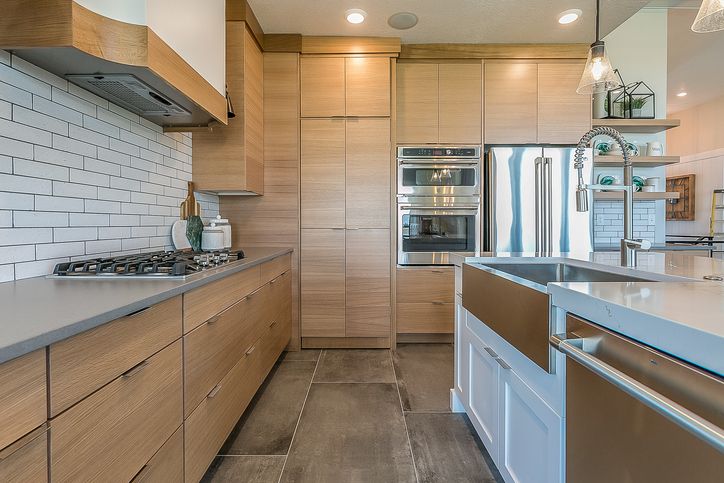 Modern blue cabinets are another option that will help create a clean and contemporary look without being too dark or overwhelming in any way. Modern blues also have an airy feel which means they'll make it easier to breathe while working at your countertop. Plus, this color is great for kitchens that have a lot of natural light since it will reflect that light and make the space feel even bigger.
Do you have limited space? Read on "Top 12 Modern Small Kitchen Ideas" to learn more about how to make the most of a little area!
Bright White Cabinets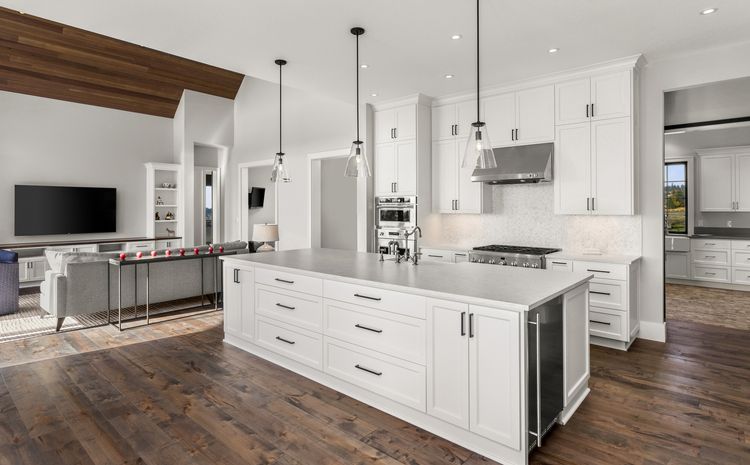 Bright white cabinets are popular in Modern Farmhouses because they give the kitchen a bright and airy feeling without being too stark or sterile. They also work well with a variety of different styles and colors, making it easy to create the perfect look for your own home. Bright whites are a great choice if you want a sleek and modern kitchen without having to worry about clashing colors or overpowering shades.
No matter what color you choose for your Modern Farmhouse cabinets, make sure that they maintain those clean lines that are so important to Modern Farmhouse style. Don't forget about brass hardware either because this will make all the difference in how your Modern Farmhouse kitchen feels and looks when it's complete!
Modern farmhouse colors like blue or green work well with Modern Farmhouse cabinets because they add some color to the space while still maintaining that clean aesthetic.
Do you want to see kitchens in shades of gray? Hop on to our article, "Gray Kitchen Cabinets: The New Style". It will provide you with far more than just ideas; it will provide you with a fresh perspective on your area.
Modern Farmhouse Style
Brass Hardware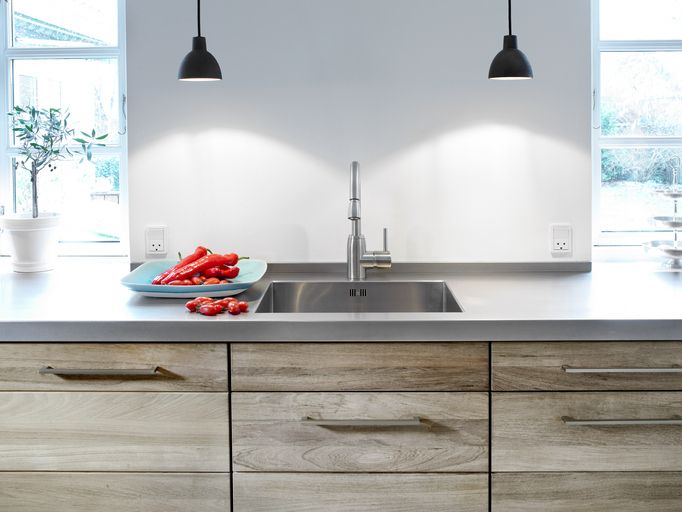 Brass hardware is having a moment right now and it looks great in Modern Farmhouse kitchens. It gives the space a warm, inviting feeling and adds a touch of luxury.
Exposed Beams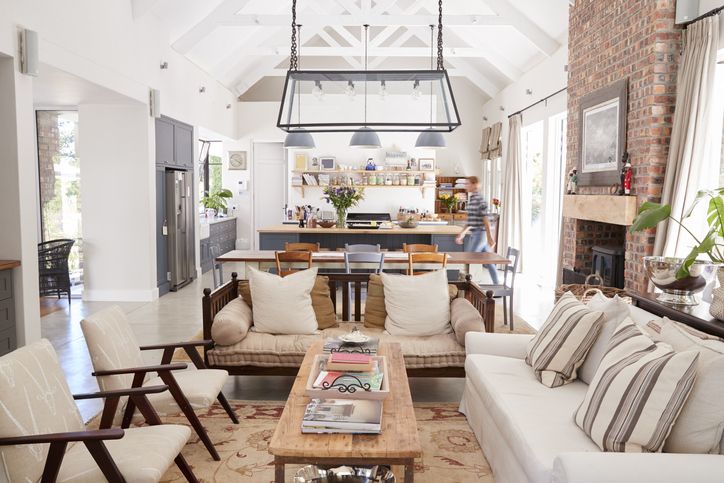 Exposed beams are another popular trend in Modern Farmhouse kitchens. They add texture and interest to the space and can help to make it feel more open and spacious.
Open Shelves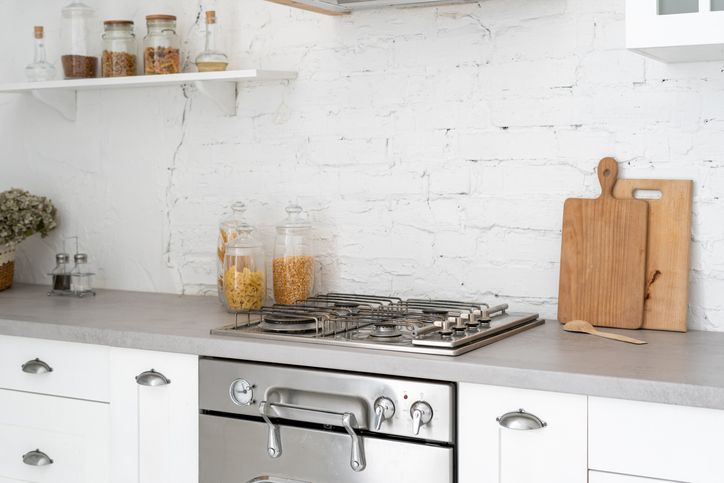 Open shelves are a great way to show off your beautiful china and glassware, while also providing storage for less attractive items. They can be used in any kitchen style, but work particularly well in modern farmhouse kitchens.
Rustic Charm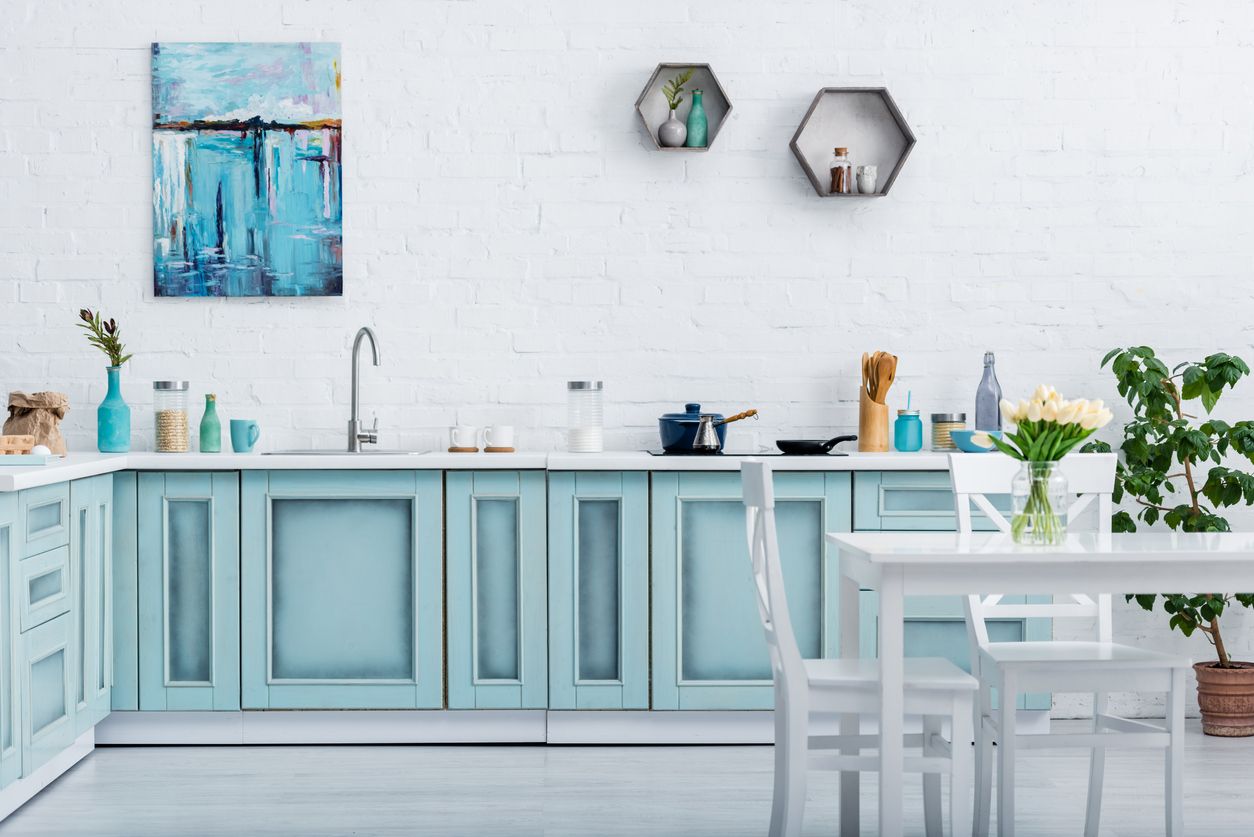 The modern farmhouse kitchen style is clean, white and filled with rustic charm. In many ways, it's a fusion of old-fashioned country styles (think shiplap) with hip design principles from more contemporary kitchens. Think: high-end materials like marble countertops and dark wood cabinetry combined with elegant features like pendant lighting and granite sinks. To get your creative juices flowing, check out a few photos of different modern farmhouse kitchen below —don't forget to pin them for later!—and make sure you also watch our handy video on what makes up a modern farmhouse kitchen
Vintage Look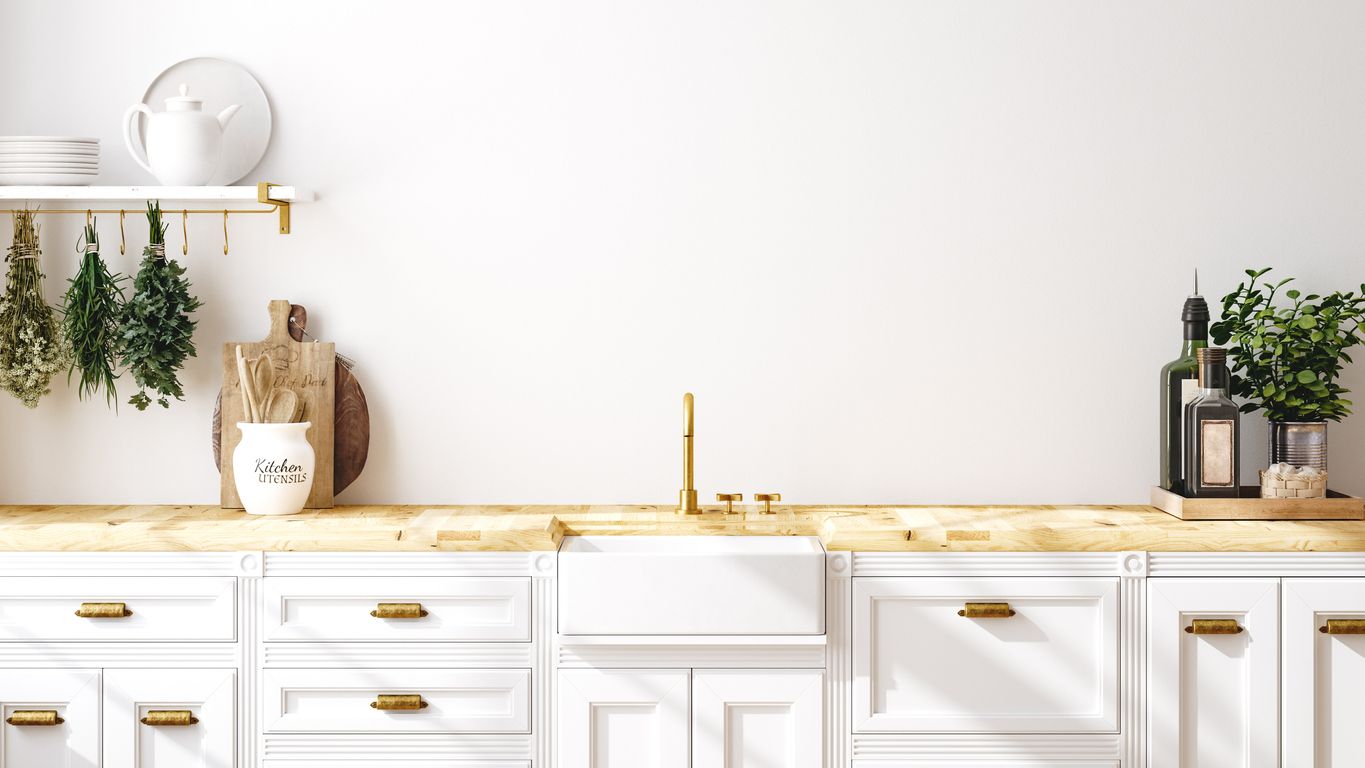 When most people hear farmhouse kitchen, they think of cream-colored cabinets, antique stoves and other dated accents. Today's modern farmhouse kitchen mixes old and new, maintaining rustic elements while incorporating clean lines, high-end materials and contemporary appliances. You can give your vintage kitchen a makeover with just a few well-placed pieces of new furniture or décor.
In "Contemporary Kitchen Cabinets: A Classy Kitchen Makeover", discover how you can bring a modern farmhouse touch to your kitchen by incorporating contemporary cabinets into your design.
Retro Fixtures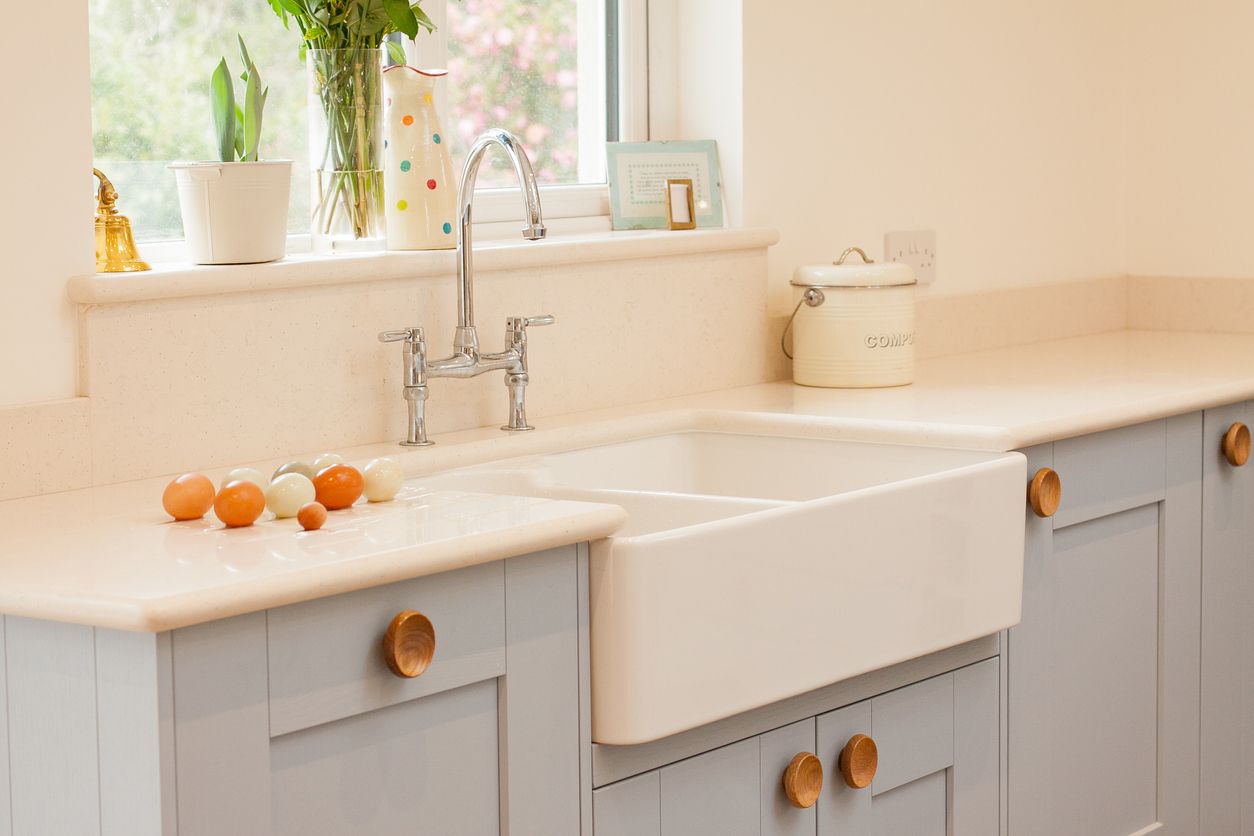 New countertops in warm colors such as gray, white and marble are also trending, as are wooden flooring and open shelving that allows for easy cooking access. Some other key components to consider when revamping your own home: stone or tile floors; retro fixtures; patterned wallpapers that mimic barnwood panelling; exposed brick walls; subway tiles.
Get started with Mod Cabinetry today!
Farmhouse Kitchen Design Ideas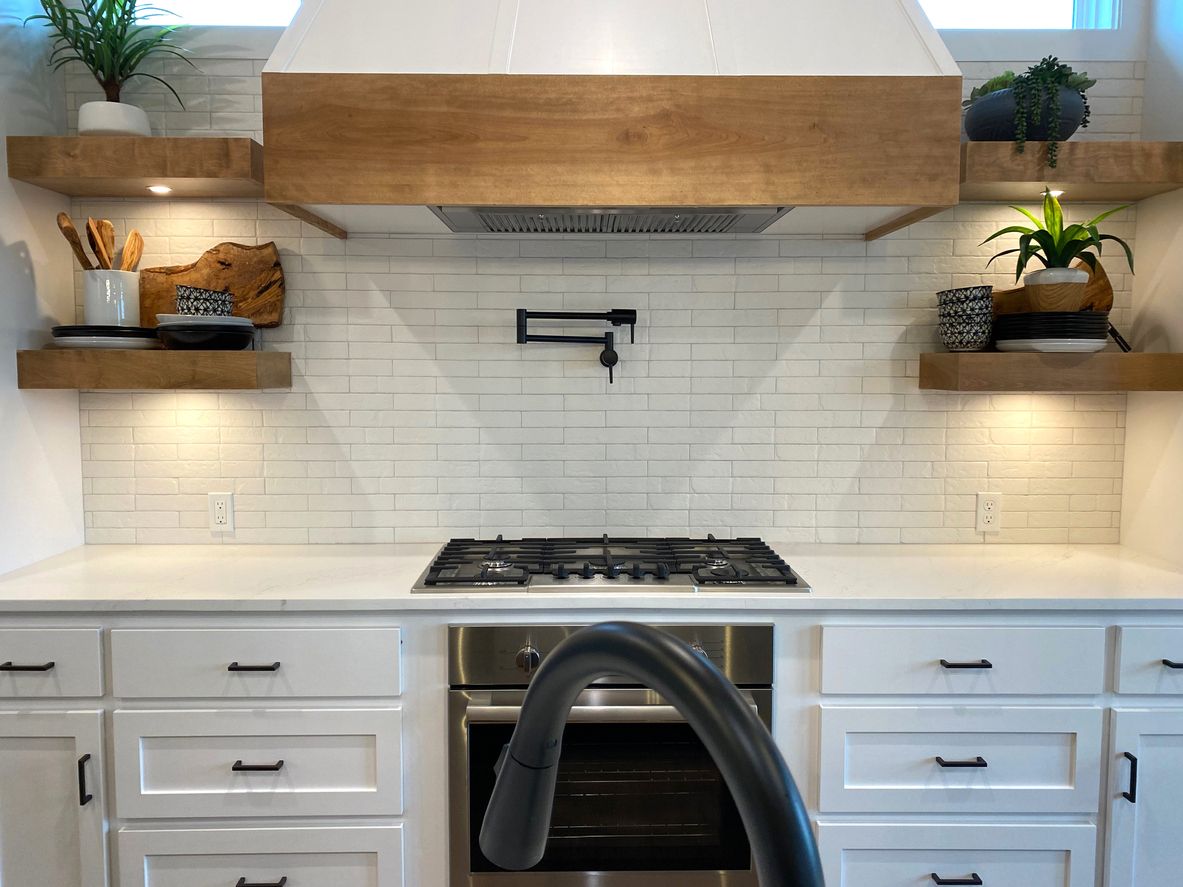 The farmhouse is such a popular style for kitchens. The reason for their popularity? They infuse your home with warmth, charm, history, color and texture — all in a very understated way. There are few design styles that can accomplish that! Take a look at these design ideas for inspo. Modern Farmhouse kitchens are all the rage right now. They combine a rustic, cozy feel with sleek, modern touches. One of the most important aspects of any Modern Farmhouse kitchen is the cabinetry. Here are some of the latest trends in Modern Farmhouse kitchen cabinetry.
1. Butcher block countertop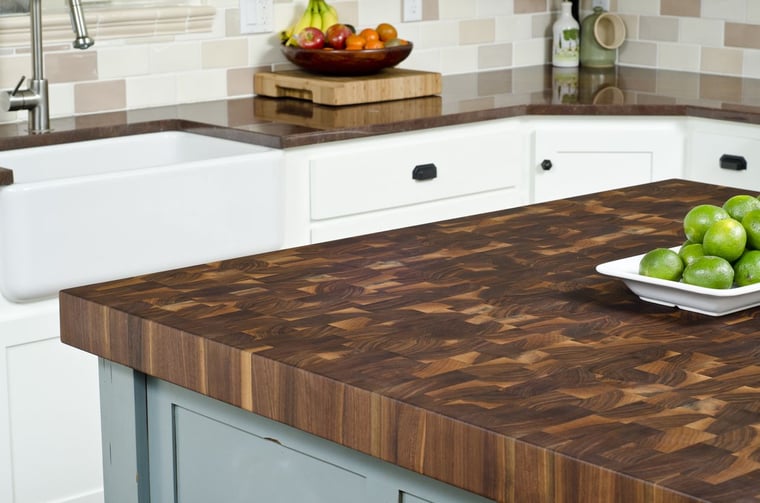 If you're looking for a way to add some natural elements to your kitchen, butcher block countertops might be the perfect option for you. Not only are they beautiful, but they're also durable and easy to care for. Plus, they come in a variety of different colors and styles, so you can find the perfect look for your own home. Butcher block countertops are a great choice if you want a modern look that still has some rustic charm. They're also an affordable option, which means you don't have to break the bank to get one. So if you've been thinking about adding some natural elements to your home but aren't sure where to start, consider butcher block countertops as a way of bringing that into your space
One of the best things about butcher block countertops is that they pair well with wooden floors. The two materials have similar textures and colors, so they'll create a cohesive look in your kitchen.
3. Wood flooring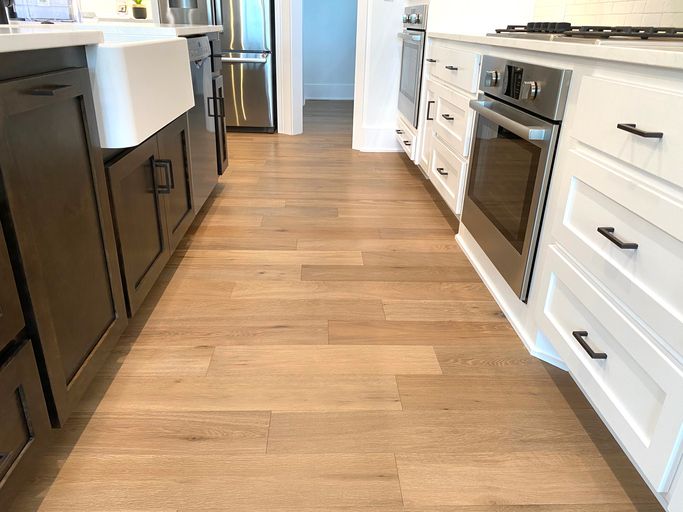 Wooden flooring is making a comeback in a big way. People are moving away from traditional tile and linoleum and choosing hardwood floors instead. Not only are they beautiful, but they're also durable and easy to care for. Plus, they come in a variety of different colors and styles, so you can find the perfect look for your own home.
One of the best things about wooden flooring is that it pairs well with butcher block countertops. The two materials have similar textures and colors, so they'll create a cohesive look in your kitchen. Plus, wood is a natural material that's both beautiful and sustainable. If you're looking for a way to add some natural elements to your kitchen, wooden flooring might be the perfect option for you.
4. Marble Backsplash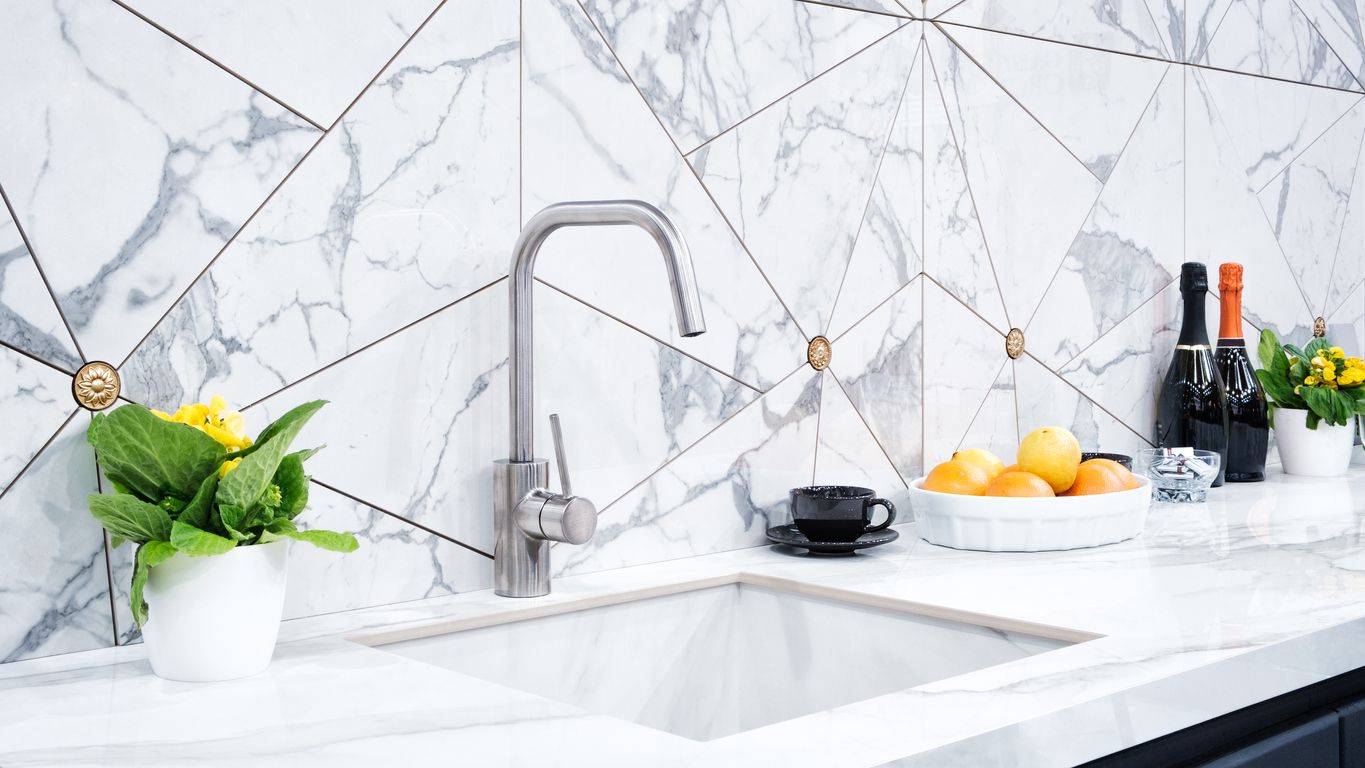 Modern farmhouse design is especially popular because they incorporate so many different elements to create a beautiful space. One of these kitchen design elements is marble backsplash. Modern Farmhouse Style incorporates plenty of natural material to create an inviting atmosphere for cooking or entertaining guests. Marble backsplash adds elegance and class without being too formal by using this element throughout your kitchen's design. If your kitchen isn't quite up to date but you want to add some of the Modern Farmhouse Style features, consider using a marble backsplash as a way to add some of the style without a full renovation. You can find marble backsplash tiles in a variety of colors and styles so you can find the perfect one for your kitchen. With a little bit of work, you can give your kitchen a fresh Modern Farmhouse Style update that will last for years to come!
5. Soft Hues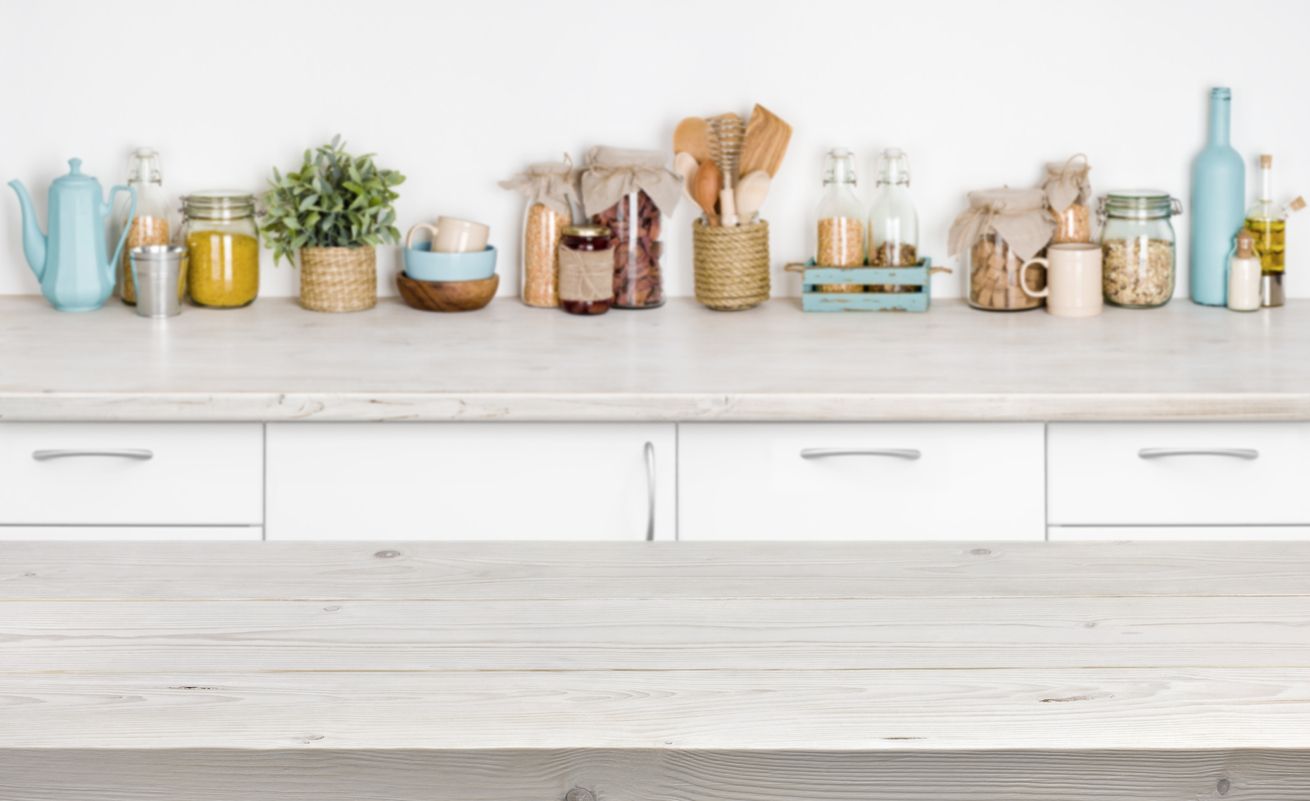 Select soft-colored cabinets in neutral hues, such as white or light gray, which help brighten up darker rooms while still complimenting darker floors and walls.
6. Farmhouse-style kitchen Island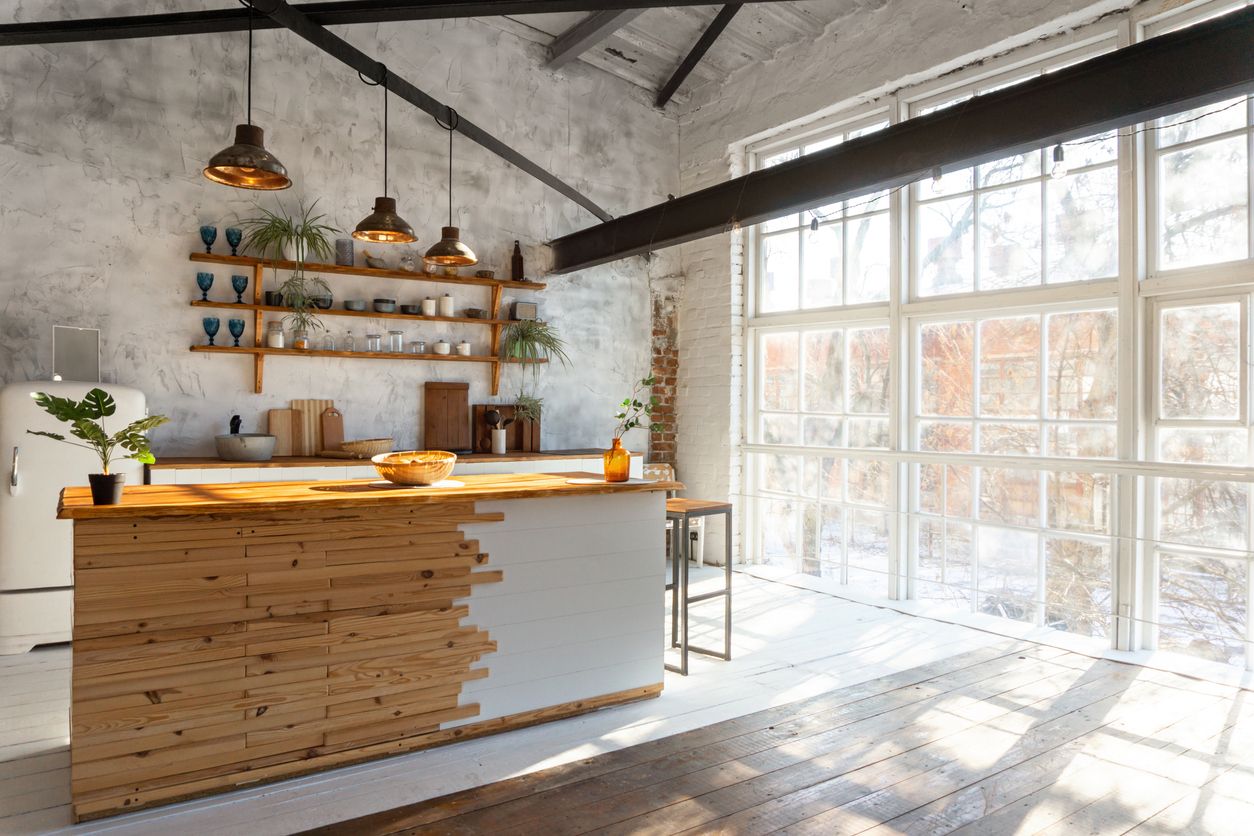 The farmhouse-style kitchen island is a stunning addition to any modern kitchen. It features clean, modern lines and a modern farmhouse look that adds farmhouse flair. The island is perfect for cooking and dining, and it provides plenty of storage space for all your kitchen needs. Modern Farmhouse kitchen cabinets. The Modern Farmhouse kitchen cabinets are the perfect way to achieve this look in your own home. With a variety of styles and finishes to choose from, you're sure to find the perfect cabinets for your kitchen.
7. Plants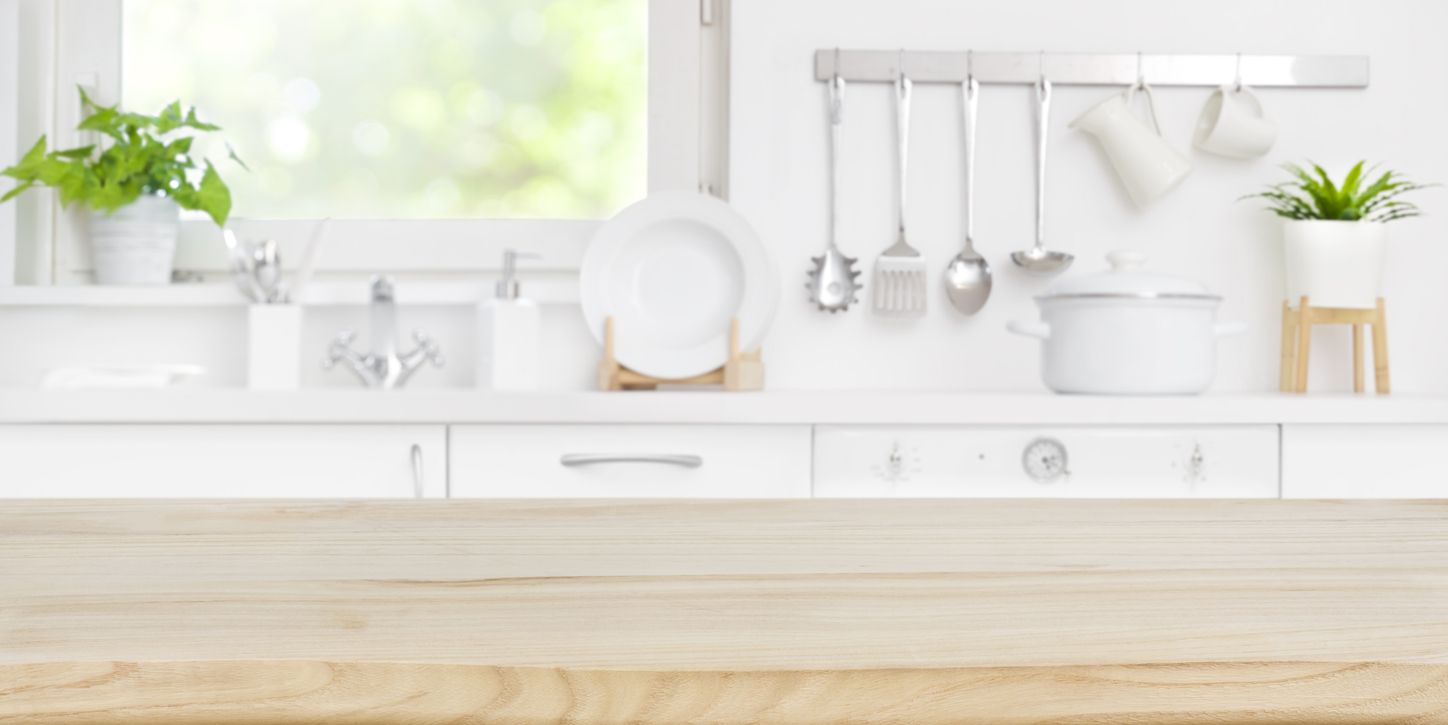 Use plants and hanging baskets along an island back wall or above your sink area to create interest without feeling cluttered.
8. Open Shelving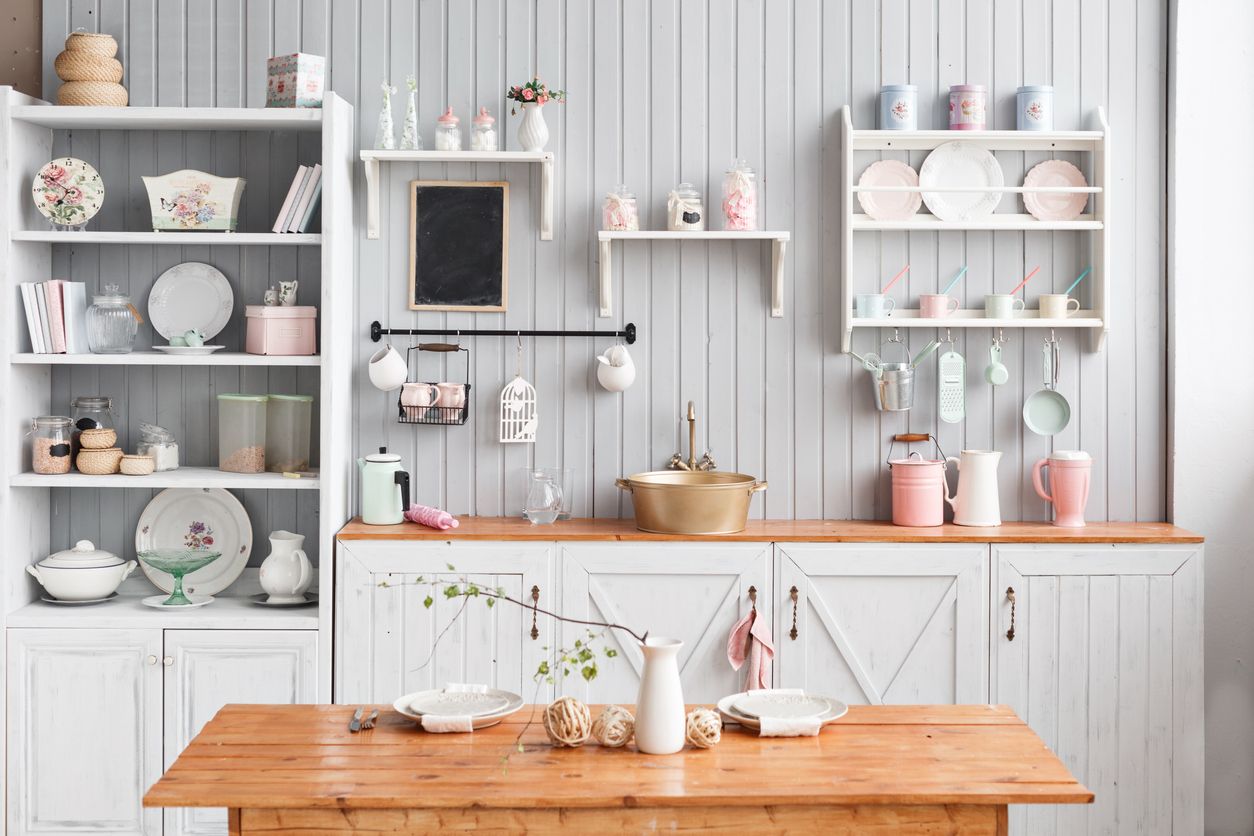 An open shelving system can display items like plates and bowls, serving pieces, cookbooks, candles and apothecary jars to add unique touches throughout your kitchen
Get started with Mod Cabinetry today!
4 Tips For Modern Farmhouse Kitchens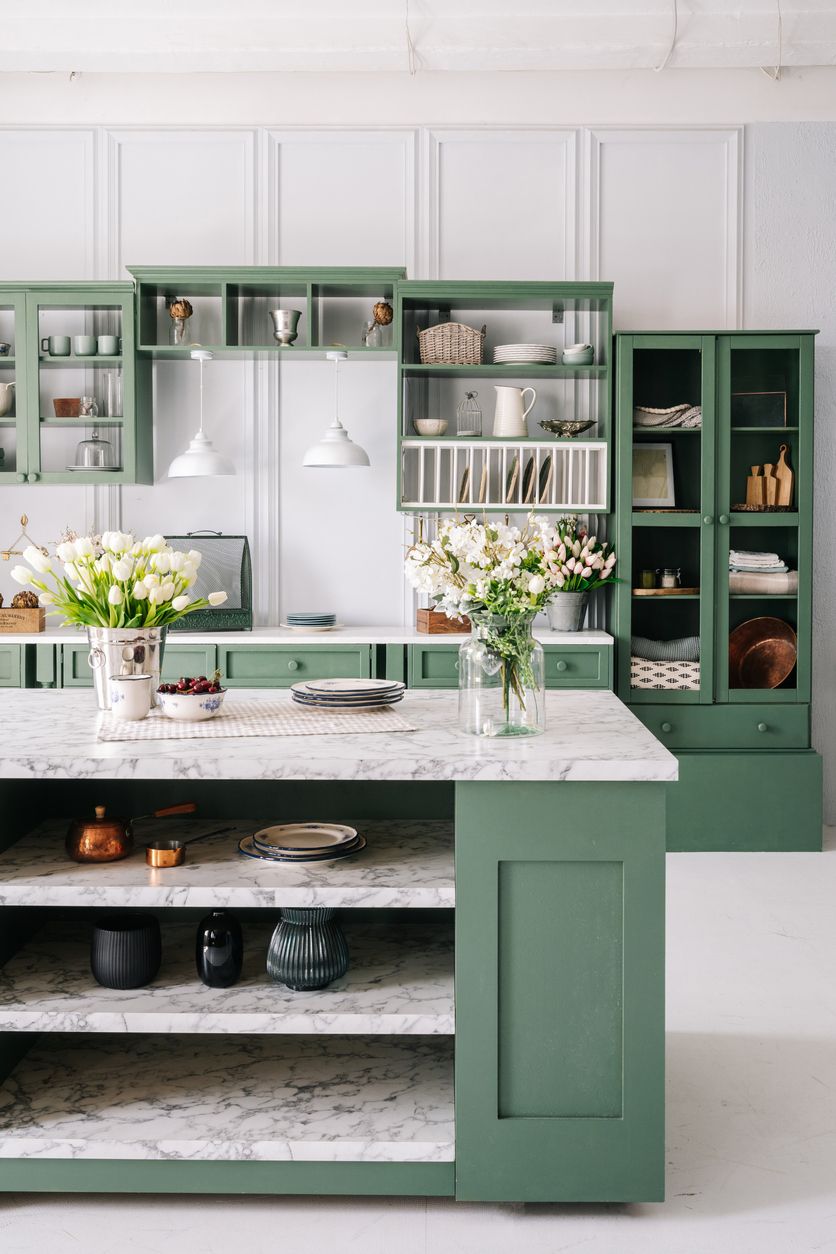 It's not just a kitchen, it's a lifestyle. The word farmhouse might conjure up images of fresh, organic produce and good, old-fashioned American country cooking. But it also refers to a style of decor that is equal parts rustic charm and sophisticated elegance. Here are four tips for creating your own modern farmhouse kitchen. What should you be looking for in your modern farmhouse kitchen?
1. Integrate Function into Your Style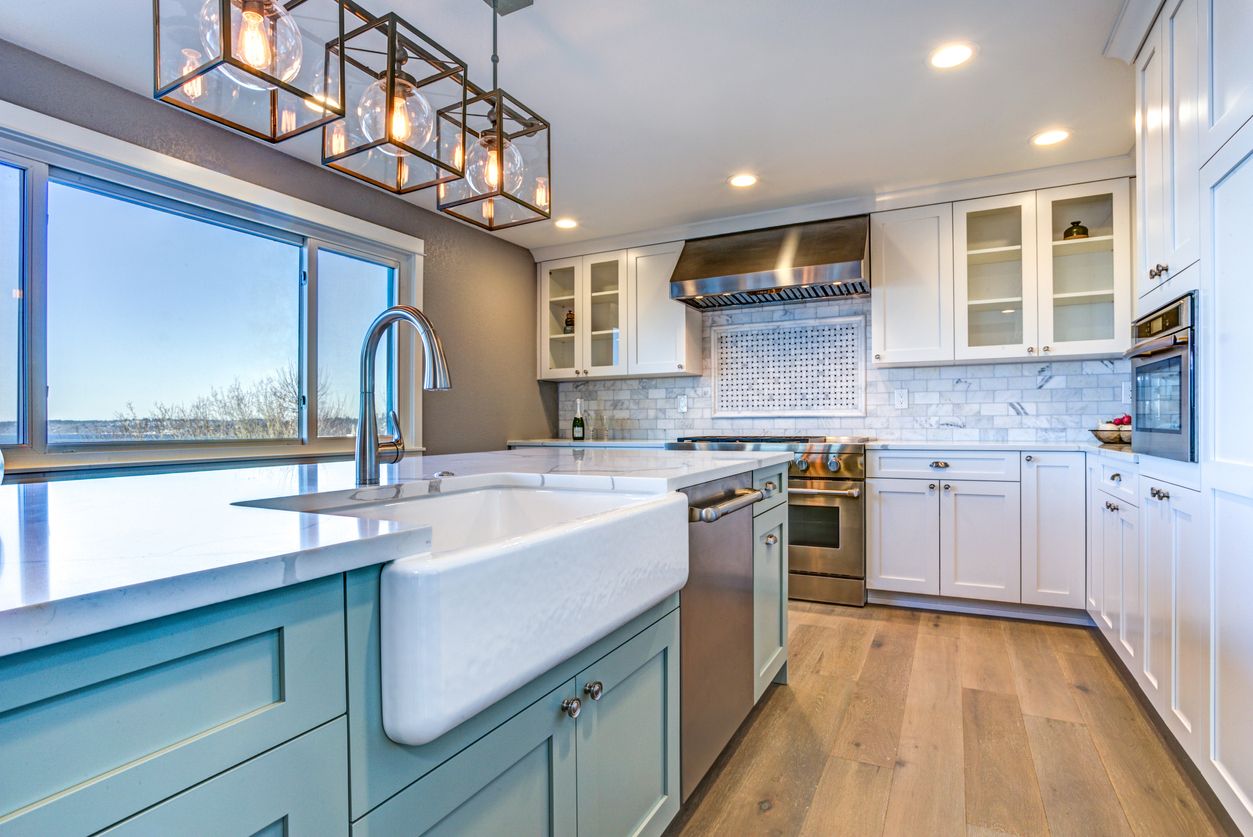 A lot of kitchen designers think functionality should be an afterthought when designing a space, but with farmhouse kitchens, it's integral to their aesthetic appeal. Look at all appliances as well as existing storage space, then create a scheme that will help you stay organized and make cooking easier.
2. Give It a Cozy Feel With Thick Linens And Throw Rugs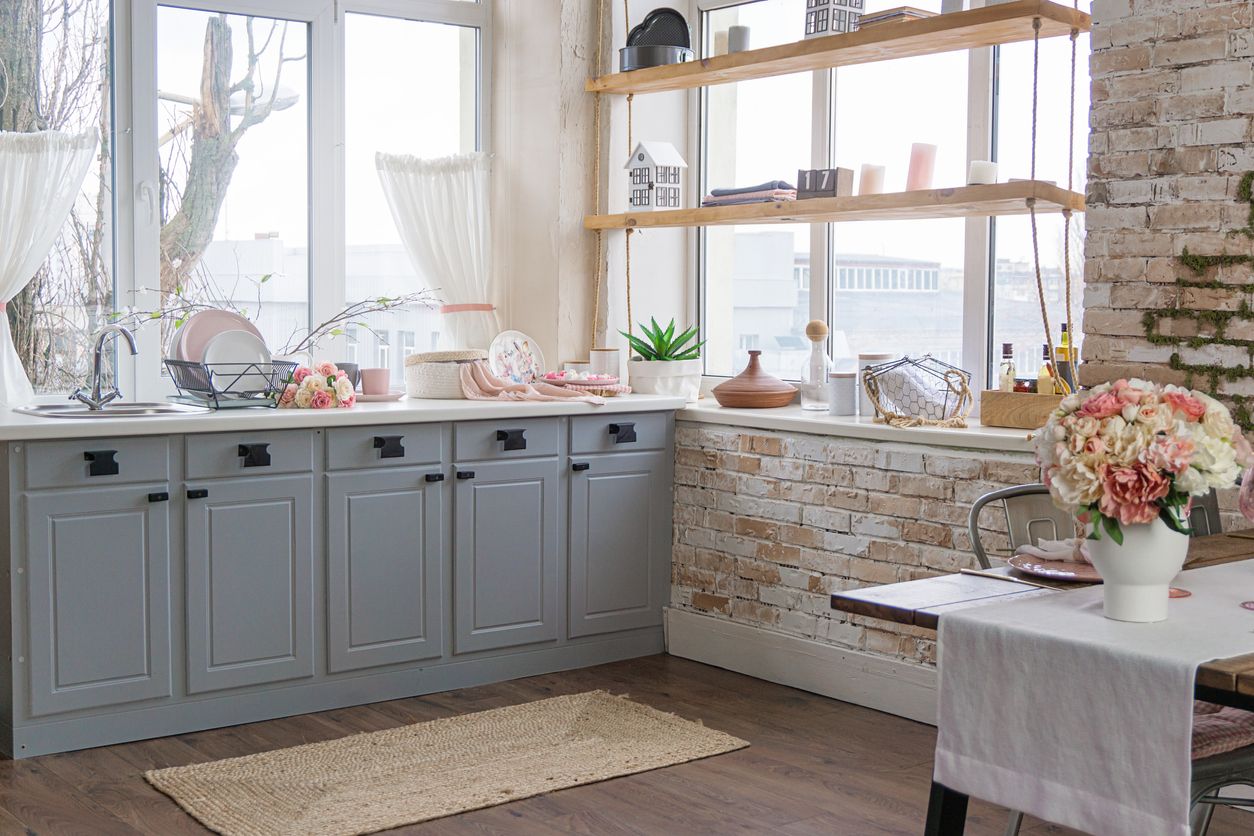 Throwing in some luxe elements will give even your most casual space serious home-styling cred. Just like layered looks on clothing, throw rugs layered on top of one another help set more than one mood while they also create texture and interest. And even though they're traditionally used in bedrooms or living rooms, adding floor cushions can instantly lend any room—even big-time industrial spaces—an undeniable cozy vibe (these comfy bits don't necessarily have to come from fancy places; anything handmade can bring just as much warmth).
3. Keep A Neutral Palette To Simplify The Space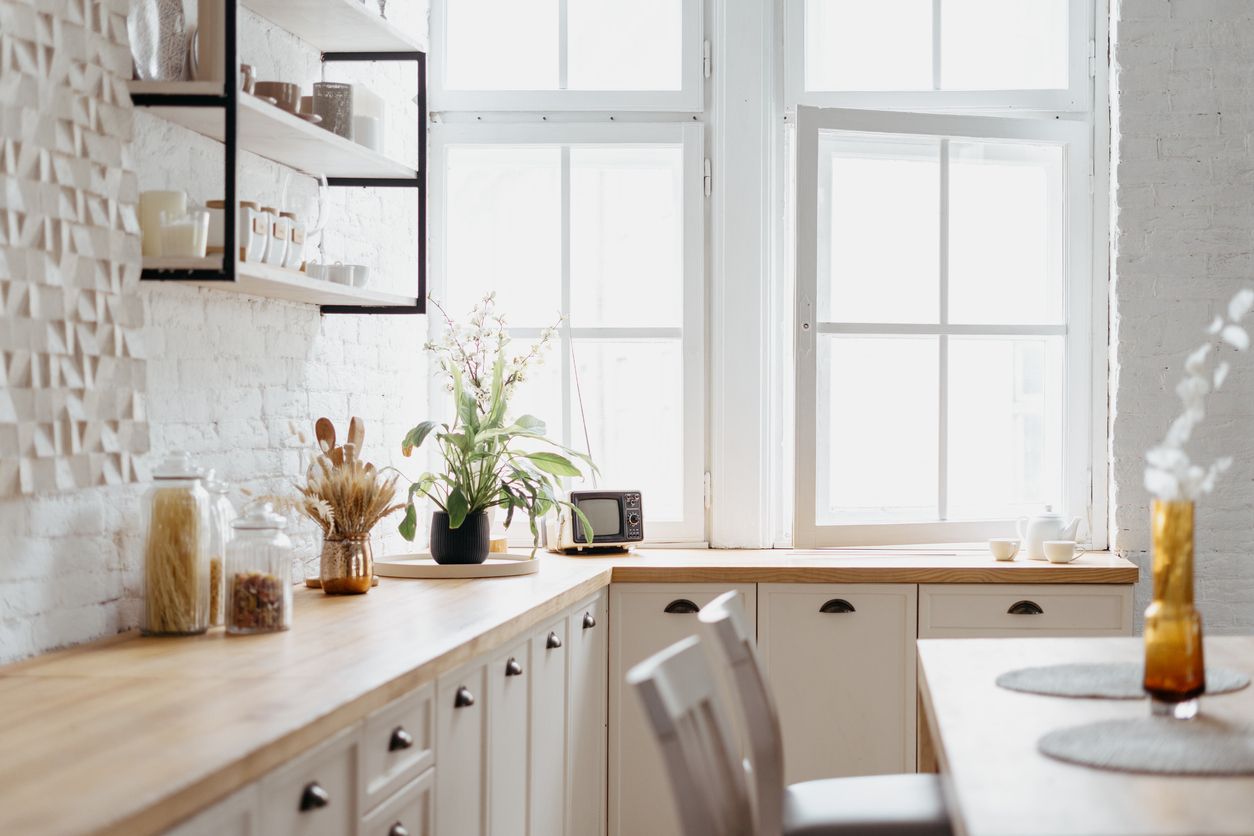 Keep it Clean: A modern farmhouse isn't always about coziness. Go for clean lines and simple designs with clean edges on all surfaces. A black quartz counter brings modern appeal to a traditional-style farmhouse sink . Fresh is Best: Fresh fruits, vegetables and herbs should be part of every modern farmhouse kitchen As for color, keep everything monochromatic by using mostly neutrals throughout your entire space. Then add patterns through fabrics such as butcher block island tops made out of reclaimed wood floors and other unique details throughout your space.
4. Incorporate Pops Of Color Throughout For Interest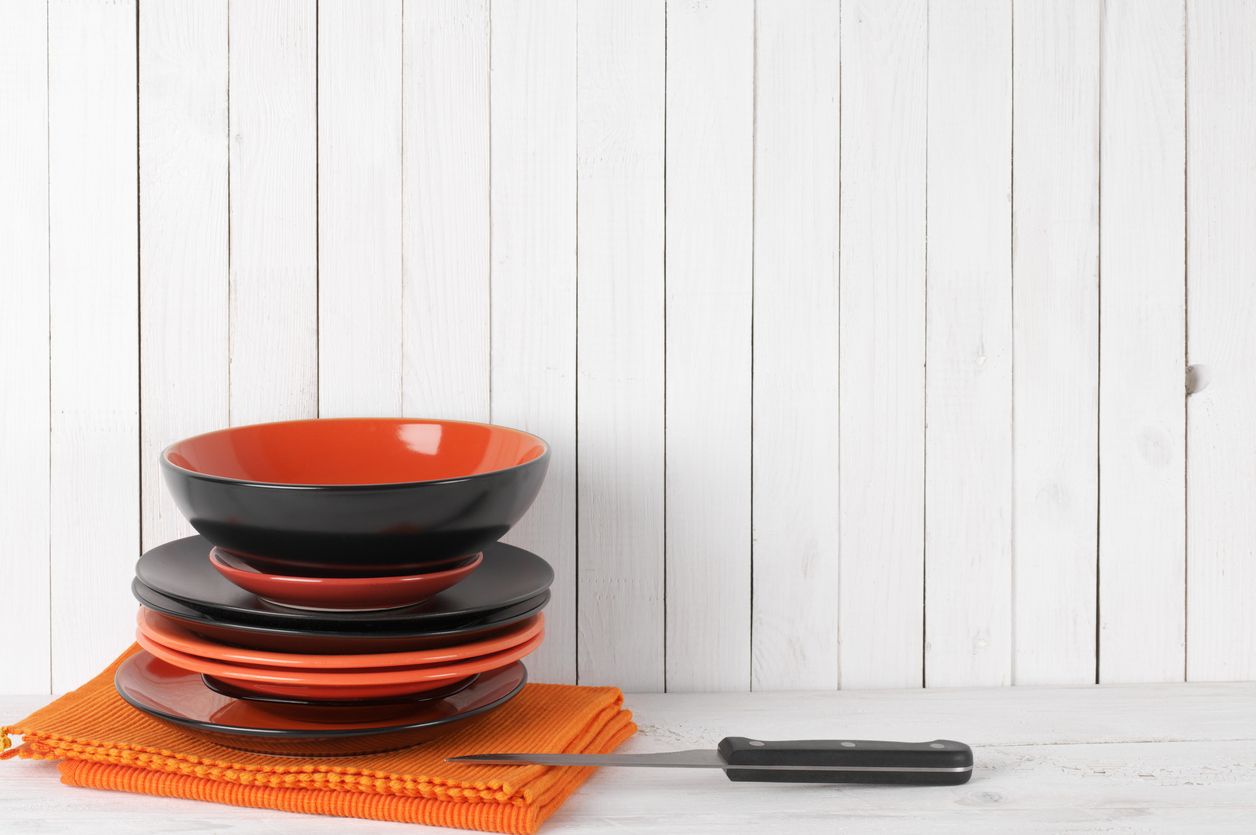 Although other components of a traditional farmhouse lifestyle may no longer apply today, two timeless traits remain constant in our definition of modern farmhouse: exquisite attention to detail and warm family meals shared around a hearty table laden with sumptuous foodstuffs – often accented by pops of color here and there – which imbue these spaces with their distinctive character.


Materials in A Modern Farmhouse Kitchens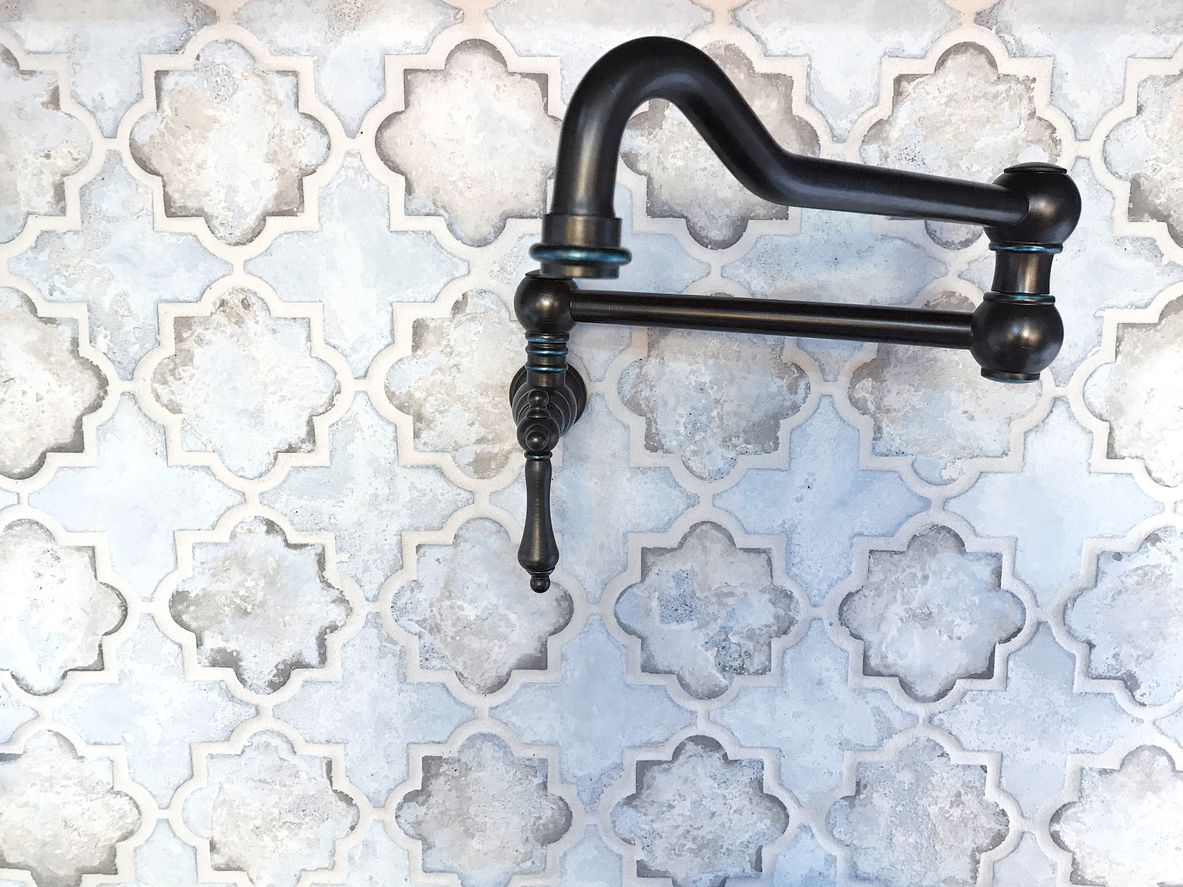 To create a home with a Modern Farmhouse aesthetic, use materials that are natural and evocative of an earlier time. Use reclaimed wood to construct furniture or as an accent in your space. Use pieces of stone or glass mosaic tiles in your countertops and backsplashes to add texture to your kitchen design. If you want to take it up a notch, you can even incorporate a rustic metal stove hood into your kitchen design.
Want to go modern in your next kitchen makeover? "10 Modern Kitchen Design Ideas People Love" will help you achieve the modern touch in the kitchen of your dreams. If you need help deciding which kitchen style is for you, read "The Definitive Guide to Kitchen Styles - Kitchen Edition" to find out.
Pricing

Mod Cabinetry is the leading supplier of modern and contemporary kitchen cabinets. We offer free estimates for your modern farmhouse kitchen and high-quality cabinetry at an affordable price, with shipping to your home anywhere in the continental United States.
Want firm pricing and a firm layout? Our team will help you design your dream kitchen by providing expert advice on cabinet layout, storage solutions, and finishes that match your style. We can even modify or customize cabinets if you want something unique!
Get started with Mod Cabinetry today!