Modern
Top 12 Modern Small Kitchen Ideas
A small kitchen doesn't have to be a challenge. These modern small kitchen ideas will show you how you can get everything done without feeling cramped.
---
Small kitchen Design can be a big challenge when it comes to space, planning, and storage. You want it all, and you want it to look great, too, but it can sometimes seem like this just isn't possible without a full-sized space to work with. It is possible to have your small kitchen, and cook it in, too; these 12 small kitchens will show you just how easy it is to incorporate some serious storage into a tiny space.
SMALL KITCHEN DESIGN IDEA N0.1
No matter how little space you're dealing with, you can always find room for cabinetry, as long as you're thinking about the room as a whole. In this small kitchen design, the cabinets extend straight to the ceiling, giving you additional storage space for the whole room. The clean lines of the cabinets, paired with the bright white finish help make the space seem larger and more open than it really is.
Built right into the opposite wall is another set of cabinetry that extends floor to ceiling to more than double the amount of storage the kitchen has. Now you have space for all your small appliances that might not fit on the counter, as well as for pantry staples, dishes, or anything else you need nearby.
SMALL KITCHEN DESIGN IDEA N0.2
THINK OUTSIDE THE KITCHEN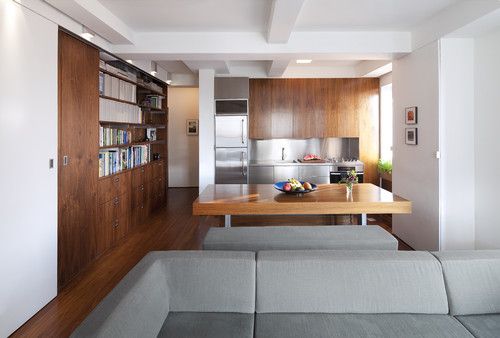 Open floor plans in lofts and condos often have very small kitchens tucked away at the end of the open space. So why not move some of your kitchen storage outside of the kitchen and into the rest of that area? In this open kitchen, the same cabinets are used in the area adjacent the bookcases. This area can be used as a pantry, small appliance storage, or for china. It's close enough to be accessible, and the matching cabinets help make the statement that this area is really part of the kitchen, too.
In the kitchen itself, the cabinets are extra tall, extending right to the soffits in the ceiling to help give you extra storage there as well. This is matched by the height of the bookcases and cabinets outside the kitchen, giving the entire room more height and function at the same time. While we have you, are you interested in learning more about how Mod Cabinetry can help you with your small kitchen project?
SMALL KITCHEN DESIGN IDEA N0.3

A lot of people assume that you need to have doors on your lower cabinetry, but that isn't always the most efficient use of the space in a small kitchen. Instead, these deep drawers give you a lot more storage options and solutions.
Drawers allow you to stack plates, hold canned goods, and even install all kinds of pull outs such as cutting boards, baskets, and rolling shelves. A well designed drawer can also include dividers for glasses or compartments for odds and ends. They're a lot easier to organize than a standard cabinet and can often hold a lot more.
In addition to the drawers down below, this kitchen also features some extra shelving above the window in the center of the cabinet run. Paired with the window, this helps to open up the small kitchen and make it seem a little larger than it really is.
SMALL KITCHEN DESIGN IDEA N0.4
Most people assume that cabinets need to run in straight, even rows to be effective, but this isn't always the case. In this tiny kitchen, the cabinets make up several different layers to give you a much more versatile space with more storage than if the cabinets had all been created equally and hung at one height.
In this case, oversized cabinets flank either side of the sink area, then travel up above it, framing out the space and giving you storage for many different sizes of appliance, dish, and food items. Then, set inside the frame of cabinets is a second, smaller set of cabinetry that offers not only additional storage, but additional style as well. Finally, located right next to the stove on the island, is additional storage facing the kitchen itself, so you not only get the divide from the next room; you get more versatility as well.
SMALL KITCHEN DESIGN IDEA N0.5
Just because floor space is tight in your kitchen, doesn't mean that you have to settle for small cabinets or no storage. In this tight space, the cabinets are not only hung on the walls, but built straight into the hallways and the room dividers as well. The light color and clean lines of the cabinets make everything seem built of one piece, which helps make the room appear larger than it is.
The cabinets themselves run straight to the ceiling, then around the corners offering you lots of hidden storage that you can use to keep things organized not only in the kitchen, but in adjacent rooms as well. This particular storage solution works well both in small kitchens, and in homes with semi-open floor plans as well due to the continuing color of the cabinet design.
SMALL KITCHEN DESIGN IDEA N0.6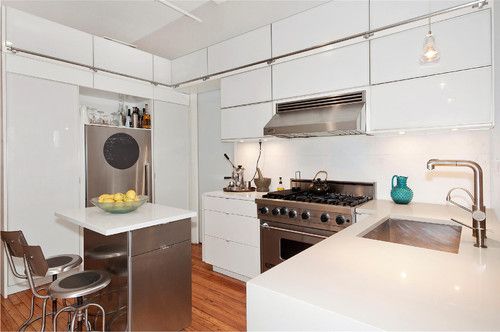 In kitchens that make up in height what they lack for floor space, some homeowners may be hesitant to build straight up. After all, what good is all of that upper cabinet storage if you can't reach any of it?
In this innovative kitchen, a rolling library ladder is attached to the upper section above the cabinets. Now everything can be at your fingertips even if it's a little out of reach from the ground. To gain even more storage and cabinet space, a divider rail can be installed above the first set of upper cabinets, with another layer installed above these. With the ladder rail attached between them, you could utilize the space straight to the ceiling, keeping seldom used items there for when you need them later.
SMALL KITCHEN DESIGN IDEA N0.7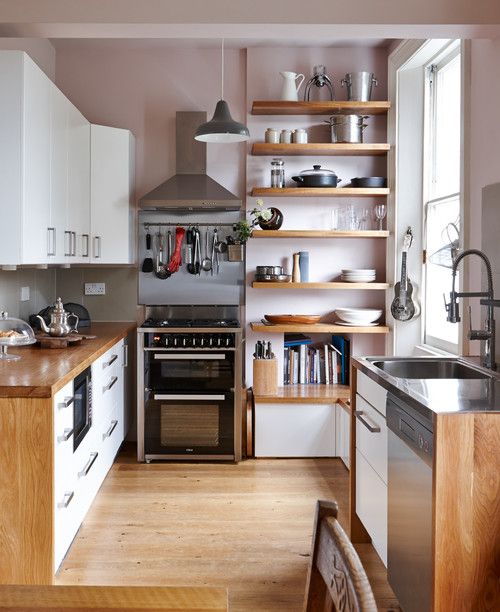 One of the nicest things about shelving is their ability to be installed in areas where cabinets can't go. Shelves often hold just as much if not more than traditional cabinets, they come in all styles to match your existing cabinets and design, and you can put them just about anywhere.
This small kitchen makes use of a very short wall to install floor to ceiling shelves for additional storage. The shelves aren't as deep as traditional cabinets would be, so they don't cut into the space quite as much, while offering an open concept look to the room. Placed next to the stove, they make a great place to store things like tea kettles, small appliances, pots, dishes, and cookbooks; all of which you'd probably want to have close by when you're working in the kitchen. This also frees up valuable counter space, making the kitchen more user friendly as well.
SMALL KITCHEN DESIGN IDEA N0.8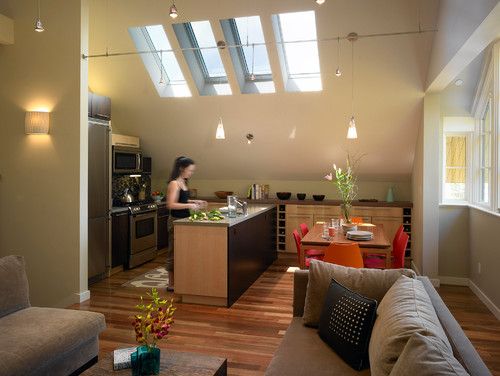 What do you do when you have a long, narrow kitchen in an open floor plan and not enough storage or work space? Divide the room in half horizontally by installing a kitchen island right down the middle.
While at first glance an island will break up the space and make the kitchen seem even smaller, in actuality it's adding a lot more. Not only do you gain the extra storage, you also gain an extra work top, more seating, and a smaller working triangle that can help make the room more streamlined for busy chefs.
Best of all, you can now repurpose the cabinetry on the other side of the room, storing things that you don't use as frequently, or that are better suited to entertaining, such as wine bottles, where they're away from the heat and hustle of the kitchen itself.
SMALL KITCHEN DESIGN IDEA N0.9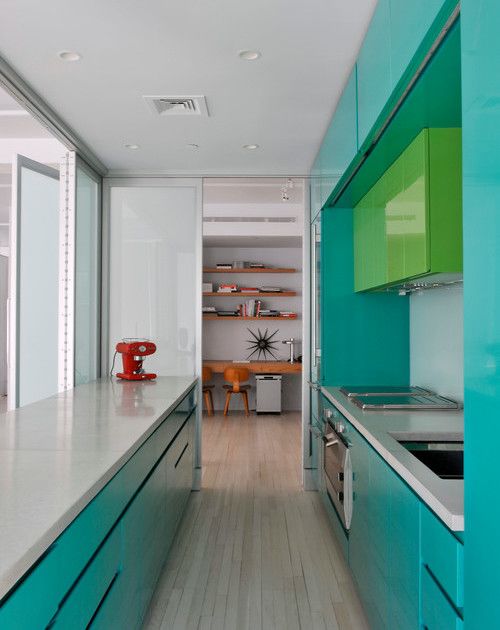 Galley kitchens are a great way to use space in certain styles of home. Unfortunately, they come with a lot of design and storage challenges, particularly if they open up onto a window like this kitchen does.
Rather than using traditional cabinets along the window and below the countertop, this kitchen makes great use of elongated drawer banks. These long drawers allow you to fit in more and gain more in utility than cabinets would in the same space. Use the drawers not only for storage, but for organizational purposes as well.
Across the way the lack of height on the window wall is compensated for by extending the cabinets to the ceiling, then installing a setback set of cabinets behind the cooktop to gain even more storage and versatility in the space.
SMALL KITCHEN DESIGN IDEA N0.10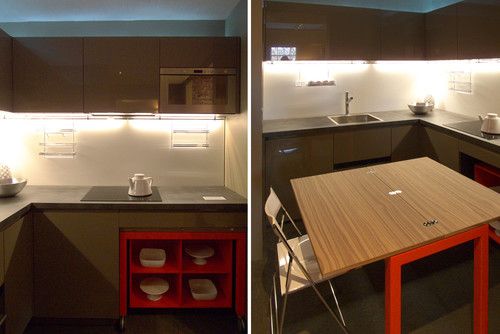 One of the problems of small kitchens is the fact that by the time you give a purpose to every inch of space, it sometimes doesn't create the best layout for use. That's why rolling storage solutions make so much sense; just tuck them away beneath the countertop when you're not using them, then roll them to the area of the room you most need them in later on.
This extra small kitchen uses a rolling cart with shelving for storage, as well as modular furniture that tucks away out of sight when not in use. Together they help open up possibilities for use that might not have been possible in such as a small space if only static cabinets and furnishings were used there. Best of all, rolling carts like this one can be painted in fun colors to help make the whole space pop.
SMALL KITCHEN DESIGN IDEA N0.11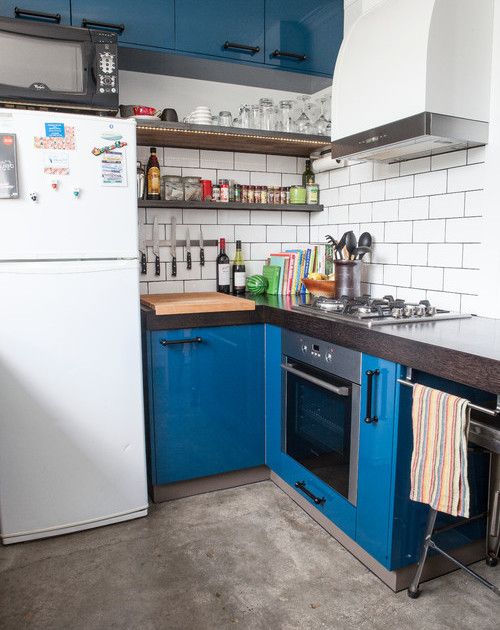 The backsplash is the area between your upper cabinets and the countertop. Its primary use is to be decorative and to help protect the wall from splashes and potential water damage. In a small space, however, it can also serve as a potential place to add a little more storage for the types of things you use in that area such as spices, knives, and utensils.
Backsplash storage makes a great solution in small kitchens. In this space, shelves hold small items like bottles, oil, and spices that are used right at the nearby stove. Below the shelves are magnetic strips that can help hold and organize your knives. Magnetic strips and hooks can also be used to hold a variety of different cooking and baking utensils, further opening up space in the drawers and cabinets of the kitchen to take care of larger storage needs.
SMALL KITCHEN DESIGN IDEA N0.12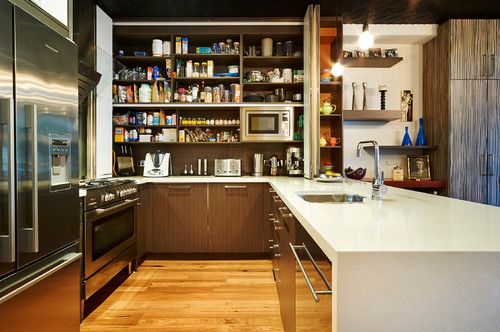 Having a lot of cabinets and lines in a kitchen that's tight on space can sometimes be overwhelming to the eye. Unfortunately, it's difficult to do away with these things entirely when you also need storage for all the food, utensils, and appliances you use there each day.
This innovative kitchen uses open shelving to keep everything organized at one end of the kitchen. Don't want to look at it anymore? Folding doors pull shut across the entire unit at once, hiding everything from sight with simple, clean lines that will fool the eye into thinking this wall is much larger than it really is. With doors at either end of the cabinet run, you can also personalize how you use the space and how much of the cabinetry is showing by opening one section at a time or both.
Final Thoughts
Make the Most of Your Small Kitchen! Just because your kitchen is small doesn't mean that it can't meet all of your needs. Invest in some great storage solutions for your small kitchen to ensure that you make the most of every last inch of space you have.
Browse Mod Cabinetry
Looking for specialized design assistance and the best in modern cabinetry for your dream home? Mod Cabinetry has experts in high-end modern design to help you design the layout using state-of-the-art rendering and panoramic software, which helps give you a realistic perspective of how your kitchen will look and pricing!