Modern
Modern Cabinet Trends Forecasts for 2022
Stunning kitchen design with style in your near future with these Kitchen Trend forecasts for projects in 2022.
---
Redesigning your kitchen can be one of the most exciting home projects to take on. The kitchen is the heart of the home for many families, especially around the holidays where we gather with friends and family. One of the most important style choices during a kitchen remodel is choosing the right color and style of cabinetry for your kitchen. Whether you want a fresh pop of color, an eye-catching finish, or a gorgeous tone of wood, there are a lot of decisions to be made!
In this article, we'll explore some cabinetry style forecasts for 2022, which include frameless cabinets, minimalist cabinets, European cabinets, mid-century modern cabinets, and contemporary cabinets. No matter what your style, one of these trendy cabinetry styles is sure to make a lasting impression.
Frameless Cabinets

The futuristic-looking frameless cabinets are anticipated to be popular in the upcoming year. Unlike traditional American framed cabinetry, frameless cabinets offer a more modern and contemporary look for your kitchen. Frameless cabinets have been popular overseas for years now, specifically in European countries. They are finally catching on in the United States as an alternative to traditional framed cabinets, which is why we're expecting to see them more often in American homes in 2022 and beyond.
Homeowners love frameless cabinets because of the extra space they provide. They're larger than traditional framed cabinets, and they provide up to 15% more space and storage than traditional cabinets. Because of this, they're often called full-access cabinets. In addition to their extra storage space, frameless cabinets offer an appealing modern aesthetic with simple, adjustable, mountable shelving.
Looking for some ideas for frameless cabinets for your new kitchen? One popular color finish for frameless cabinets is Walnut, which provides a finely textured and grained front to bring a mix between classic elegance and a modern, sleek feel to your new kitchen.
Frameless cabinets will definitely be one of the most popular cabinetry trends in 2022. In our article, "10 Modern Kitchen Design Ideas People Love," you will be able to see some more great ideas for your frameless kitchen cabinets.
Minimalist Cabinets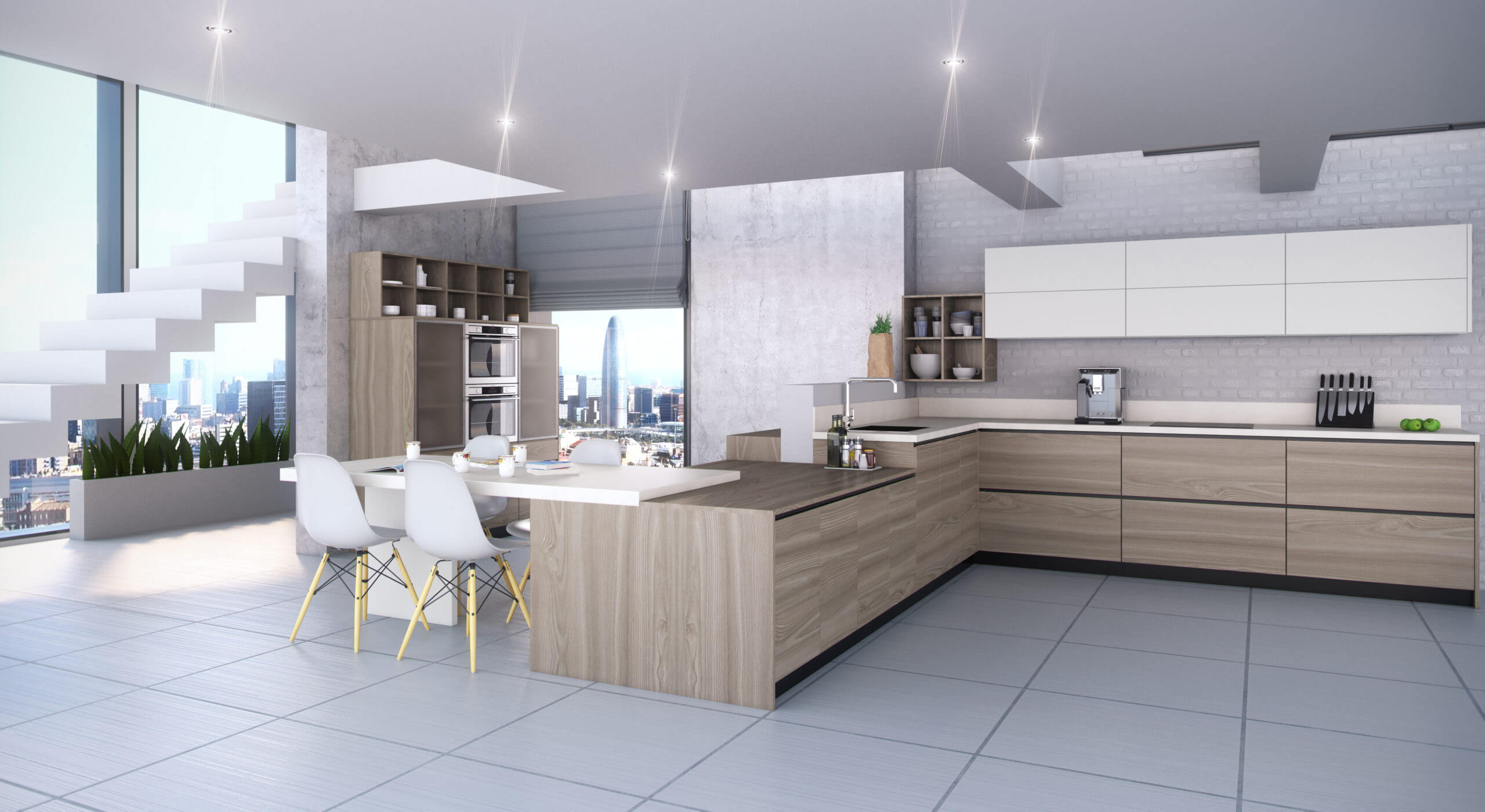 Do you like clean lines and simple styles? Minimalist cabinets may be the perfect new cabinetry style to incorporate into your new kitchen. For those who do not like to look at intricate designs and prefer simplicity, minimalist cabinets provide a sleek cabinetry design. Though this style has been popular in past years, the minimalist movement continues to grow as we enter 2022.
Minimalist cabinets do not have highly complex or intricate designs or hardware, or bevels or edges. They provide a flat cabinetry front with clean, sleek lines. Choosing minimalist cabinets for your kitchen remodel allows you to maximize storage and have an open, airy, and fresh style in your new kitchen. Minimalist cabinets have less hardware and leave your space feeling clutter-free and fresh.
Though they are available in a variety of beautiful finishes, many people choose white color finishes for their minimalist cabinets to help enhance the clean and sleek appearance.
European Cabinets

Dreaming of a kitchen that feels luxurious and high-end? European cabinets are perfect for the ultra-sleek and high-quality feeling you want for your new kitchen. These cabinets are usually fully smooth and flat with either ultra matte or highly glossy finishes. No matter what style you choose, European cabinets can be customized exactly how you want them!
European cabinets are marked by their very sophisticated appearance of geometric shapes. This is unlike traditional cabinets, which have intricate arches and styles. European-style cabinets have clean, straight lines and utilize rectangular shapes. Some examples of trending finishes for European cabinets include white, gray, taupe, or even black. Love the look of gray kitchen cabinets? Check out "Gray Kitchen Cabinets: The New Style" for some inspiration.
If you're looking for more of a bold choice, as opposed to a neutral palette, try European cabinets in a bright red or blue for a pop of color.
Mid-Century Modern Cabinets

The Mid-century modern style is trending in all things related to home design, even beyond cabinetry. Mid-century modern, or MCM, refers to the time period after World War II, mainly between 1940 and the late 1960s. Mid-century modern cabinets feature a mixture of traditional and modern elements and generally have contrasting elements such as wood or plastic. This mixed media approach has attracted customers for decades now. These cabinets are sure to make your kitchen look different than all the standard "cookie-cutter" cabinets you may have seen in newer, updated kitchens. By combining multiple colors, these cabinet options provide a two-tone appearance that allows you to customize the color scheme of your room while staying away from the bland and boring monochromatic look.
One popular example is to make upper cabinets white, with a beautiful walnut wood cabinet on the lower portion. This can be done with virtually any complementary pair of hues. The two-tone style is quite unique!
Contemporary Cabinets

Choosing a contemporary style for your new cabinets is a choice that will never go out of style. Contemporary cabinets remain part of the popular style forecasts for many years to come. These cabinets feature natural materials and earthy tones with a modern aesthetic. Generally, contemporary cabinets do not feature raised paneling or elements but rather have a simplistic and clean design.
Contemporary cabinets can blend easily into any style room, making them a versatile option. In small kitchens, contemporary cabinets provide extra space by utilizing the height of the room in their tall design. They can also make the room feel bigger by giving the illusion of a larger kitchen. To see more examples of fantastic small kitchen design, check out our article "Top 12 Modern Small Kitchen Ideas".
Contemporary kitchen cabinets are sure to remain popular and beautiful, even as the style forecasts and trends change throughout the years.
Browse Mod Cabinetry
Looking for specialized design assistance and the best in modern cabinetry for your dream home? Mod Cabinetry has experts in high-end modern design to help you design the layout using state-of-the-art rendering and panoramic software, which helps give you a realistic perspective of how your kitchen will look and pricing!