Modern
Tips for Designing a Mid-Century Modern Kitchen
Interior Design Inspiration for Mid Century Modern Kitchens. Mid-Century Kitchen Design Ideas for a Gorgeous and Stunning Look.
---
Mid-century modern home design is a perfect way to make your home look stylish and elegant. One of the best things about a Mid-Century Modern kitchen is that it can be both retro and trendy at the same time. However, it's not just about the latest trends in interior design, it is also about a lifestyle.
This article will give you some ideas on how to make your kitchen and dining room light, airy and welcoming with a Mid-Century Modern design. If you don't know where to start with designing the interior of your kitchen or cabinets, follow these tips for some ideas on how to decorate them in mid-century style.
What you will learn:
What is Mid-Century Modern?

How to Have a Mid-Century Modern Kitchen

The Elements that Define a Mid-Century Modern Style

Top 10 Mid-Century Modern Kitchen Ideas
Click Play For Quick Summary
1. What is Mid-Century Modern?
As you might have guessed from the name, mid-century modern originated in the mid 20th century - 1945 to 1965, which was during a time when sleek lines and minimalistic features were popular. This era also saw advances in technology and mass production which resulted in a proliferation of new materials that were cheap enough for everyday homeowners to afford. A Mid-century kitchen is typified by simple, clean lines and an absence of clutter.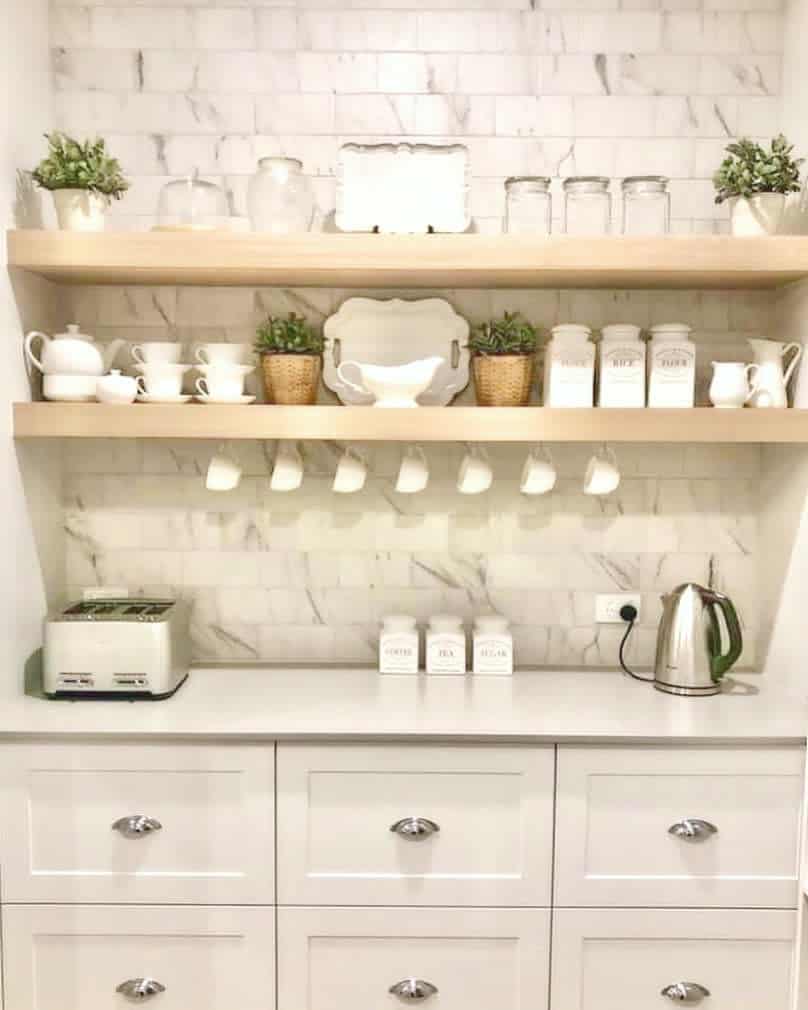 Today, these design features have seen a resurgence - especially as a backlash against the over-the-top ornate trends from the Victorian age or the alternative hipster trend that is very popular among millennials.
In terms of mid-century modern kitchens, this type of design typically focuses on a minimalist aesthetic while incorporating natural materials. Stone countertops, wood cabinetry, wood paneling are popular choices for mid-century modern designs, but there are other options as well that you're sure to love.
2. How to Have a Mid-Century Modern Kitchen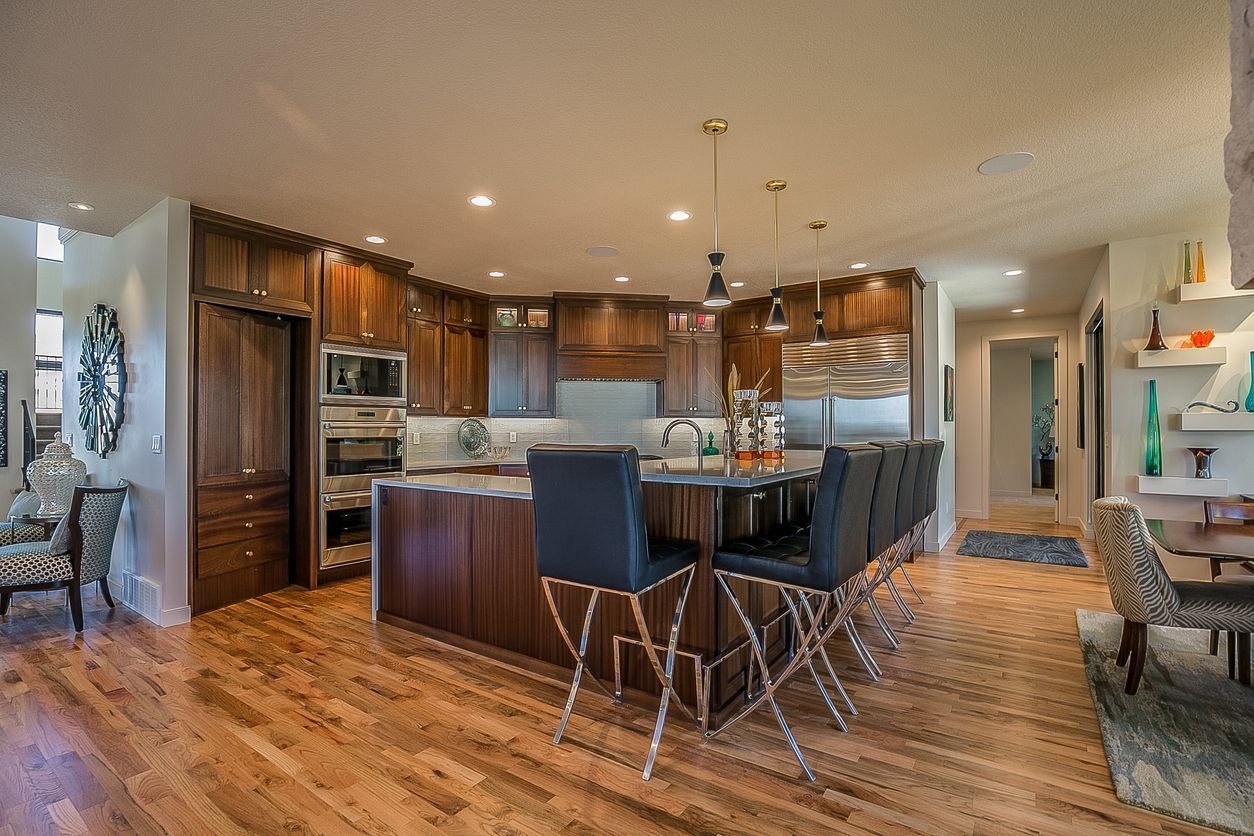 At a first glance, a mid-century modern kitchen might seem out of place in a typical home - it's very different from the standard design features typically seen in homes today. However, for those looking to stand out from the crowd, go beyond the standard and find a one-of-a-kind kitchen that will have your friends talking about your home, a mid-century modern kitchen may be just what you're looking for. Here are a few simple steps to having your own Midcentury modern kitchen
1. Prepare your budget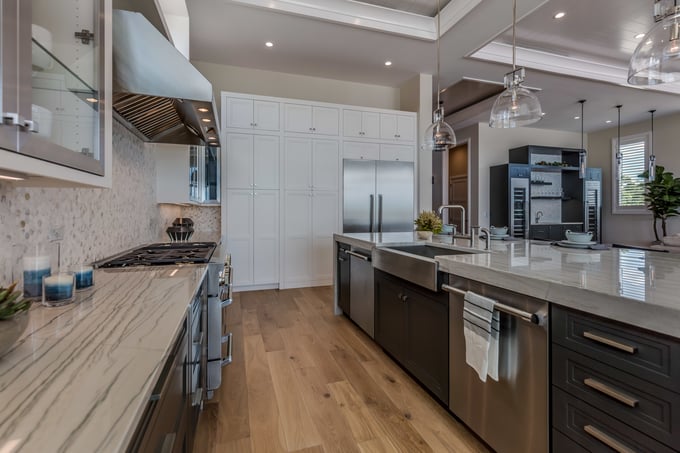 As with any renovation project, it's important to have a realistic idea of how much you're willing to spend before you begin. A mid-century modern kitchen can be done on a tight budget, but if you're looking to really go all out, be prepared to spend some serious cash.
2. Decluttering your space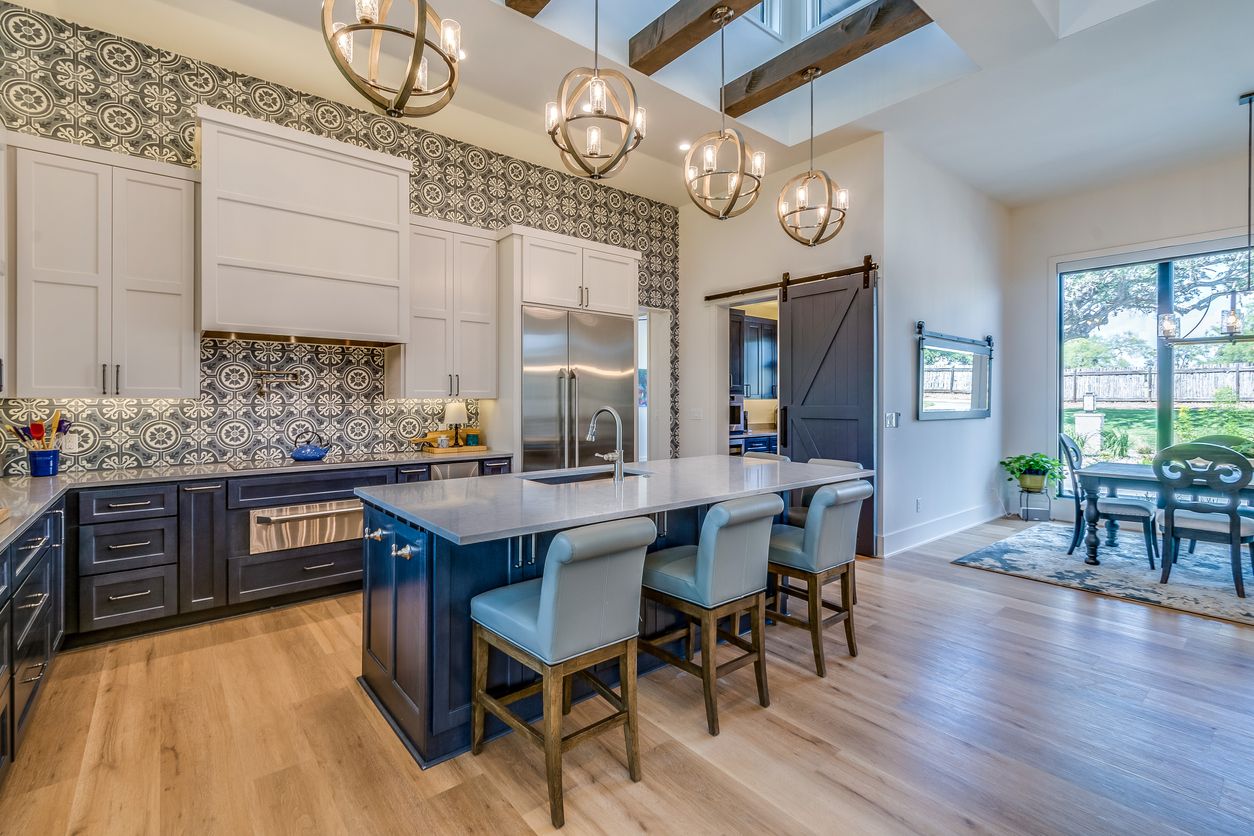 This style is all about simplicity and minimalism, so it's important to get rid of any excess or unnecessary items before you start to renovate.
3. Define your space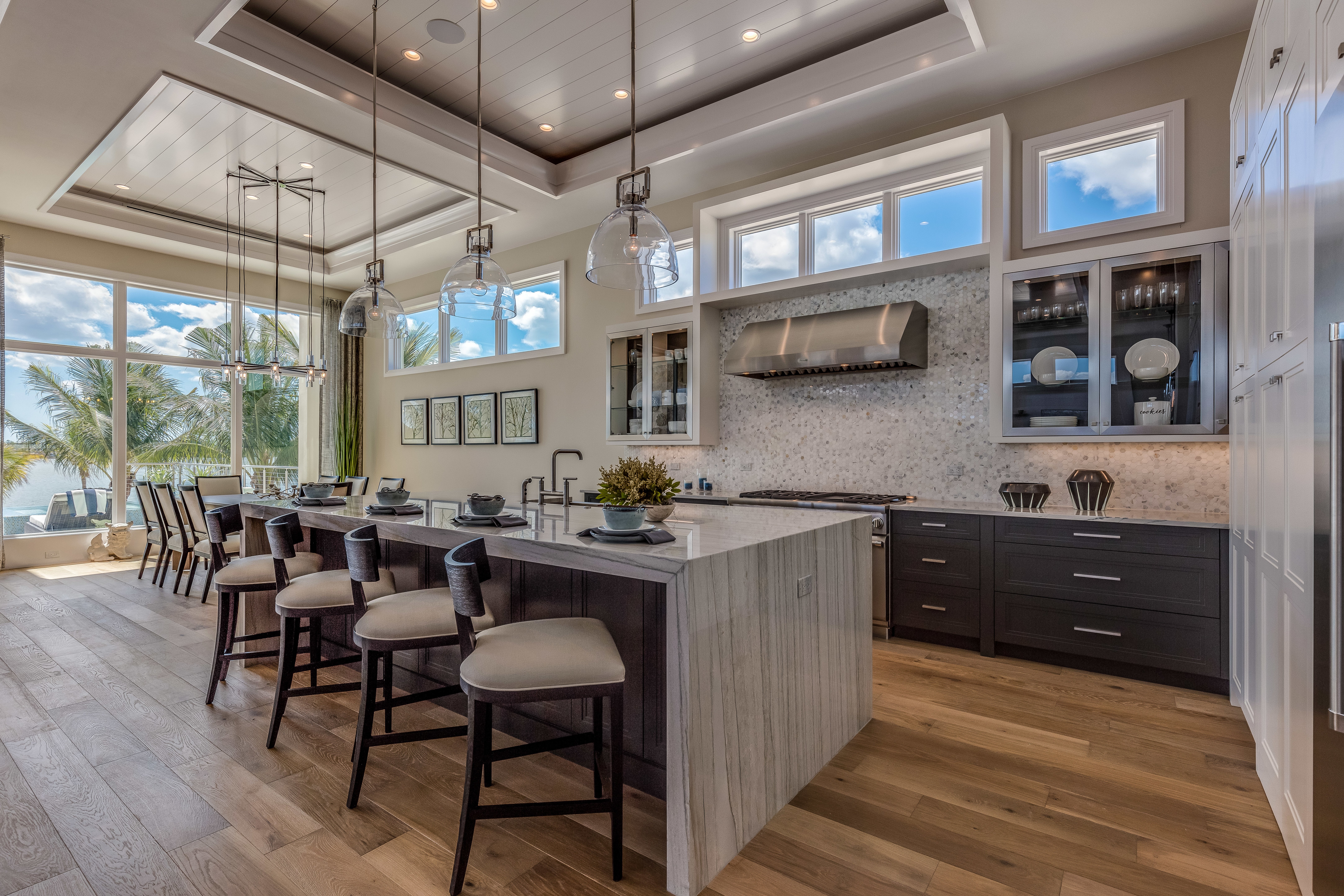 Not all kitchens are created equal - some have more space than others. Before you begin your renovation, take a look at your kitchen and determine how much space you have to work with. This will help you determine what type of mid-century modern kitchen is best for your home. If you have a tiny kitchen, consider reading "Top 12 Modern Small Kitchen Ideas" to get some inspiration on how to make the most of your limited space.
4. Plan your layout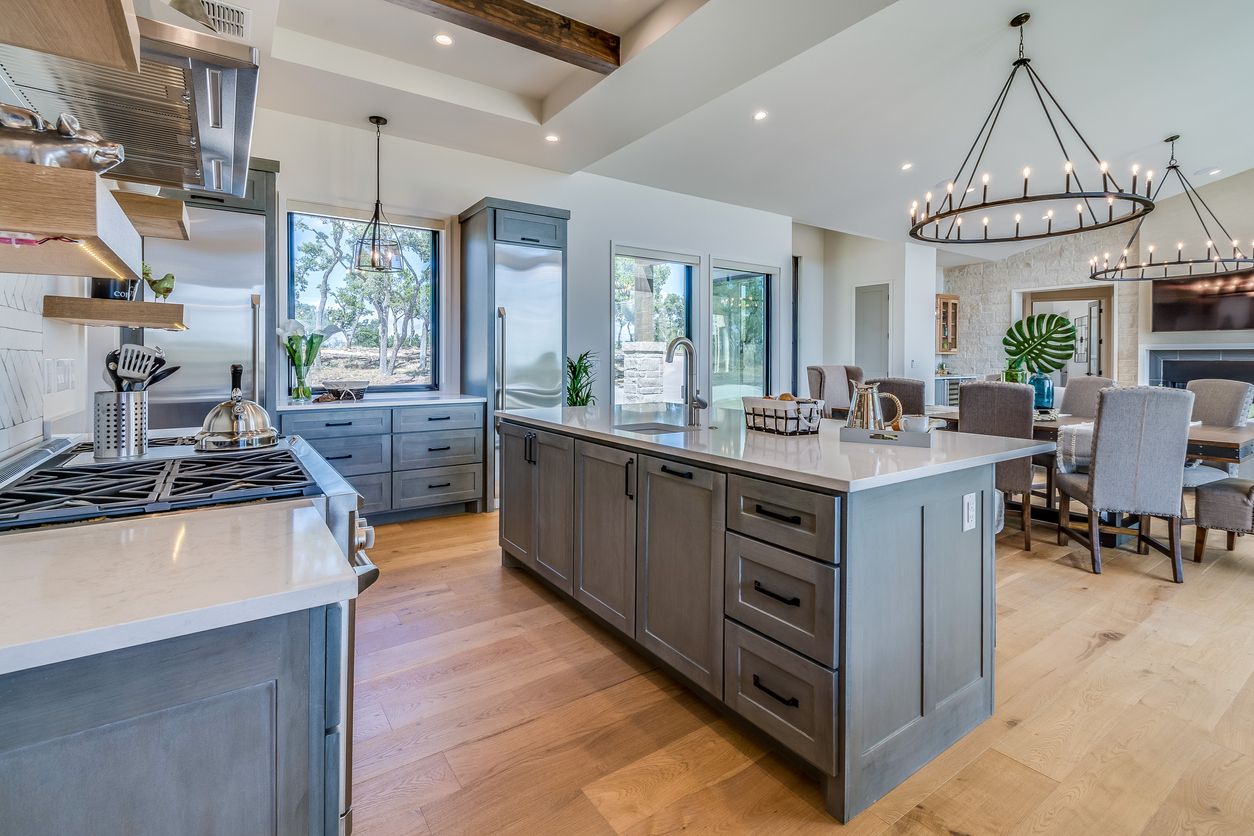 Similar to space, not all kitchens have the same layout. If you're wanting to go for a mid-century modern kitchen, it's important to plan out your layout before you start anything else. This will help you determine what type of cabinets, countertops and appliances you'll need.
5. Choose your style - natural or man-made materials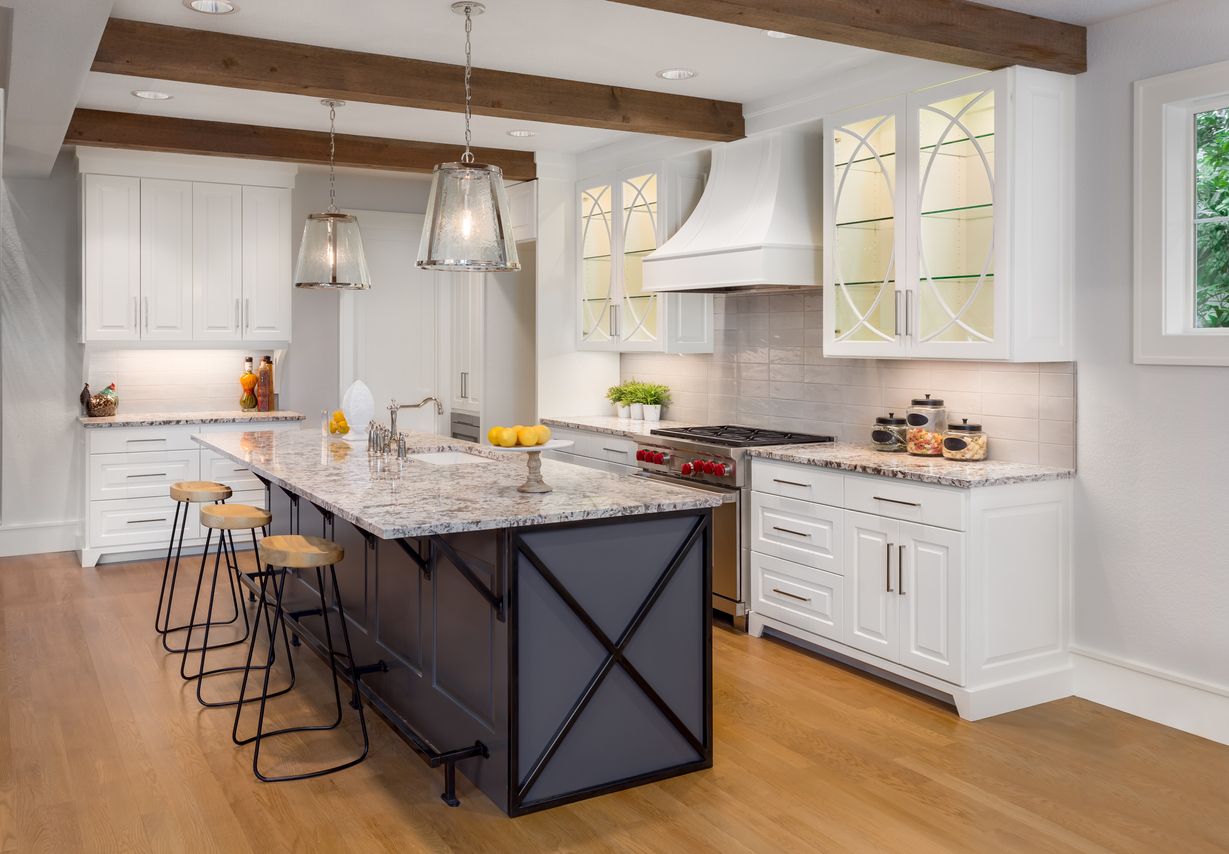 There are two main styles when it comes to mid-century modern kitchens - natural and man-made. If you prefer a more natural look, focus on using materials such as wood and stone in your kitchen. If you prefer a more man-made look, focus on incorporating metals and plastics into your design. If you are opting for a natural look, get beautiful wooden design inspiration for your space from our article, "The Complete Guide to Natural Wood Kitchen Cabinets".
6. Choose the right furniture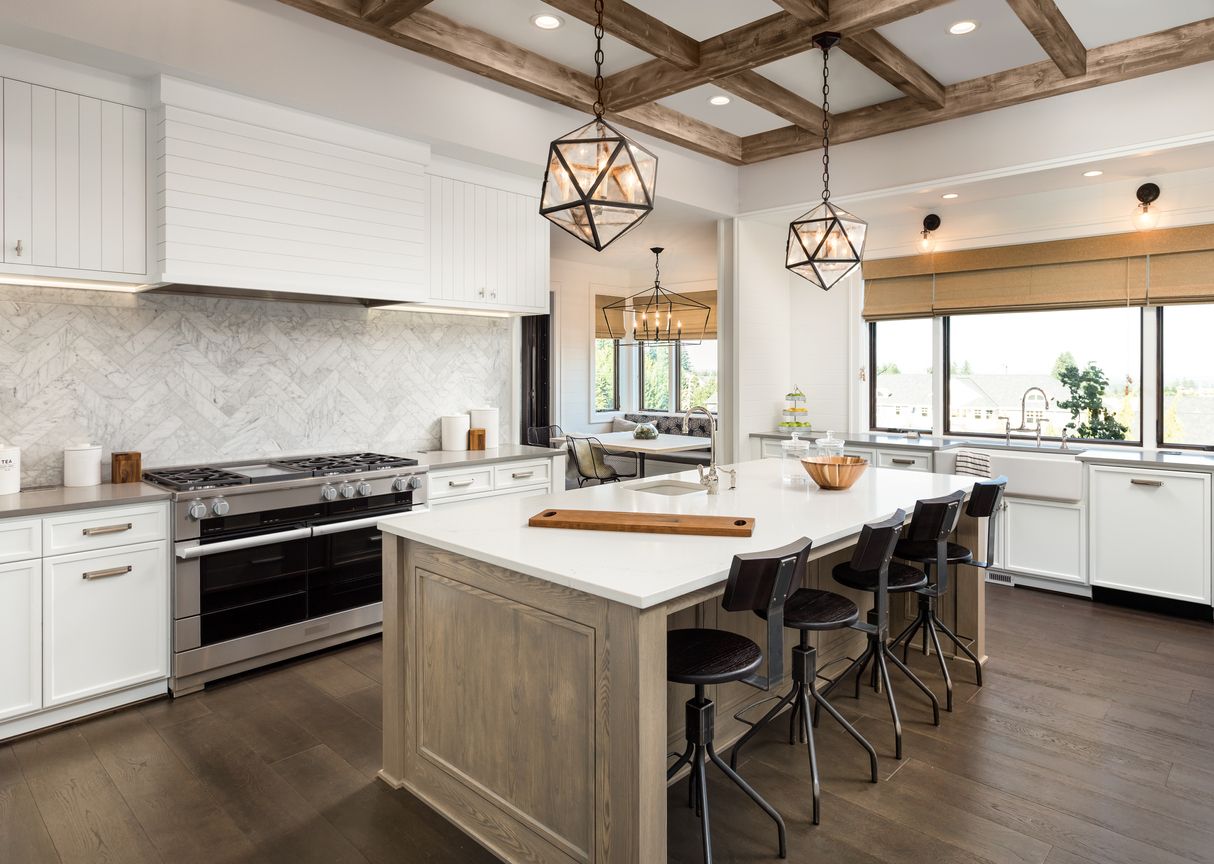 Furniture is key in any kitchen, but especially in a mid-century modern kitchen. Be sure to choose pieces that are simple, yet stylish. And don't forget - comfortable seating is a must in any kitchen! Include a breakfast nook, barstools or a kitchen table to make sure you and your family can comfortably enjoy your new space.
7. Pick your lighting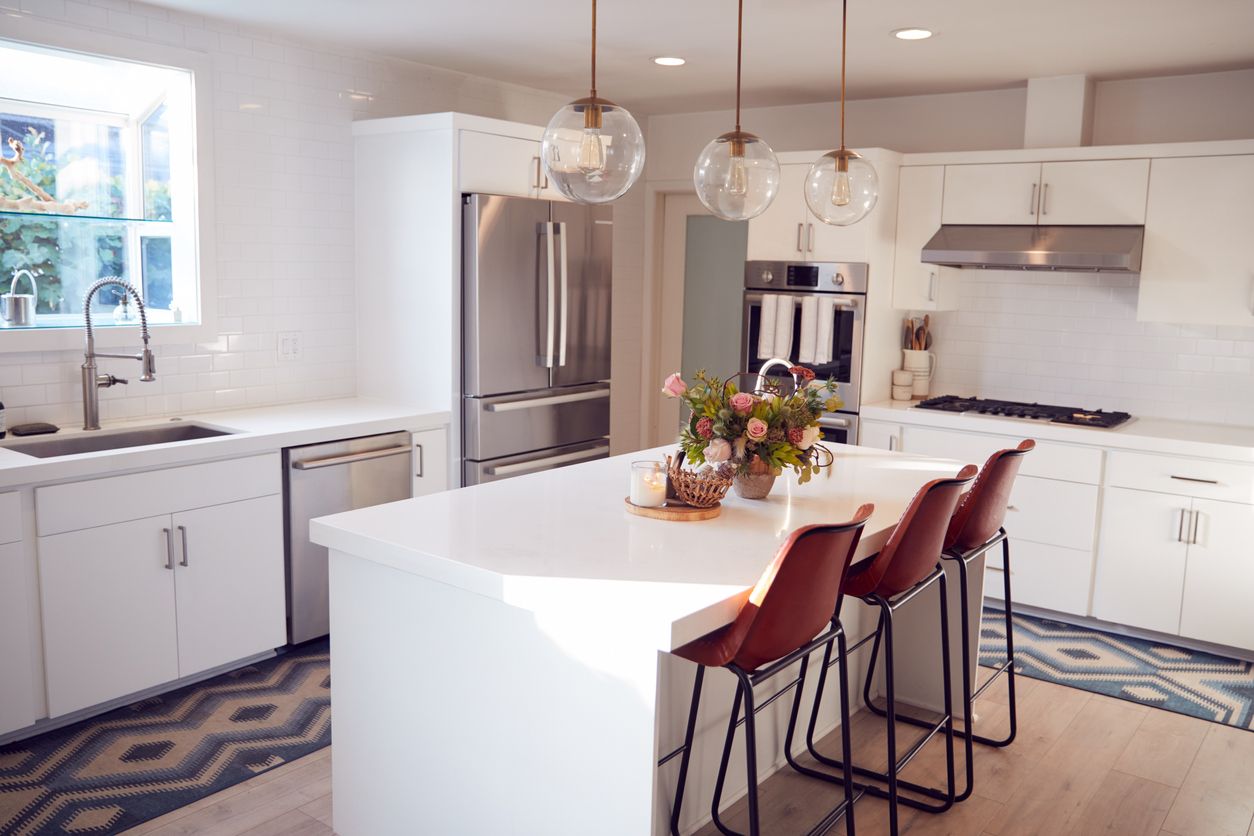 Lighting is an important part of any kitchen. Be sure to choose fixtures that are simple and sleek. A few well-placed pendant lights or sconces can help to set the tone in your kitchen.
8. Add some color to make it unique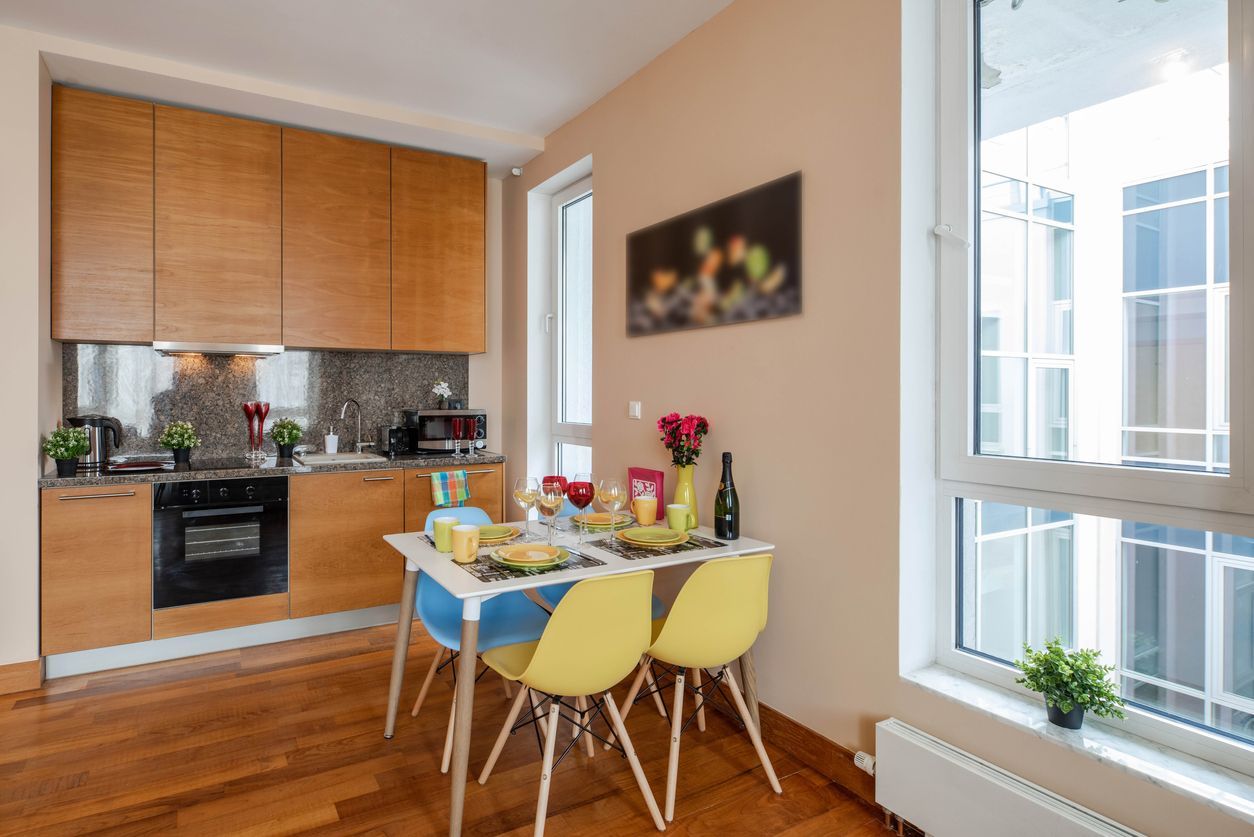 A mid-century modern kitchen doesn't have to be all white and beige. Add a little color to make it unique and stand out. Choose accessories and appliances in fun colors, or paint your cabinets a bright shade of green or blue. The sky's the limit when it comes to adding color to your mid-century modern kitchen.
9. Add your Mid-century modern elements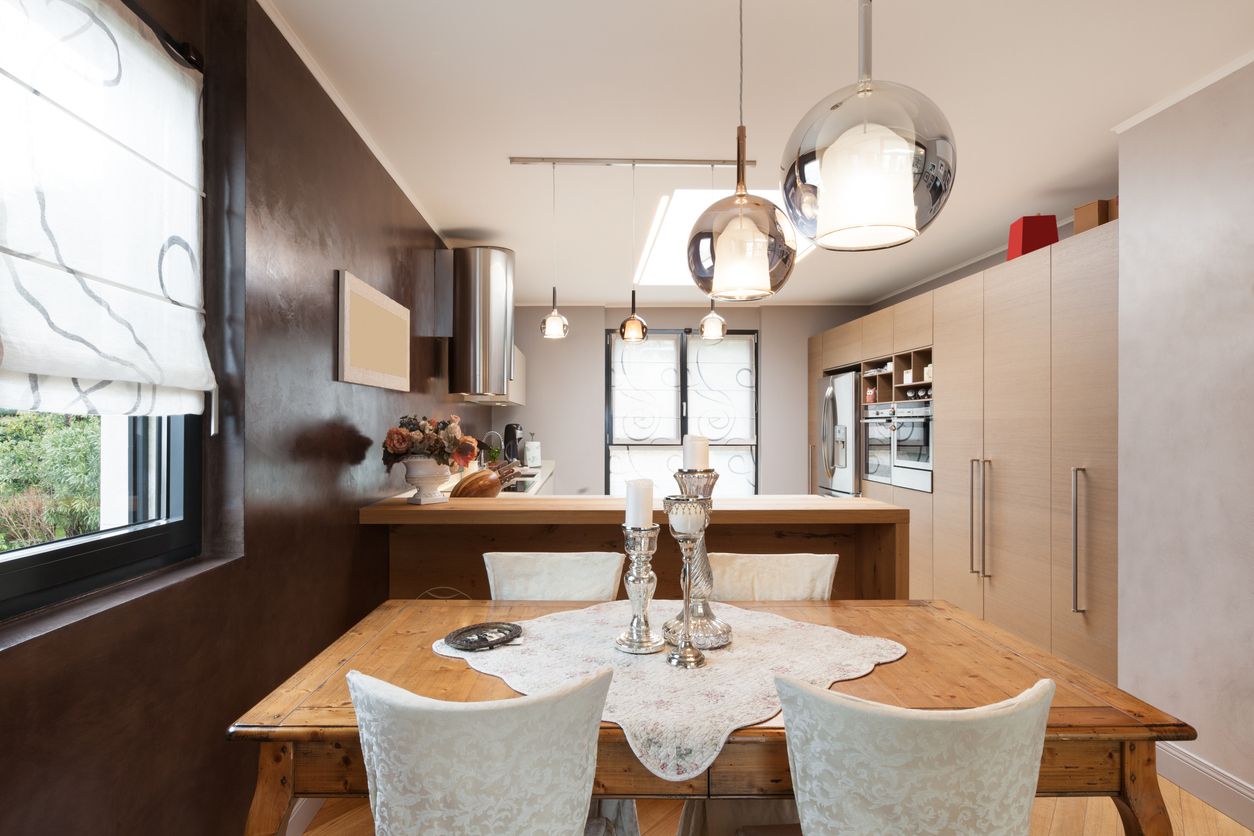 Now that you've got the basics down, it's time to add in your own personal touches. Maybe you want to add a few Eames chairs or a mid-century modern credenza. Whatever your style, be sure to add it in and make the kitchen your own.
These are just a few simple steps to having your own mid-century modern kitchen. With a little bit of preparation and some creative thinking, you can have the kitchen of your dreams in no time!
Check out Flat Panel Kitchen Cabinets - The Best of Modern Style, its has some great tips for planning and designing your mid-century modern kitchen and cabinets.
3. The Elements that Define a Mid-Century Modern Style
As we already mentioned, the design of a mid-century modern kitchen is characterized by simplicity and minimalism. What this really means in practice is that the mid-century modern look incorporates clean lines and natural materials.
Minimalism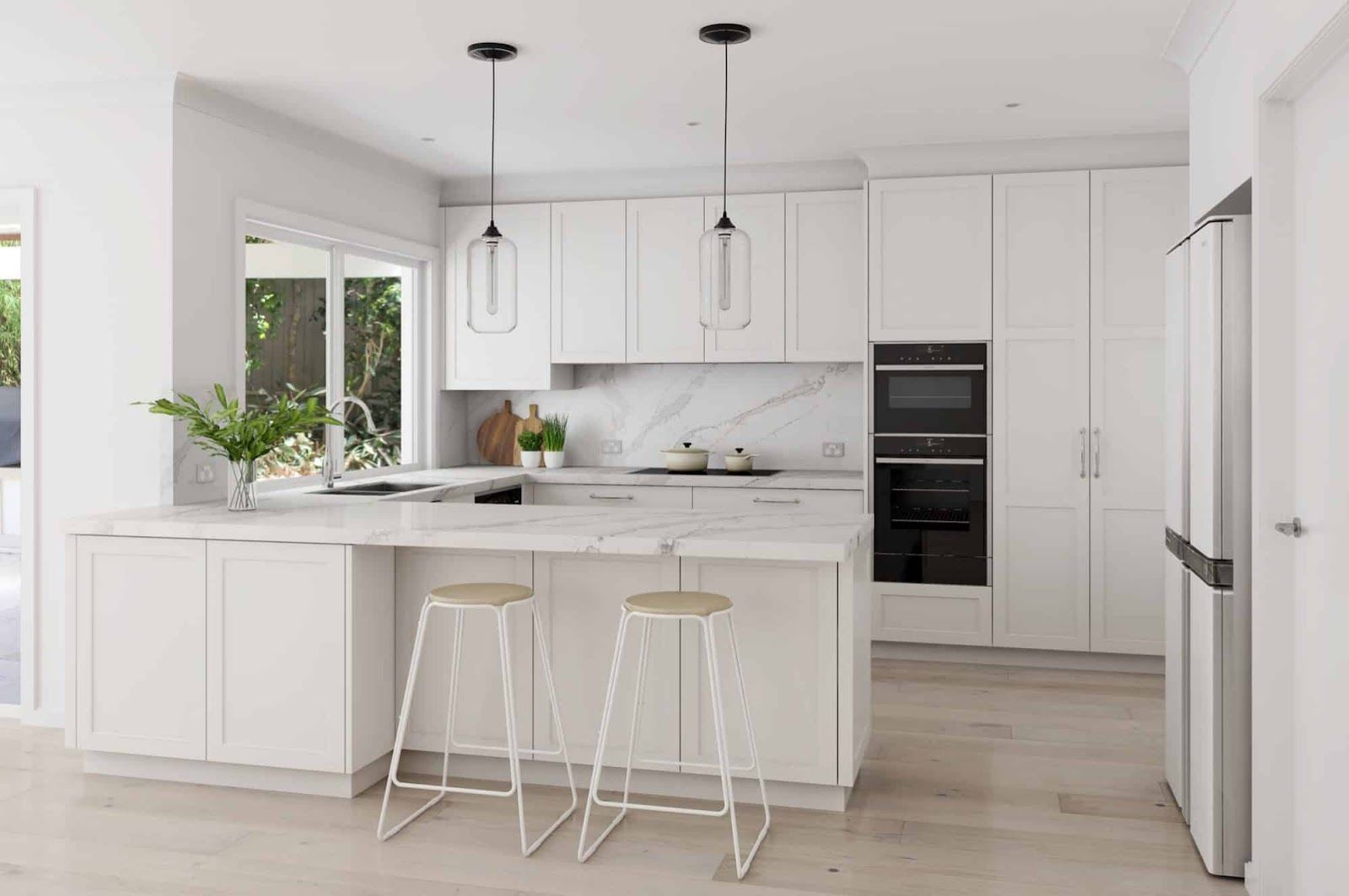 As we've said, one mark of a mid-century modern kitchen is simplicity. Keep this in mind when looking at cabinetry and countertops for your home. For example, a modern kitchen might have soft-close drawers and doors to make them easy to open without the distraction of a loud slam.
Mid-century modern style also means that your kitchen will mostly focus on one look - you'll want each element to come together in a cohesive design that is highlighted by its simplicity. This means going for a more monochromatic look, which can also help to make your kitchen seem more spacious.
Symmetry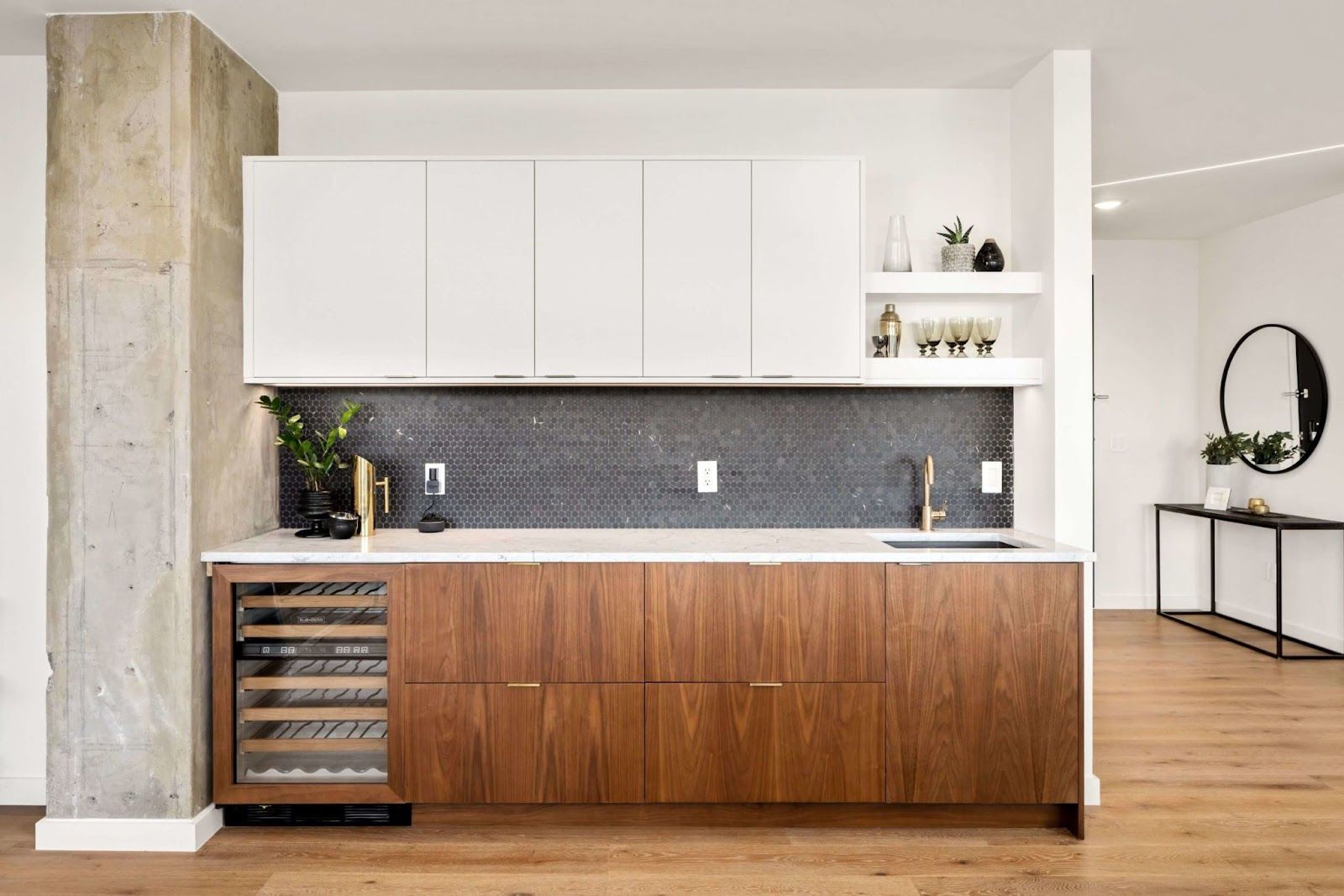 In a mid-century modern kitchen, you'll often find that cabinets and other elements are perfectly parallel to each other. This alignment and balance is part of the mid-century modern style that you'll want to keep in mind when designing your kitchen.
Natural Materials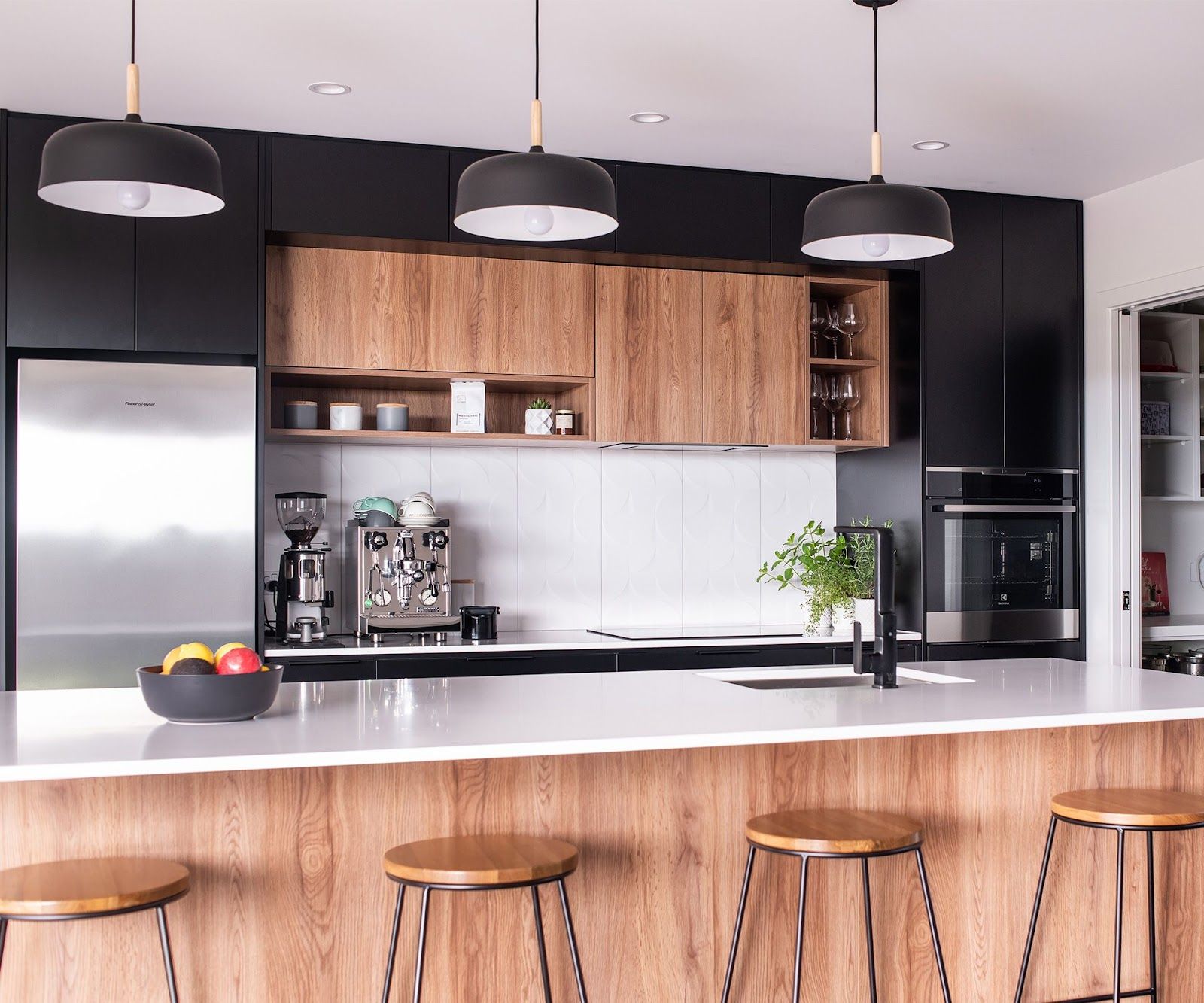 Mid-century modern design has a strong emphasis on natural materials. You'll want to choose furniture that feels organic or features rich warm colors like browns and reds.
Since this was an era in which technology was rapidly advancing but hadn't yet reached the levels it's at today, you may also find some mid-century kitchens including vintage appliances like restored stoves and refrigerators.
4. Top 10 Mid-Century Modern Kitchen Ideas
1. Gold Hardware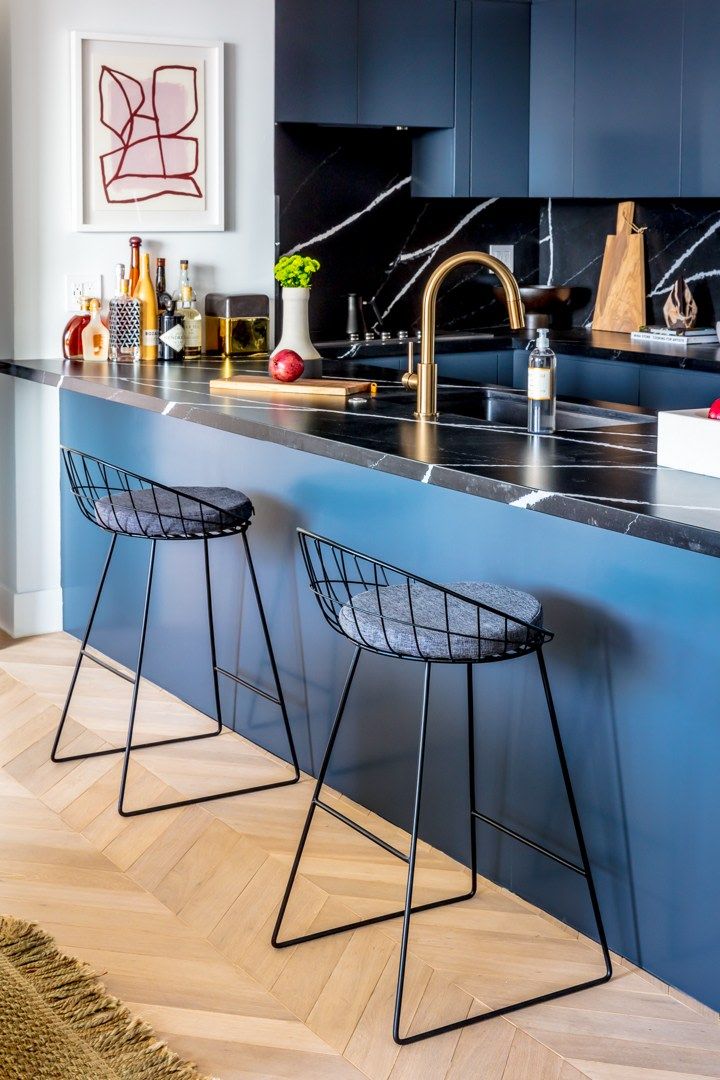 Since mid-century modern kitchens often focus on a monochromatic look, it's important to incorporate some variety into your design. One way of doing this is by adding gold hardware like drawer and cabinet pulls throughout your kitchen. This will give each element a little more visual interest and help to tie the look together.
2. Laminate Countertops and Floors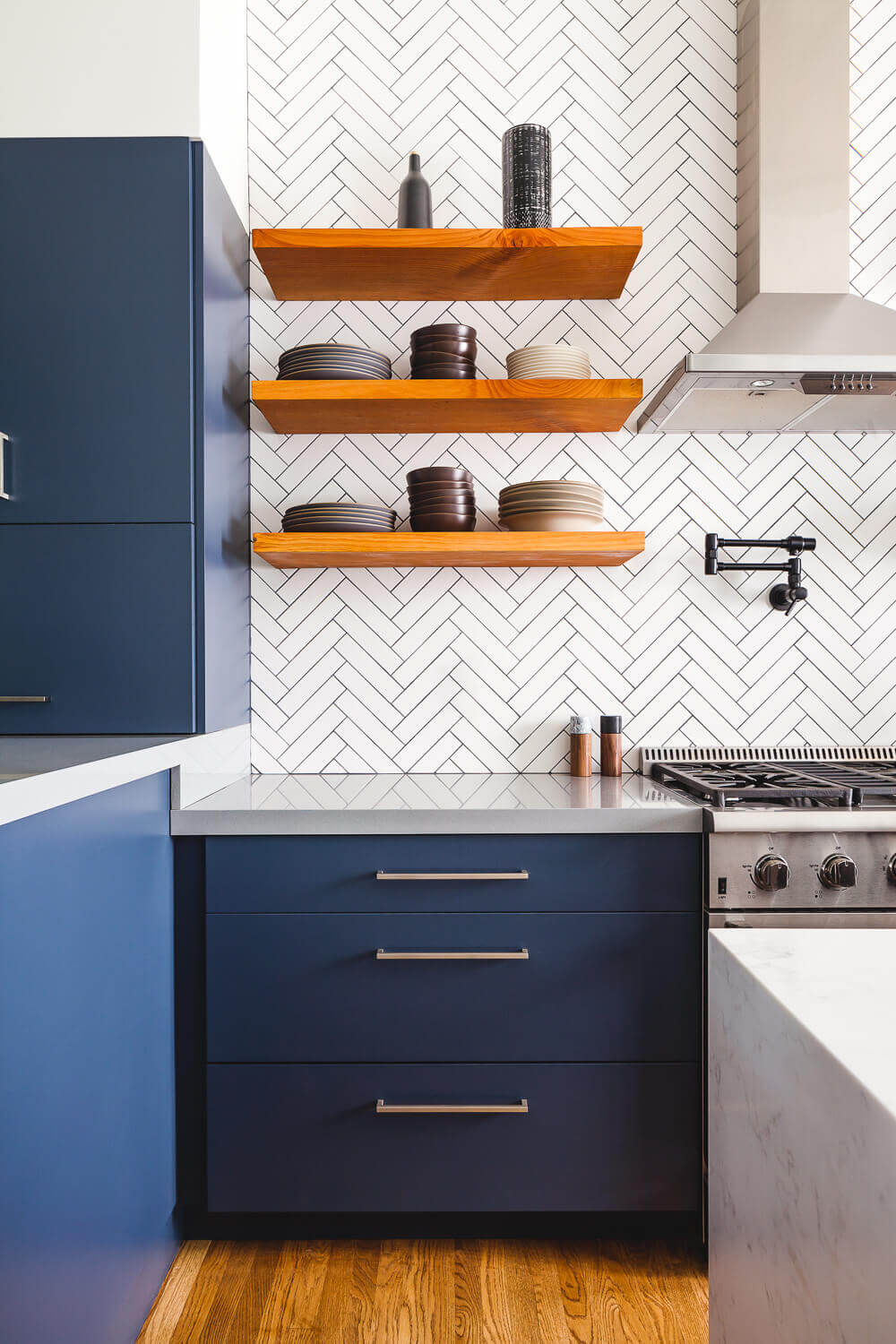 If you want to keep the look of your mid-century modern kitchen feeling clean and simple, it's important to have a hard floor and durable countertops. Laminate is one great option for this as it has a very polished look that will match well with natural materials. It also provides plenty of durability so you won't have to worry about your floors and counters buckling or cracking over time.
3. Natural Wood Cabinets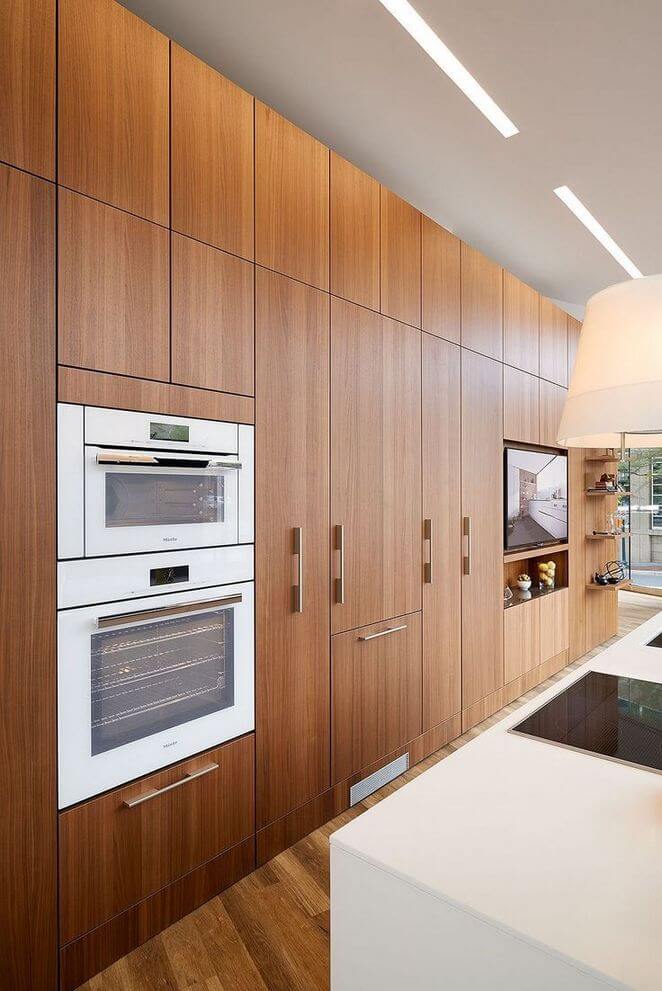 Wood cabinets are another nod to mid-century design principles as they can help to bring a warm and organic feel into your kitchen. Add some full height cabinets like the ones pictured above and you'll also give your room an elegant and spacious look, which is typical of mid-century modern design.
4. Marble Countertops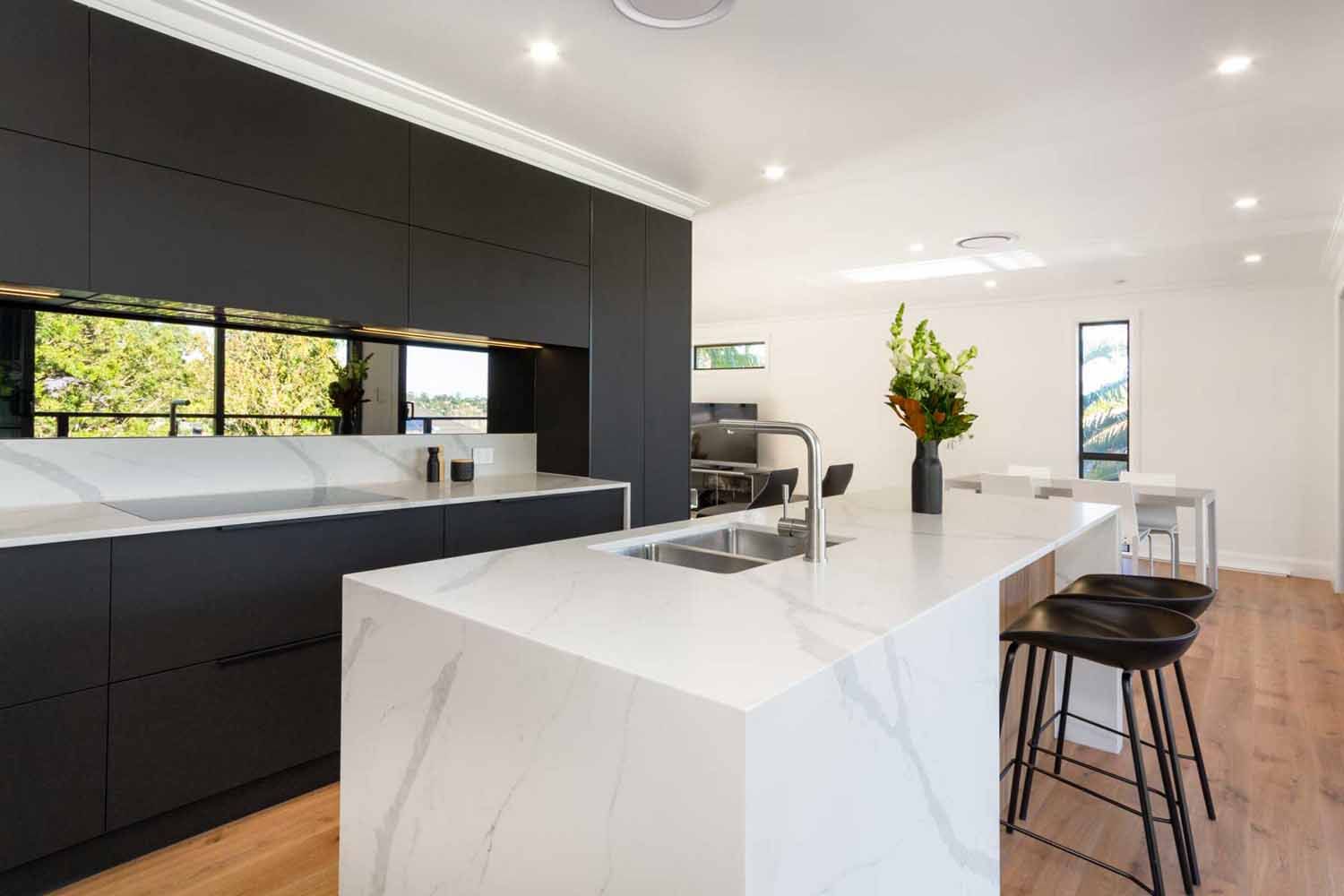 While we mentioned that granite countertops are often used in mid-century-style homes, marble is also a good choice. It's another natural material and can add some variety to your cabinets by providing a contrasting color.
5. Organically Shaped Furniture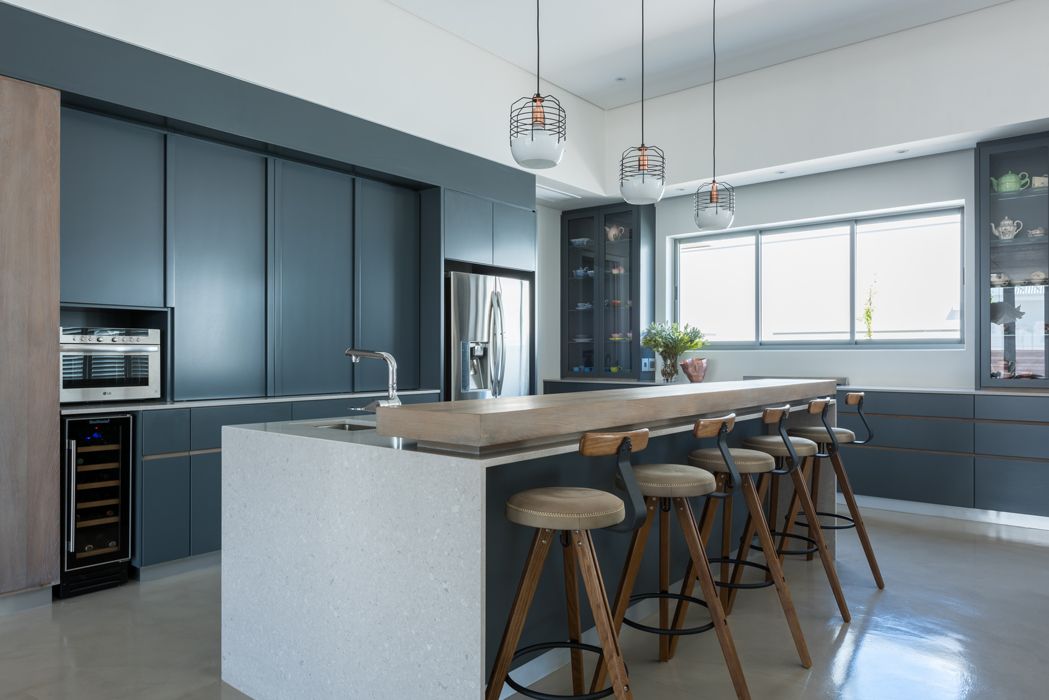 The overall look of a mid-century modern kitchen is one that focuses on clean, simple lines. Because of this, furniture is typically organically shaped or rounded - think ovals and circles in place of sharp angles. If you want to add some variety to your cabinets while still highlighting the mid-century modern style, opt for pieces with unusual shapes.
6. Patterns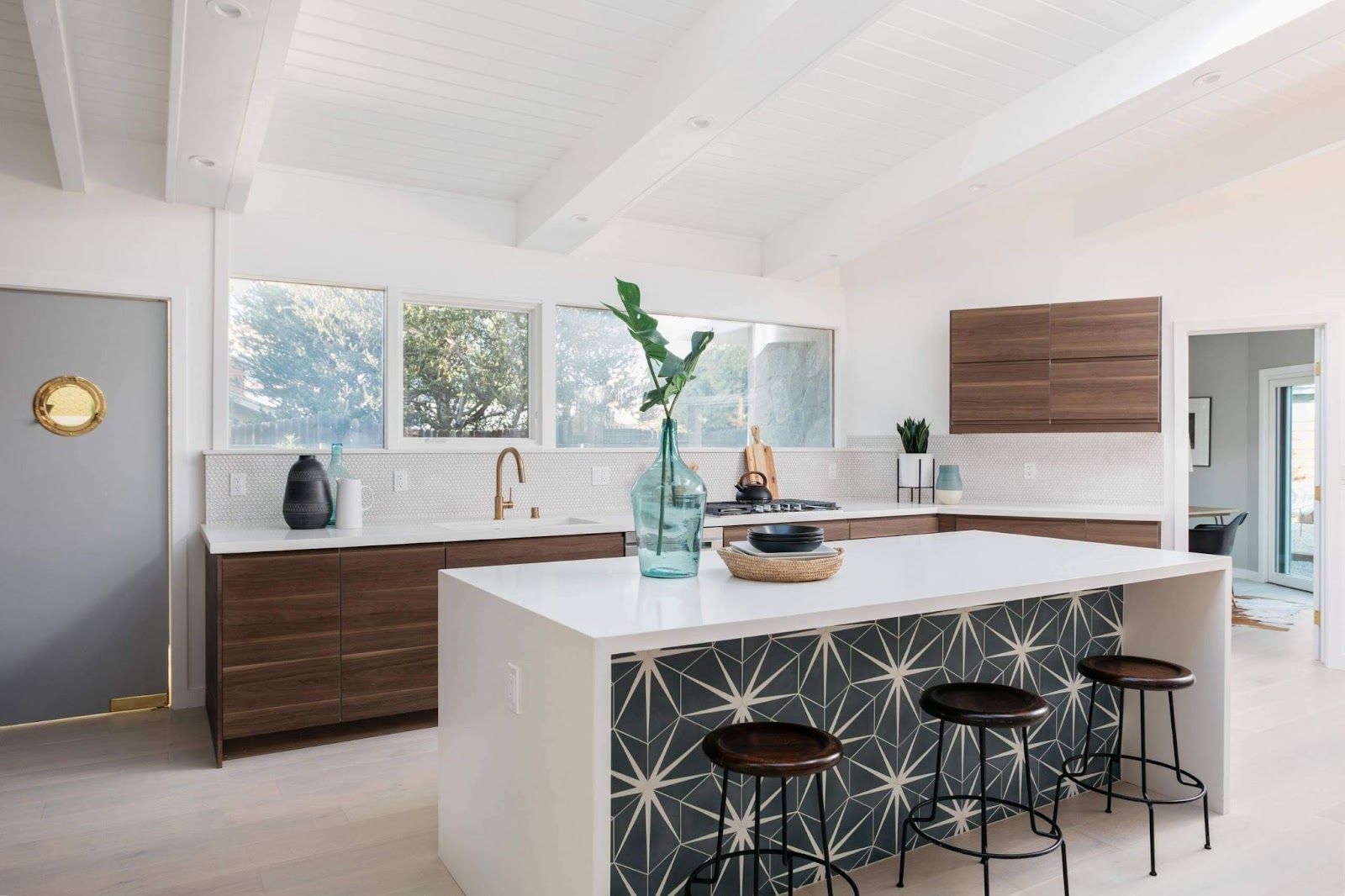 One easy way to add visual interest to your mid-century modern kitchen is by adding in some bold patterns. For example, if you're going for a more industrial look, consider having a backsplash made of subway tiles with either navy or maroon grout. You might also want to include patterned wallpaper or even incorporate wallpaper into your cabinets.
7. Retro Lighting
Another fun addition you might want to include in your mid-century modern kitchen is a retro floor lamp. These lights can help to add a touch of vintage character and also provide lots of light for your space, which is ideal if you're going with darker or monochromatic finishes throughout your design.
8. Open Shelving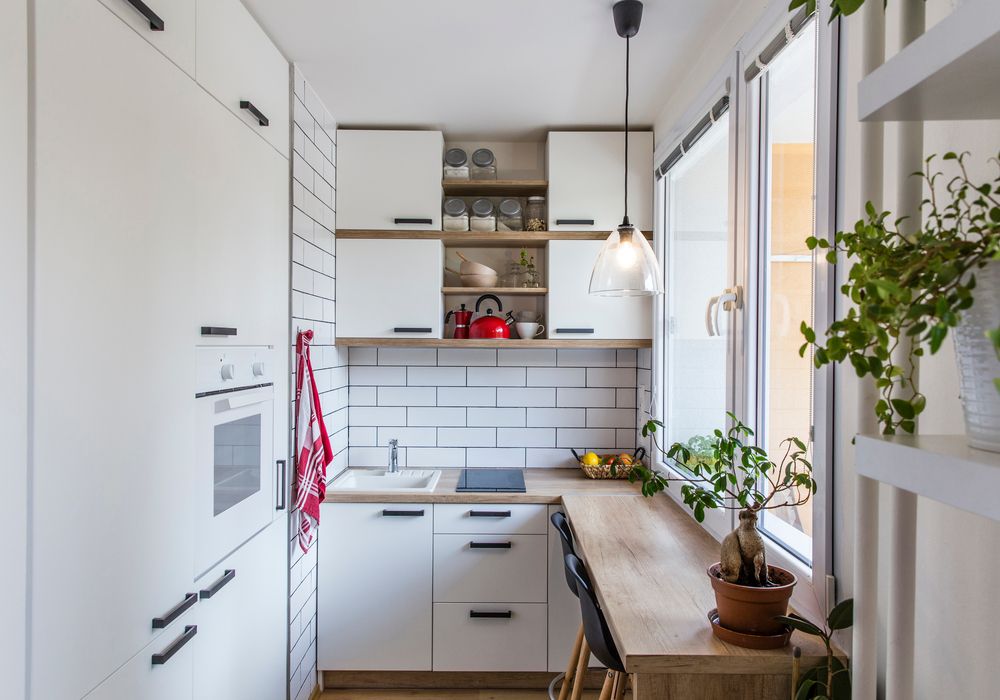 Open shelving is another popular element in mid-century kitchens as it helps to keep the room feeling modern and open. The shelves pictured above are a great example of how this can be done - use neutral wood tones to match your cabinets and paint the walls a rich contrasting color for added style points.
9. Bold Colors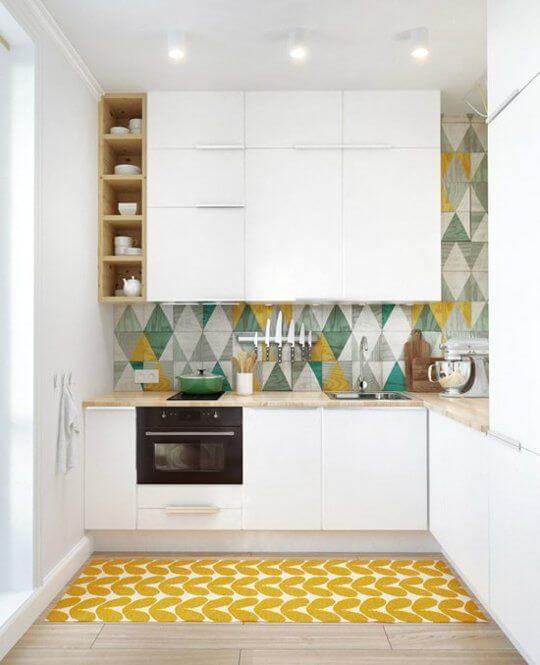 If you really want to add some energy and life to your mid-century design, consider adding bold colors. This can be done on the walls by painting one accent wall or choosing wallpaper with a bright pattern at the top and white baseboards below. You might even choose to paint all of your cabinets a different color like blue or red if you really want to bring some character into your kitchen.
10. Subtle Flair
Mid-century modern, like today's contemporary and traditional interior designs, was minimalist in nature. As a result, mid-century modern cabinets lack ornate carvings and other superfluous elements. Try adding curves and rounded shapes over straight hard edges.
11. Natural Light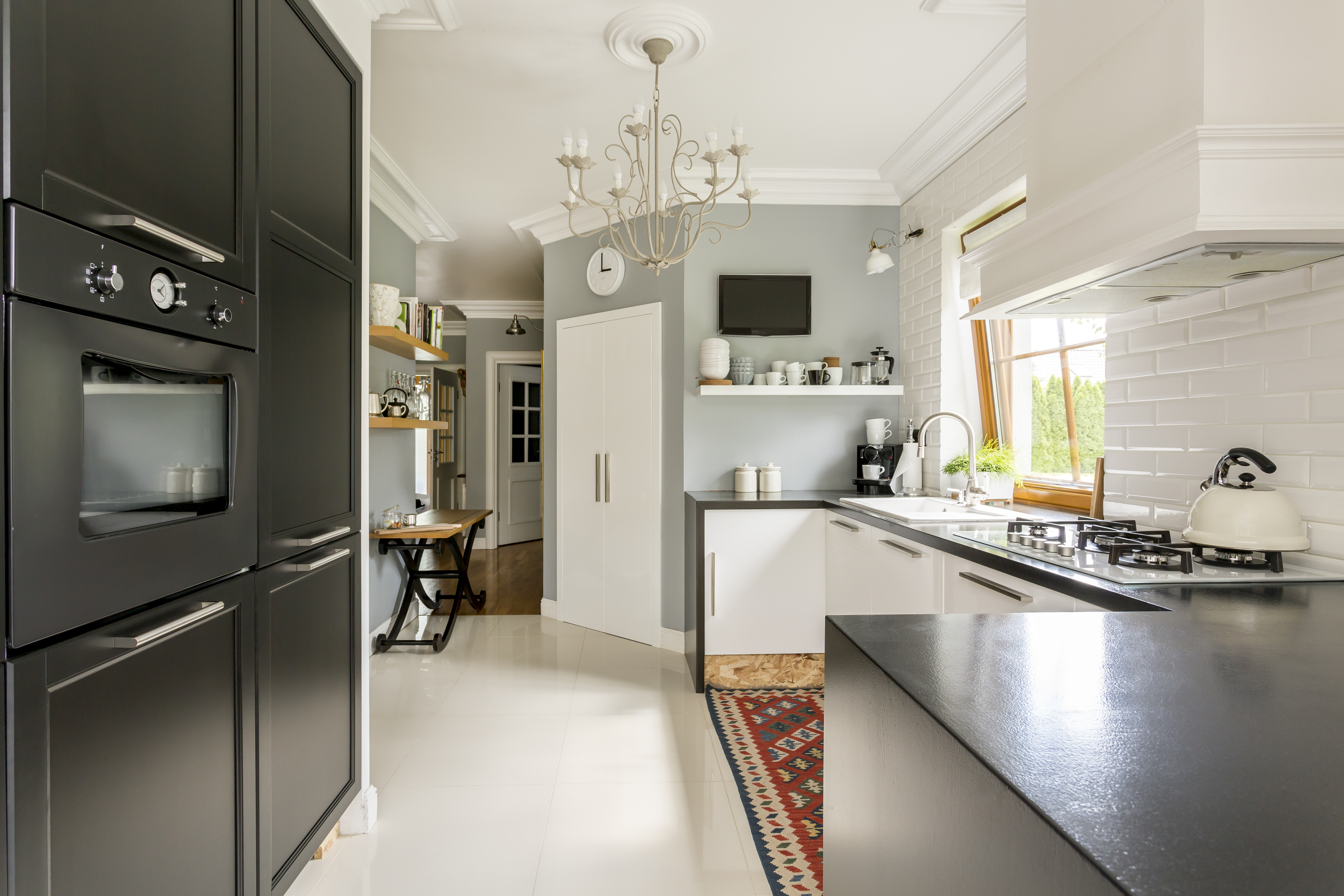 kitchen with natural light in mind is a key element of mid-century modern style. This can be done by adding large windows and keeping the design simple so that the natural light can shine through. You might also want to consider installing a skylight if you have the option.
Designing with mid-century modern style in mind is an opportunity to bring unique, attractive elements into your kitchen without sacrificing function. Mid-century modern is both elegant and impactful, making it a fantastic choice for your kitchen cabinetry.
Learn more about the mid-century modern kitchen of your dreams and get a free estimate today!
Customer FAQs
If you're considering Mid-Century Modern cabinets for your next kitchen project, here are answers to some frequently asked questions we get from customers:
1. What cabinets go with mid-century modern kitchens?
Wondering what cabinets will fit with your Mid-Century Modern style?
There are a few factors to keep in mind when choosing cabinets for a Mid-Century Modern kitchen. The clean lines and lack of ornamentation characteristic of Mid-Century Modern design is often echoed in mid-century modern kitchen cabinetry.
Therefore, look for cabinets that are simple in shape and design, without too much detail or embellishment.
The classic shaker-style cabinets are a great option. They have a simple and clean look that works well with the other elements in a mid-century kitchen. Take a look at our articles, "10 Modern Kitchen Design Ideas People Love" and "Shaker Style Kitchen Cabinets, What You Need to Know" to give you more ideas on pairing up cabinets with this style.
2. What makes a mid-century modern kitchen?
What makes a mid-century modern kitchen? The straightforward answer is simply its location in time, but that doesn't quite capture the heart of why we love these iconic kitchens.
Functionality and simplicity are at the core of mid-century modern kitchen design. sleek lines and unadorned surfaces nod to the Future, while the past is honored through vintage details.
In a mid-century modern kitchen, you'll find modular cabinets and functionality-focused appliances. Every element is placed with intention, to create a beautiful yet practical space.
3. What shapes are mid-century modern?
Squares, circles, and rectangles are all shapes that can be found in mid-century modern design. However, there is no one specific shape that is synonymous with this style. Mid-century modern designers were known for pushing the boundaries of traditional design, so they utilized a variety of shapes in their work.
Pricing. What is the Cost of a Mid-Century Modern Kitchen?
This is a question that many homeowners ask themselves when they are considering a kitchen remodel. The cost of designing a new kitchen can vary depending on the size of the kitchen and the materials used. The best way to get an idea of the cost is to get an estimate for your cabinetry.
Mod Cabinetry is the leading supplier of modern and contemporary kitchen cabinets. We offer free estimates for your Mid-Century Modern Kitchen and high-quality cabinetry at an affordable price, with shipping to your home anywhere in the continental United States.
Want firm pricing and a firm layout? Our team will help you design your dream kitchen by providing expert advice on cabinet layout, storage solutions, and finishes that match your style. We can even modify or customize cabinets if you want something unique!
Get started with Mod Cabinetry today!