Modern
Modernist Kitchen Design Ideas That Won't Break the Bank
What do you think of these modernist kitchen design ideas that some think are a no brainer?
---
The modern kitchen invites you in to the space to truly use it. There are numerous ways to get into the modern look. It is easier than ever for designers to find inspiration for modern design aesthetics in their spaces. Here are some suggestions on how to incorporate the popular look into your home with ease and not break the bank at the same time!
You will learn:
Low Budget Modern Kitchens
Simple Modern Kitchen Design Concepts
Modernist Kitchens with a Mid-Range Budget
Stunning Large Space Designs
Design Ideas
Click Play For Quick Summary
1. Low Budget Modern Kitchens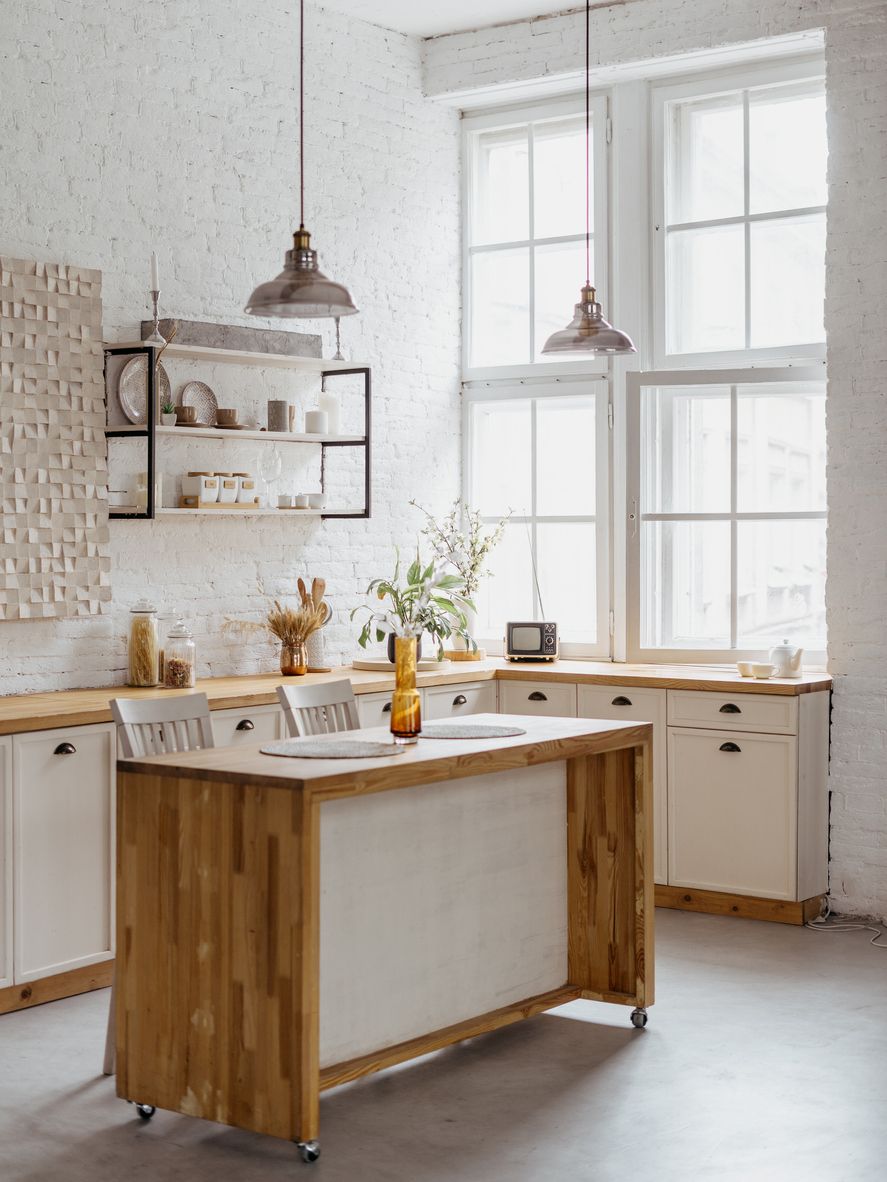 One of the great things about modernist kitchen design is that it does not have to be expensive. There are numerous ways to get the look on a budget. In fact, many of the popular trends in modern design can be achieved with materials that you may already have in your home. Here are a few ideas:
1. Use Concrete Floors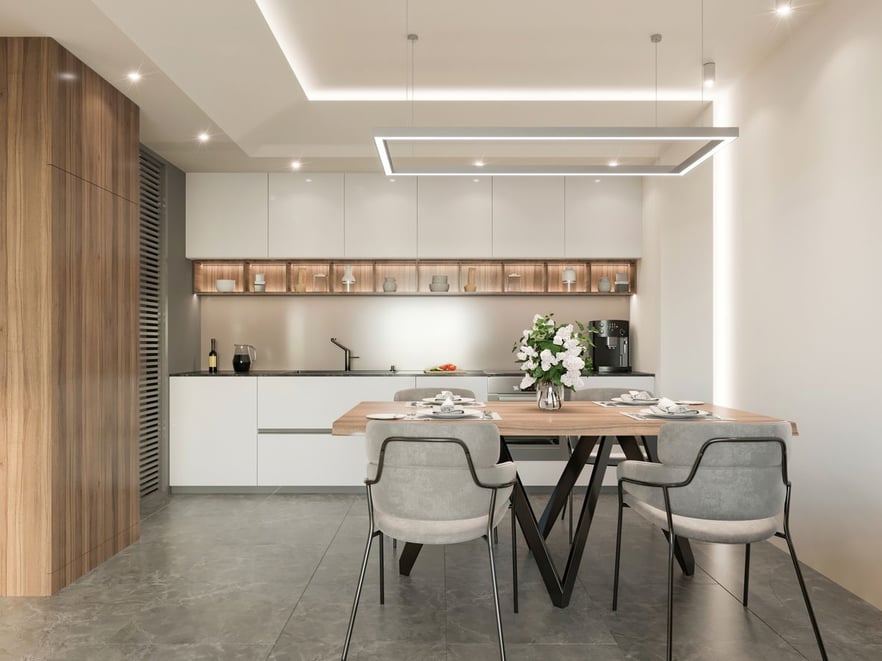 Concrete floors are a popular choice in modern design and can be achieved on a budget by using concrete paint or stains. You can also use an inexpensive stencil to add pattern and interest to your floor.
2. Use Stainless Steel Appliances
Stainless steel appliances are another popular choice in modern design and can be found at a variety of price points. If you are working on a tight budget, consider purchasing used appliances in good condition.
3. Use a Glass Backsplash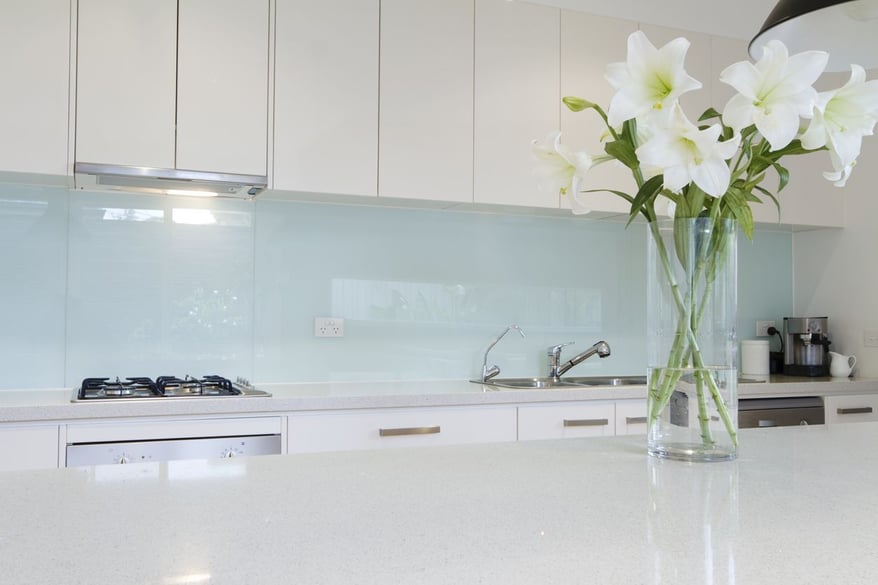 A glass backsplash is a great way to add style and interest to your kitchen without spending a lot of money. Glass tiles can be found in a variety of colors and styles and are an easy way to add personality to your kitchen.
4. Use Pendant Lights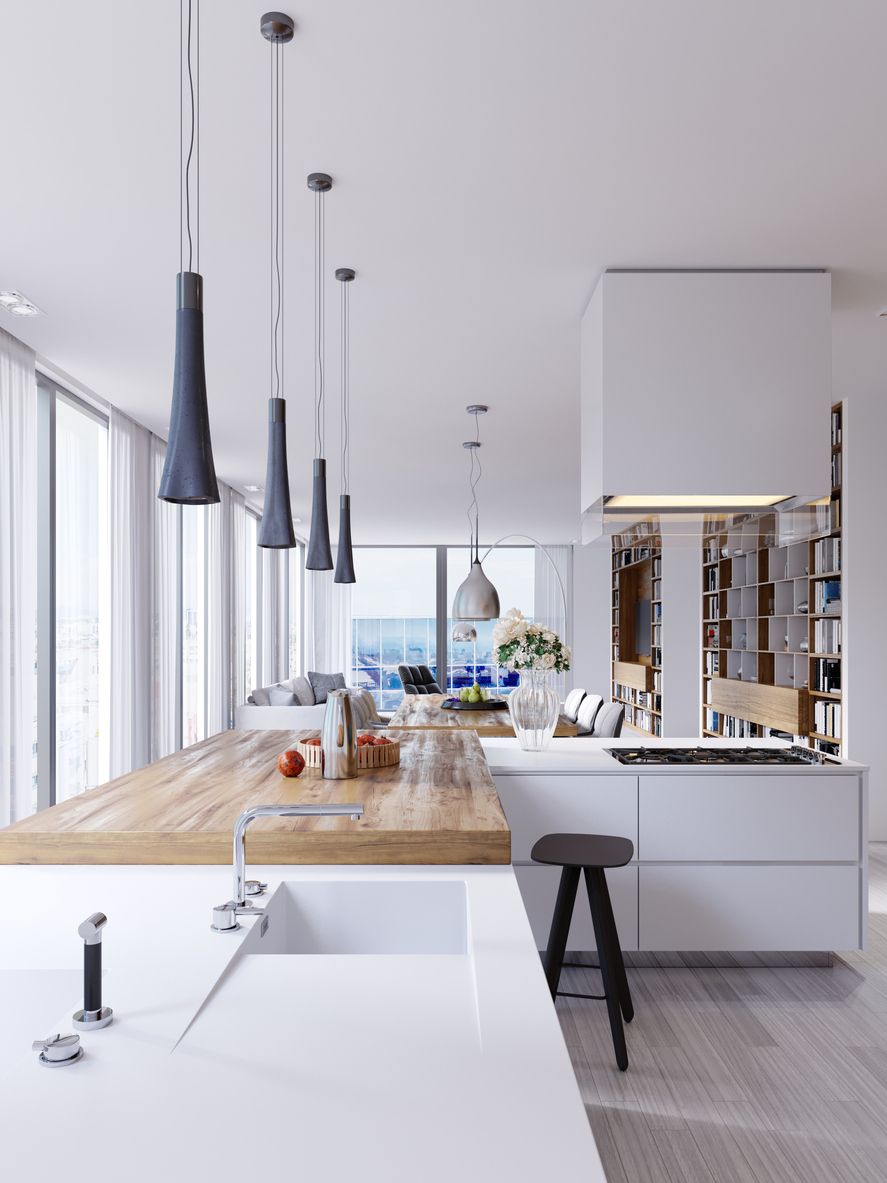 Pendant lights are a popular choice in modern kitchens and can be found at a variety of price points. Pendant lights are a great way to add personality and style to your kitchen and can be used to create focal points in the space.
Budget-friendly modern kitchens can be just as beautiful as more expensive ones with the right materials. See our article on The Complete Guide to Designing a Modern Kitchen and Modern Kitchen Ideas for more modern kitchen design ideas and tips.
2. Simple Modern Kitchen Design Concepts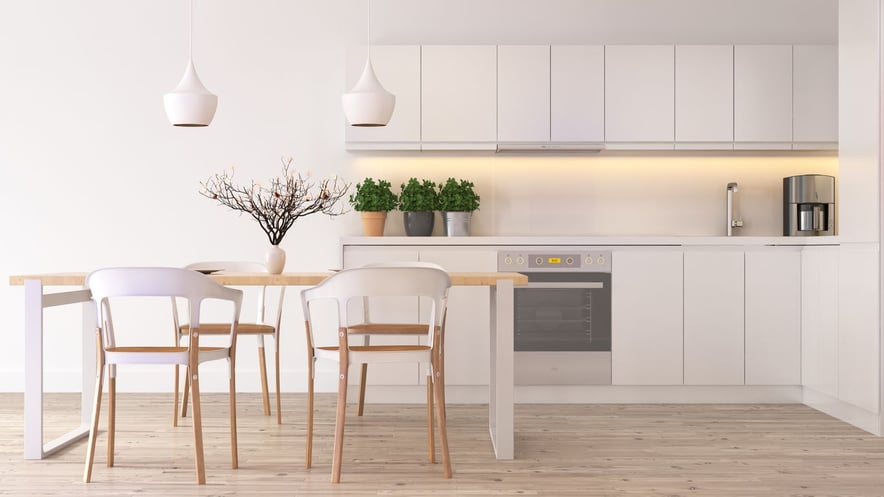 If you're looking to achieve a simple but elegant modern kitchen design, there are a few concepts you can keep in mind.
1. Materials
Focus on choosing materials that are both stylish and functional. Stainless steel appliances and concrete floors are both popular choices in modern kitchens and can be found at a variety of price points.
2. Colors and Lights
Use light colors to brighten up the space and create an airy feel. Pendant lights are a great way to add personality to the space and can be used to create focal points.
3. Storage
Make sure to use ample storage solutions to keep the space organized and functional.
By following these simple tips, you can create a beautiful and functional modern kitchen on a budget. Don't have a lot of space? Don't worry, our article "Top 12 Modern Small Kitchen Ideas" can give you good tips and tricks to liven up and make use of every nook and cranny in your kitchen.
3.Modernist Kitchens with a Mid-Range Budget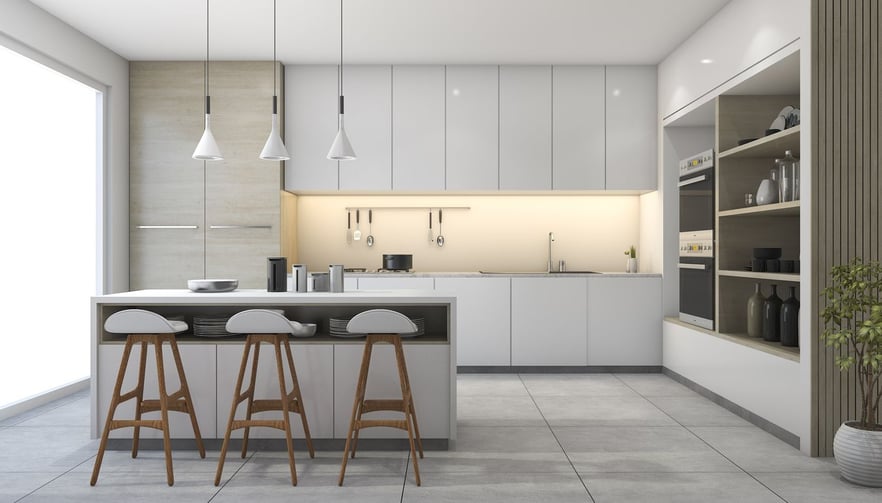 When it comes to interior design, there are a few things that are always popular: high-end materials and modern aesthetics. But what if you don't have the budget for a high-end renovation? That doesn't mean you can't have a beautiful, modern kitchen. There are many ways to get the look you want without spending a fortune.
1. One option is to go with a mid-range budget and choose materials that fit that aesthetic.
2. Laminate flooring is a great option because it looks like wood but is much more affordable.
3. Stainless steel appliances are another popular choice because they match any style and are very durable.
4. Choosing light colors for your walls and cabinets will help brighten up the space and give it a modern feel.
5. If you're willing to invest a little more money, you can also add features like an island or peninsula.
Whatever your budget, be creative and think outside the box to create a modernist kitchen that's perfect for you.
Get started with Mod Cabinetry today!
4. Stunning Large Space Designs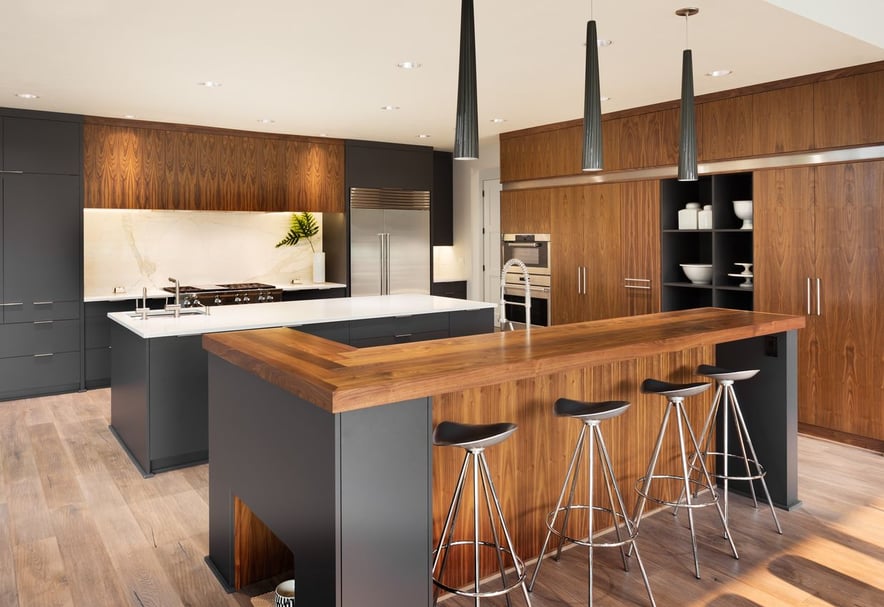 When it comes to luxurious and high-end design, the modern kitchen is king. A luxury kitchen is a great investment for your home. They are often the most expensive room in a house and can cost as much as $200,000 to install. But with that high price comes luxurious design, features and materials that you'll love every day.
With plenty of space to cook and entertain, a modernist kitchen can be the heart of any home. If you're looking for ideas on how to create your own luxurious kitchen, from sleek, high-end appliances to marble countertops and luxurious cabinetry look no further. Here are some tips:
1. Use high-quality materials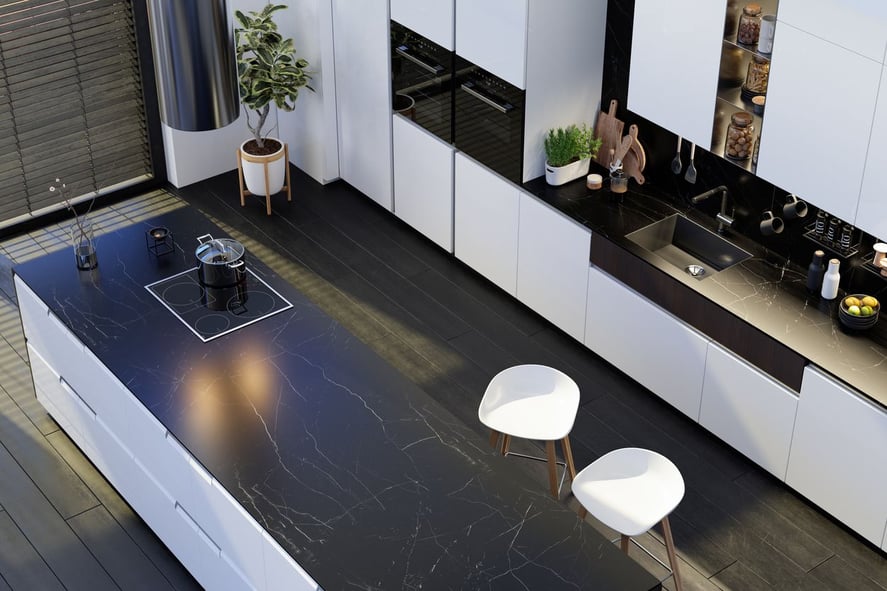 For a luxe look, use high-quality materials like marble or granite countertops, stainless steel appliances or rich hardwood flooring.
2. Keep it simple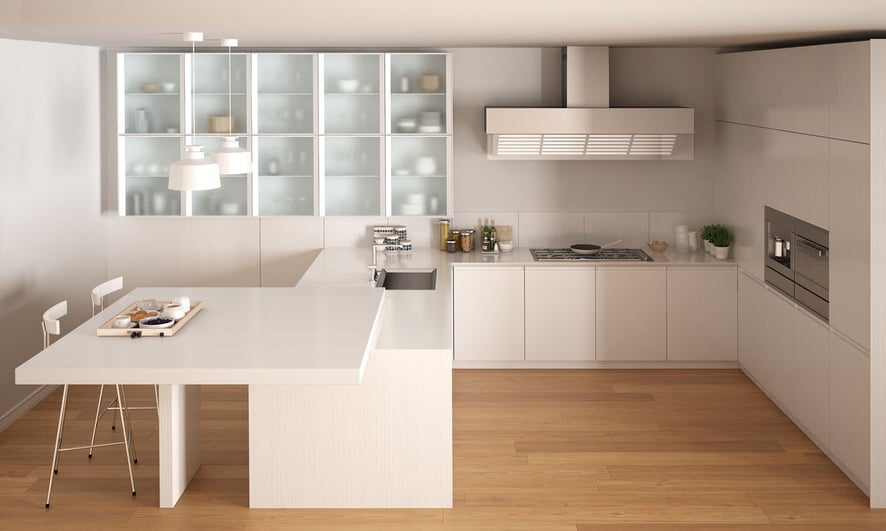 A luxury kitchen doesn't need to be cluttered or over-the-top. Keep the design simple and elegant for a timeless look.
3. Add personality with accessories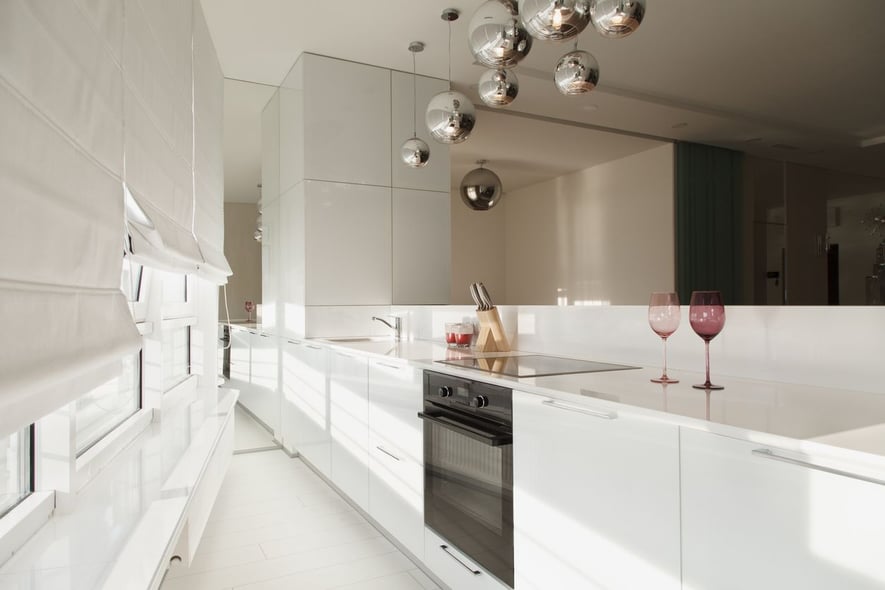 Personalize your space with unique accessories like a statement chandelier or colorful artwork.
4 . Think outside the box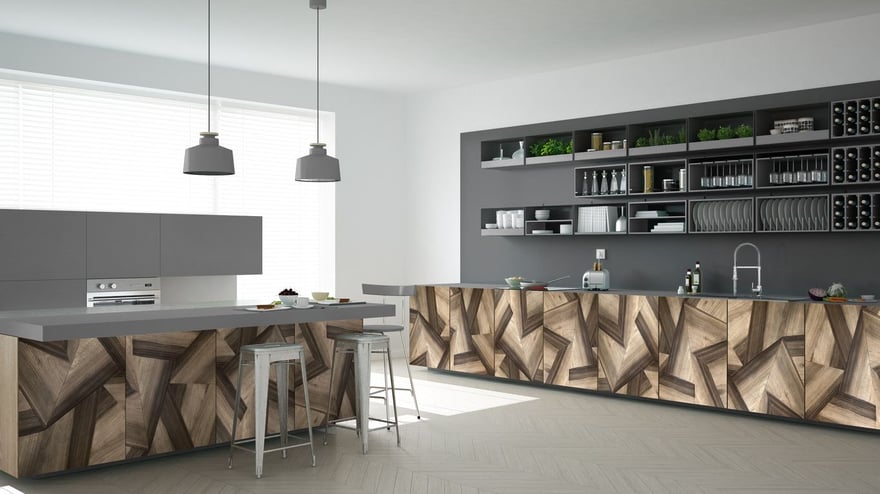 Don't be afraid to get creative with your kitchen design. A luxury kitchen can be anything you want it to be. So go ahead and dream big!
We hope these tips help you create the luxurious modernist kitchen of your dreams. Here's another option, see our article on The Complete Guide to Designing a Modern Kitchen in The Modernist for more ideas and guidance. With a little bit of creativity and planning, you can have a space that's perfect for cooking and entertaining. So get started today and you'll be enjoying your luxurious new kitchen in no time!
Get started with Mod Cabinetry today!
5. Design Ideas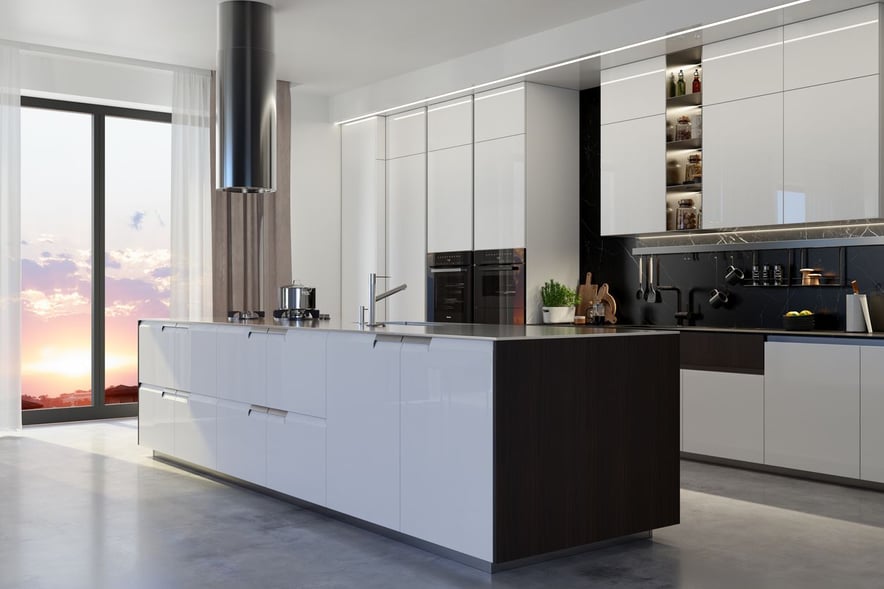 Modern kitchen ideas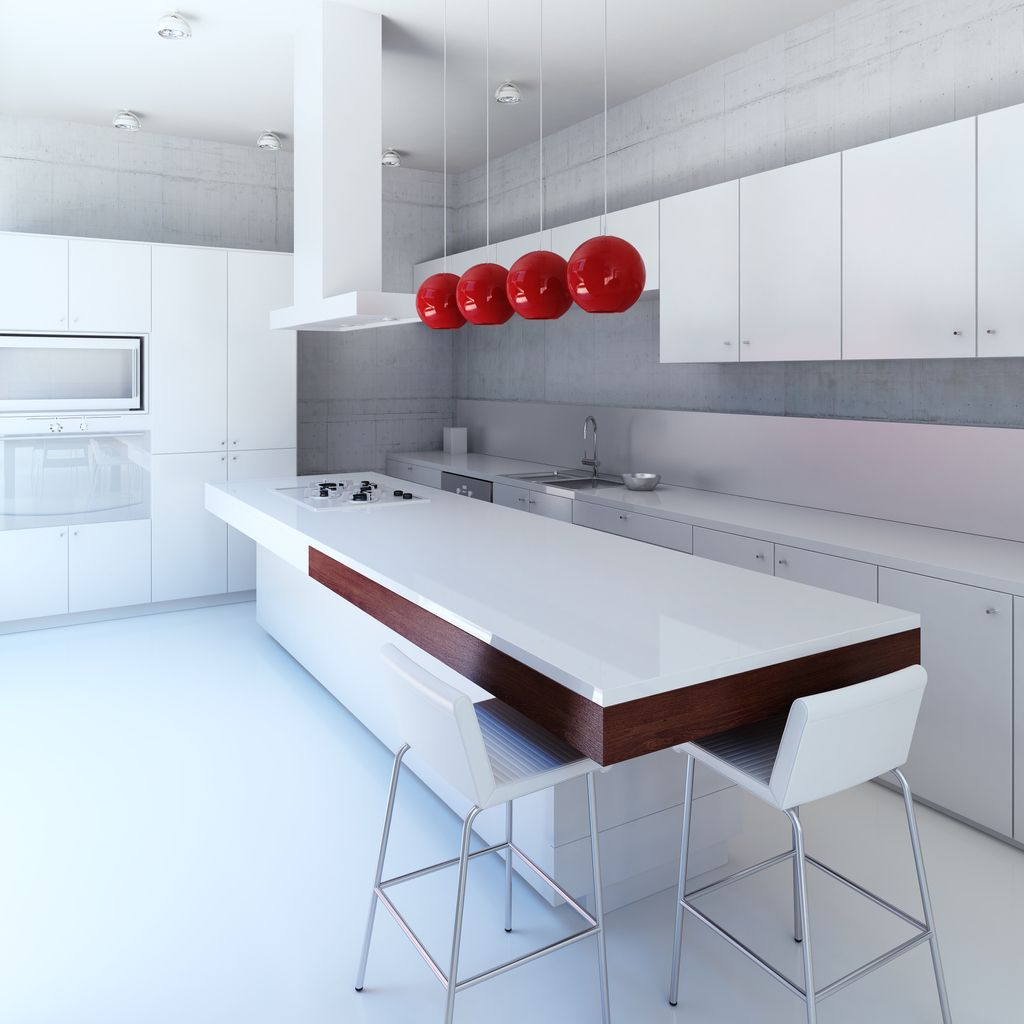 For hardworking spaces like the Kitchen, modern functionality and style are perfect. The modern kitchen invites you in to the space to truly use it. There are numerous modern ideas available to get into the modern look.
The best part of a modern kitchen is that it can be completely customized to fit your needs. Whether you want a sleek and minimalist design or something with more character, there are endless possibilities.
When you're ready to start your renovation, be sure to consult with ModCabinetry to get started on the perfect modern kitchen idea for your home. With the right planning, your new kitchen will be not only stylish but also perfectly functional for all your cooking needs. See "10 Modern Kitchen Design Ideas People Love" to get more inspiring modern kitchen designs.
What is modern kitchen design?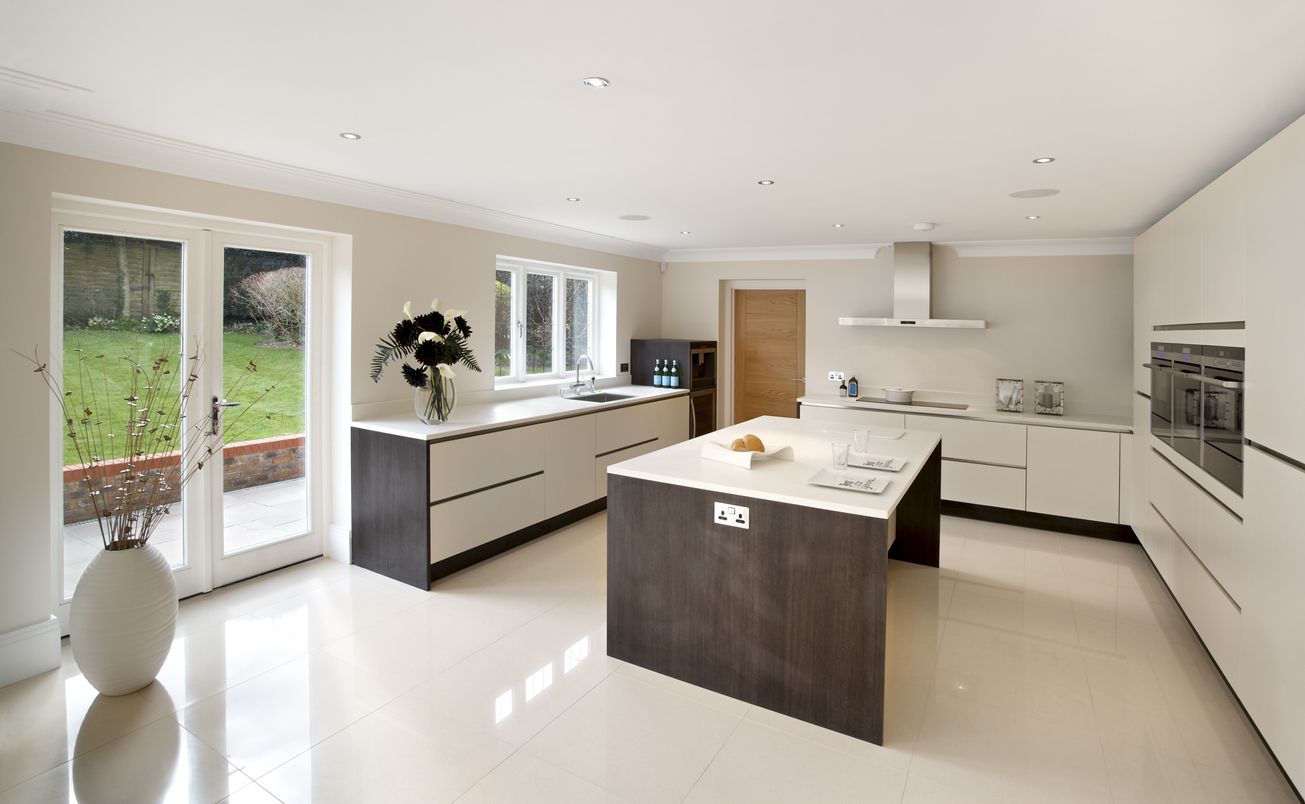 Modern kitchen style includes rounded shapes and simple designs involving minimal hardware and curved doors. It's normally geometrical shapes with little ornamental value.
While traditional kitchen design typically concentrates primarily on natural materials for cabinets, surfaces, and furniture, modern style kitchen design often strays from this aesthetic, usually using manmade materials such as laminated ceramics and moulded plastics.
A modernist kitchen design is all about getting the most out of your space. A sleek, streamlined look with a focus on functionality and convenience can be achieved by incorporating these simple elements into your kitchen.
Modernists would like to see natural light flooding in from windows or skylights so that it doesn't feel closed off, and white cabinets for an airy aesthetic. Sleek kitchens also provide ample storage space with minimal visual clutter.
1. Kitchen Islands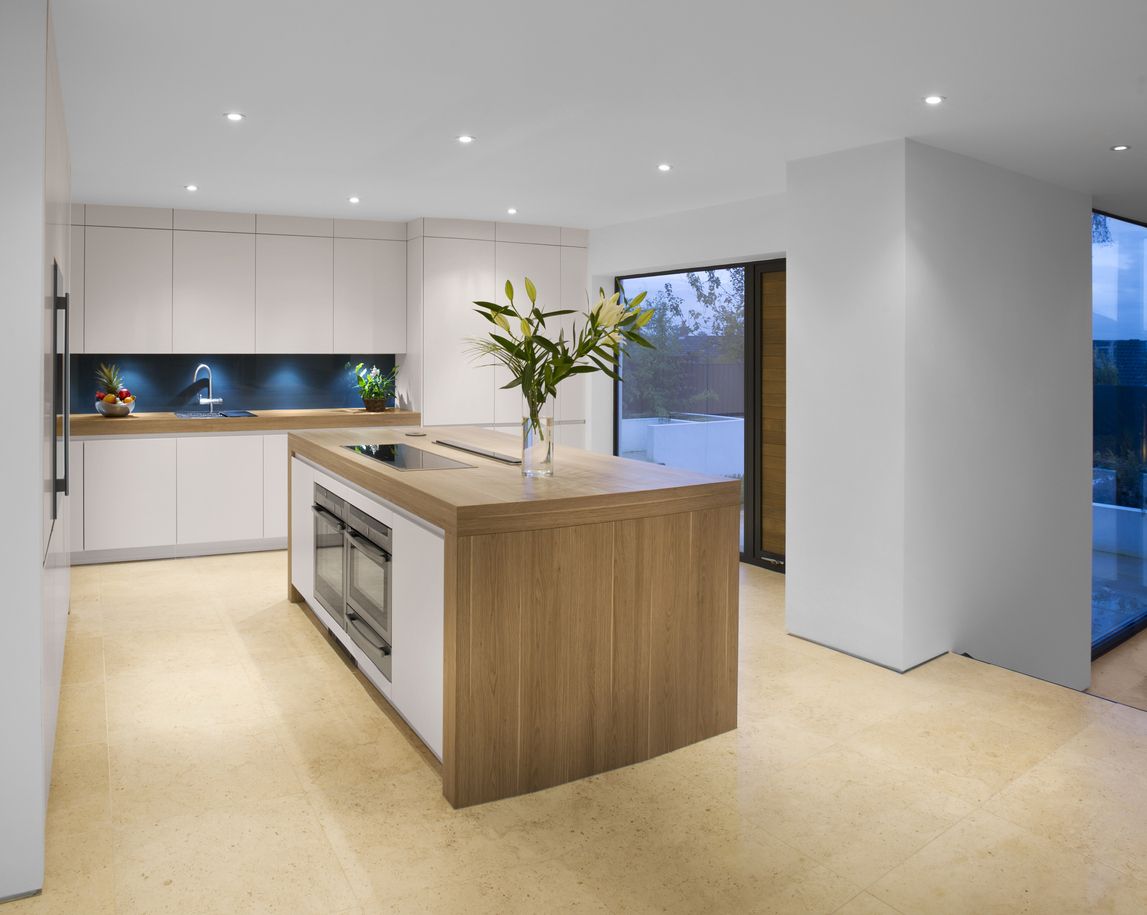 When designing your modern kitchen, don't forget to add an island for extra workspace and storage. Islands can be customized to fit your needs, and with the right materials, they can be just as stylish as the rest of your kitchen. Stainless steel and an undermount sink are perfect additions for a modern look, and sink fittings can add a touch of elegance. With the right design, your kitchen island can be the perfect place to prepare meals or entertain guests. You can add some globe pendant lights for extra style and illumination.
2. Put value in surfaces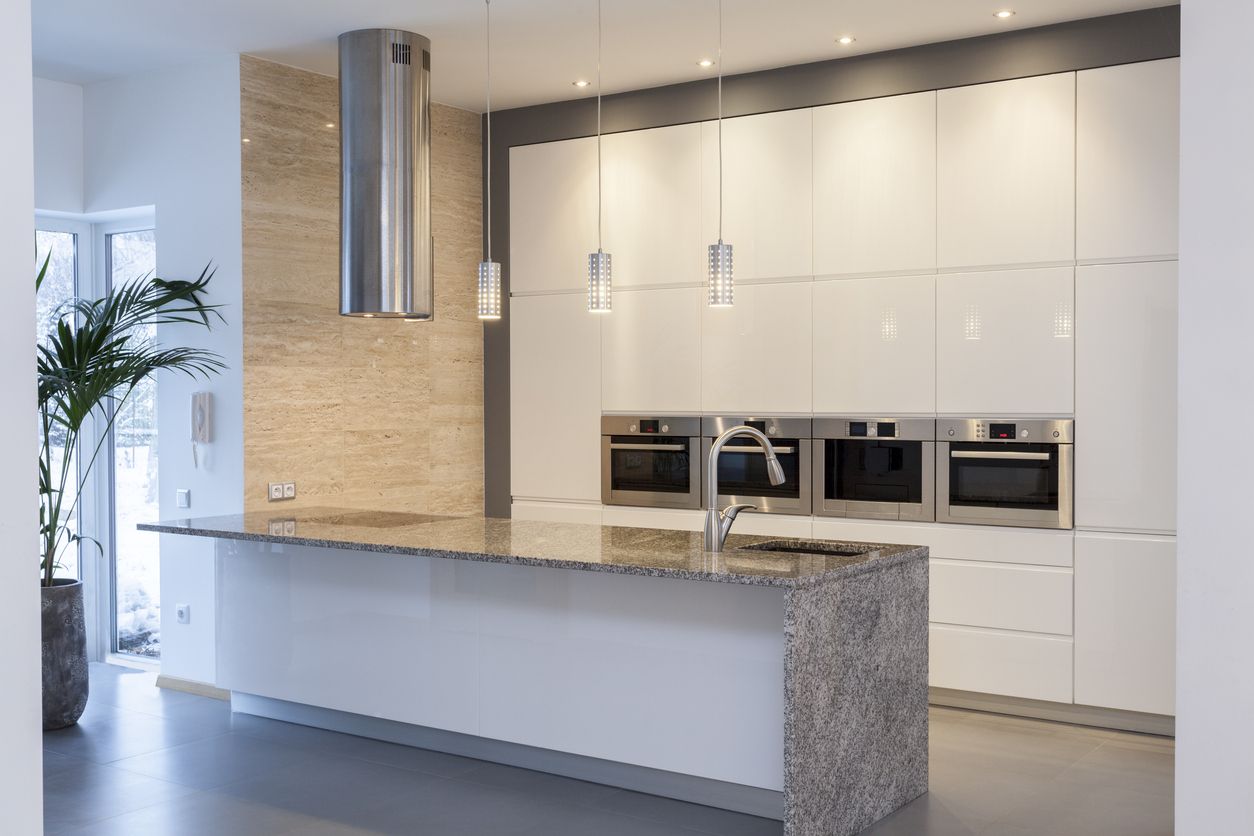 Another popular choice for modern kitchens is the use of flat surfaces. Among the popular choices are marble countertops and Caesarstone countertops. They are easy to clean and maintain, and they create a sleek, minimalist look that is perfect for contemporary spaces. Marble is elegant and timeless, with a luxurious look that is perfect for a high-end space. Caesarstone countertops, made from natural quartz, is a type of composite surface that is perfect for a modern kitchen. It is highly resistant to scratches and stains and comes in a variety of colors and textures, to complement your home's existing design.
3. Embrace Scandinavian design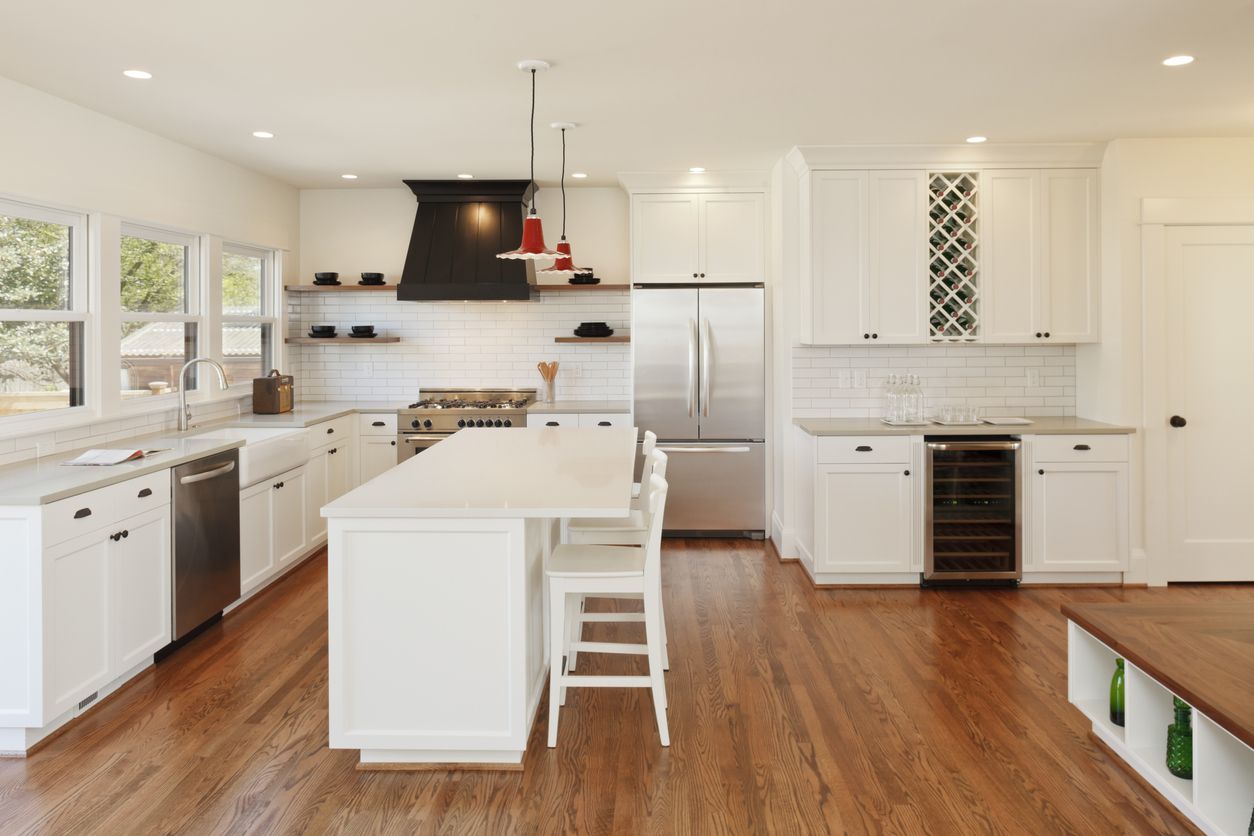 To create a Scandinavian contemporary kitchen start with white walls and natural wood flooring and then choose a few bright accents (and keep bright colors throughout your decor). Woven texture and black metal hardware are key elements in the design.
4. Go Two-Toned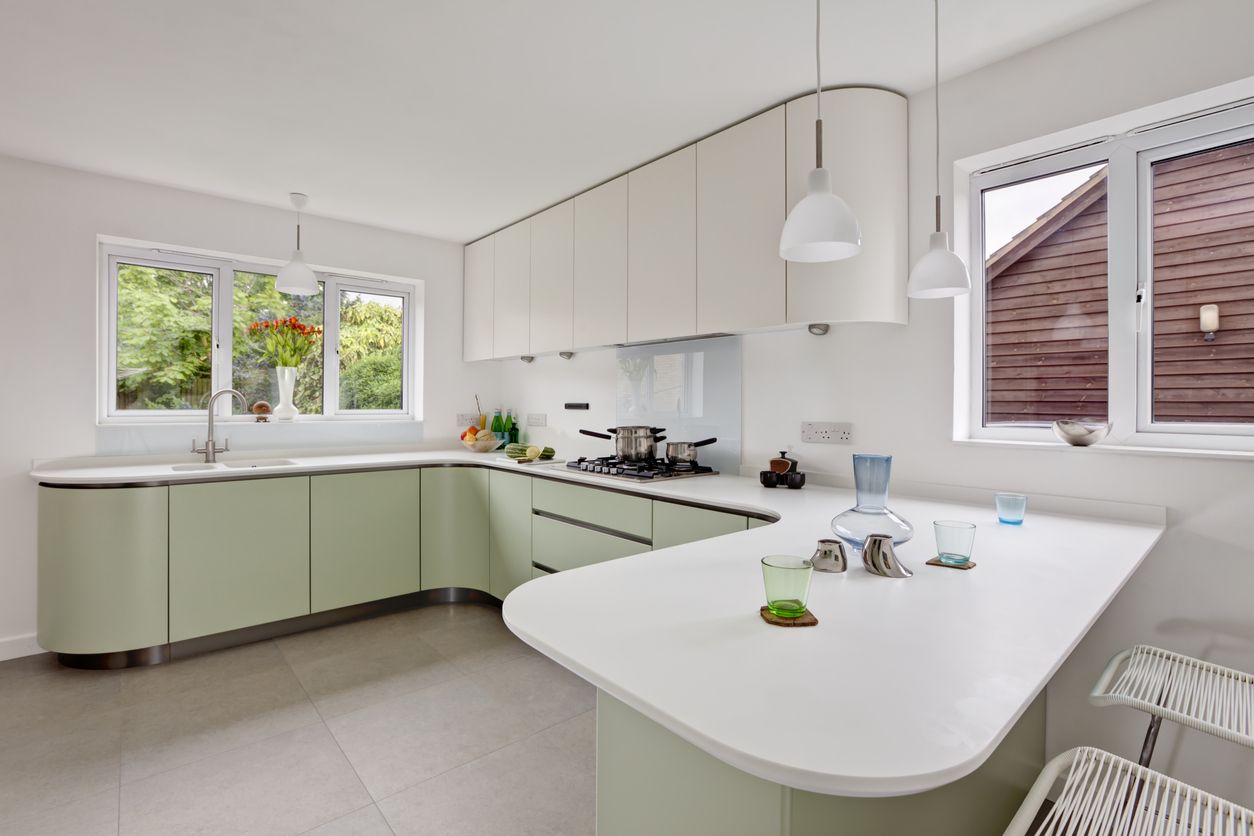 Two-toned kitchens have been around for a while, but they are still one of the most popular modern kitchen designs. By using two different colors on your cabinets, you can create a look that is both stylish and unique. Plus, it can help to make your kitchen feel larger than it actually is. White cabinets and countertops provide a clean, sleek look that is perfect for a modern home. Darker colors on the bottom half of the cabinets help to make the kitchen feel larger than it might otherwise be.
5. Find Accent Furniture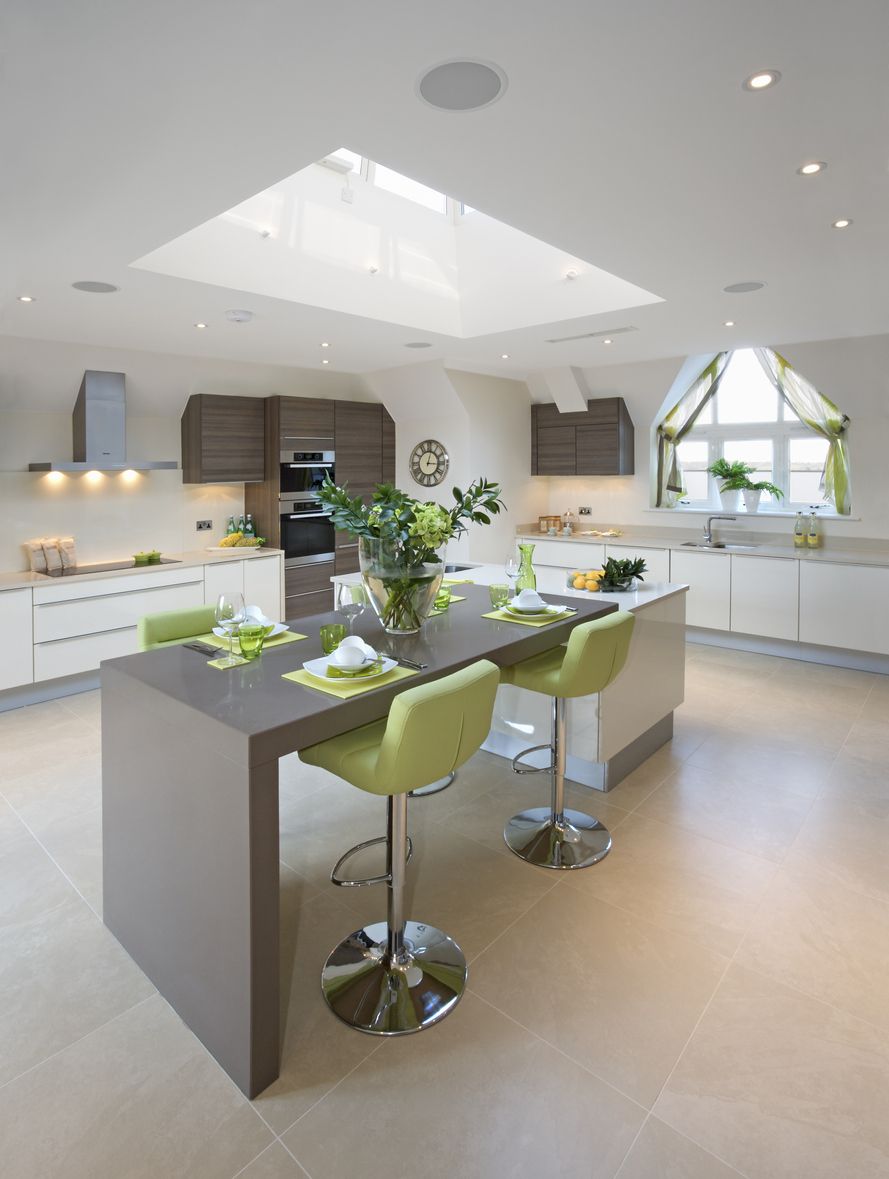 When it comes to accent furniture in the modern kitchen, think playful pops of color and cool polished chrome finish. This look is all about sleek appliances and a polished aesthetic. When you have most of your room themed around a contemporary monochrome design, accent furniture will bring the room together while keeping the aesthetic simple. Minimal warm shades provide depth and mixing white throughout the room creates depth.
6. Choose open shelving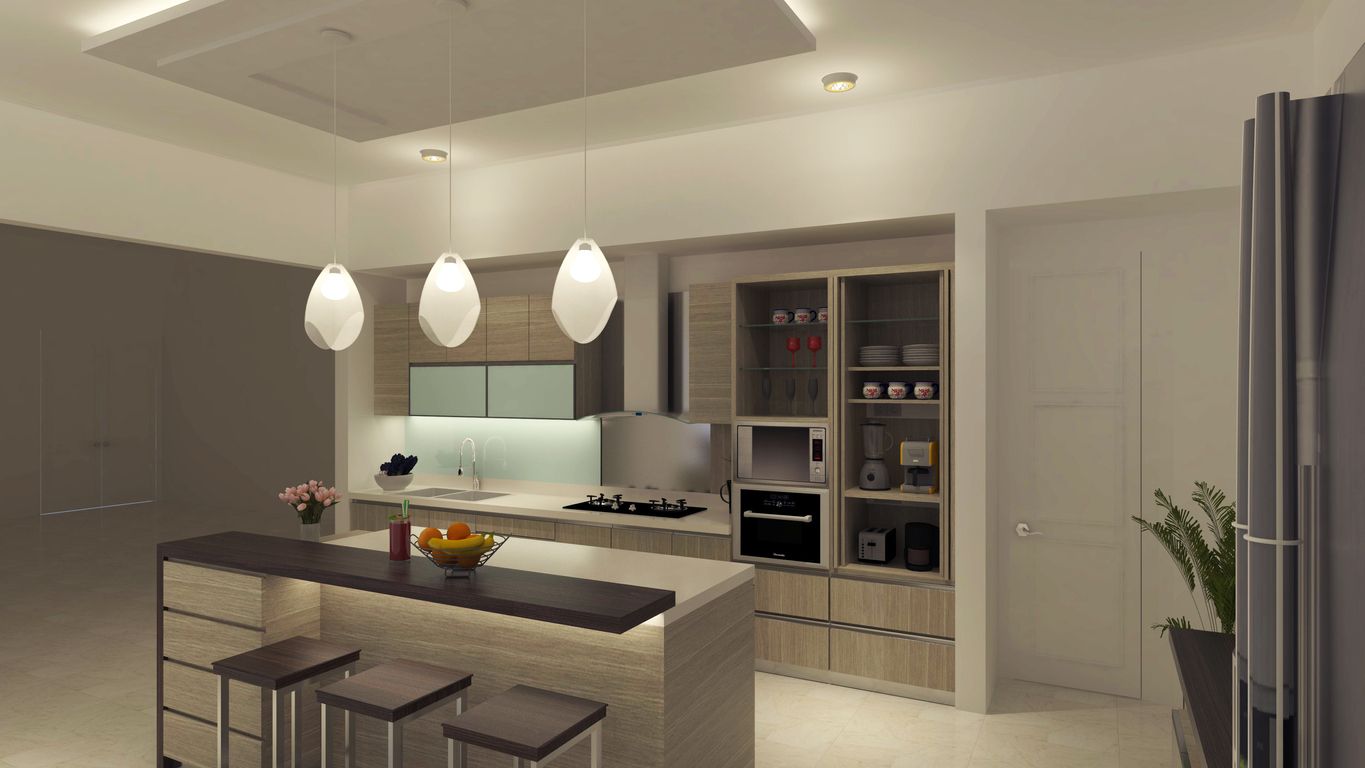 If you're looking for a way to add extra storage to your modern kitchen, open shelving can be a great option. Not only does this type of shelving make items easy to find when you need them, but it also adds an airy feeling to the room thanks to its lack of enclosed spaces. Using subway tile backsplash is great way to create a modern look. This simple, classic tile can be used to create a beautiful and timeless backsplash that will help to enhance the look of your open shelving.
7. Extend a welcome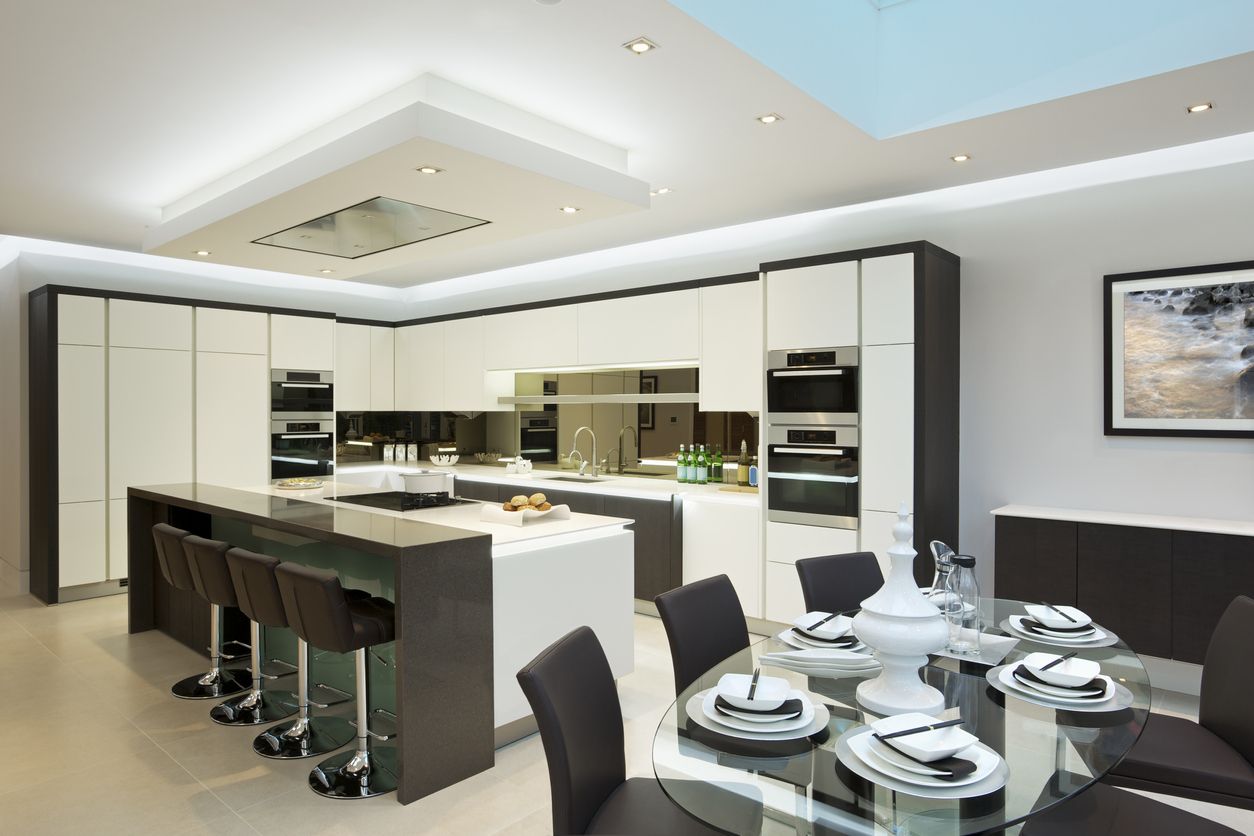 When you're entertaining guests in your modern kitchen extension, be sure to put your best foot forward. When designing your kitchen extension, choose a look that's both stylish and functional. Be sure to choose materials and finishes that will complement the rest of your home A modernist kitchen extension is a perfect place to host memorable gatherings in a space that's both beautiful and comfortable.
Get started with Mod Cabinetry today!
8. Choose a statement color
Statement colors can be a great way to add personality to your kitchen, and they can be especially effective in small spaces. A bold color can act as a focal point, drawing the eye to the space and making it feel more spacious. In a small kitchen, it's important to use every inch of space wisely, and a statement color can be a great way to do that. When utilizing strong color combinations, it is helpful, to begin with, the one you want to concentrate on first. This will help to ensure that the other colors in the space don't overpower it.
9. Be natural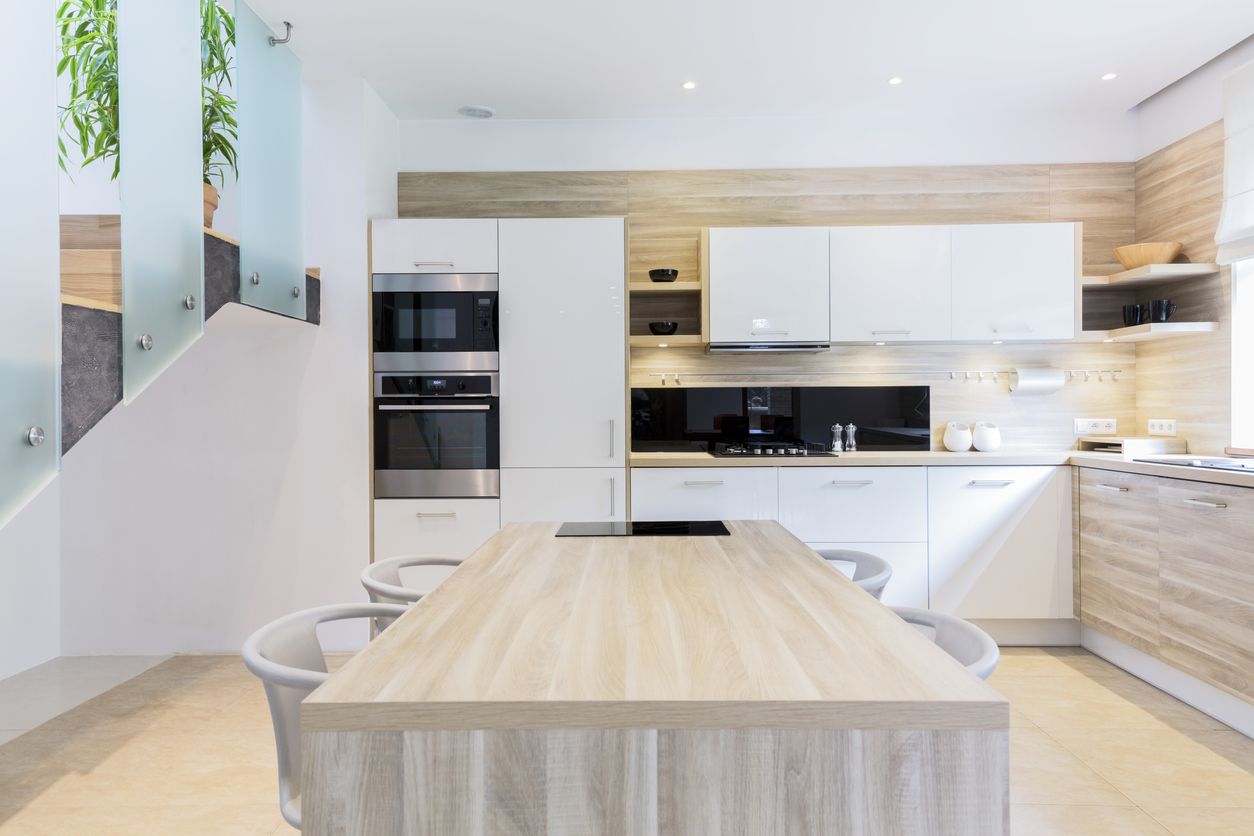 One of the most popular trends in kitchen design is using natural colors and materials. One option is using wooden countertops. Not only are they beautiful, but they're also durable and easy to maintain. Another way is to use natural wood with simple, clean lines in your cabinetry and decor. This is a great way to create a warm and inviting feeling that is perfect for family gatherings or entertaining friends while also adding some natural beauty to the room.
10. Get Personal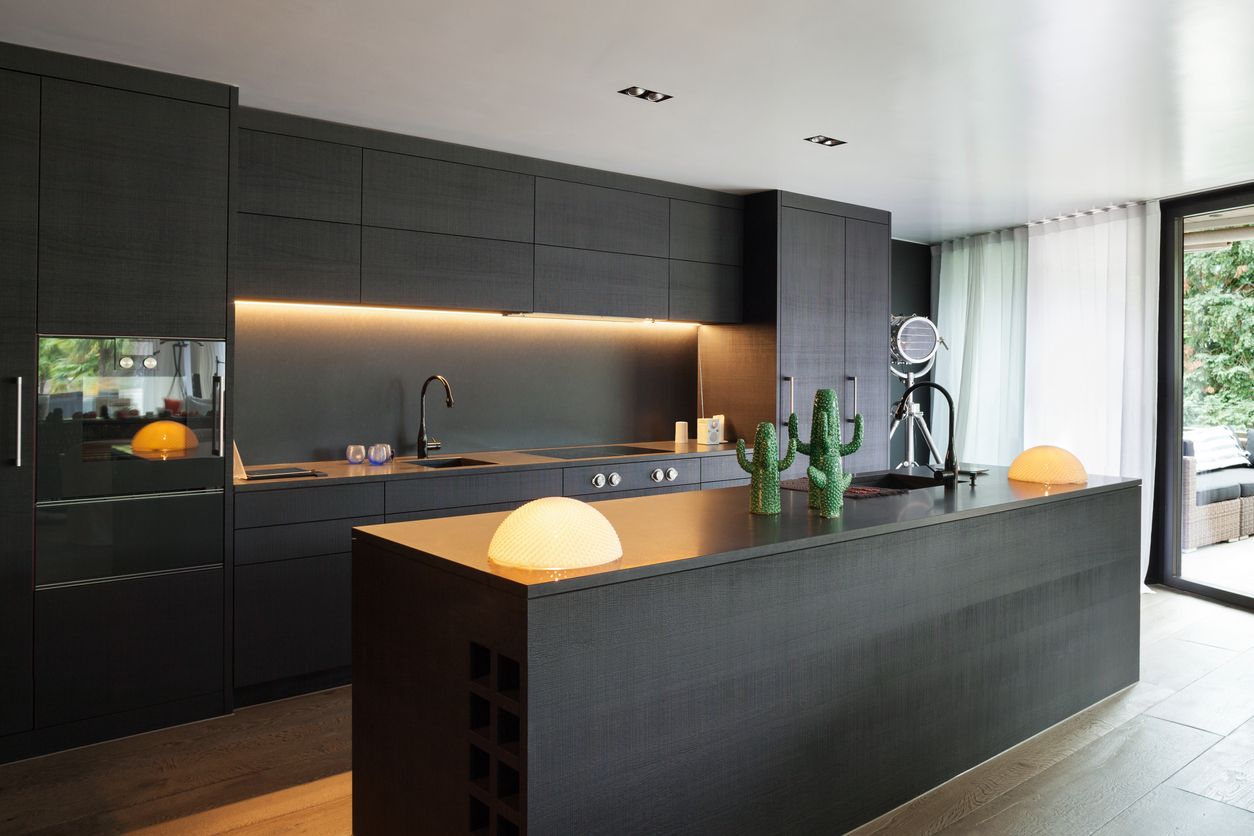 When it comes to personalizing your modern kitchen, there are a few different things you can do to make it feel like your own. One of the easiest ways to do this is by adding some decorative touches to the walls or ceiling. You could add a colorful mural or wallpaper, or install some interesting ceiling tiles. You can also add chalk-painted paints on the walls, enriched with handwritten messages and drawings which has a unique style unlike any painted canvas. Give everyone in the household an outlet to make their own creative ideas.
11. Play hide and seek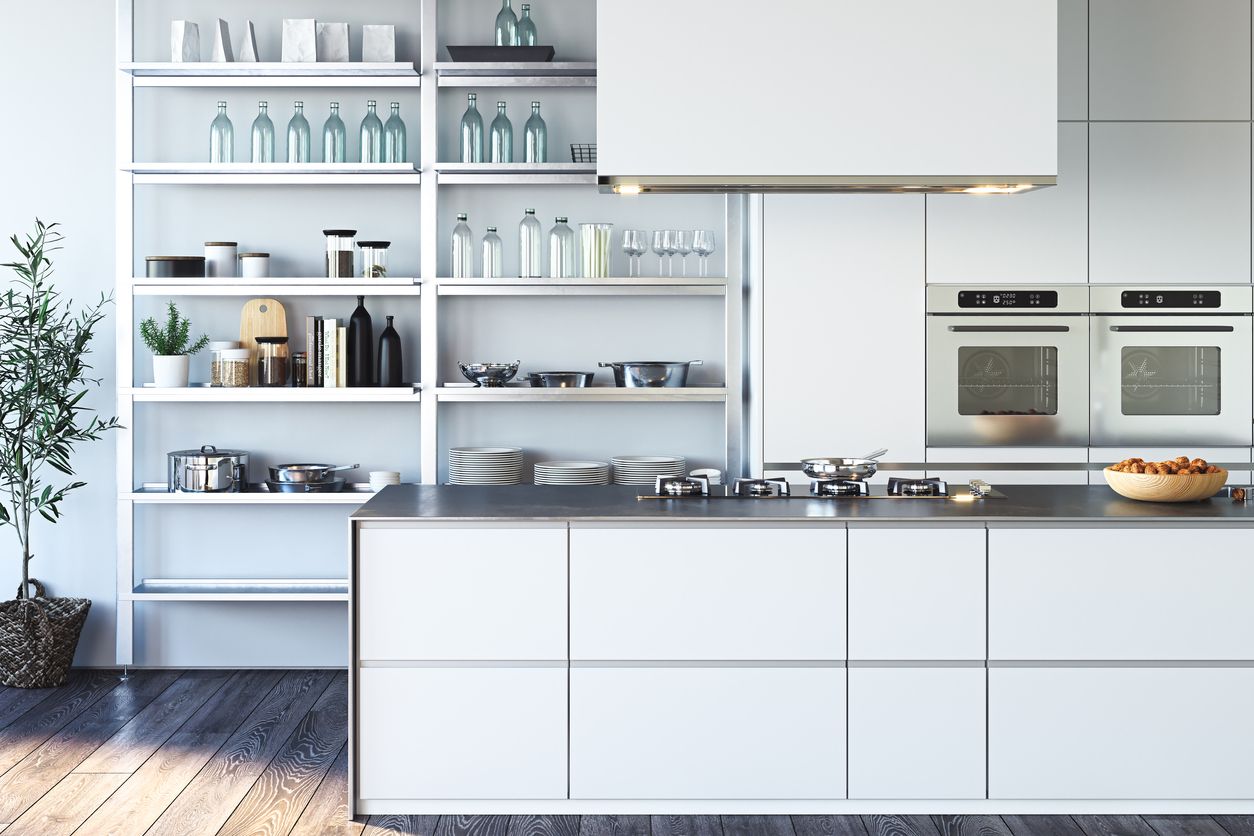 The pantry and utility were once at the top of the wish list for a farmhouse kitchen. They've also become contemporary kitchen dreams! It is a practical setup for an elegant kitchen space that can be enjoyed as the service area can be seen. When you are given these great pantry ideas you can probably avoid hiding them.
12. Go for Gold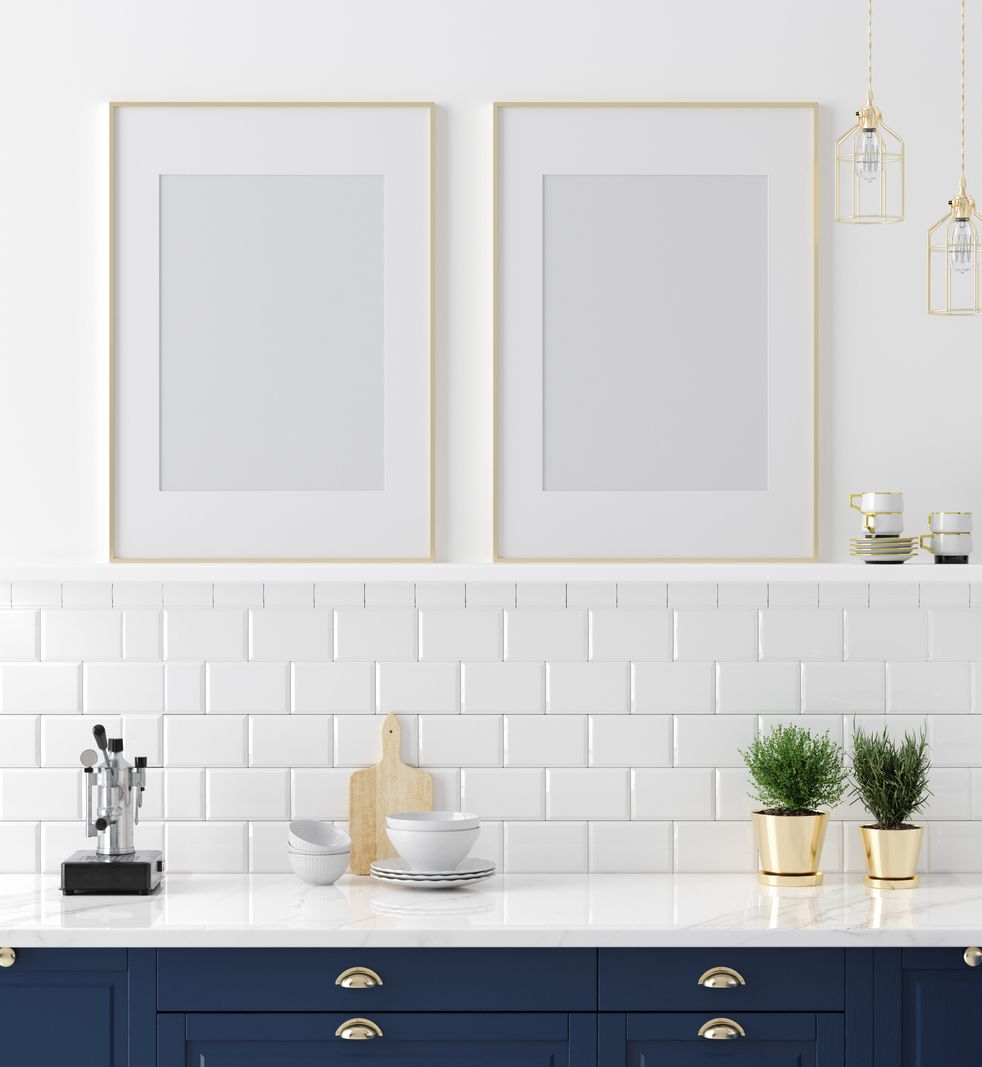 Add a touch of luxury by using gold accents in the design. It's a great way to add a touch of glamour and some personality to the space. You can also use gold as an accent color in the kitchen, either by adding golden details or by painting one wall gold. Either way, golden finish on the hardware in on various accent areas and outlines for the walls and all the cabinet doors makes a dreamy masterpiece.
13. Have multiple seating areas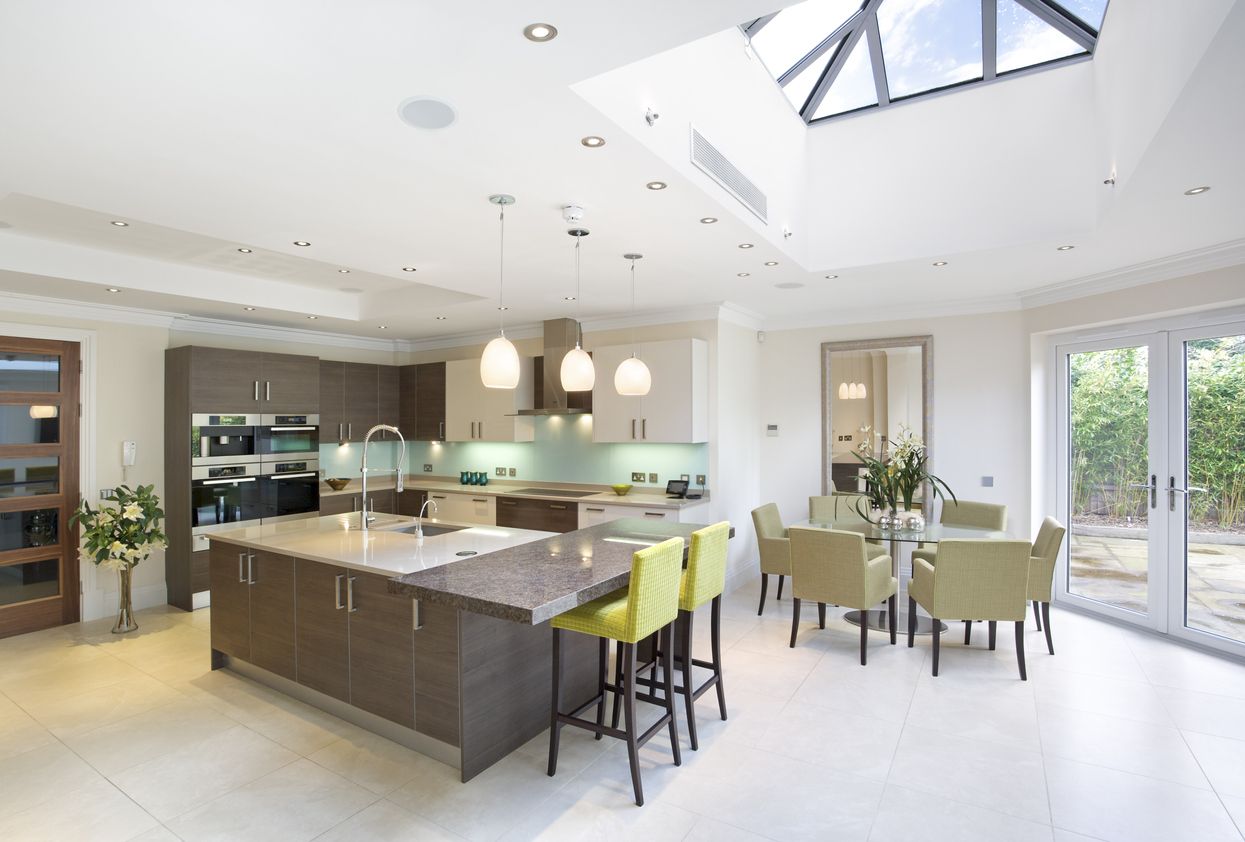 Incorporating multiple seating areas is an incredible way to add functionality and style. One great way to achieve this look is by using bar stool seating around a breakfast bar or island. This is an awesome way to add some extra seating in a small kitchen, and it can also be used as a makeshift dining area. This can give your kitchen a more contemporary look and make it more versatile.
Get started with Mod Cabinetry today!
14. Light it Right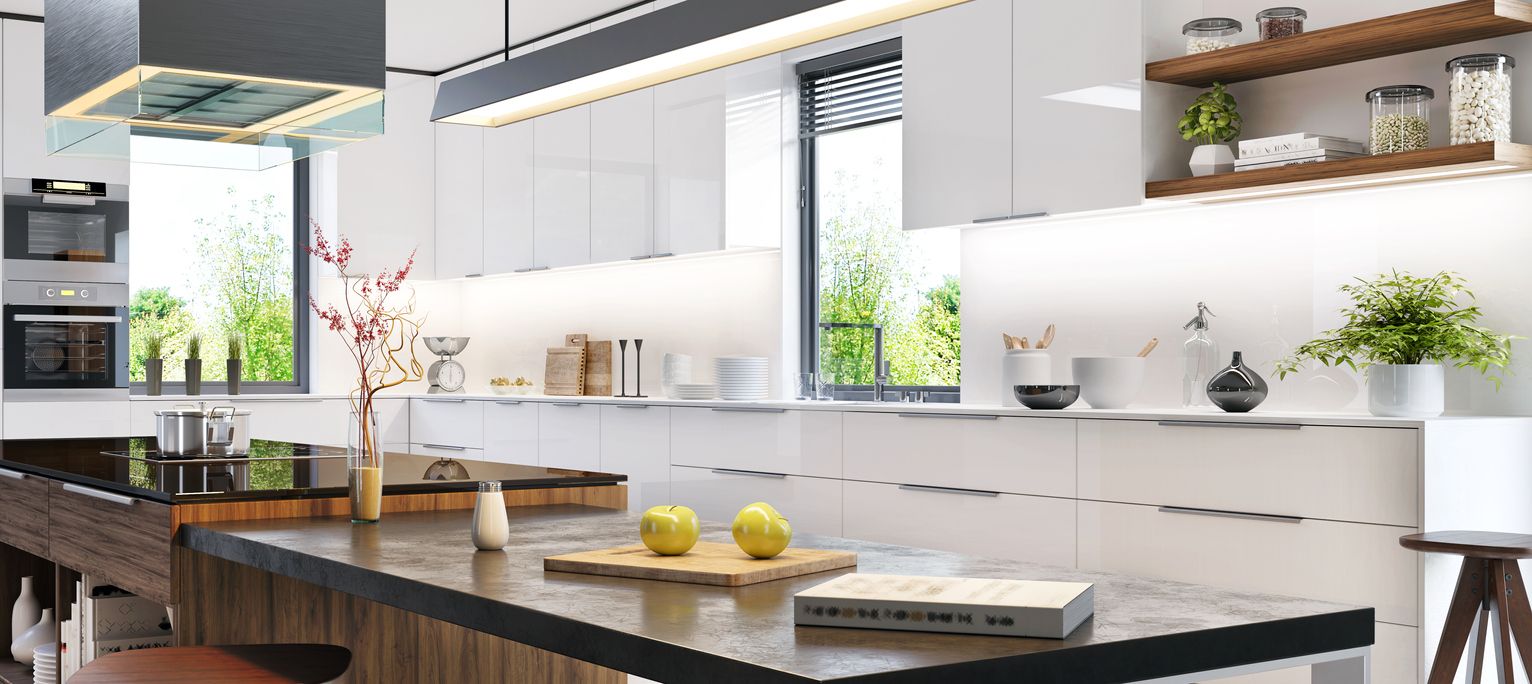 One of the most important elements of any modern kitchen is the lighting. Good lighting can make or break a space, and in a kitchen, it's essential that you have both bright light for cooking and tasks as well as a soft light for hanging out and relaxing. A contemporary kitchen should be designed with both of these needs in mind. If you're looking to create a modernist kitchen design, be sure to focus on using light fixtures that will really bring the space to life.
15. Play with patterns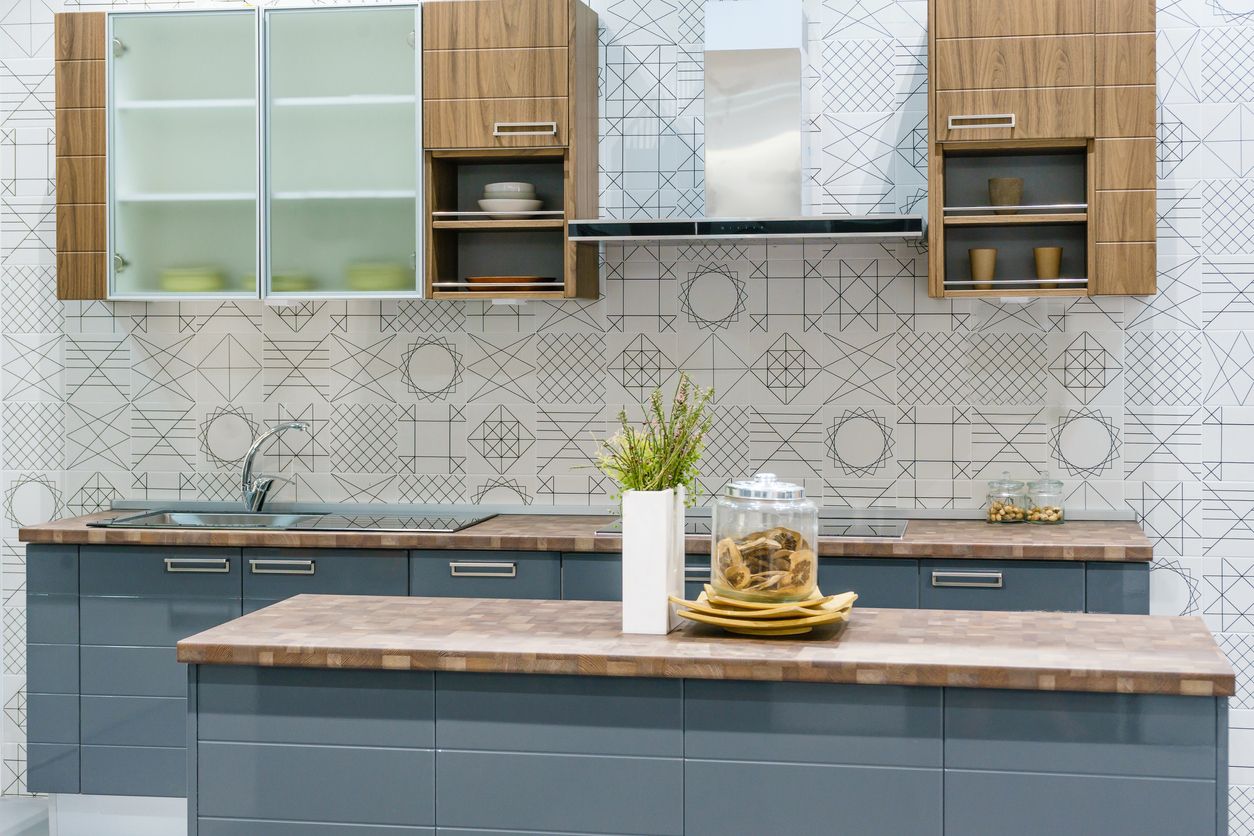 When it comes to kitchen design, there are many ways to achieve a modern look. A great way to add some fun is by using playful patterns on the ceiling and walls. Patterns can also be used on cabinets, appliances, and countertops to create a cohesive look. This will give the space a unique and contemporary feel.
16. Get Geometrics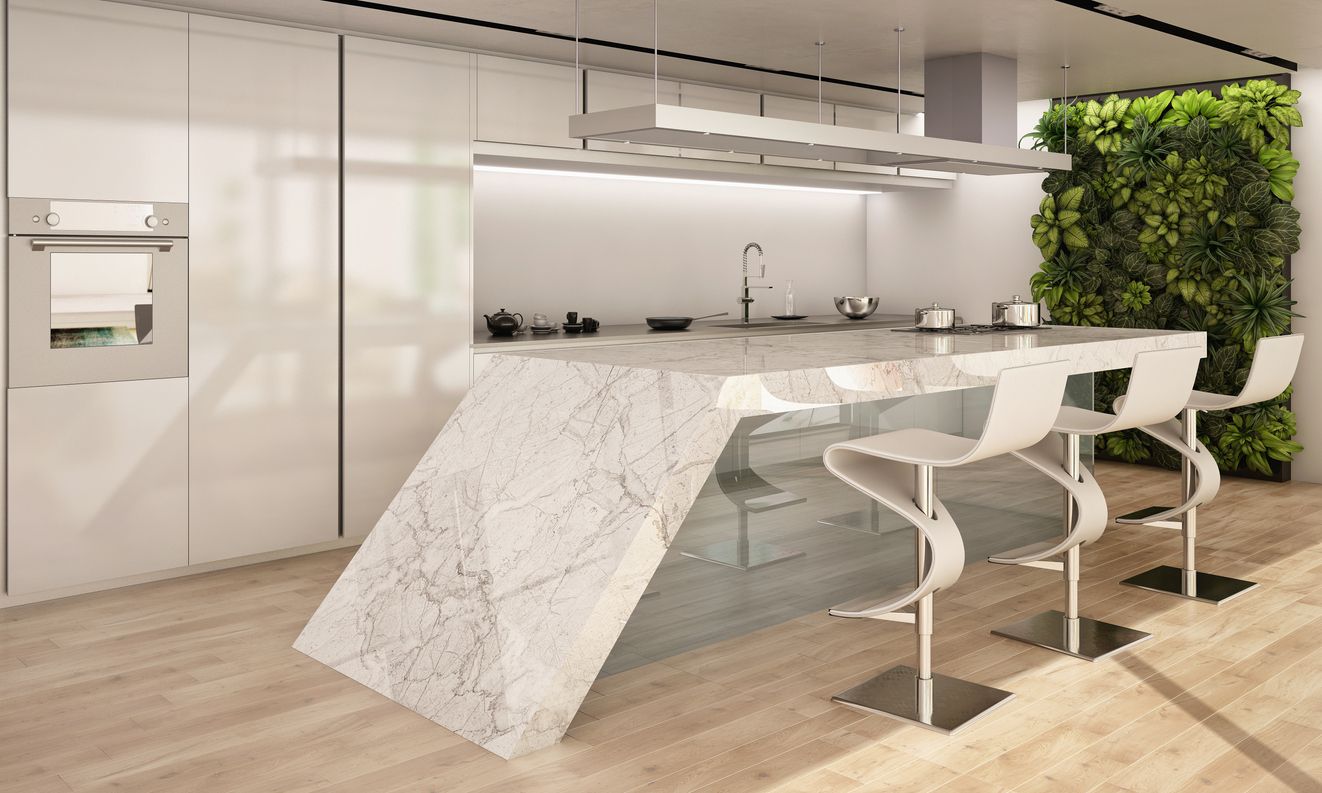 When it comes to geometric designs, the options are endless! Modern kitchens are a perfect place to bring geometric designs into your home. Geometric patterns, like those found in nature, can be used to create an organic and natural feel that is both calming and energizing. Geometric designs can also be fun and playful, adding pops of color to your kitchen. Cabinet handles, appliances and even your dining table can be styled in a way that reflects your personality and makes your kitchen more inviting.
17. Merge old with new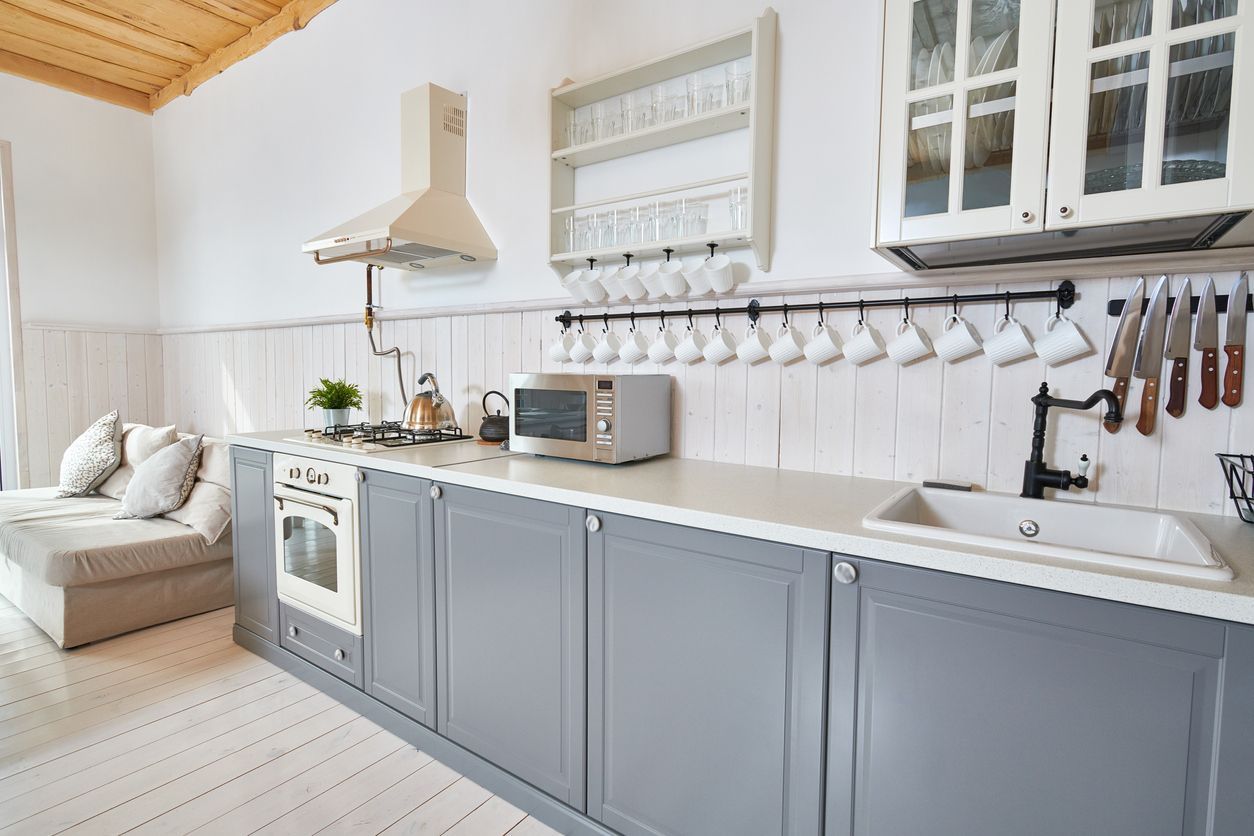 Some people are hesitant to merge the old and new styles of their kitchen. They feel like they might be betraying the design of the older kitchen. Original features such as wood beams, exposed bricks, stone on walls and fireplaces, are worth incorporating into the interior of any modern home design. This will help to soften the lines of the modern kitchen and create a more cohesive feel. The mix of old and new, gives the house a distinctive twist gives the room an interesting feel that is inviting, inspiring and warm. Do you like how these grey cabinets subtly blend in with the rest of the kitchen? You'll want to see "Gray Kitchen Cabinets: The New Style" for the latest in kitchen cabinet colors.
18. Go dark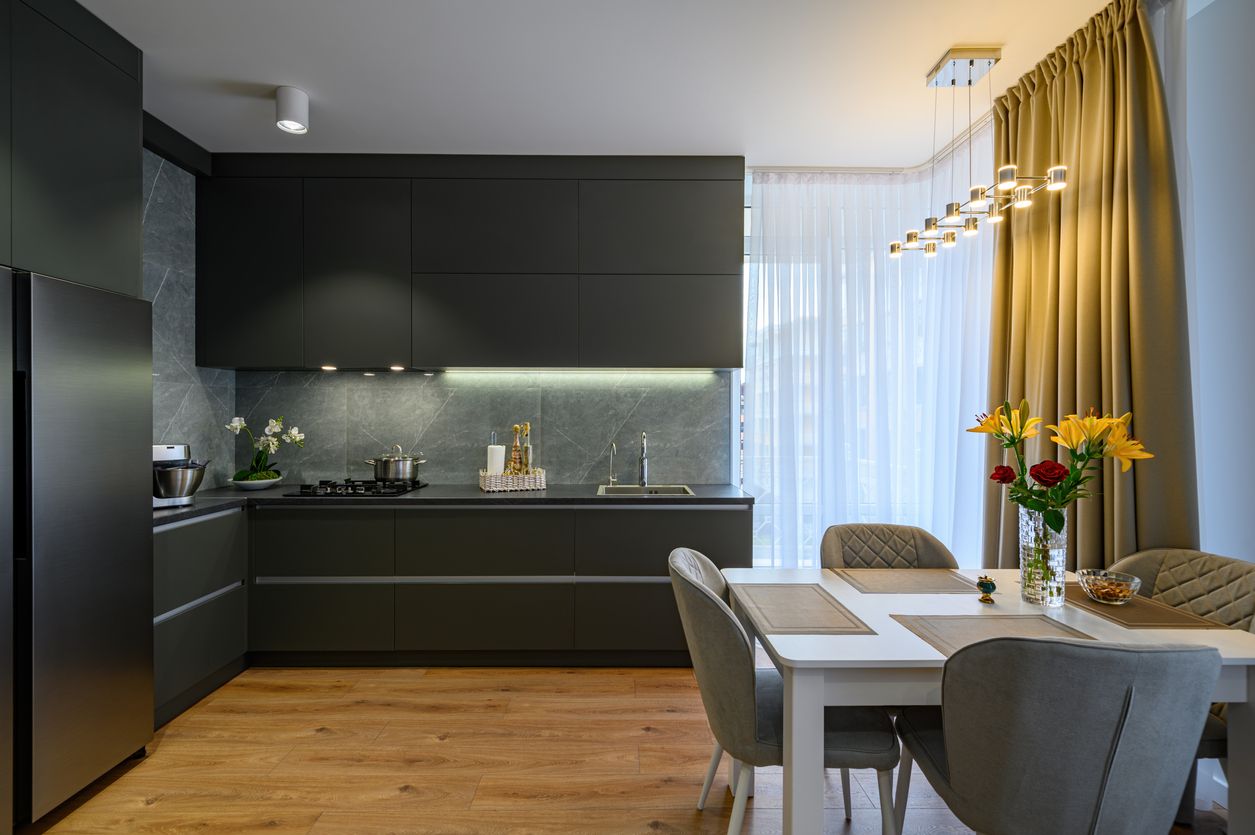 As homeowners look to create increasingly popular dark modern kitchens, they are finding that a few key design choices can make all the difference. One of the most popular ways to achieve this look is by using dark shades on the walls and cabinets. This creates a luxurious and sophisticated feel, while also making the space more intimate.
Ready to create a modern kitchen that is functional, beautiful and inviting? If you're looking for ways to achieve this look with as little effort as possible, we've got your back. The key is in understanding the power of design principles like geometric patterns or going dark. Once you know what these are and how they work together, it will be easier than ever before to get started on creating an inspiring space that reflects who you are. Let us help! We have experts ready to partner with you from start-to-finish so that you can make all of your dreams come true without breaking the bank.
CUSTOMER FAQS
If you're considering modernist kitchen cabinets for your next kitchen project, here are answers to some frequently asked questions we get from customers:
1. How do you set up a modern kitchen?
When it comes to setting up a modern kitchen, there are a few key things you'll need to keep in mind. First, you'll want to focus on creating a clean and organized layout. This will help you make the most of your space and ensure that your kitchen is both functional and stylish. Next, you'll need to choose the right appliances and fixtures. Again, thinking about both form and function will be vital here. And finally, don't forget about the little details that can make your kitchen truly unique. By adding some personal touches, you can create a space that is both beautiful and practical.
2. How do you accessorize a modern kitchen?
Your kitchen is the heart of your home, so it's important to make sure it reflects your personal style. Whether you're looking to update your appliances, add a pop of color, or simply want to give your space a fresh new look, there are endless ways to make your kitchen your own.
One simple way to update your kitchen is by adding new accessories. A nice set of pots and pans can really change the look of your space, and new dish towels and utensils can brighten things up as well. If you're feeling really adventurous, you can even try painting your cabinets or adding a backsplash. No matter what you do, just have fun and be creative!
3. How do you add a character to a modern kitchen?
When designing a modern kitchen, you may want to add a pop of character with unique materials, finishes, or fixtures. However, adding character doesn't have to be expensive or time-consuming. Even small details like colorful kitchen towels or a fun piece of art can make your kitchen feel more warm and inviting. So, don't be afraid to experiment and have fun when adding character to your kitchen!
One easy way to add character to a modern kitchen is by including an island. Islands can serve as a great focal point and gathering space in the kitchen. They can also provide extra storage and prep space. If you don't have the room for a full island, you can try a smaller version or even just a kitchen cart. Whatever route you choose, adding an island can really help to give your kitchen some extra personality.
Pricing. What is the Cost of Modernist Kitchen Design?
This is a question that many homeowners ask themselves when they are considering a kitchen remodel. The cost of designing a new kitchen can vary depending on the size of the kitchen and the materials used. The best way to get an idea of the cost is to get an estimate for your cabinetry.
Mod Cabinetry is the leading supplier of modern and contemporary kitchen cabinets. We offer free estimates for your Modernist Kitchen Design and high-quality cabinetry at an affordable price, with shipping to your home anywhere in the continental United States.
Want firm pricing and a firm layout? Our team will help you design your dream kitchen by providing expert advice on cabinet layout, storage solutions, and finishes that match your style. We can even modify or customize cabinets if you want something unique!
Get started with Mod Cabinetry today!