Modern
The Complete Guide to Designing a Modern Kitchen
The ultimate guide to Modern Kitchen Design and the 29+ trending ideas will help you create a beautiful and functional modern kitchen.
---
Modern kitchens are all the rage this year. Modern decor is on-trend and at the forefront of what's popular. If you are designing a home or updating the kitchen, it's time to be modern.
Your kitchen will finish off your new modern home, or it can give a stylish makeover to your older model house. Creating a modern kitchen is more than just picking some appliances and cabinets; you need to plan the space before doing anything else.
What you'll learn about:
Choosing A Designer

Choosing Cabinets

Choose from 29 Ideas
Click Play For Quick Summary
Choosing A Designer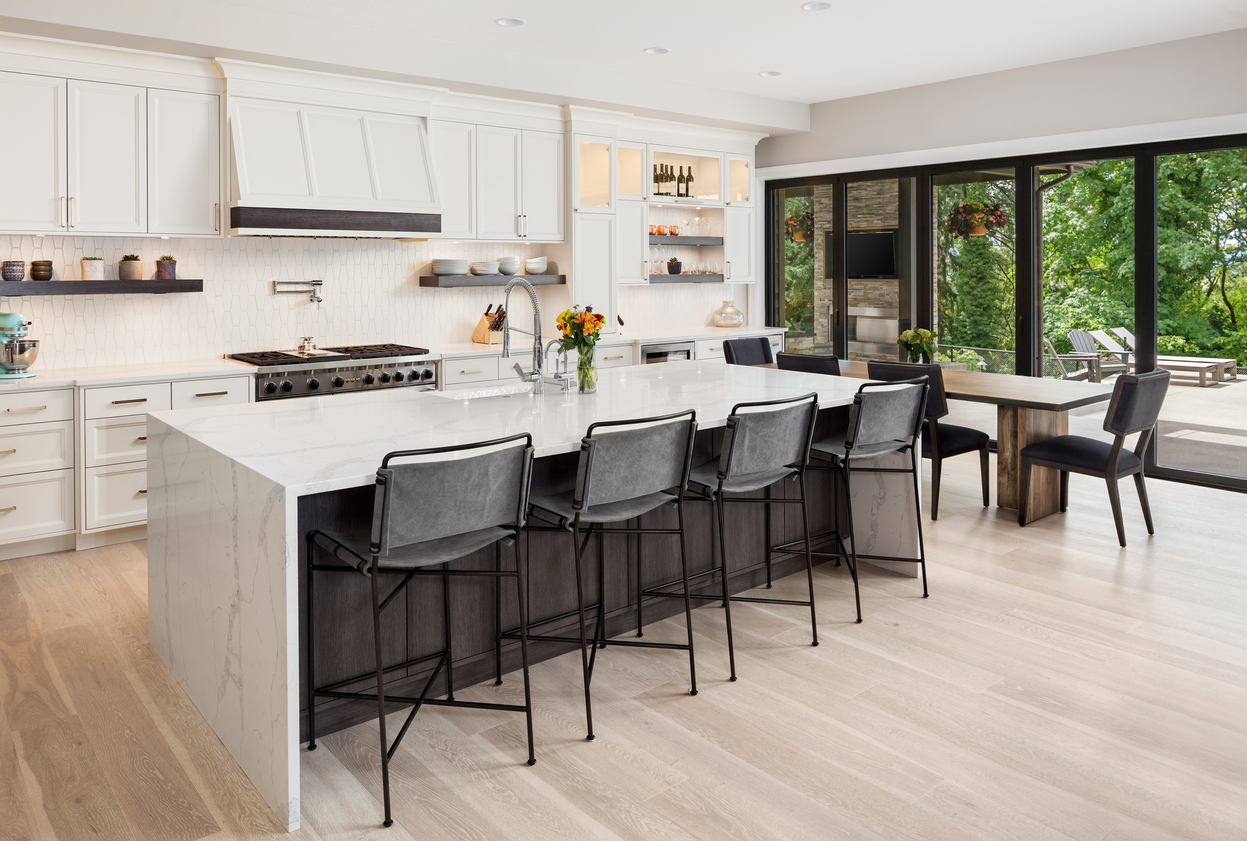 When choosing a designer, there are a few things you need to take into account. The most important factor is finding someone who understands your needs and can create a design that matches your vision. You may think that hiring an architect or designer is completely unnecessary if you are building a kitchen on your own, but even those who plan on undertaking all of their home renovation projects themselves should consider bringing in expert help. This is especially true when it comes to designing a modern kitchen. If you don't have any experience with design and feel overwhelmed by all of your options, then taking advantage of outside help may be worthwhile. If you're concerned about costs, designers usually offer a free initial consultation to get an idea of the project. Take a look at our article: Modernist Kitchen Design Ideas That Won't Break the Bank to find some design tips that is well within your budget.
Choosing Cabinets
When it comes to cabinets, there are a few things you need to keep in mind. The most important factor is deciding on the style of cabinet you want. Do you prefer a modern look with sleek lines and minimal embellishments? Or are you more drawn to traditional designs with ornate carvings and details? Once you've decided on the style, you need to measure the space to make sure the cabinets will fit. Next, look at materials—do you prefer natural wood over lacquered finishes? Glass-fronted cabinetry lets you display pretty dishes, glassware, and other bric-à-brac.
Choose From 29 Ideas
We've gathered 29 of our favorite modern kitchen ideas for you today, and we hope that they inspire you as much as they've inspired us!
1. Clean Lines
Clean aesthetics are a hallmark of modern kitchen cabinets, and this trend is likely to continue. Most homeowners prefer a minimalistic look for their kitchen cabinets, giving it a chic finish. Modern kitchen cabinets feature a recessed panel door with flat edges, giving them a simple and minimalistic look. The hardware and handles of cabinets have simple design features and are hardly noticeable, contributing to the theme of modern and classy kitchen décor. As more homeowners lean towards classy and minimalistic kitchen décor, you'll find kitchen cabinets that encompass more storage space with less décor. See our article: 10 Modern Kitchen Design Ideas People Love in The Modernist for more modern kitchen design inspiration.
2. Matching Theme
The matching theme trend is growing more popular as homeowners begin to realize that not every room has to have its own individual style. In this modern kitchen, all of the appliances match perfectly which creates a cohesive, stylish space for cooking and eating alike.
3. Open Concept
An open concept is a popular choice it makes a small space seem bigger, and it also lets you keep a better eye on your kids or pets when items are out on the counter. In this modern kitchen, the island stands as a divider between the eating area and workspace.
4. Jewel Tones
Jewel tones add dramatic flair to any space, and they're popular in modern kitchens because they're bold and different. This kitchen has gorgeous green wood cabinets that contrast the light walls nicely. The marble counters look beautiful against the green backdrop, and they're eye-catching without stealing all of the attention.
5. Light Wood Cabinets
Light wood cabinets work well with lighter-colored granite countertops or tiles for an airy feel.
6. Kitchen Island
A kitchen island is a great way to create more seating in your home without overcrowding small spaces with only four chairs at the table. We love the idea of using it as casual seating during snacks or breakfast.
7. Open Shelving
Open shelving is a more modern look that works well if you don't want to hide your items away in cabinets and drawers all of the time. It's also a great idea for very small spaces. This kitchen is perfectly functional with open shelving, and the space underneath provides room for extra storage without overcrowding.
8. Wrap-Around Counter
A wrap-around counter is a great way to add dimension and shape to your kitchen, while also creating more workspace. This one has bar stools for extra seating which makes it perfect for smaller spaces that function both as casual eating areas or get-togethers with friends.
9. High Gloss
High gloss cabinets are less popular than distressed styles, but they're growing in popularity because of their timelessness and clean modern lines. Even though this kitchen is small, the polished cabinets create an illusion of depth that makes it appear much larger than it actually is!
10. Soft Gold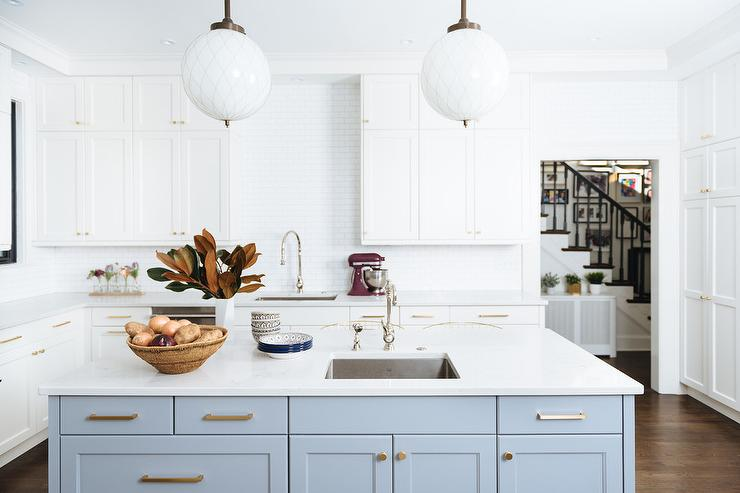 Soft gold tones bring a touch of warmth to any room by adding brass fixtures that work well with the rest of the space, and the stainless appliances fit right in. The cabinets go well with the gold and the green accents in the room, too.
11. Gray and White
Gray and white is another color combination that's becoming more popular as it adds a touch of elegance to any room. In this modern kitchen, we love how the wood flooring ties together both colors without clashing. Gray islands look particularly stunning with its darker countertop and light walls!
12. Bold Colors
We love how bold colors can really bring any space to life, but traditional kitchens tend to stick with neutral tones for that reason alone. This modern kitchen breaks the mold by using colorful accents for an exciting twist on a classic look. We especially like how it ties into the rest of the house through pops of deep blue.
13. Monochrome
Monochrome, or everything in one color tone, is another modern kitchen trend that's growing in popularity. There are no contrasting colors like red appliances or blue cabinets here, but that doesn't mean this kitchen isn't exciting!
14. Dark-Colored Cabinets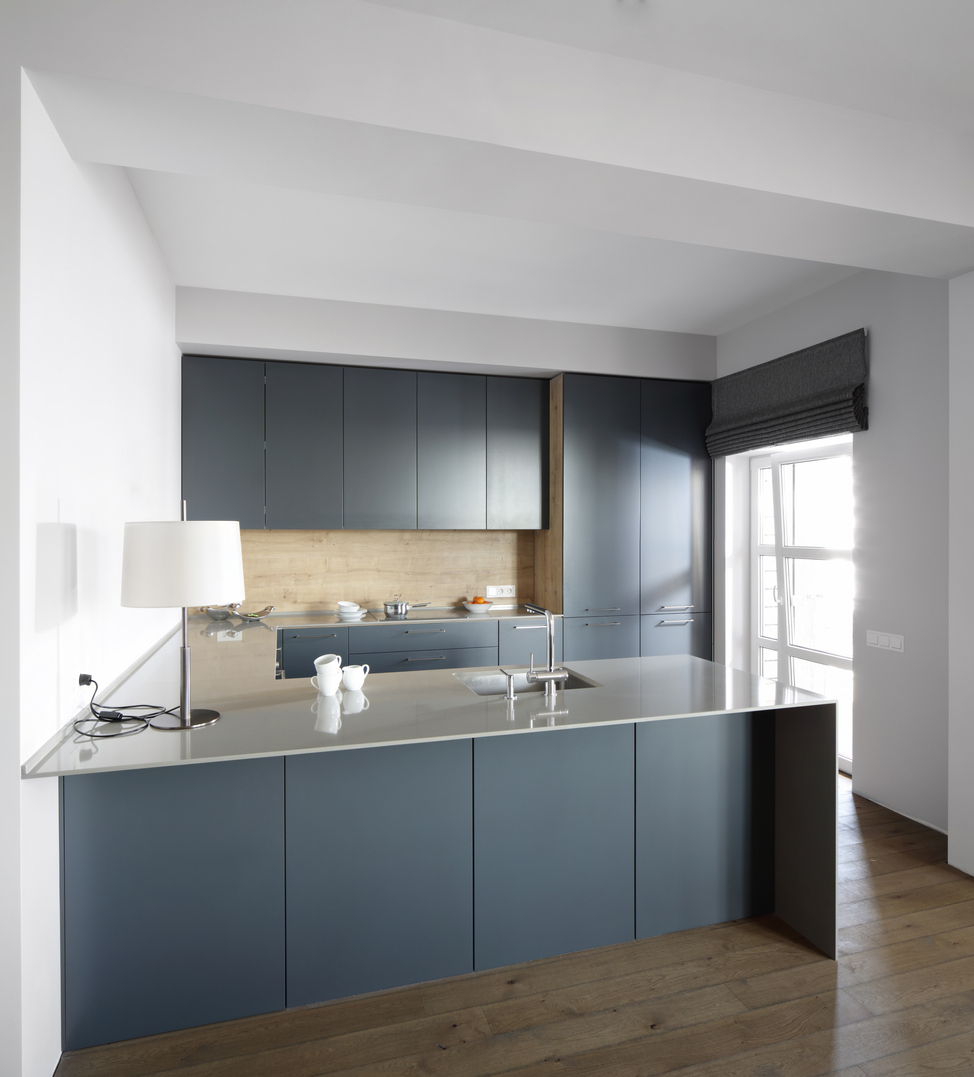 Dark-colored kitchen cabinets are a hot trend, with many homeowners taking to them in a big way. Dark hues such as navy blue, emerald, and steel gray impart a sense of modern style and luxury to your kitchen. It's important to find the right balance of dark-colored kitchen cabinets alongside neutral or light-toned kitchen countertops to create the perfect décor for your kitchen. When selecting dark-colored kitchen cabinets, you must ask for samples that can be matched against your kitchen countertop shade to get the balance of shades and colors perfectly right.
15. Sleek Cabinets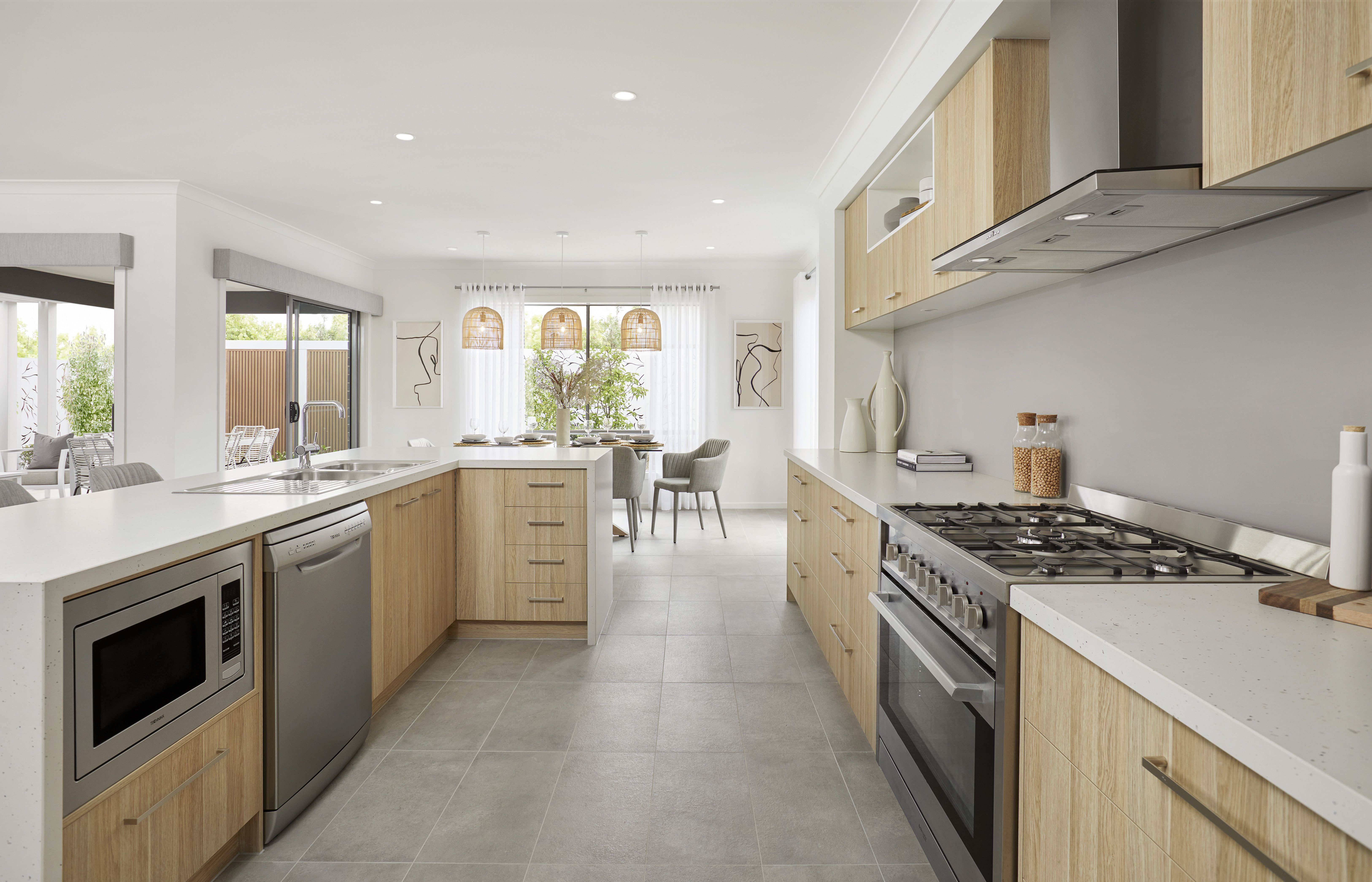 Sleek cabinets bring focus to the appliances and other accents, making them perfect for smaller kitchens. They work best in modern homes with sleek stainless steel appliances. We especially love the gray backsplash behind them that helps this kitchen feel more spacious.
16. Minimalism
Minimalism is all about creating a clean, clutter-free space. This kitchen places emphasis on the wooden kitchen island way that works well with the marble backsplash.
17. Optimum Storage Solutions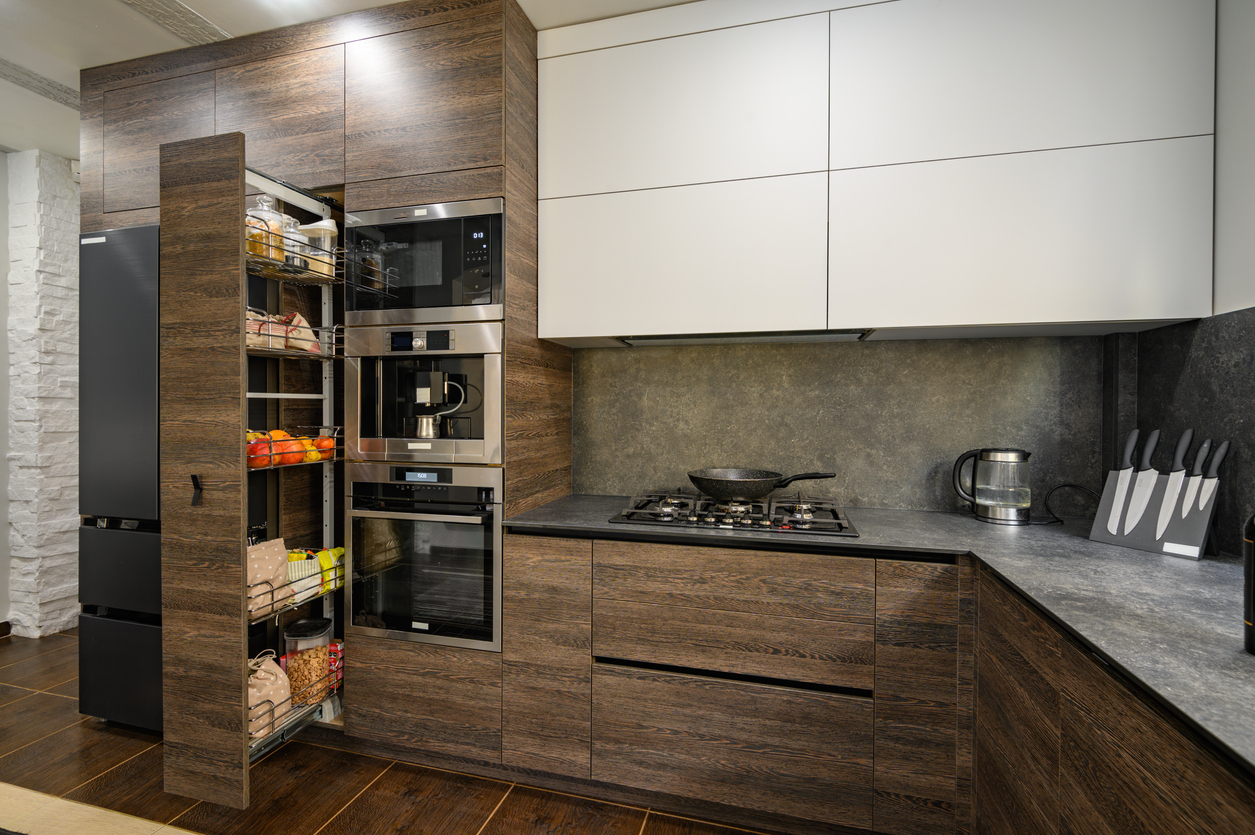 When remodeling or designing your kitchen, you must focus on kitchen cabinets that provide optimum storage solutions. Most homeowners get frustrated with the fact that their kitchen cabinets don't provide enough storage for different kitchen items. It is an important feature of modern kitchen cabinets that can make your kitchen more functional.
18. Cabinet Lighting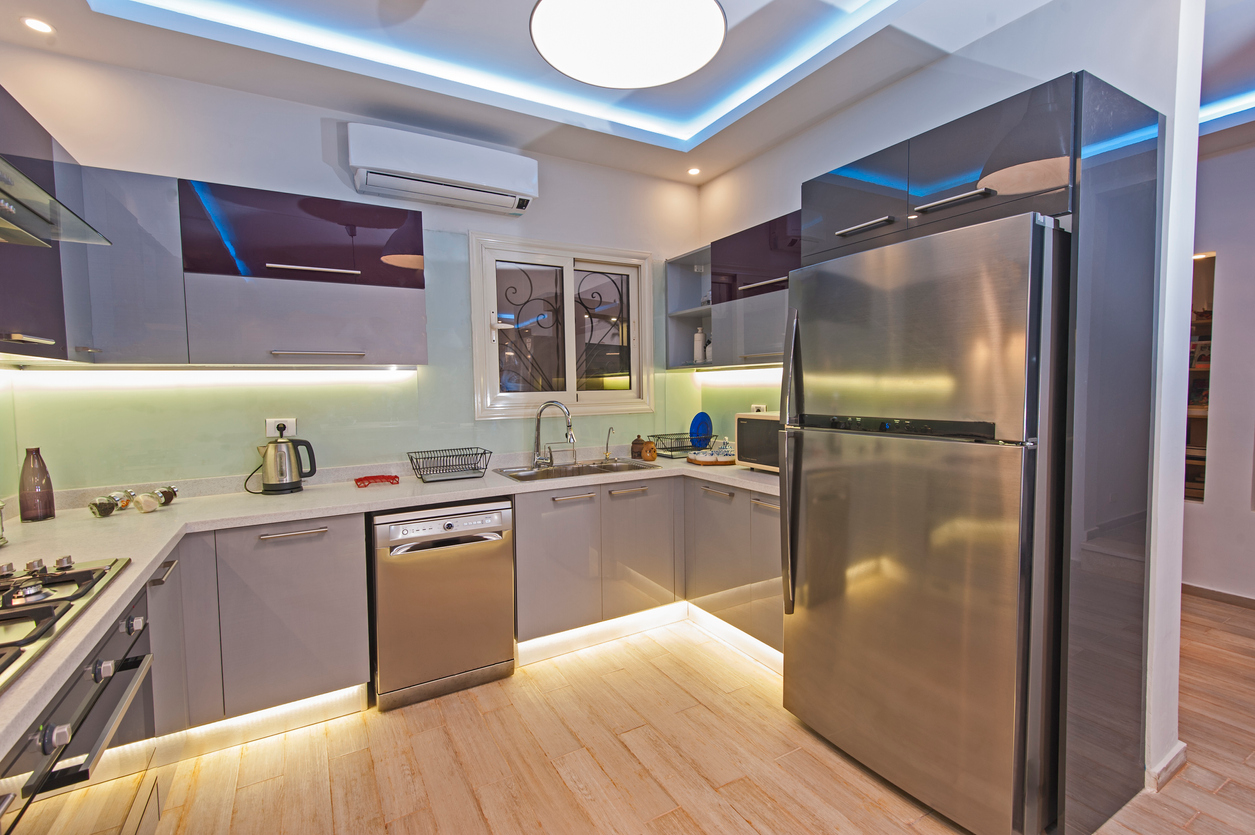 Under-cabinet Lightning is a hot design trend in 2022, and most homeowners prefer using LED lights under kitchen cabinets to create a soothing ambiance and add to the beauty of your kitchen at night. You can find LED lights in different forms, such as strips, bars, and more. You can choose a light that best suits your kitchen design requirements. Besides LED lights, there are also other options such as xenon lights, which can also be installed under kitchen cabinets.
19. Modern Dining Table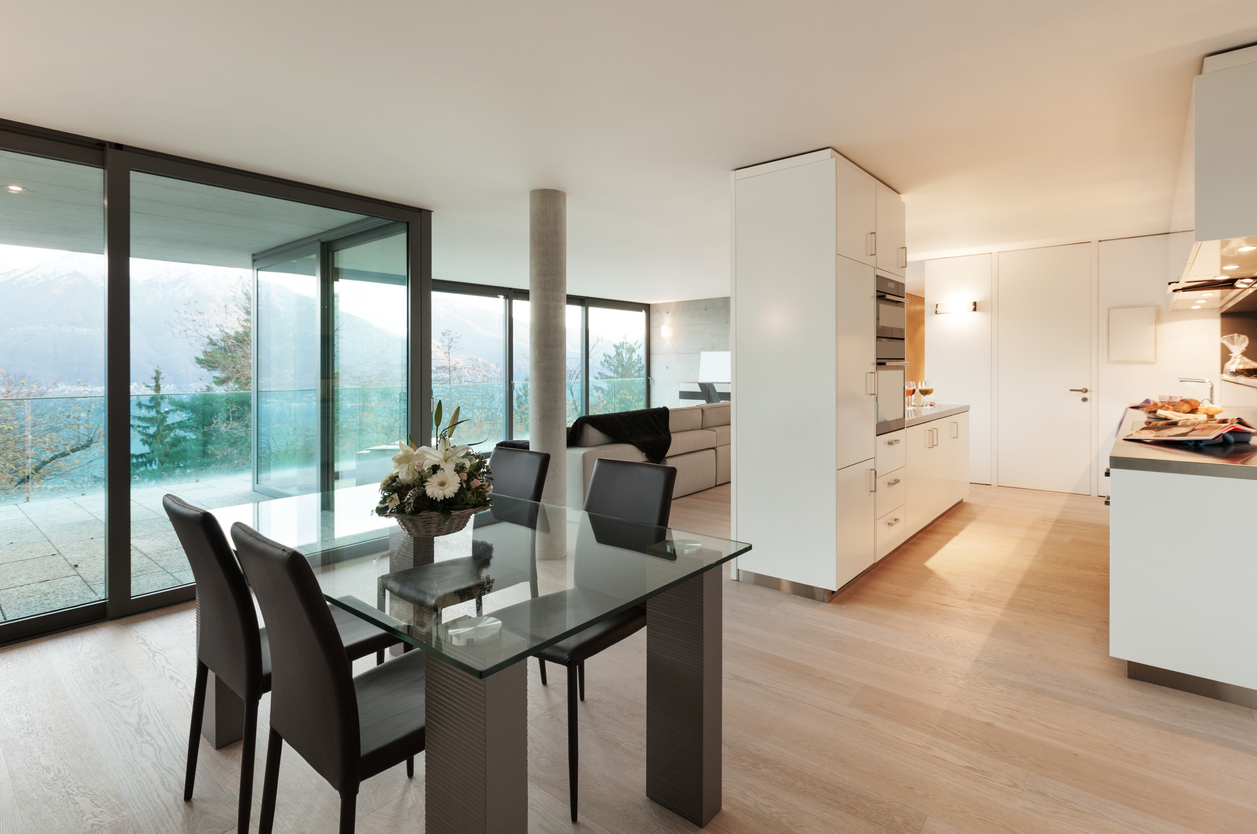 A modern dining table is the perfect way to complete your modern kitchen. While there are many different types of modern dining tables to choose from, a few key features are always popular. First, the table should be a good size for your space. It should also have a sleek, minimalist design that will match the style of your kitchen. Finally, it's important to pick a material that is durable and easy to clean. Some of the most popular materials for modern dining tables include glass, metal, and wood. Glass is a popular choice because it is sleek and simple, while metal is durable and easy to clean.
20. Subway Tile Backsplash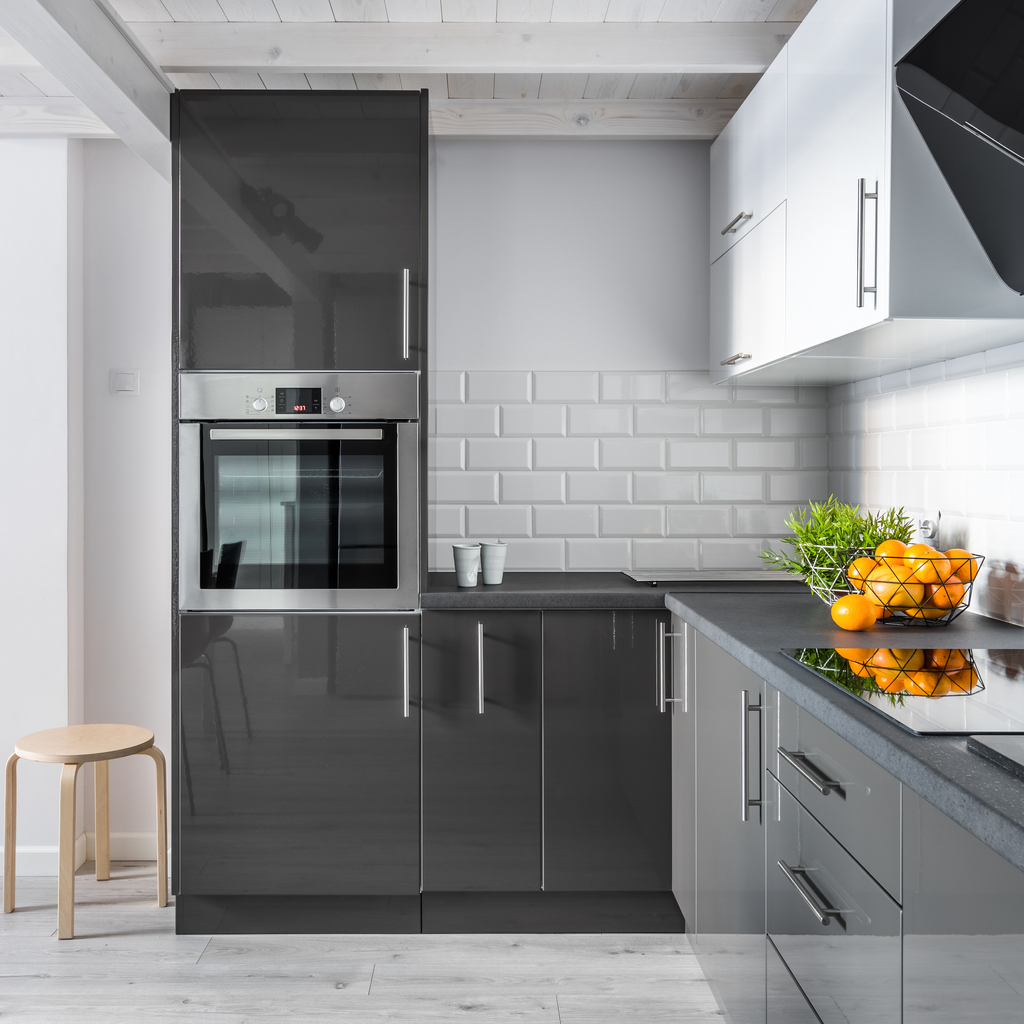 A subway tile backsplash is a great way to add a touch of modern style to your kitchen. Subway tiles are simple, sleek, and stylish, and they come in a variety of colors and finishes. A subway tile backsplash can be installed in minutes and is a great DIY project for any homeowner.
21. Wall Ovens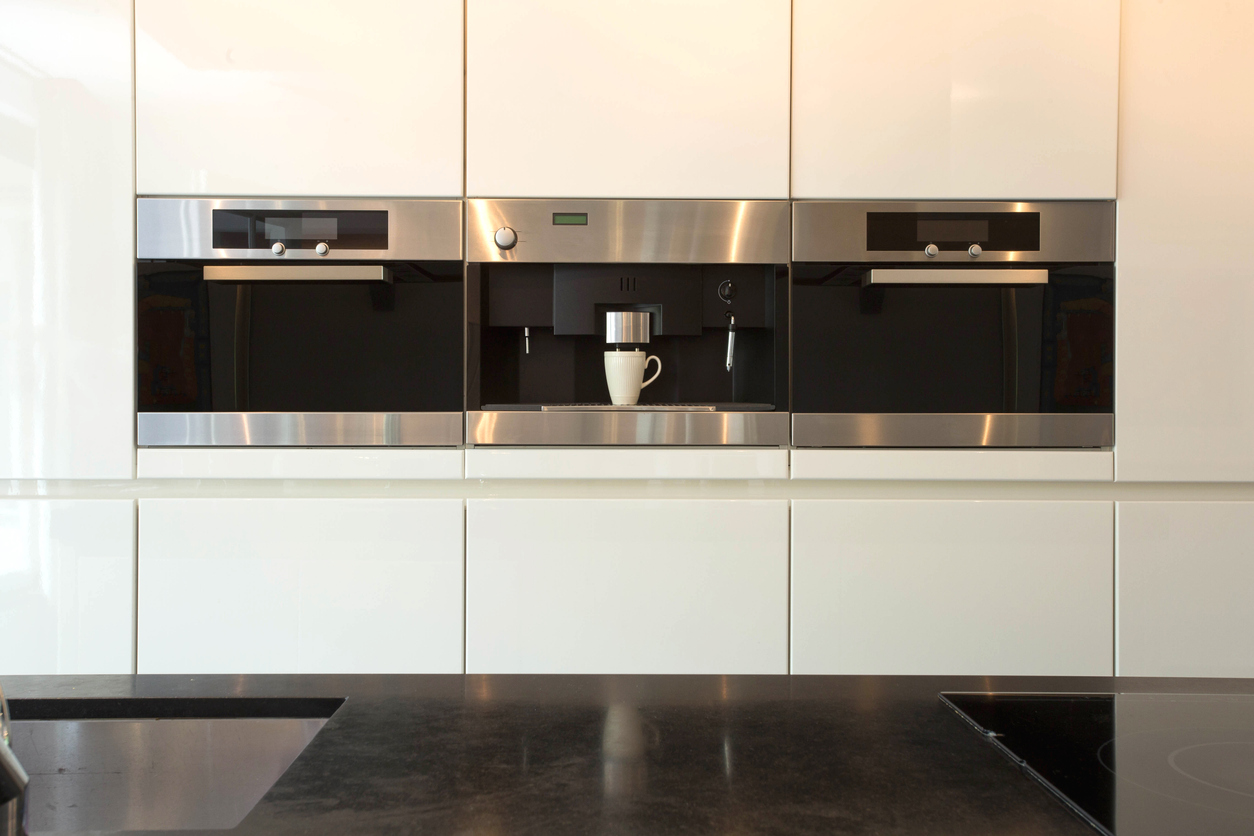 Wall ovens are making a comeback in the world of modern kitchen design. Their sleek, stylish look is perfect for today's contemporary kitchens, and their functionality can't be beat. Wall ovens are popular in modern kitchens because they take up less space than a traditional oven. Plus, they are easy to use and clean.
22. Natural Light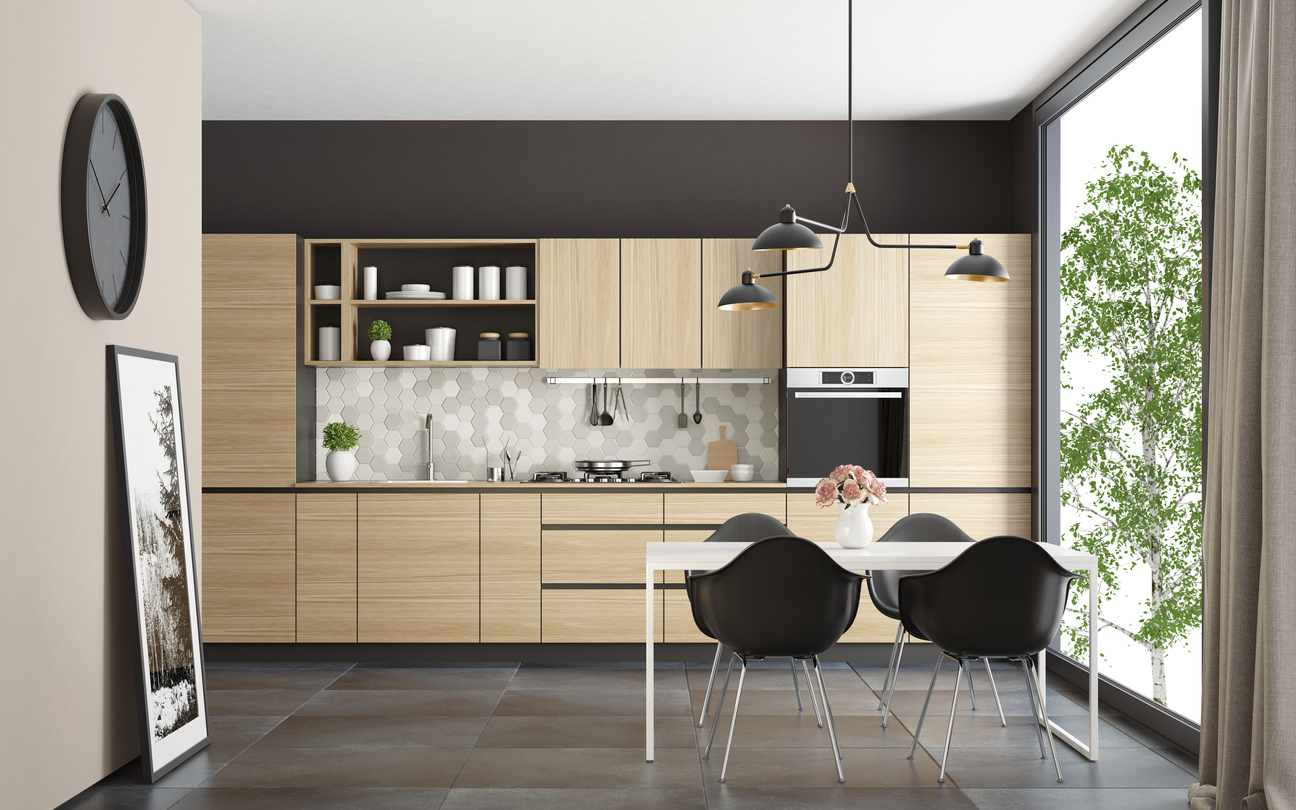 One of the most important elements of a modern kitchen is the use of natural light. Make sure to choose light fixtures and colors that will brighten up the space. You may also want to consider adding a skylight or some extra windows to allow more light in.
23. Blue Accents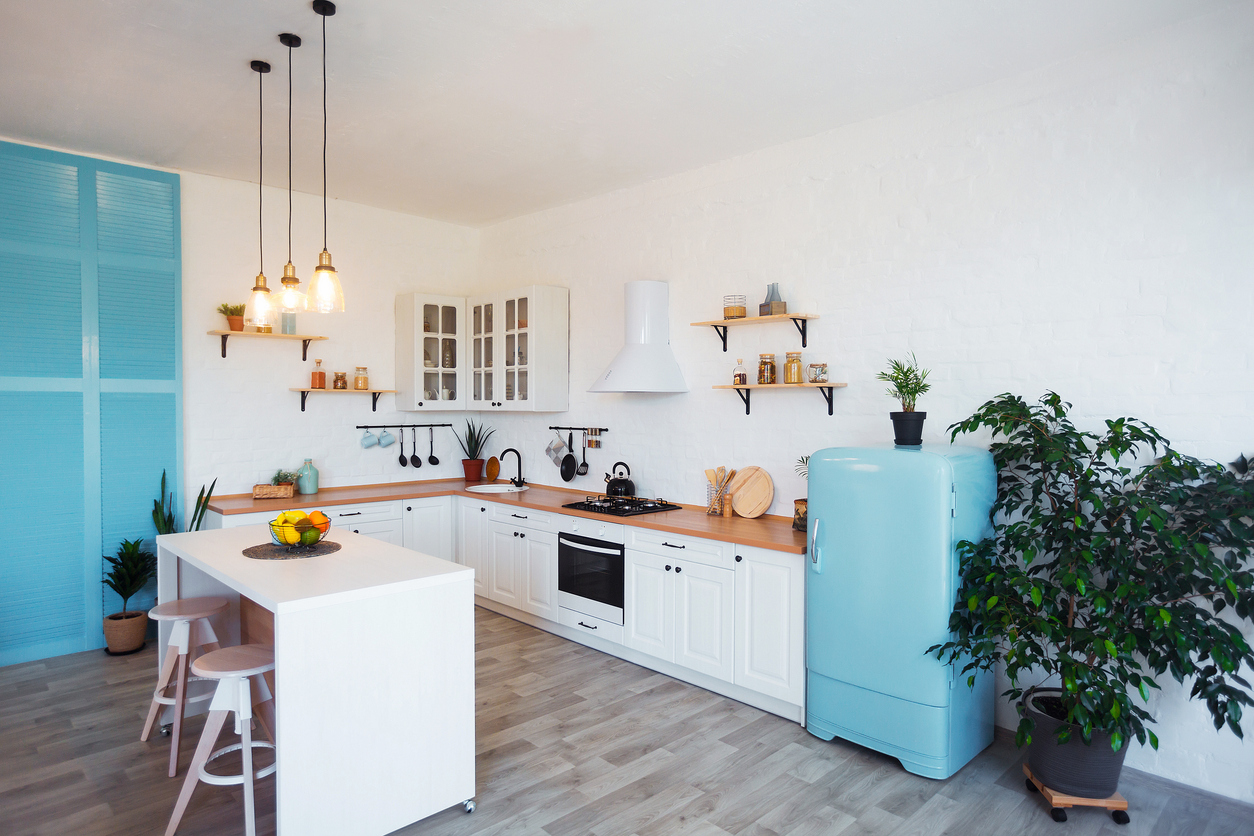 Another key element of modern design is the use of blue accents. Blue is a popular color this year and it can be used in several different ways in the kitchen. Blue accents can really add some personality to a modern kitchen. You can also add blue light fixtures, or even blue curtains.
24. Kitchen Sinks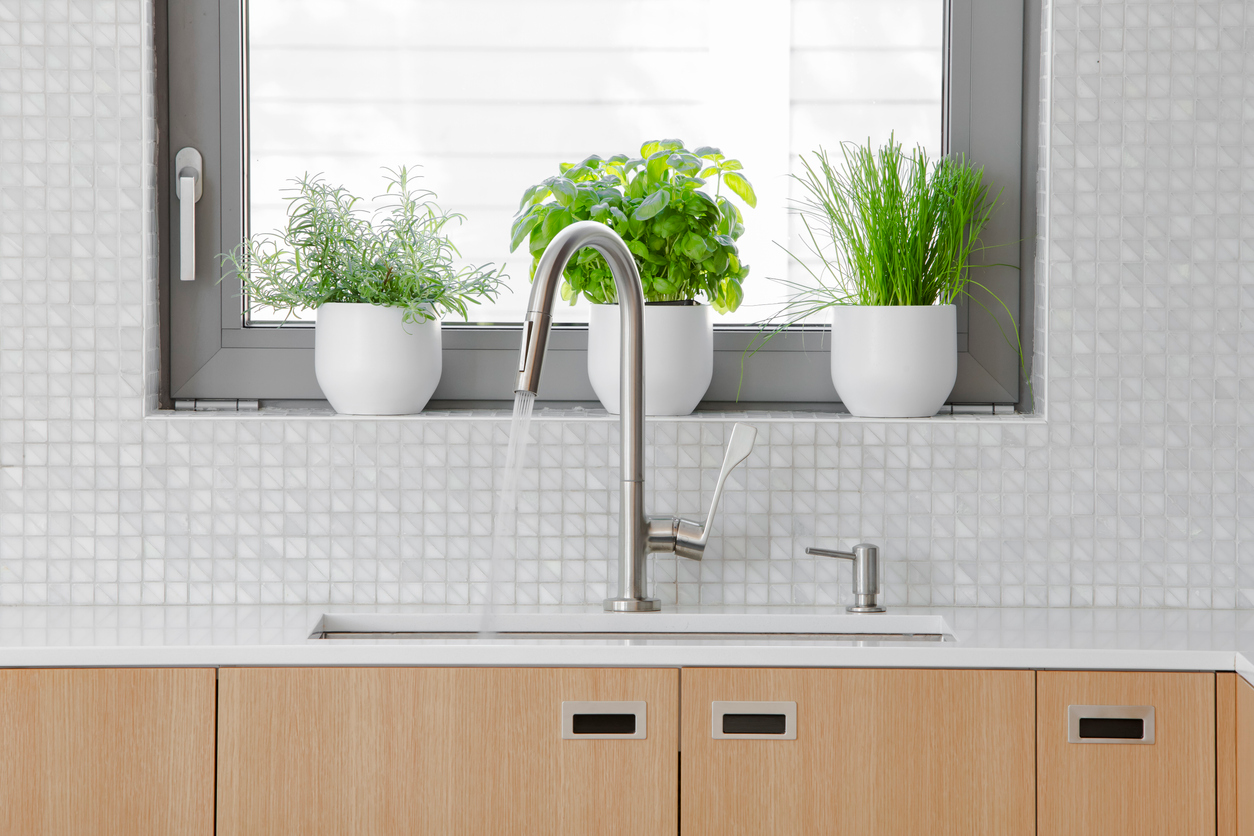 Kitchen sinks come in all shapes and sizes, and you need to find the perfect one for your needs. The sink is a focal point of the kitchen, so it's important to choose the right one. There are a few things to consider when choosing a kitchen sink:
1. Size: What size sink do you need? A large sink can be helpful for washing large pots and pans, but it may not be necessary if you don't have a lot of cooking space. Choose a size that fits comfortably in your kitchen.
2. Design: Do you want a traditional sink or something more modern? A farmhouse sink can be a beautiful addition to a traditional kitchen, while a stainless steel sink is perfect for a modern look.
25. Marble Countertops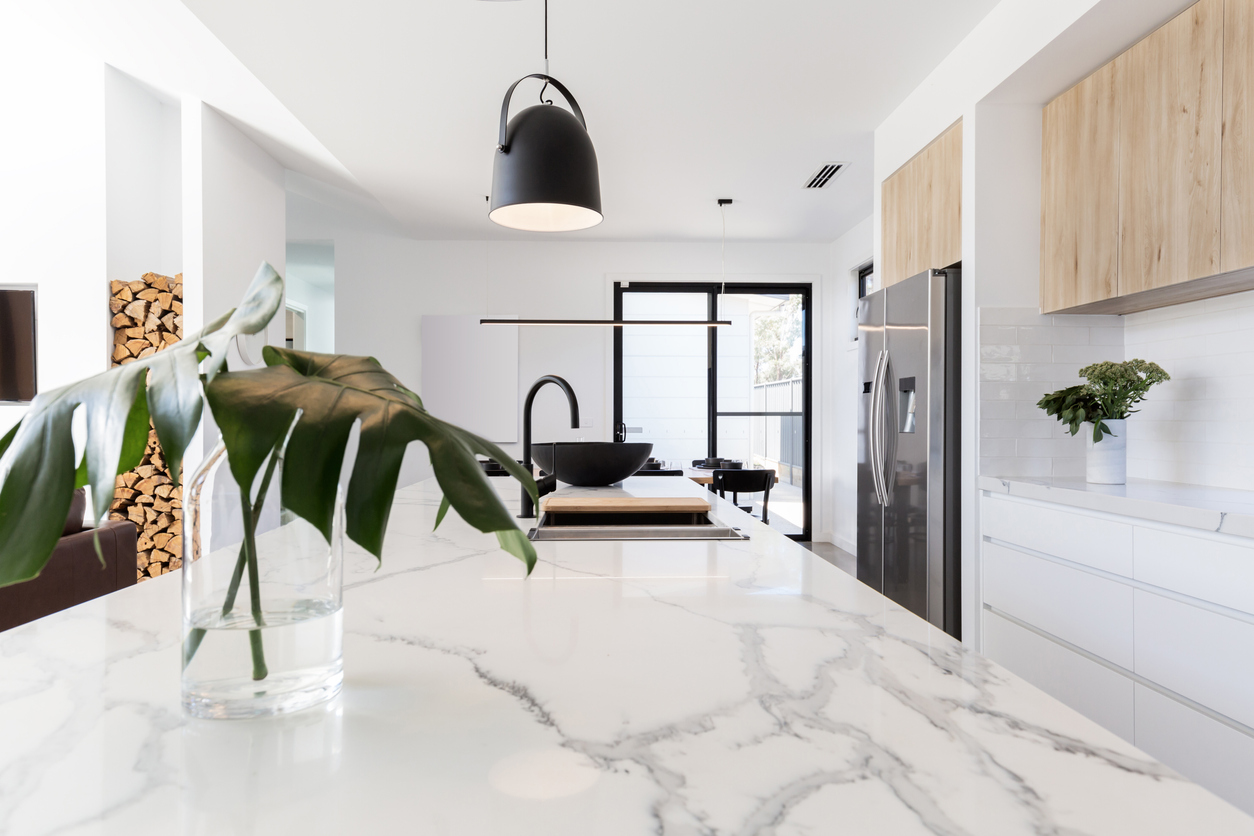 Marble countertops are a must for any modern kitchen. They add a touch of luxury and elegance that can't be found with other materials. Plus, marble is a natural material that gives your kitchen a warm, earthy feel.
When choosing your countertops, be sure to pick a color and pattern that will complement the rest of your kitchen. You may want to go with a light color to make the space feel bigger, or choose a darker marble for a more dramatic look.
Whatever you do, don't forget about your countertops when designing your modern kitchen!
26. Globe Pendant Lights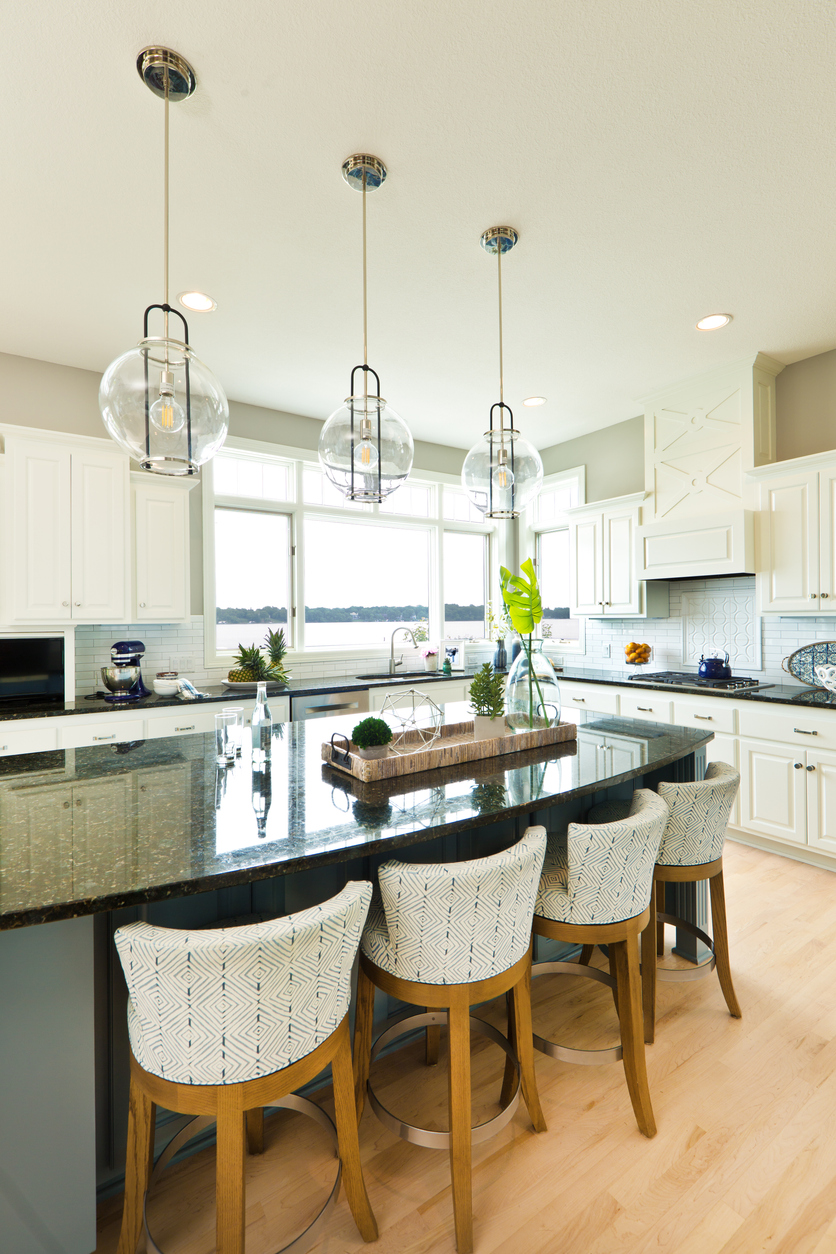 Adding globe pendant lights can really help to finish off the look of your modern kitchen. They come in many styles and variations, so you can find the perfect ones for your space. These lights are a great way to add some ambient light, and they can also be used to create focal points in the room.
When choosing globe pendant lights for your kitchen, keep in mind the following:
1. The size of the light fixtures: Make sure that the globes are proportional to the space. You don't want them to be too small or too large.
2. The style of the light fixtures: Globe pendants come in a variety of styles, so you can find the perfect ones for your kitchen.
27. Backsplash Tile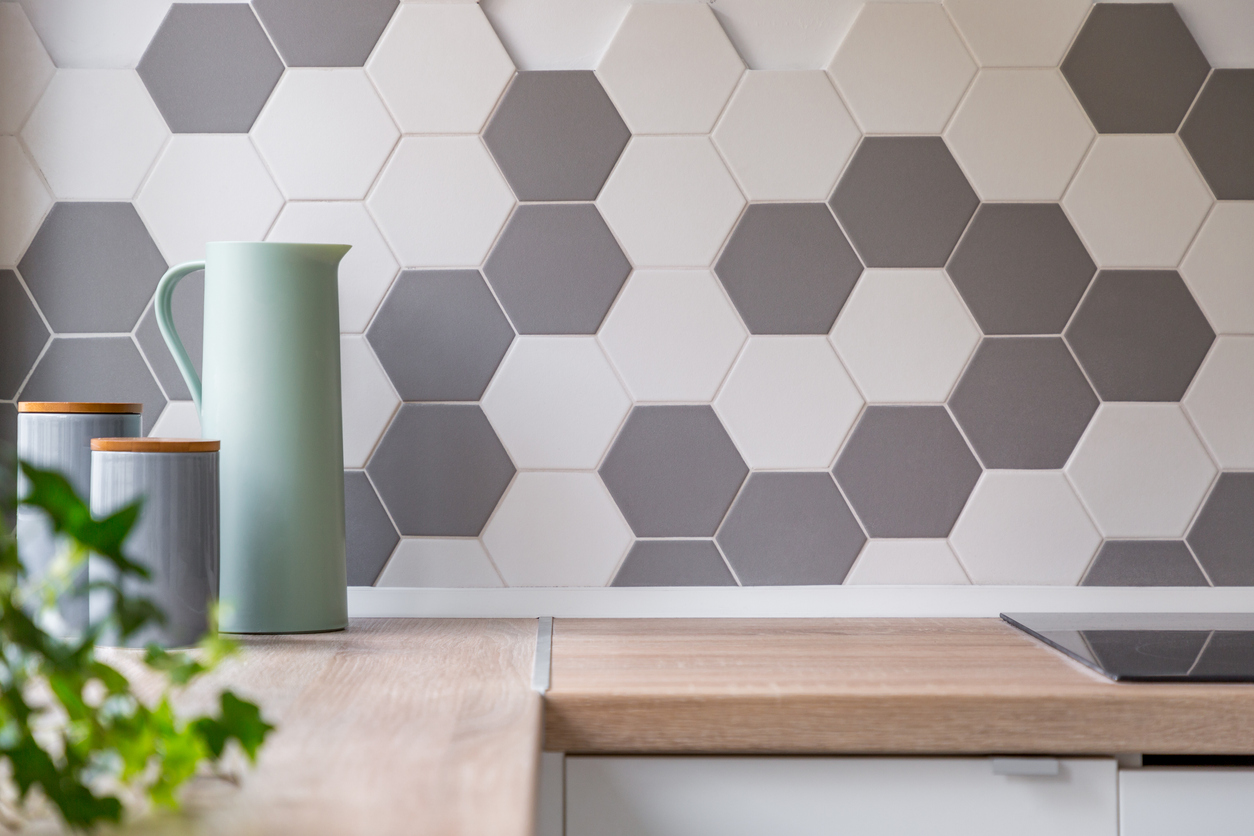 When choosing backsplash tile, keep in mind the overall design of your kitchen. Try to choose a tile that will complement the colors and textures of the other elements in the space. And be sure to measure carefully before you start installation; you don't want to end up with too much or too little tile.
28. Upper Cabinets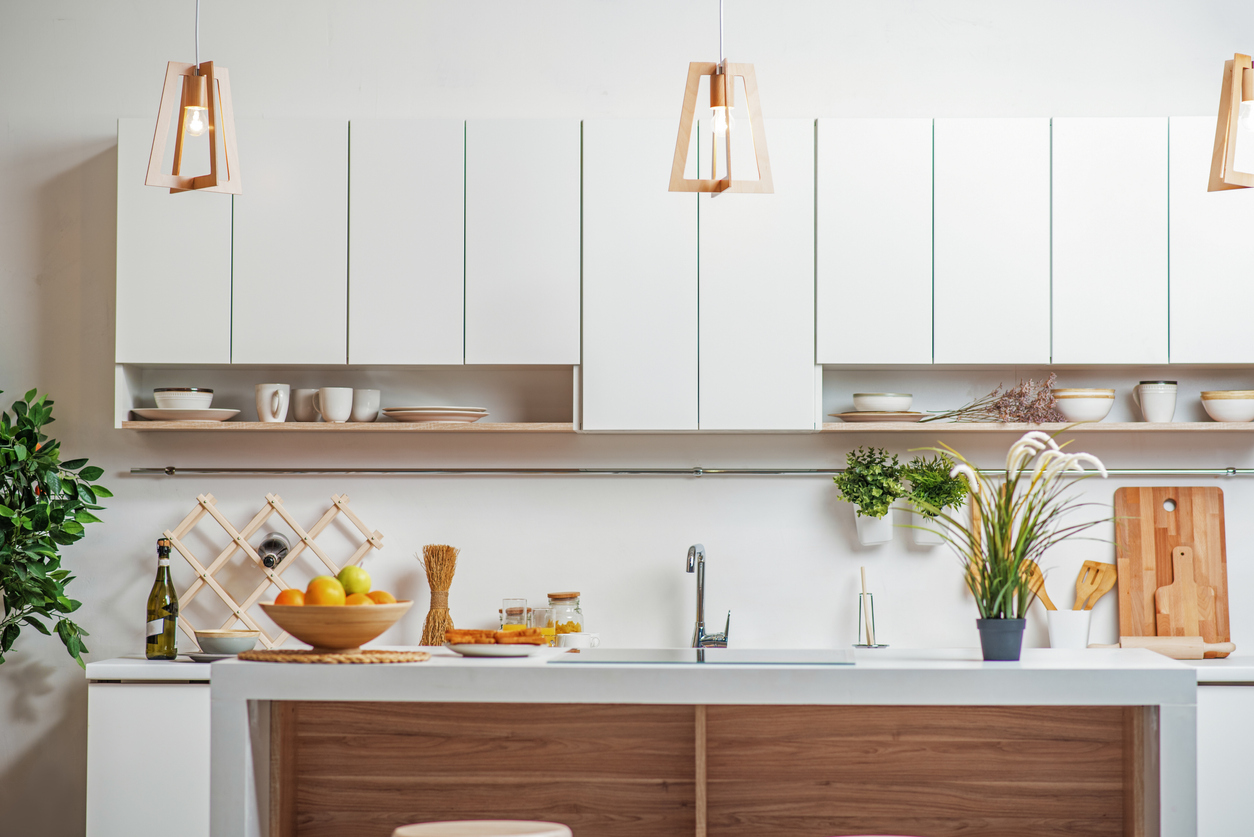 Upper cabinets are an important part of the modern kitchen. They provide storage and can act as a focal point in the space. When choosing upper cabinets, there are a few things to keep in mind.
The height of the cabinet is important. You want to make sure that it is tall enough to store all of your kitchen items, but not so tall that it overwhelms the space. The width of the cabinet is also important. You want to choose a width that is proportional to the size of your kitchen.
29. Undermount Sink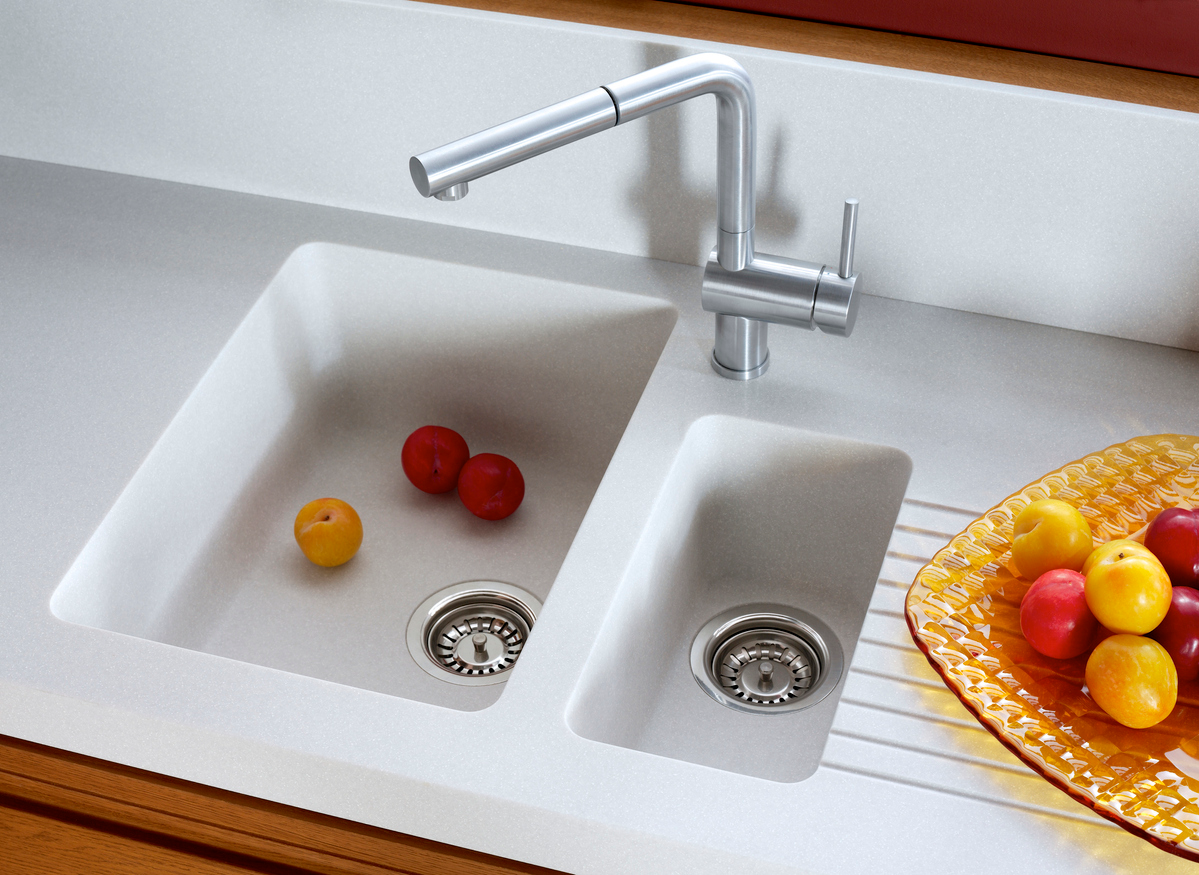 An undermount sink is a type of sink that is mounted beneath the countertop. This means that the countertop extends over the edge of the sink, making it a seamless part of the kitchen. Undermount sinks are popular because they look sleek and modern, and they're easy to clean. They're also easy to install - most undermount sinks come with a template that makes installation a breeze.
Kitchen cabinets are an important part of your kitchen design, serving the purpose of storage, while also tying together your overall kitchen décor. At MOD Cabinetry, we have an array of uniquely designed modern kitchen cabinets, to meet all your requirements.
CUSTOMER FAQS
If you're considering designing a modern kitchen for your next kitchen project, here are answers to some frequently asked questions we get from customers:
1. What are the features of a modern kitchen?
Some might say it's sleek stainless steel appliances. Others might mention beautiful granite countertops. But ultimately, a modern kitchen is about functionality, innovation, and design. It's a space where meals are prepared and memories are made. So make sure your kitchen has everything you need to cook up something amazing!
2. How do you design a modern kitchen layout?
When creating a modern kitchen layout, minimalism is key. Keep countertop space clear and uncluttered. Incorporate hidden storage where possible to maximize the open feel of the space. Use clean lines and neutral colors throughout to complete the look. Functionality is the key. Make sure your kitchen is designed in a way that makes sense for the way you cook and entertain. Aesthetics are also important if you want your kitchen to be beautiful and stylish, as well as functional.
3. What are the new colors for modern kitchen?
Are you considering a kitchen update? Wondering what the latest trends are? When it comes to kitchen colors, modern homeowners are thinking outside the box. Black and white kitchens are a popular choice, but we're also seeing a lot of bolder hues making a statement. Blue, green, and purple are all popular choices for a modern kitchen. If you're feeling adventurous, you could even try a daring color like orange or red.
Pricing. What is the Cost of Designing a Modern Kitchen?
This is a question that many homeowners ask themselves when they are considering a kitchen remodel. The cost of designing a new kitchen can vary depending on the size of the kitchen and the materials used. The best way to get an idea of the cost is to get an estimate for your cabinetry.
Mod Cabinetry is the leading supplier of modern and contemporary kitchen cabinets. We offer free estimates for your Modern Kitchen Designs and high-quality cabinetry at an affordable price, with shipping to your home anywhere in the continental United States.
Want firm pricing and a firm layout? Our team will help you design your dream kitchen by providing expert advice on cabinet layout, storage solutions, and finishes that match your style. We can even modify or customize cabinets if you want something unique!
Get started with Mod Cabinetry today!