Modern
Framed vs. Frameless Kitchen Cabinets
Framed Cabinets or Frameless Kitchen Cabinets? Need a quick answer to find out if Framed Cabinets are a better option than Frameless Cabinets?
---
Kitchen cabinetry is a crucial part of your kitchen's appearance. Today's kitchen cabinets feature a combination of stunning designs, colors, and styles to produce a unique feel in your kitchen space. Because they are the main source of your kitchen storage and have a huge impact on your kitchen's color scheme and style, you need to be deliberate about the design you choose.
For the most part, cabinets are either framed or frameless. However, most people find it difficult to distinguish between the two. While both have their advantages and unique features, the choice you make will largely depend on your style, preferences, space, and budget. In this post, we detail everything you need to know about framed vs. frameless cabinets to make an informed decision.
What Are Framed Cabinets?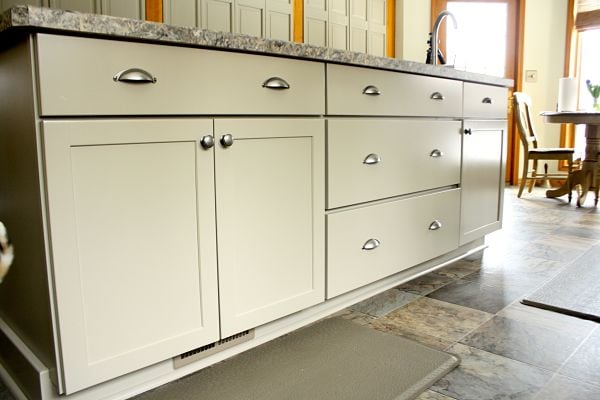 Framed cabinets are cabinets constructed with an additional border, or frame, attached at the front of the cabinet box. It is not the same as the door having a frame, when that is the case it is called a shaker door. In this case, it is the case work that has the frame and the doors sit on top of the frame as you see in the image above. Also, notice that the drawers are a modern slab style on a framed cabinet. In totality, this give you less storage and a different look. See below for the full list of advantages and disadvantages. Framed cabinets are a traditional design that has been used for ages. They are commonly known as American-style cabinets.
Get to know shaker-style doors in-depth by reading "Shaker Style Kitchen Cabinets, What You Need to Know" on The Modernist.
What Are Frameless Cabinets?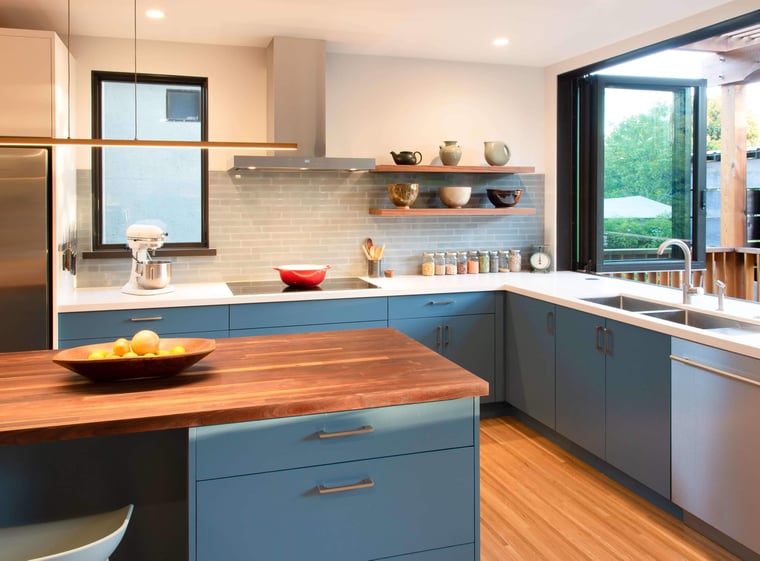 Frameless cabinets, also called European-style cabinets, do not have frames around the front. Unlike the traditional face-framed type, frameless cabinets are synonymous with modern kitchen design. Since there are no frames around the openings, they provide easier and fuller access to each cabinet's interior and offer a sleek facade. Discover more about frameless cabinets on Flat Panel Kitchen Cabinets - The Best of Modern Style in The Modernist.
Framed vs. Frameless: What Are the Advantages of Each?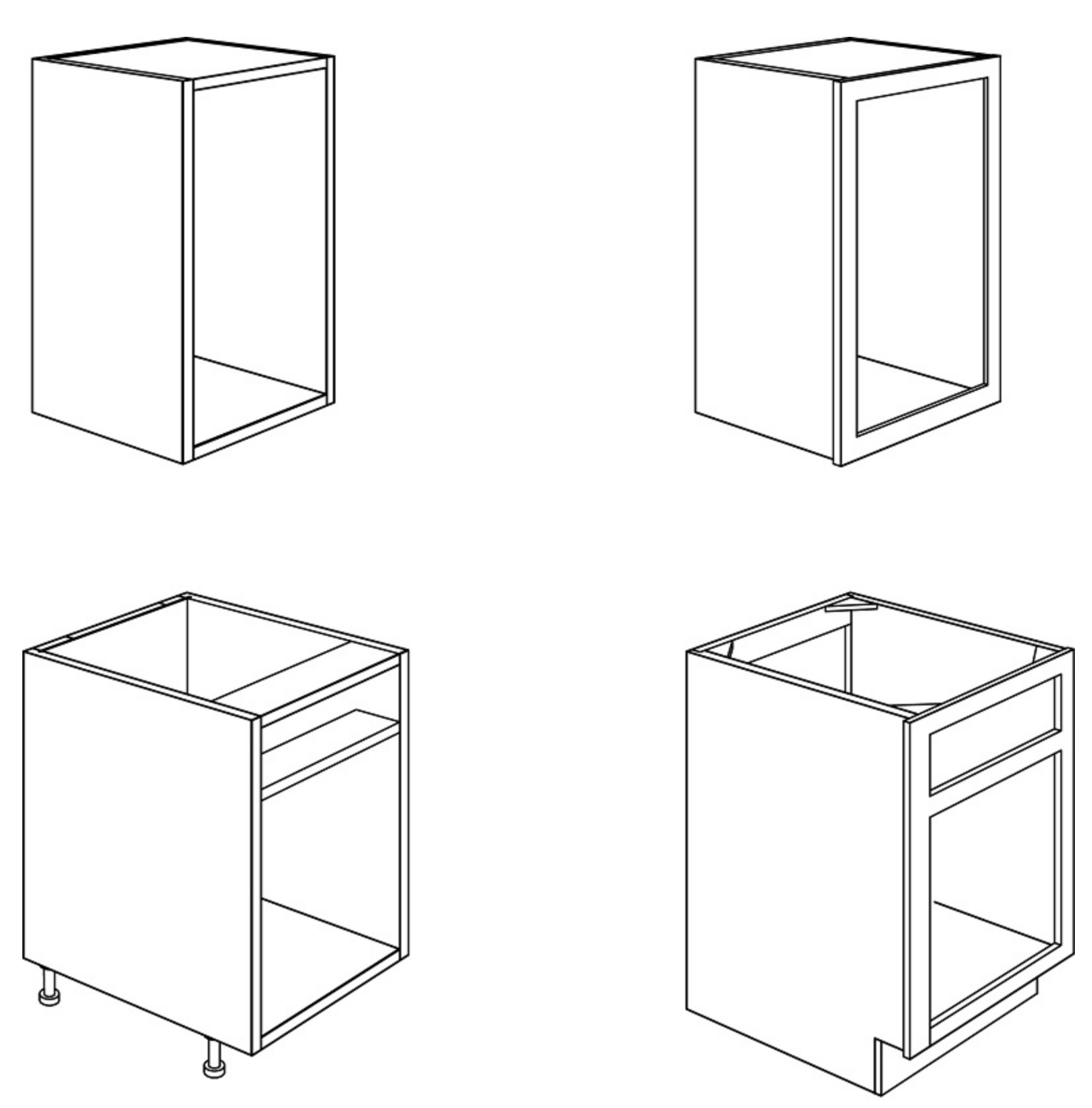 Each design has unique advantages over the other. Although both add quality and style to your kitchen space, they differ in looks and functionality.
Advantages of Framed Cabinets
The frame makes the cabinet strong and sturdy, so it is ideal for storing heavy items.
You can easily customize this cabinet to fit in any space, making it suitable for uneven walls and those without straight corners.
These cabinets are less costly than the frameless type.
They can consist of different types of materials; you choose what works best for your kitchen.
They adapt to all door overlay types, such as partial overlay, full overlay, or inset.
Framed cabinets are easy to install.
Advantages of Frameless Cabinets
Frameless cabinets offer maximum storage space because there are no frames or center stiles.
These consist of more substantial materials.
They take up less space, making them ideal for smaller kitchens.
You can customize them, even after installation.
The flush finish on the sides makes them appear seamless.
The smooth construction gives them a furniture-like appearance.
What Are the Differences in Construction?
Choosing the correct type of cabinet construction will depend on how you want the cabinets to look. The main difference between framed vs. frameless is the way they are built. The construction between the framed and frameless cabinets differ in the following aspects:
Durability
Since frameless cabinets do not support a frame, they comprise solid materials, so they are oftentimes more durable. Framed cabinets typically feature lighter materials because the frame and center stiles provide support. Although you can use thicker and stronger wood in framed cabinets, this may increase bulkiness as well as cost. If your kitchen walls are uneven, frameless cabinets are the most suitable because they are easier to shape.
Installation
The manufacturer mounts the cabinets, meaning the only work an installer does is put the cabinets in place. Although both cabinet types have a similar installation process, framed cabinets require longer screws that penetrate through the frame.
Frameless cabinets, on the other hand, need shorter screws. The upper cabinets screw directly to the wall, while the lower cabinets are arranged beside each other and attached to the wall sides.
Overlays
Overlay refers to the amount of cabinet face that the doors and drawer front overlap. Framed cabinets offer three types of overlay, namely:
Inset: Here, the drawer and door faces are smaller than the openings. Inset doors and drawers fit flush within the frame of your cabinet when closed. They offer a classic and transitional look, and are pricier than partial and complete overlay
Standard: Standard overlay door and drawer faces are larger than the openings. They cover most of the cabinet frame but leave space between the drawers and doors.
Full: Full overlay doors and drawers cover the face frame of the cabinet completely. This design is costly because it requires hardware. While framed cabinets can adopt any of the three overlay designs, frameless European-style cabinets typically feature the full overlay design.
Appearance
Framed cabinets are more traditional, while frameless cabinets offer a contemporary, sleek design. The hinges of frameless cabinets are hidden, leaving no space between the door and the frame. With framed cabinets, you can use different door overlay designs to bring out your desired look. In most cases, frameless cabinets feature contemporary-style doors, like slab or Shaker, to help complement the cleaner design.
Space
The amount of storage space for framed and frameless cabinets is technically the same. The only difference is in how you can use that space. Since frameless cabinets offer full access, they have more capacity for storing large appliances. Framed cabinets, on the other hand, have that center stile, which takes up precious cabinet space.
Costs
Frameless cabinets are more costly because they require strong materials. In terms of labor, framed cabinets are more expensive because they take more time and effort to build.
The Different Styles Each Design Lends to
Framed cabinets are typical in American-style kitchens. Their adaptability to different door styles makes them classic and elegant. If you prefer a more traditional look and decorative hinges, you may consider framed cabinets. Conversely, frameless cabinets are more modern. They offer a sleeker style, making them perfect for contemporary kitchens. Get more ideas on modern kitchen cabinetry on "Modern Kitchen Ideas" and "10 Modern Kitchen Design Ideas People Love"
Which Is Best for You?
The choice between framed and frameless cabinets depends on your kitchen needs. If you have sufficient kitchen space and a relatively older kitchen style, you might settle on framed cabinets. These are ideal for those who prefer a traditional theme and the flexibility of door choices.
However, if kitchen space is tight and you want to maximize storage, you may be better off with frameless cabinets. In small kitchens where every inch matters, frames and center stiles can limit the capacity of the cabinet's interior. Frameless cabinets provide big drawers, adjustable shelves, and are designed to optimize space. If you're looking for simple yet attractive cabinets to complement a contemporary kitchen, frameless cabinets will be the best choice.
Whether you're remodeling your home or building one from scratch, your kitchen will benefit from the clean, fresh look of your brand new kitchen cabinets—no matter which type you ultimately decide on.
If you are worried about your limited kitchen space, check out "Top 12 Modern Small Kitchen Ideas" to help you out!
Browse Mod Cabinetry
Looking for specialized design assistance and the best in modern cabinetry for your dream home? Mod Cabinetry has experts in high-end modern design to help you design the layout using state-of-the-art rendering and panoramic software, which helps give you a realistic perspective of how your kitchen will look and pricing!