Modern
5 Styles for Modern Kitchen Cabinets
Explore the best styles for your modern kitchen cabinets. From sleek and simple to eclectic, these styles are sure to update your home's aesthetic.
---
Whether you're building a house or renovating your current kitchen, your kitchen cabinets are a fundamental and important decision that lie the groundwork and overall feel for your entire kitchen. That's a lot of pressure! Don't worry—cabinet styles for a modern kitchen are easier to style than you might think.
For many, the kitchen is the centerpiece of their home. A beautiful modern kitchen with stunning cabinets can elevate the look of your gathering place and create a welcoming environment for your friends and family to spend time in.
There are a lot of options when it comes to cabinets. Trust us, we know! This outline of the top four cabinet styles for a modern kitchen should give you the basic information you need so that you can create the kitchen of your dreams.
Frameless Cabinets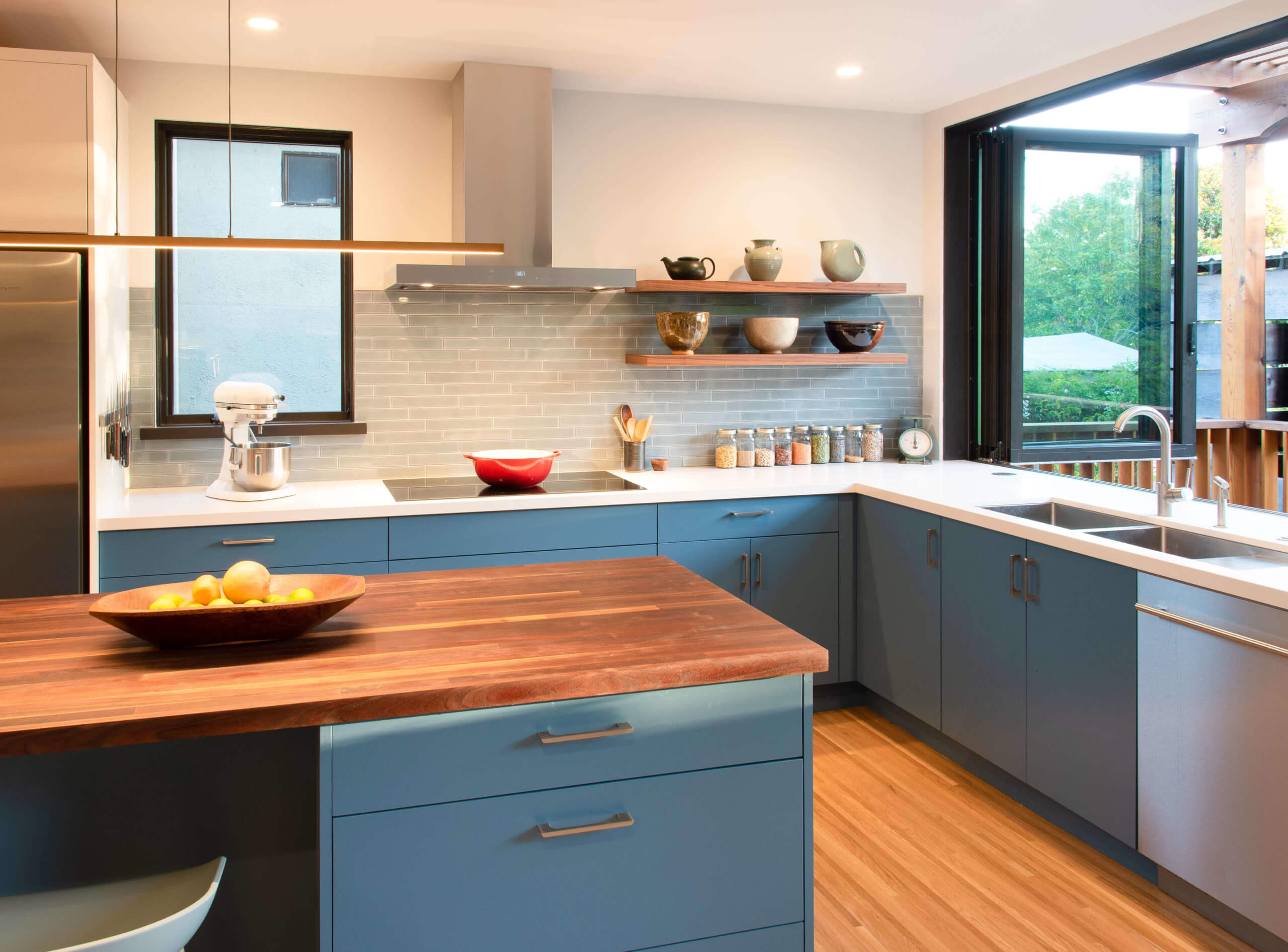 Traditional cabinets have a framed construction that resembles a flat picture frame attached to the front of the cabinet door. It gives some added dimension to cabinet faces but is an outdated style. For a more modern look, consider frameless cabinets for your kitchen upgrade.
Frameless Style are often a clean, sleek option that is both elegant and sophisticated. Frameless cabinets maximize clean lines by attaching directly to a sturdy, thick cabinet box, without the need for frames or awkward center stiles. Frameless cabinets have become a popular choice for modern kitchens as they are both stylish and simple, with clean lines.

We'll show you how to make the most of your frameless cabinets in our guide: Flat Panel Kitchen Cabinets - The Best of Modern Style in The Modernist.
Contemporary Cabinets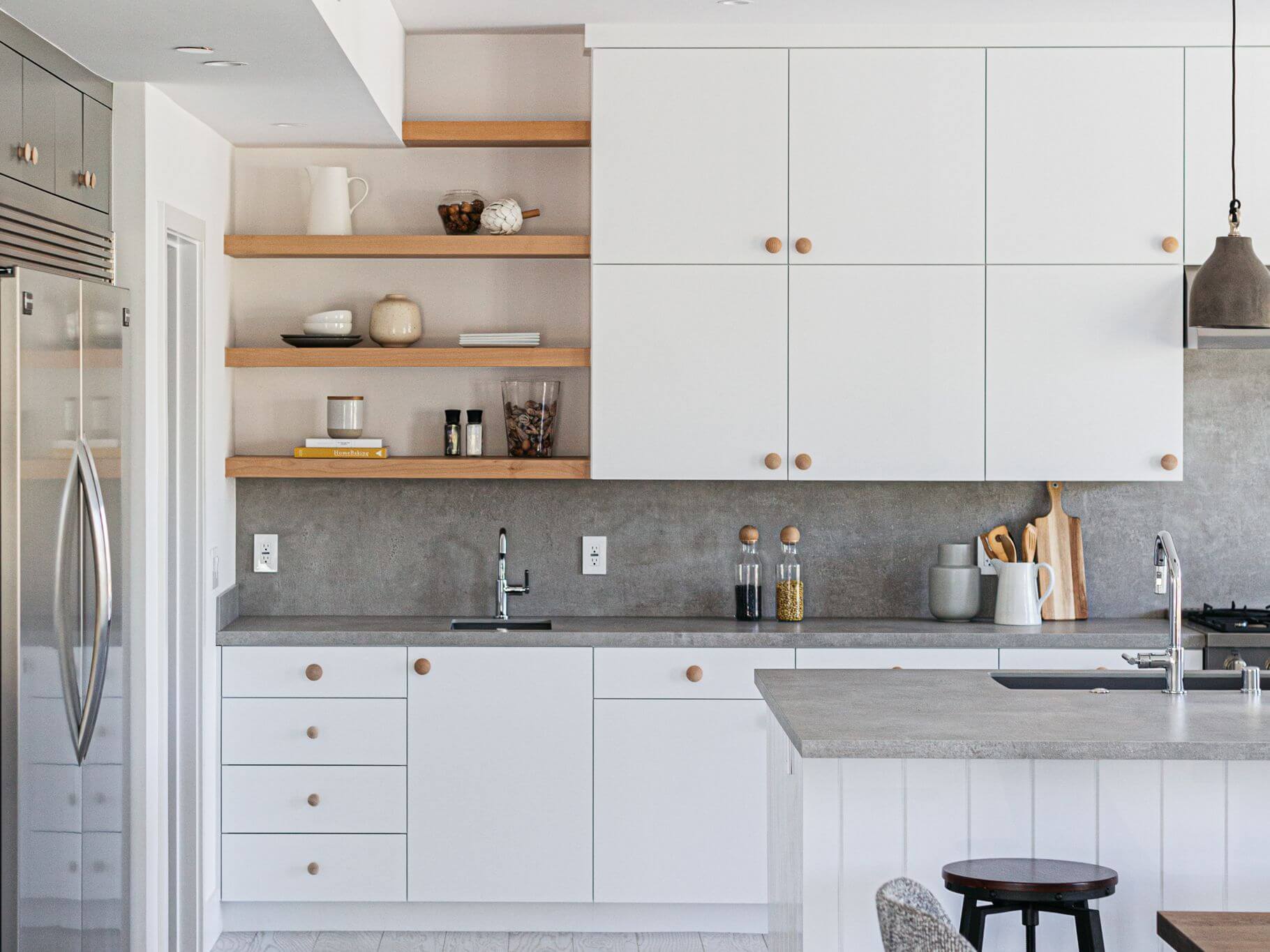 Contemporary Cabinet Style favor simplistic looks without overly complicated decorative trims or finishes. This is generally different from traditional cabinetry with complex detailing and design worked straight into the wood. Alternatively, contemporary cabinetry doesn't have raised panels or crown molding.
Contemporary cabinets are increasing in popularity due to their sleek appearance and flexible storage options. This is a great cabinet choice for smaller kitchens because they are often taller, with more vertical storage space than traditional cabinets, and the absence of frames gives you a bit more in-cabinet storage space. While we have you, are you interested in learning more about how Mod Cabinetry can help you with your modern style cabinetry? Check out our article, "Gray Kitchen Cabinets: The New Style". Gray is a perfect color to compliment your contemporary kitchen. See more of our gray kitchen cabinets here: Inspo Finishes - Gray.
European Cabinets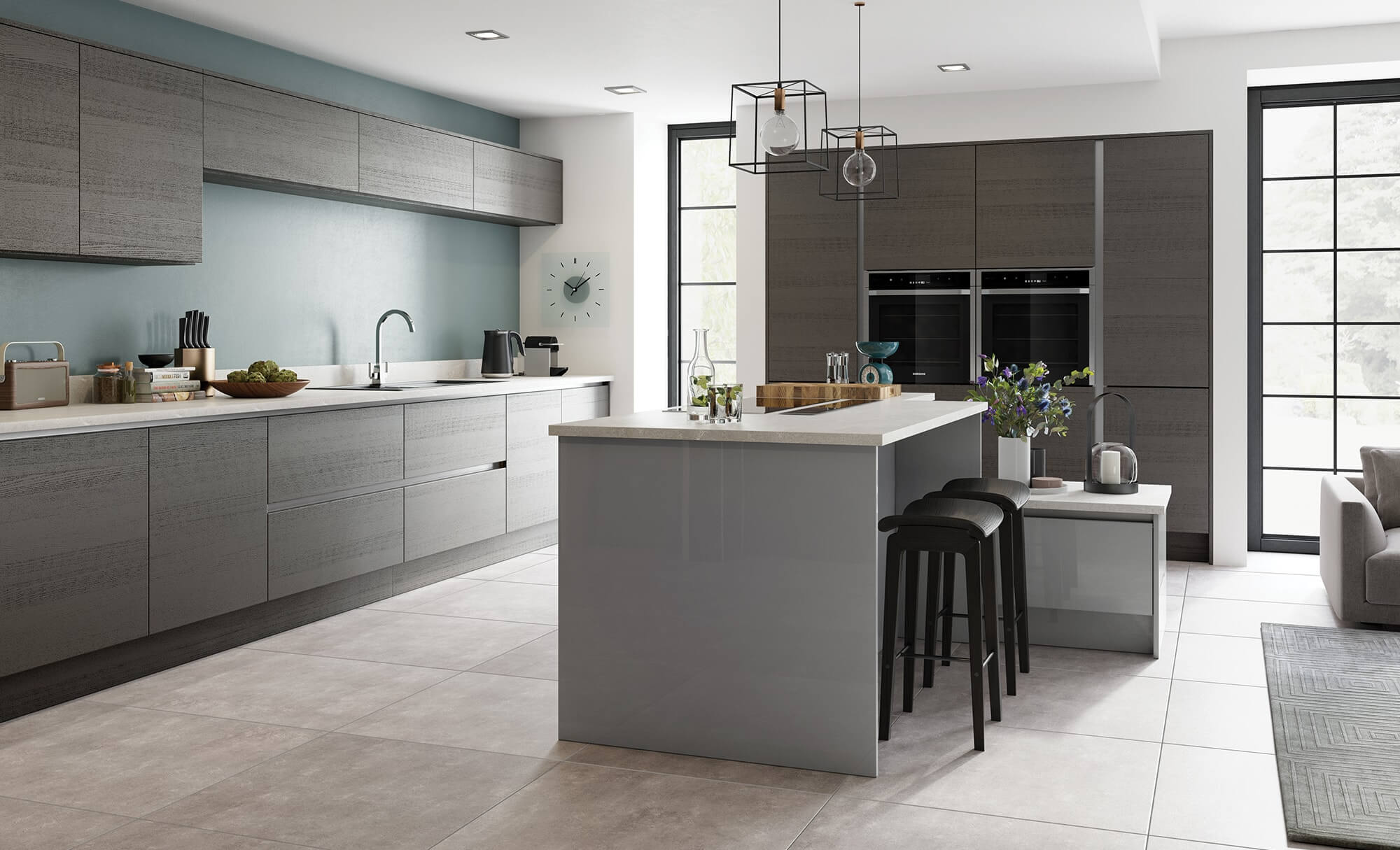 European Style are another great cabinet style for a modern kitchen. These cabinets are also frameless, and the hinges are completely concealed which contributes to their clean look. When you walk into a kitchen with European cabinets, you might do a double take. They're so understated that they add subtle, simple charm to a kitchen.
European-style cabinets are generally built with precision and careful attention to detail. They're typically available in three finishes, including euro high gloss, matte, and textured, and work great as both handle and handless options.
Euro-style cannot be more perfect for a modern kitchen! Flat Panel Kitchen Cabinets - The Best of Modern Style will give you more information on how to make the most of your European-style cabinets in the modern kitchen.
Mid Century Modern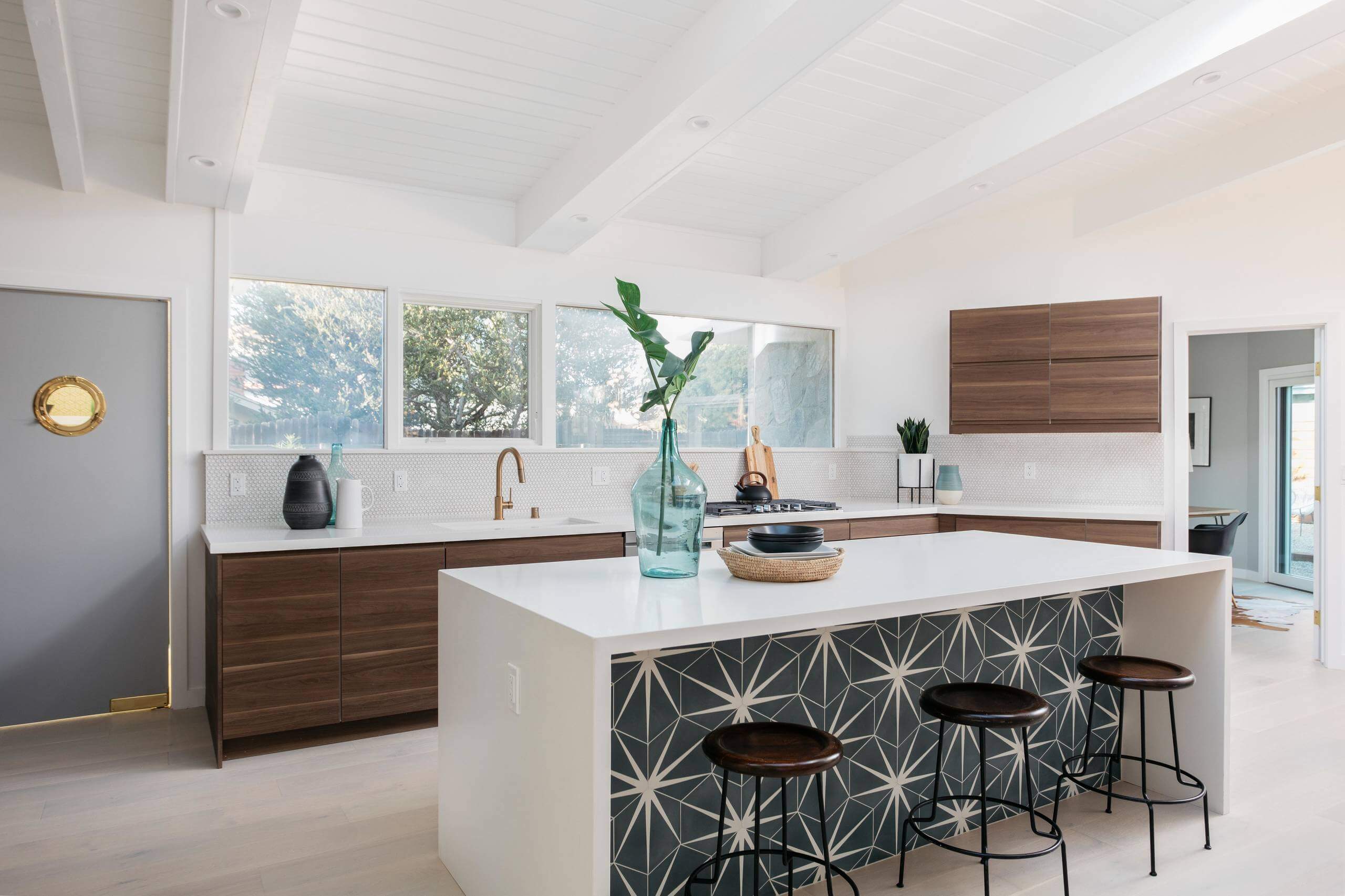 Mid Century Modern, or MCM, style cabinetry implements design principles of the years following World War II, mainly the mid-1940s to the late 1960s. In other words, it follows the design style that was considered "modern" in the middle of the 20th century.
Everything eventually comes back into style, and it appears that the interior design trends from the 40s-60s are no exception. Countless kitchen remodels and designs today are influenced by the style from this era, known as mid-century modern. This style is characterized by clean lines, useful functionality, a blend of traditional and non-traditional elements, as well as contrasting elements such as wood and plastic. And speaking of functionality, your kitchen doesn't have to be the size of Casa to be highly functional. Check out our article "Top 12 Modern Small Kitchen Ideas".
Minimalist Style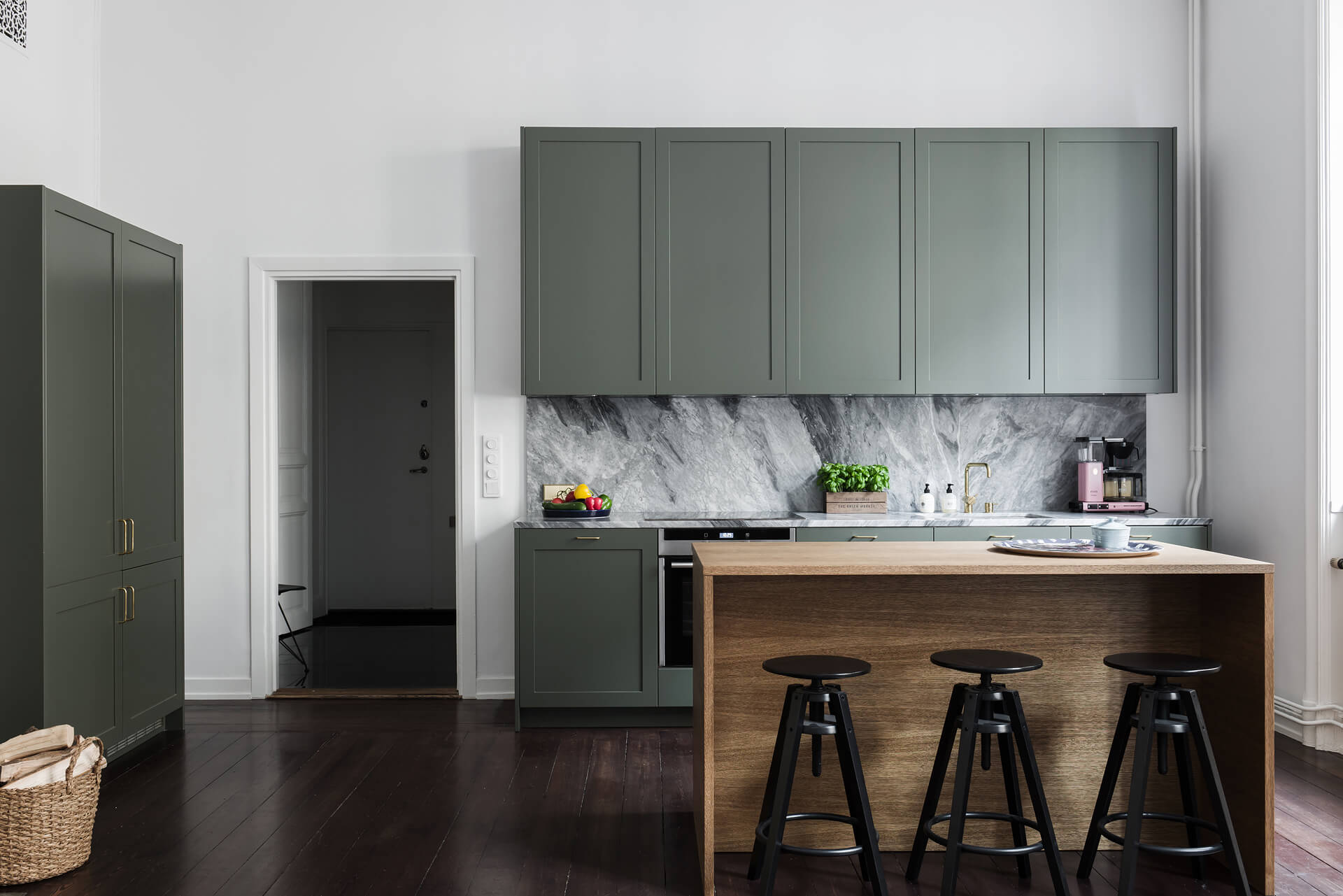 Minimalist Style kitchen cabinets are popular for their spare, simple design. Unlike some of the more ostentatious styles of cabinets with highly complex hardware, bevels and edges, and other bells and whistles, minimalist kitchen cabinets display a clean and straightforward design.
Since the 1950's, the minimalist movement has taken many different forms, but its simple and clean lines are still very popular. The principle of minimalism is to achieve better design through the use of simple materials, objects, spaces, and forms. If minimalist kitchens are your style, you should keep a few things in mind as you plan and design.
The trend of modern kitchen cabinetry, whether it be contemporary, European, Mid-Century Modern, or Minimalist Style, is continuing to grow in popularity. Not only for their sleek and stylish look, but also for their appearance and flexible storage options. If you're considering a kitchen remodel, be sure to check out all of your options for modern kitchen cabinetry before making any decisions. And, if you need more ideas and inspiration on how to style your modern kitchen, check out our articles, "Modern Kitchen Ideas" and "10 Modern Kitchen Design Ideas People Love" in The Modernist.
Browse Mod Cabinetry
Looking for specialized design assistance and the best in modern cabinetry for your dream home? Mod Cabinetry has experts in high-end modern design to help you design the layout using state-of-the-art rendering and panoramic software, which helps give you a realistic perspective of how your kitchen will look and pricing!