Modern
Create A Statement With A Transitional Kitchen
Transitional kitchen cabinets: Turn your kitchen into something beautiful. Create a transitional space you will love for years to come.
---
Transitional kitchens can be amazing and powerful in the right hands. Transformation is never easy, but it's always worth it in the end. This is especially true when it comes to your kitchen. At Mod Cabinetry, we specialize in helping our clients emerge from their old kitchens and into something new and beautiful. We believe that everyone deserves a kitchen that they can be proud of. Keep reading to find out how you can easily transform your kitchen now.
What you will learn:
The Transitional Style Kitchen
How To Design A Transitional Kitchen - The Basics
Update Your Current Space To A Transitional Style Kitchen
Transitional Kitchen Cabinets For Your Home
Design Ideas
Click Play For A Quick Summary
1. The Transitional Style Kitchen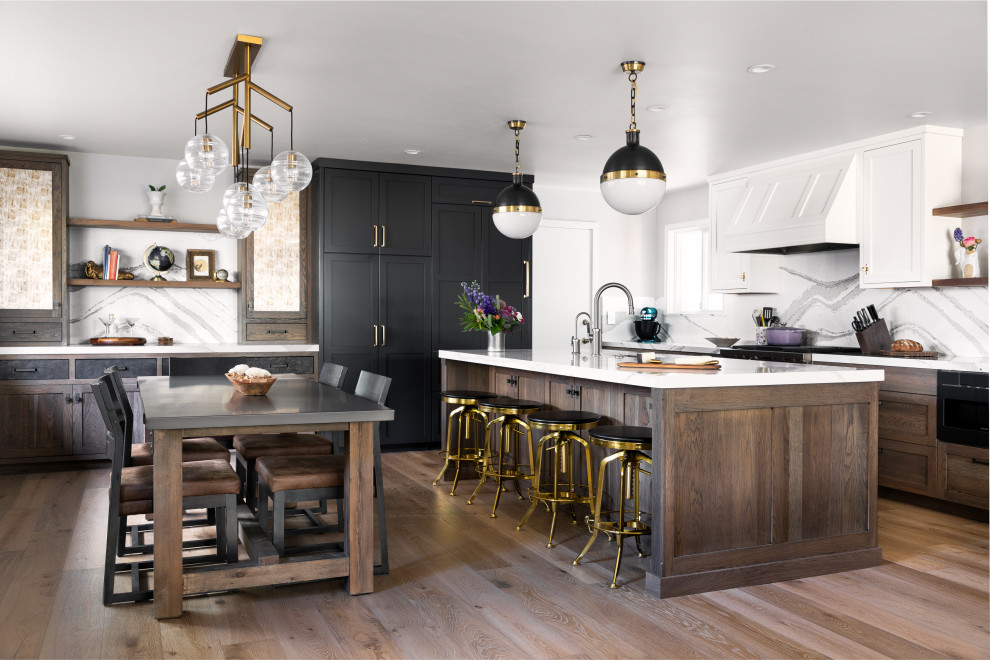 Are you one of the many people who are looking to update your kitchen and make it a little more modern? If so, you may want to consider adopting a transitional-style kitchen design. Transitional kitchens are a mix of modern and traditional, making them a great option for those who want to have the best of both worlds.
The style gives you all the benefits of a modern kitchen, including energy efficiency and easy maintenance, while maintaining a classic aesthetic that never gets old. The traditional and contemporary design together can lead to a stunning space that is perfect for everything from cooking and entertaining to hosting family dinners or even just hanging out with friends.
In this article, we'll take a closer look at what makes transitional kitchens so popular, as well as some tips for designing and updating your own.
2. How To Design A Transitional Kitchen- The Basics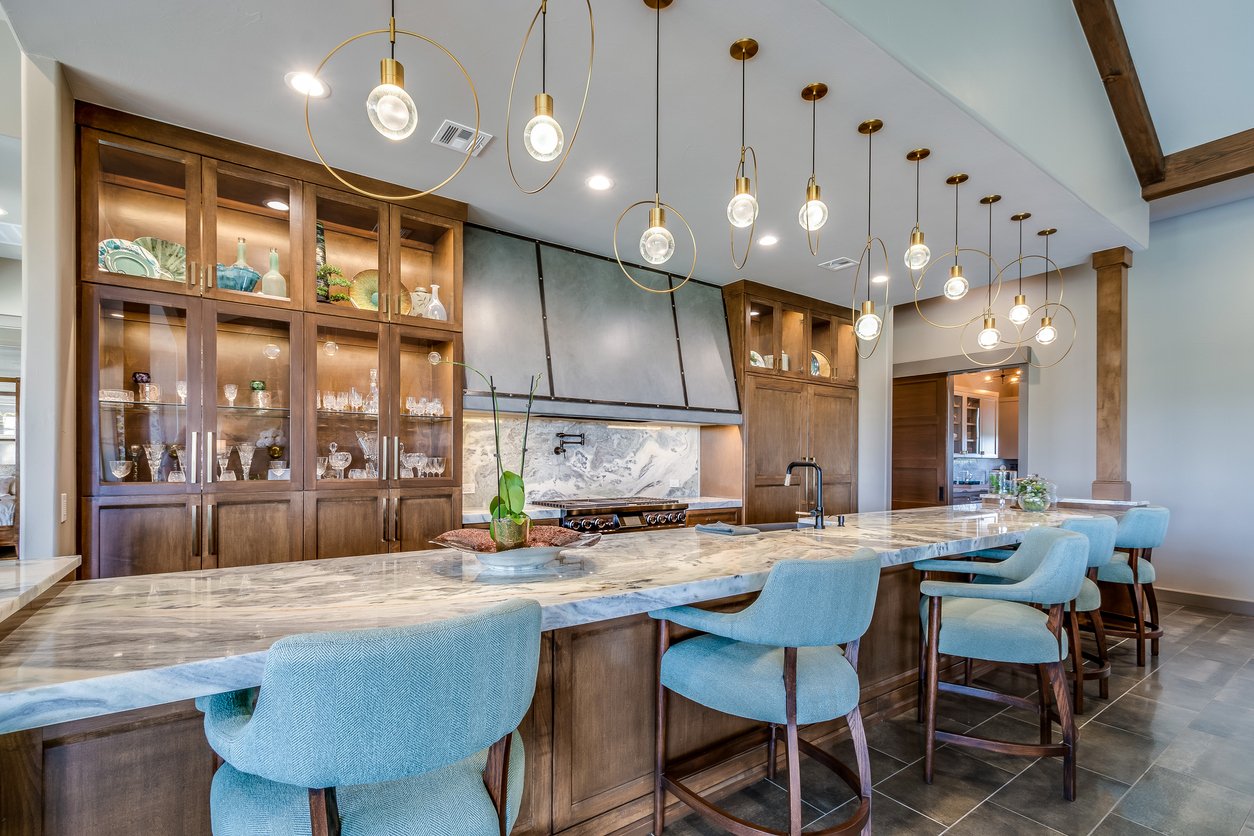 Understanding the basic design elements of a transitional kitchen is the first step in creating your dream space. At its core, a transitional kitchen is still centered around common elements like countertops, cabinetry, and flooring. However, you can also add unique design elements to really make your kitchen stand out. Here are the very basics for designing a transitional kitchen:
1. Check Out Examples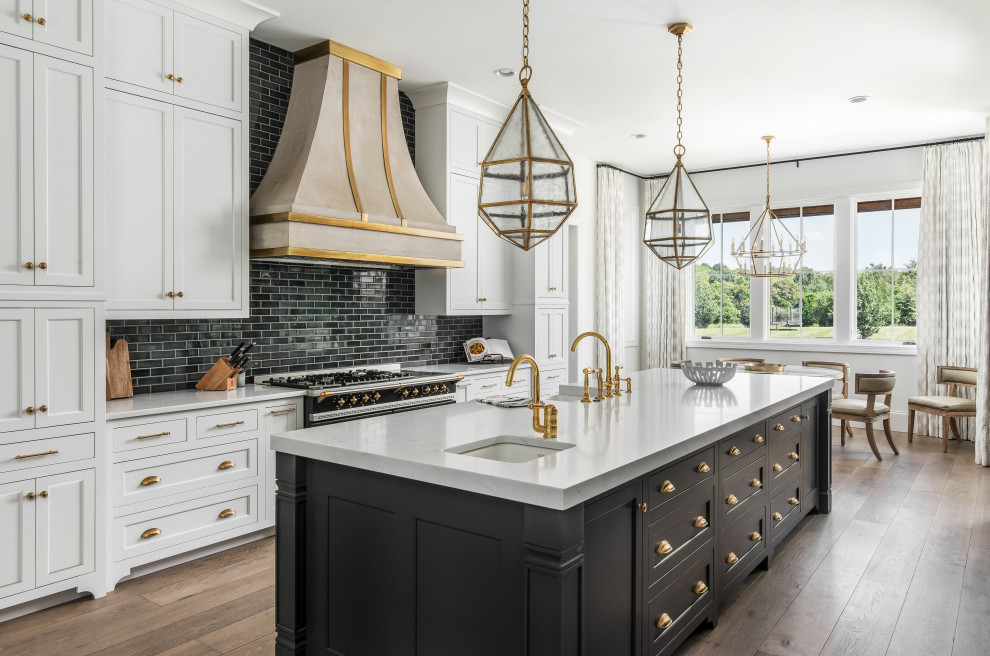 Start by checking out some stunning examples of transitional kitchens online or in home design magazines. This will give you a good idea of what elements commonly go into the design, and can help you start thinking about how to incorporate these things into your own kitchen.
2. Function and Aesthetics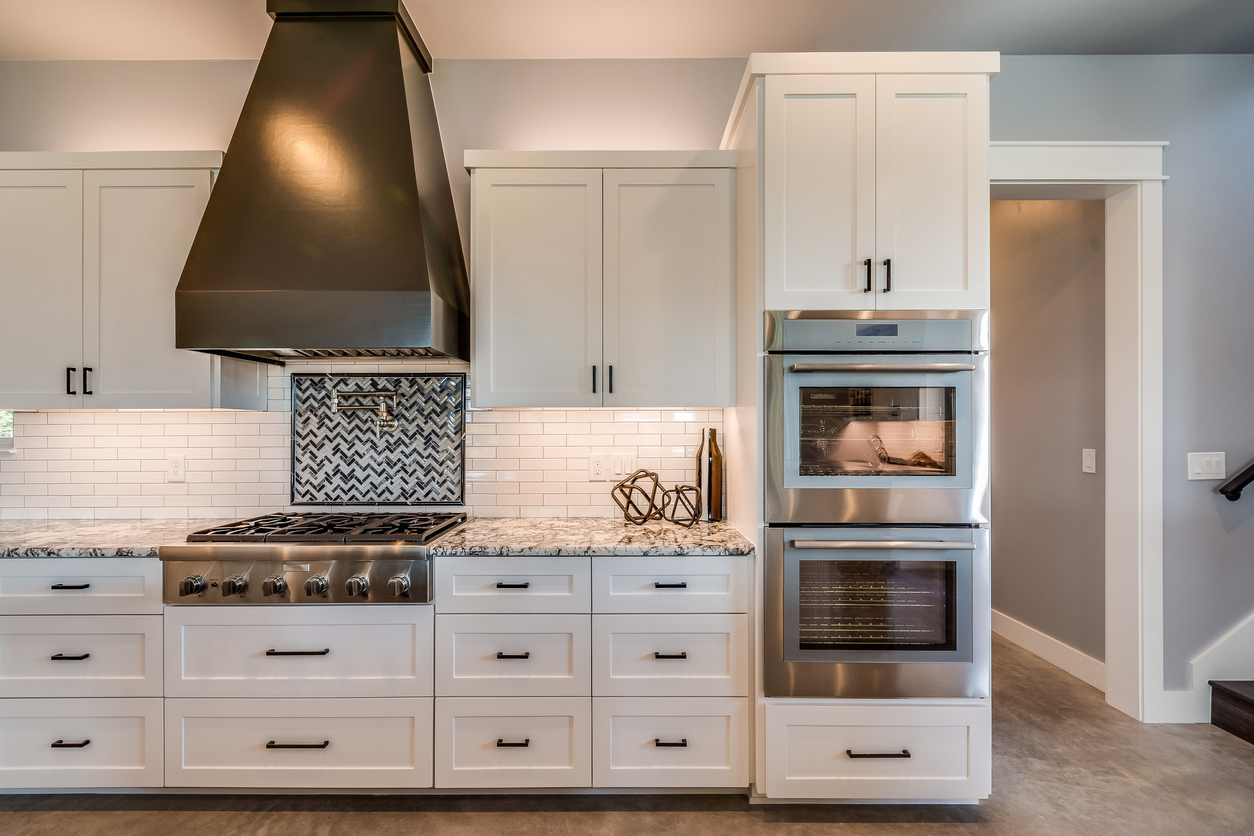 Choose the style of your cabinets and countertops based on both function and aesthetics. For example, if you want a modern feel, you might opt for sleek, high-gloss cabinets, while a more traditional kitchen may benefit from painted wood cabinetry or marble countertops.
3. Cohesive and Balanced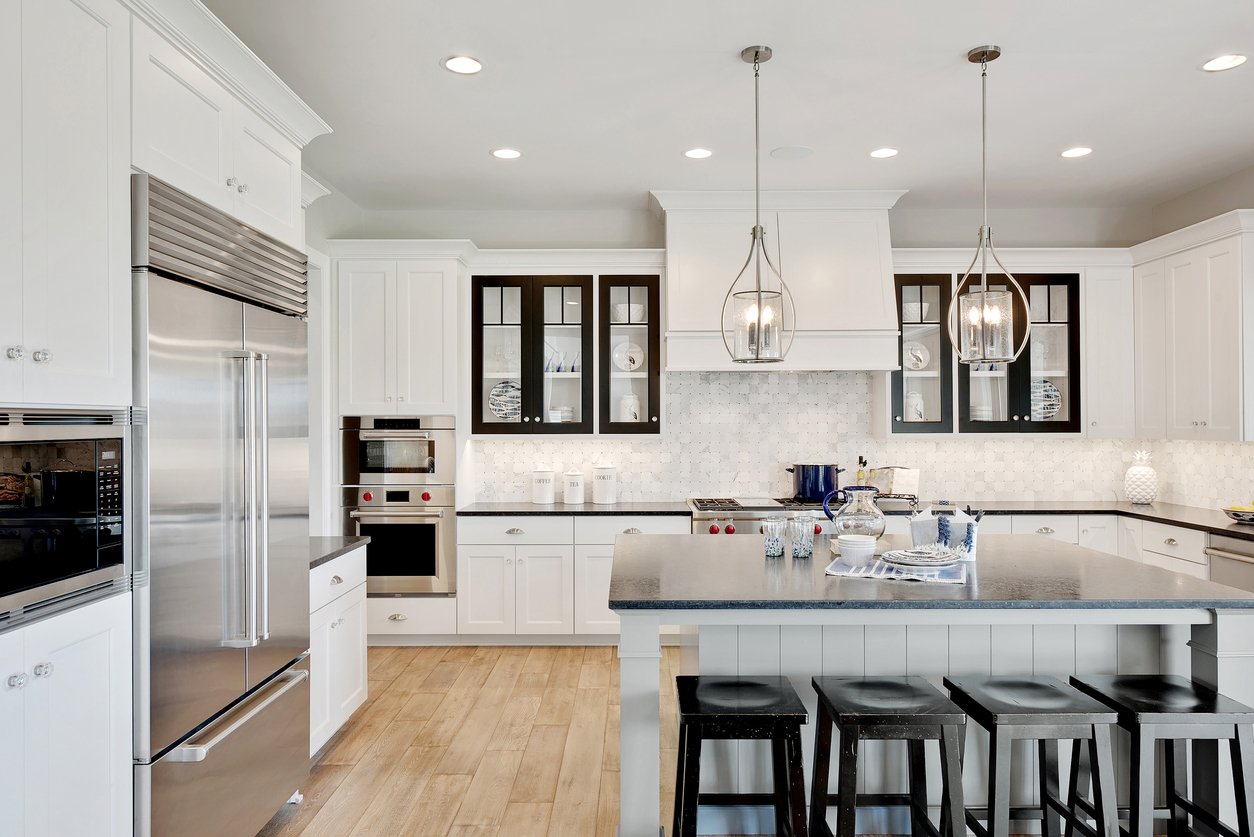 Add unique accent pieces to your kitchen design, such as textured tiles or creative lighting fixtures, that reflect your personality and help your kitchen stand out from the crowd. However, it's also important to choose these elements in a way that keeps your design cohesive and balanced.
4. Color Scheme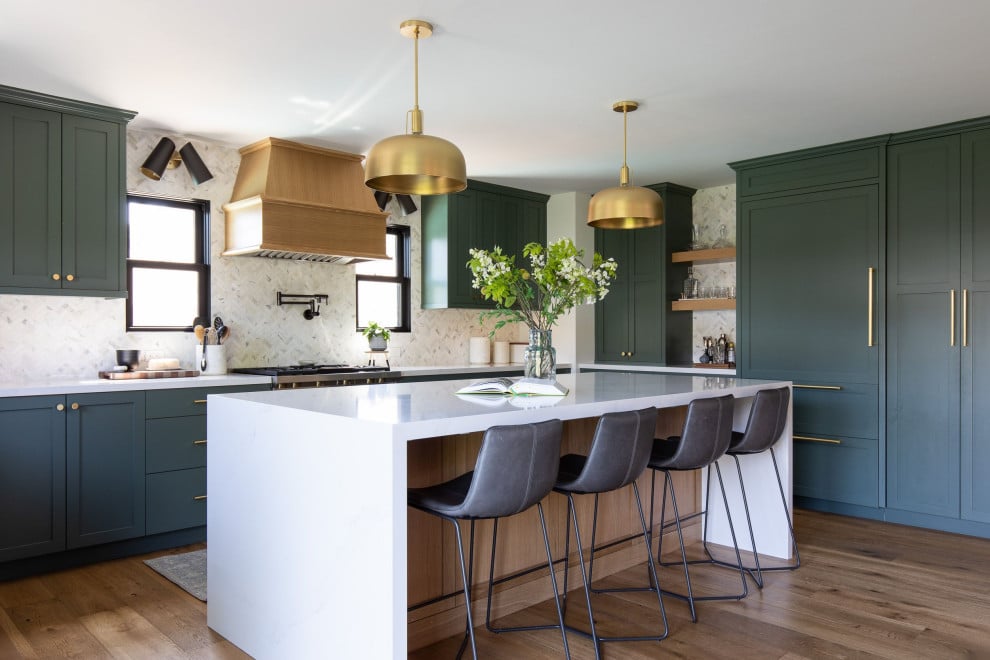 Color picking is a must in any design. Make sure you choose the right colors for your new space to help create the mood that you want for your kitchen. There is no right or wrong when it comes to color, so make sure you experiment with different shades and tones to find something that truly speaks to you. Get Trendy With These Kitchen Color Schemes will help you get a head start in choosing your perfect color palette.
5. Streamlined Appliances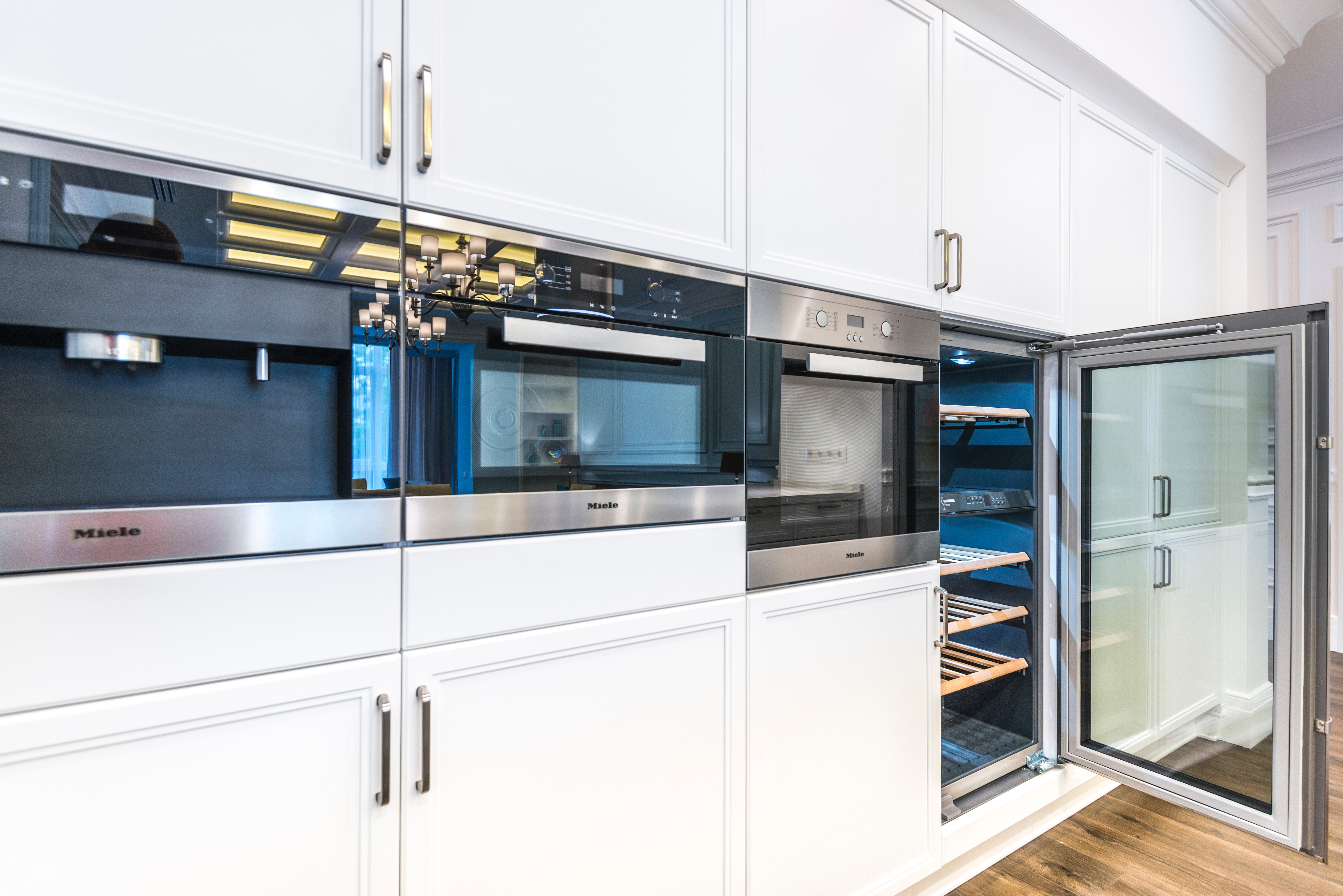 Appliances for transitional kitchens are often more streamlined and less flashy than those found in modern kitchens. This is because transitional designs tend to be more neutral, and so the focus is on the overall design rather than individual pieces. Think of your appliances as the supporting cast of your kitchen design, not the star.
3. Update Your Current Space To A Transitional Style Kitchen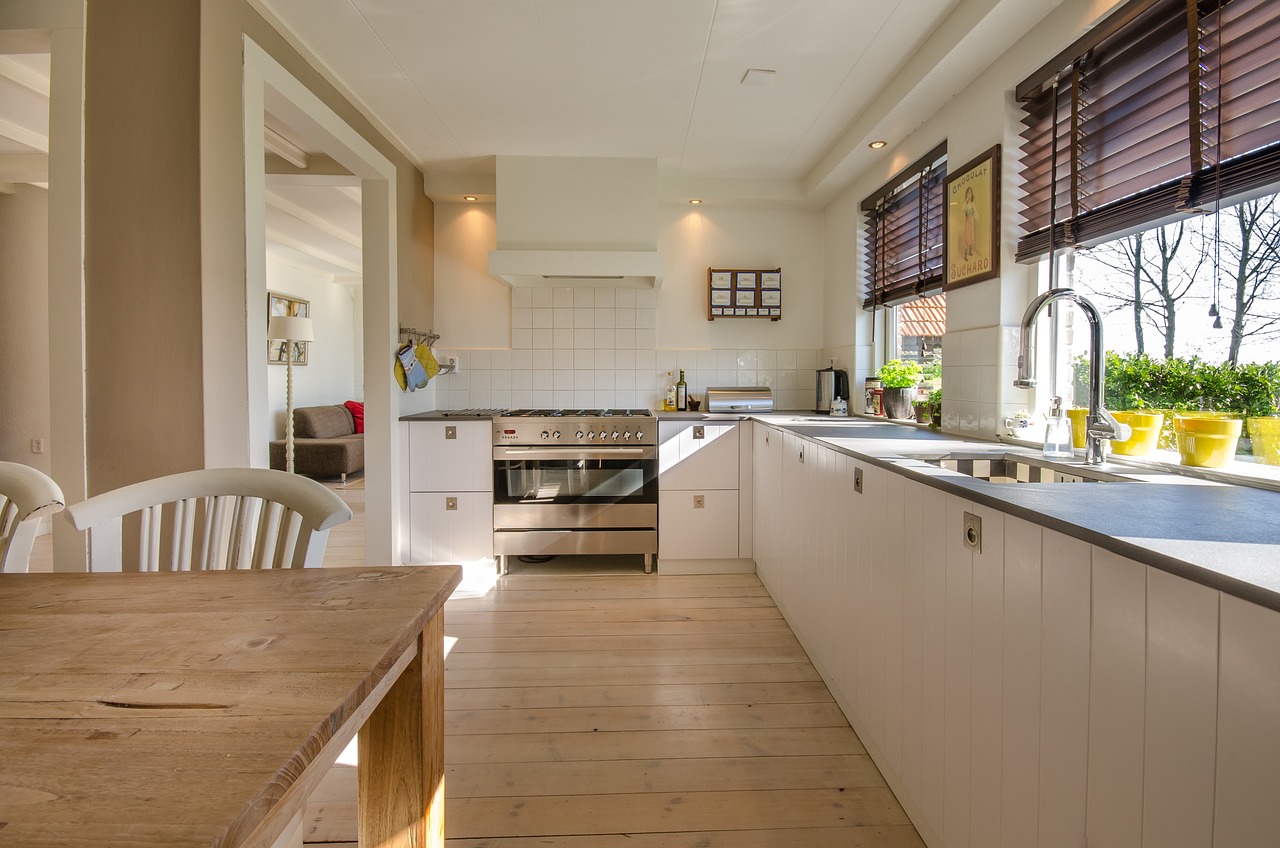 Over time, kitchens can get worn down and outdated, leading to a less-than-ideal space for cooking and entertaining. If this sounds familiar, it may be time to consider an update to a transitional-style kitchen. The ageless and classic style it offers is perfect for those who want to update their kitchen without losing the character and beauty of a traditional design.
Your kitchen may currently have a dated look, but there are some easy ways to update it and achieve a transitional style:
1. Stainless steel appliances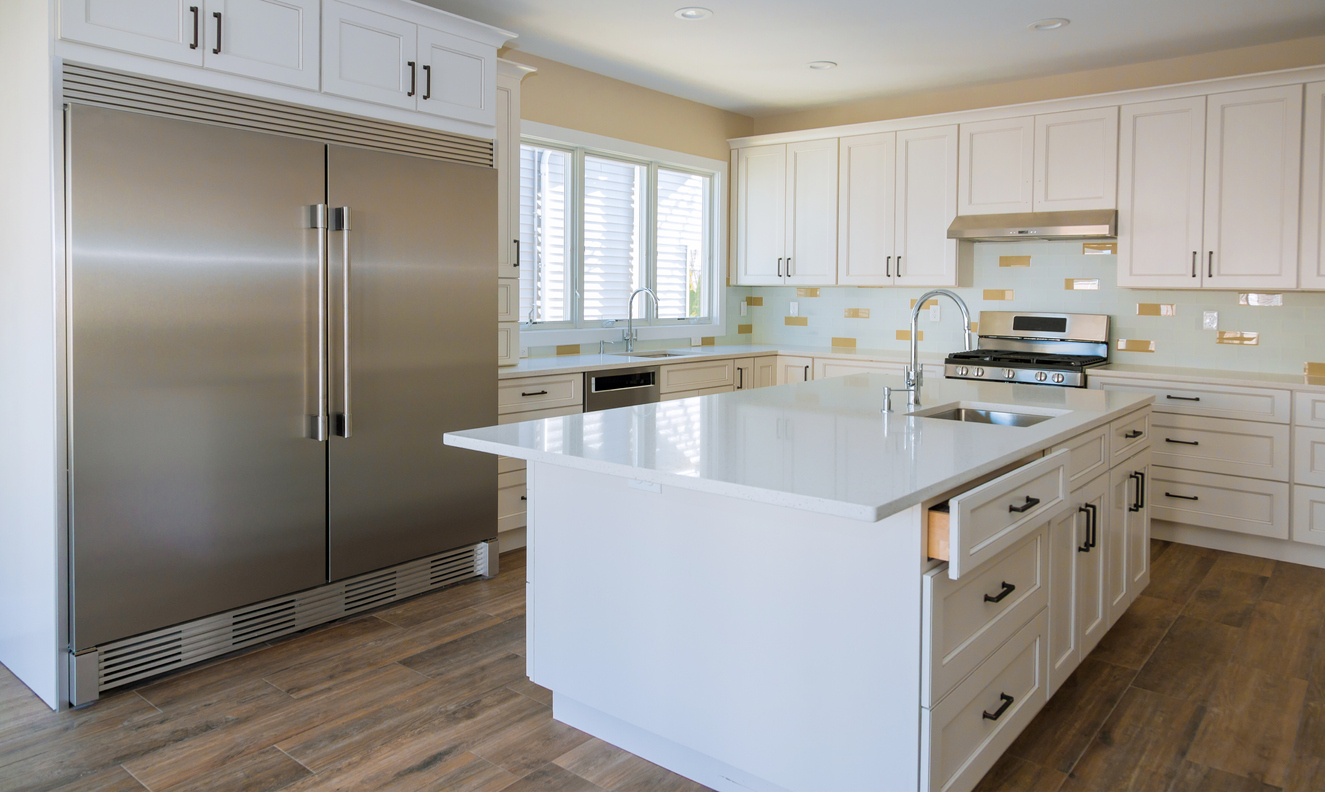 Paneled appliances are the hallmark of transitional kitchens, as they are sleek and modern while also maintaining a classic feel. If your current appliances are made of outdated materials, consider replacing them with stainless steel versions to achieve a more modern look.
2. Exposed wooden beams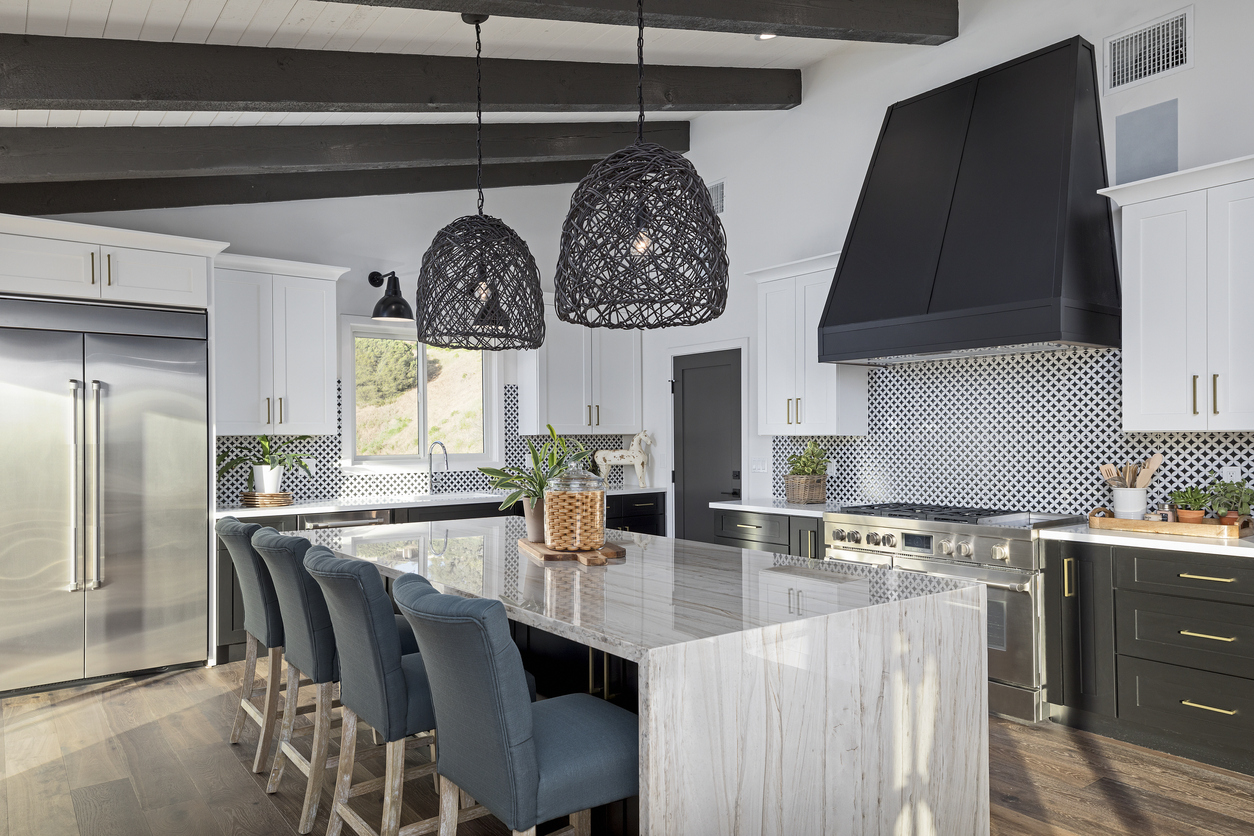 Bothered by the exposed wood beams in your kitchen? Try painting them to match the rest of your walls, or simply leave them exposed as a fun element of your transitional design.
3. Cabinetry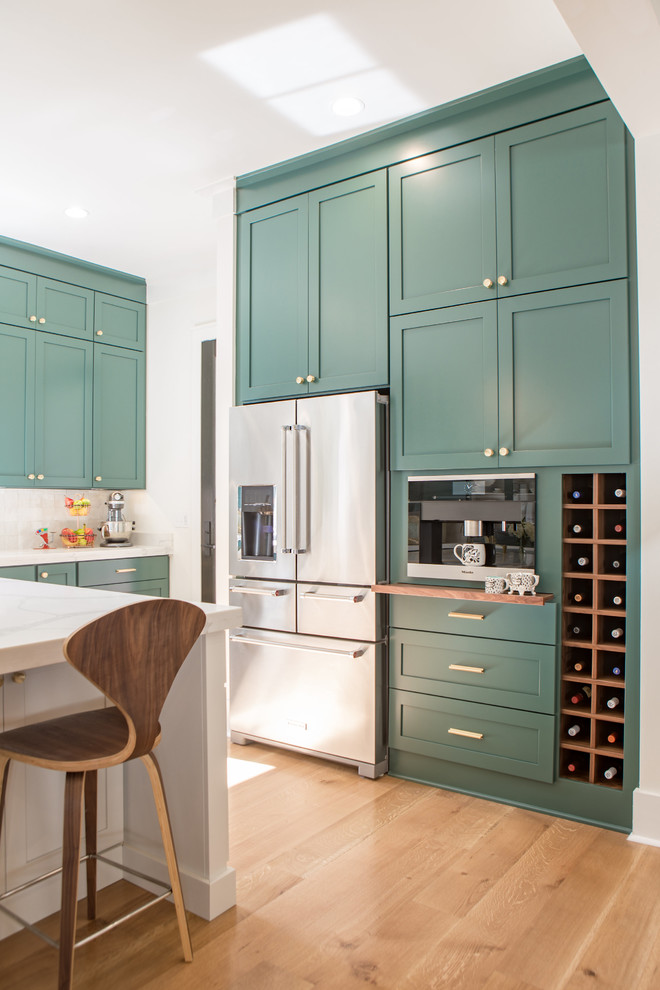 Create a transitional kitchen style with your old paneled-style doors by updating them with a coat of paint or adding decorative window treatments. Shaker cabinets are also a popular choice for transitional designs, as they can be paired with more modern features to achieve the perfect balance. Read Color Your Kitchen Cabinets - The Next Best Kitchen Trend! to get started on finding just the right cabinet color for your new space.
4. Creative lighting fixtures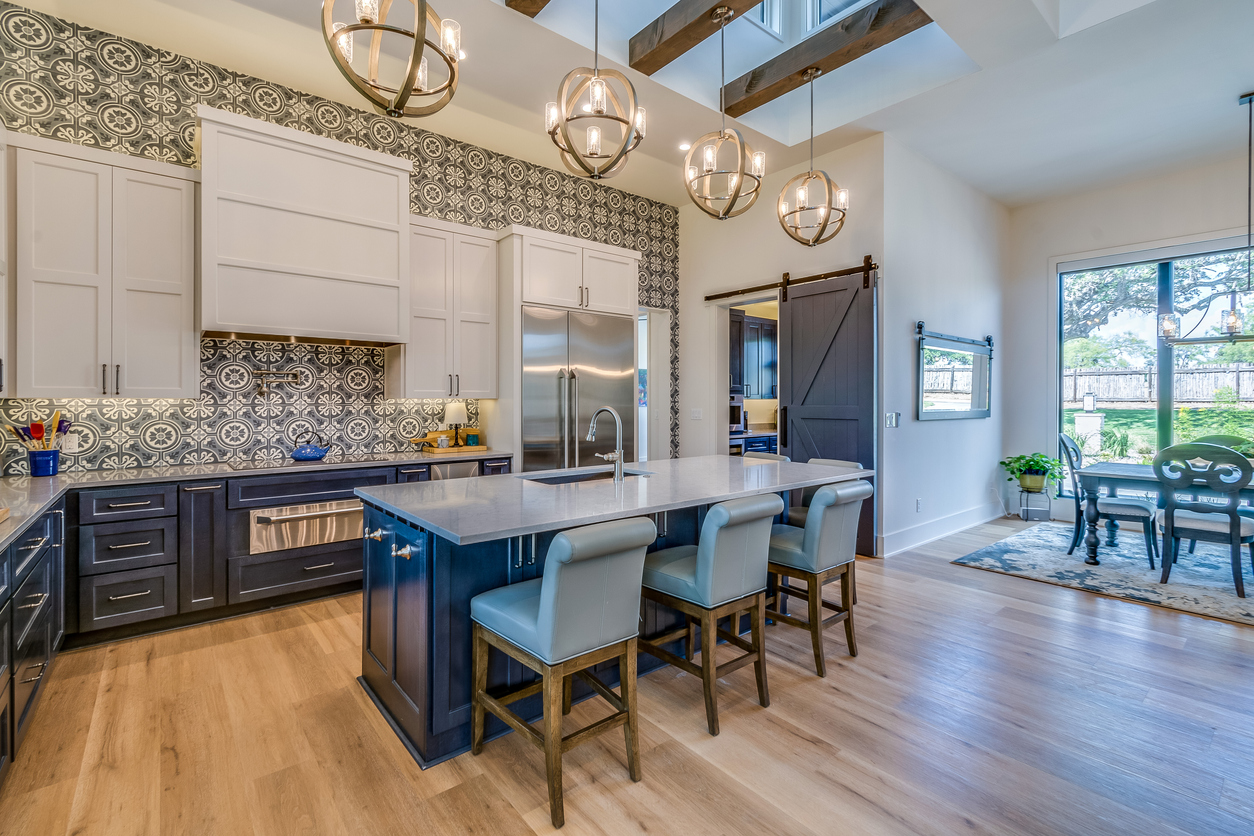 Substantial light fixtures that add visual interest to your kitchen are a must for any transitional design. If your dated kitchen lighting isn't working for you, consider investing in some more creative and modern lighting fixtures to create a standout look in your space.
5. Countertops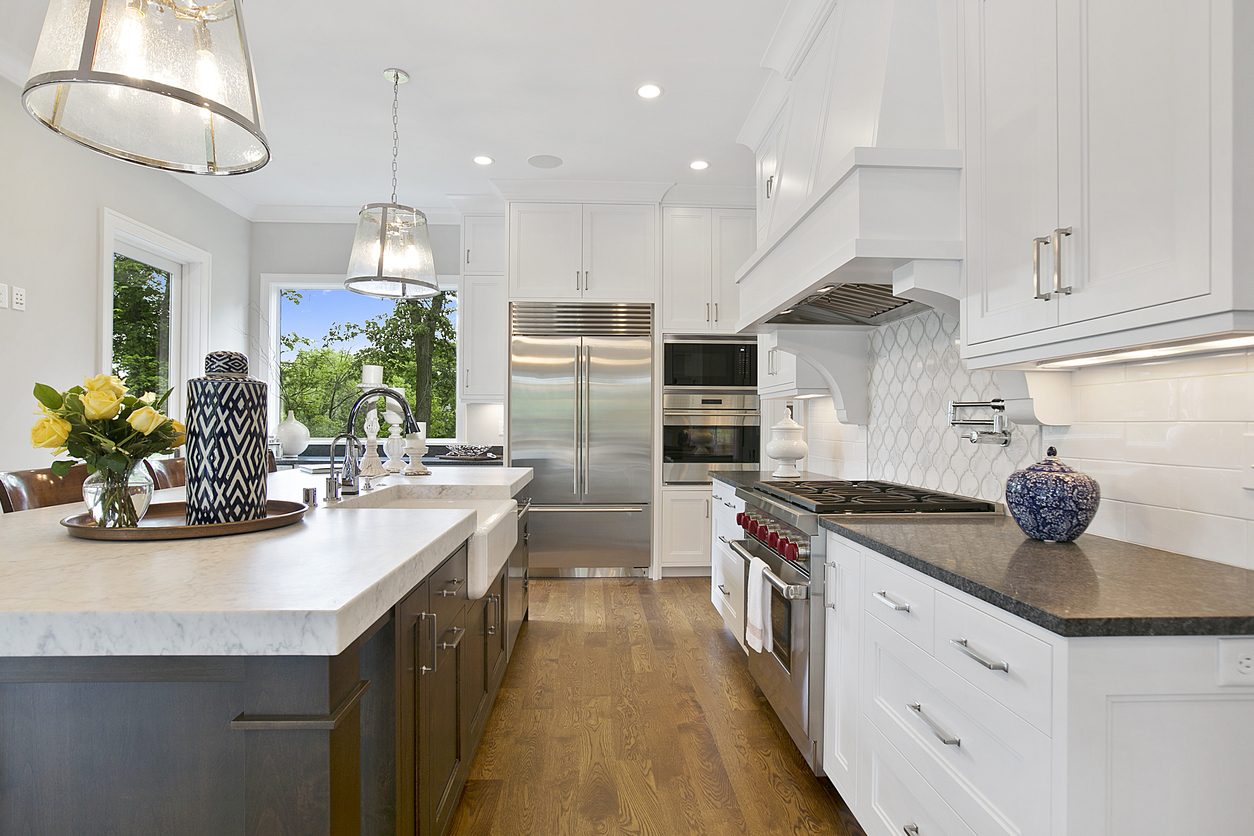 Traditional styles feature countertops that are made of natural materials like wood or stone that showcase the old-world craftsmanship of the space. If your current countertops are feeling a bit outdated, consider upgrading to something that is more in line with the transitional aesthetic.
Transitional style kitchens display a mix of styles, and countertops are no exception. Whether you opt for newer quartz or white marble countertops or keep your older laminate surfaces, your kitchen can look more modern and fresh with a simple upgrade.
6. Color Palette
Traditional kitchens tend to have a neutral color palette with soothing tones of brown, cream, and gray. Wood tones are incorporated especially in the cabinetry. To achieve the transitional style aesthetic, experiment with different colors and shades to find the perfect palette for your kitchen space. Consider adding pops of color through your accessories, wall art, and decorative tiles.
7. Backsplash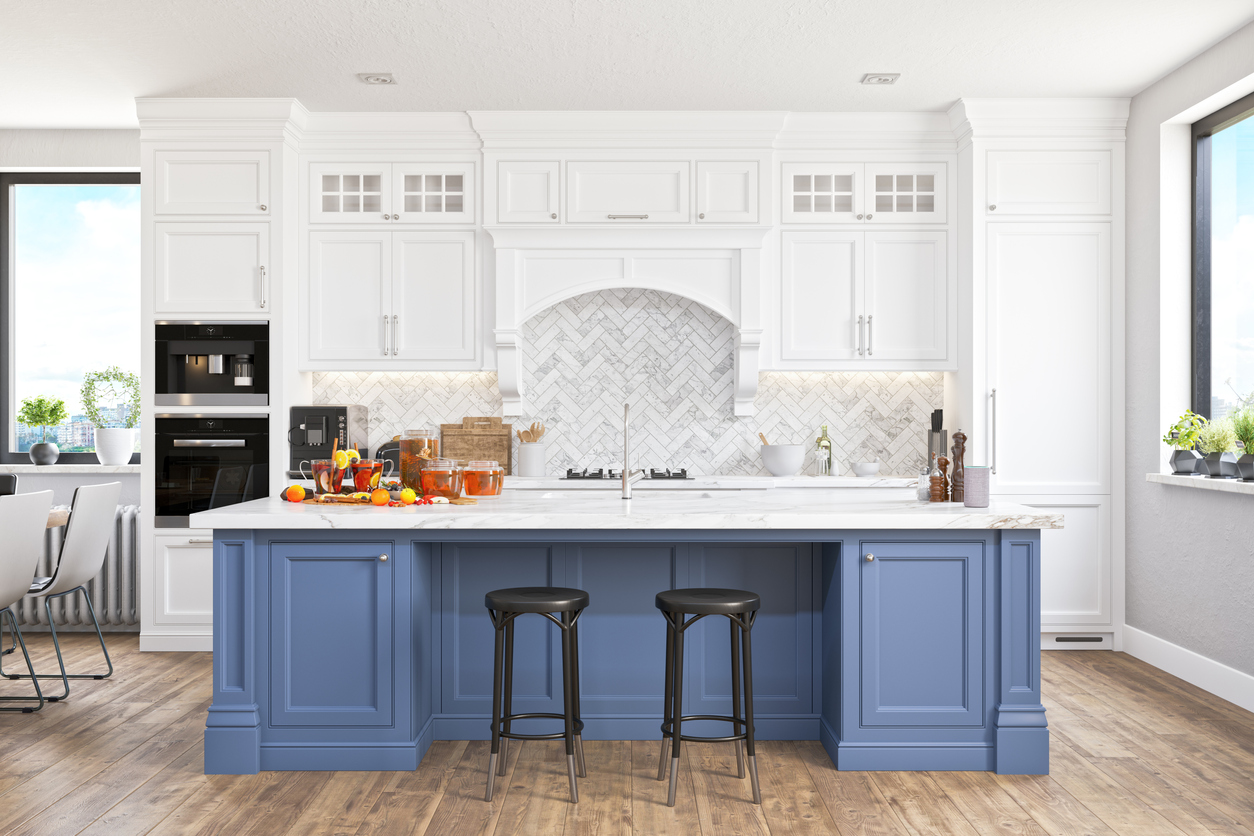 White backsplash tiles are a staple of the transitional style kitchen, and they are ideal for those who want to achieve a clean and classic look in their space. However, if you're looking for something a bit more creative and out-of-the-box, consider choosing tiles in varying shades of the same color or opting for a patterned backsplash that complements your wooden cabinetry.
These are just a few ways to update your traditional kitchen style into something that is more transitional without losing the beautiful character of your space. Whether you're looking to make a few simple updates or overhaul the entire kitchen, these tips can help you create the perfect transitional design that is both functional and beautiful. Learn more about different kitchen design styles and trends on our article, "The Definitive Guide to Kitchen Styles - Kitchen Edition" to get you started on your kitchen redesign! And as always, happy remodeling!
4. Transitional Kitchen Cabinets For Your Home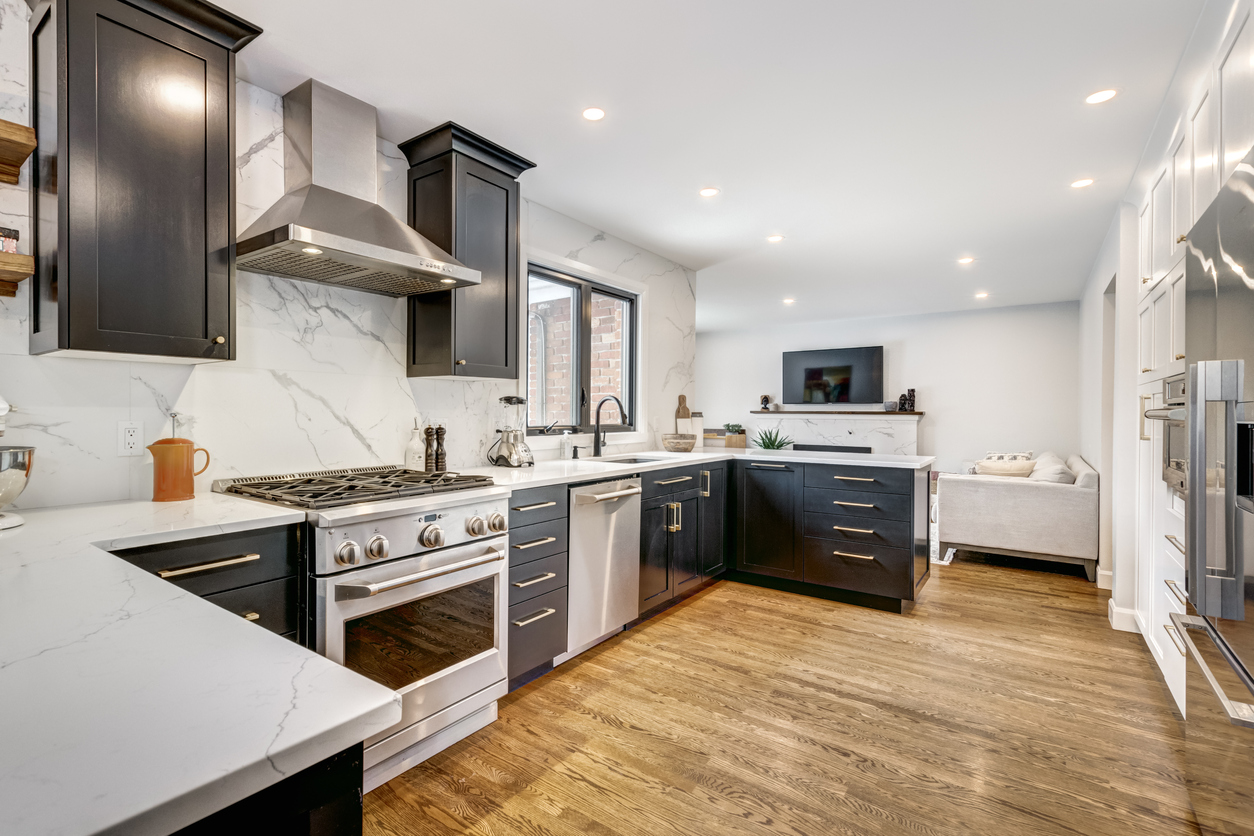 The classic pattern of traditional cabinets can make your kitchen feel out of date. Decorative ornamentation has fallen out of fashion for a reason and isn't always in line with current design trends. With transitional cabinets, you can keep the beauty of traditional style while updating your kitchen to a more modern look. Here are some of the cabinets that Mod Cabinetry has to give your kitchen a fresh new look!
1. (Naturals) Blue Family- Ballard Blue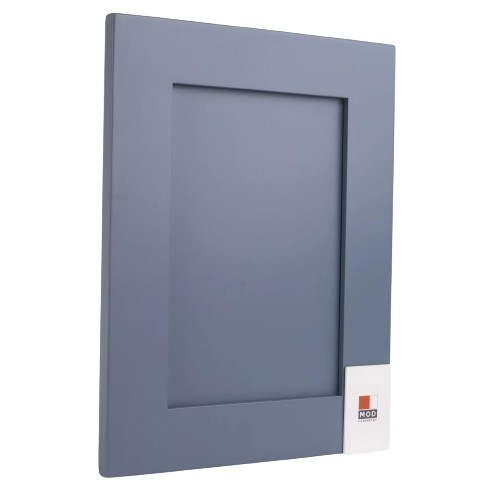 Brighten up any room with (Naturals) Blue Family- Ballard Blue. This beautiful color is a perfect way to add a pop of personality to your kitchen or bathroom. The light blue hue is offset by the deep navy undertones, creating a look that is both fresh and timeless.
2. (Naturals) Modello Gris Metallic [HIGH GLOSS]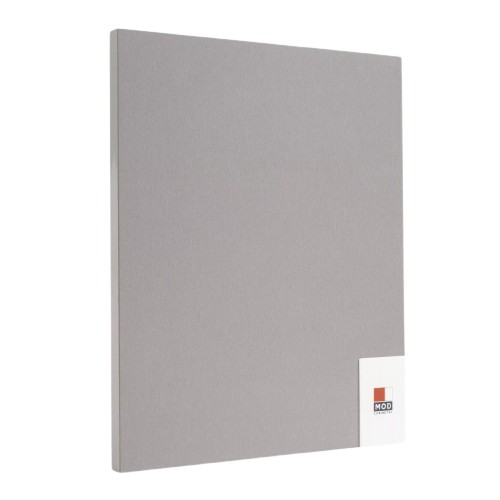 Metallic bling meets classic grey in Modello Gris Metallic's high gloss finish. This is the perfect way to add a touch of glamour to any space. The metallic sheen is perfect for those who want to add a bit of shine to their space. The grey color is perfect for creating a versatile look. You can use this finish as an accent color or the primary color scheme in your kitchen, or go all out and use it as a statement piece. Give your home a luxurious edge with Modello Gris Metallic today!
3. (Euro) Agua Marina Super Matte
You'll surely fall in love with Agua Marina Super Matte's calming and soothing color of blue. Its classic yet simple look will surely fit into any style of kitchen, whether it is modern or traditional. It makes your home more cheerful, too! If you want a unique touch to your kitchen, then this shade of blue is just perfect for you! Make sure to get Agua Marina Super Matte now!
4. (Euro) Curry
Curry is a fantastic color for adding some sunshine to your kitchen. This cheerful yellow tone is ideal for sprucing up your culinary area. It will not only look great, but it will also be simple to keep clean with its high-gloss finish. Liven up your kitchen by purchasing Curry today!
5. (Euro) Olivo
Who can resist such beautiful cabinetry? The wooden appeal of (Euro) Olivo is perfect for creating a kitchen that feels oh so natural. Olivo mixes a beautiful wooden pattern with breathtakingly light and dark streaks, making cabinets appear more rustic and organic. If you're looking to create a kitchen that feels like a warm embrace, Olivo is the color for you.
6. (Bylder) Glossy Eggplant
Let your imagination run wild with our Glossy Eggplant finish. If you're looking to add a unique spin to your home, our Glossy Eggplant finish is perfect for you! With this color, you can explore different possibilities and express your personality in ways never before possible. Reinvent your cabinetry style and get Glossy Eggplant today!
7. (Bylder) Textured Teak
This beautiful Textured Teak finish adds a touch of exotic, tropical vibes to any kitchen. The deep brown color adds warmth and depth to the room, making it perfect for anyone who wants to add some extra personality to their space. Plus, it's durable and easy to maintain so you can enjoy your new look for years to come. Order Textured Teak now!
8. (Naturals Express) Painted Frost
A step closer to white is our Painted Frost! This beautiful hue is perfect for those who want to create a clean and crisp look in their kitchen. The subtle blue undertones give this elegant paint color a touch of sophistication, making your kitchen stand out. Your guests will surely frost over this color!
9. (Naturals Express) Painted Fog
One thing about painting your cabinets is you can play with colors. With Painted Fog, you can create a light and airy feel in your kitchen. The cloudy gray hue with pearly undertones will make your space appear brighter and more open- perfect for small kitchens or those who want to achieve a minimalist look. You're going to love this color!
Find more cabinets to complete your transitional kitchen in The Mod Sample Shop! Get the Transitional style kitchen cabinets you want in Naturals and Naturals Express Cabinet options.
5. Design Ideas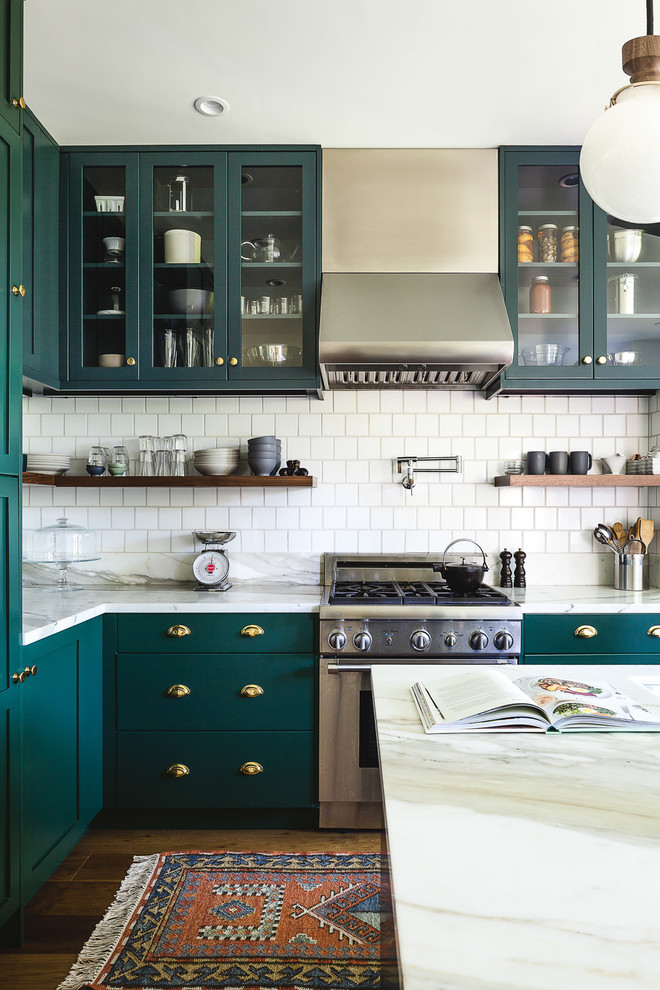 Blend traditional and modern elements in your kitchen design to create a warm and inviting space that reflects your unique style. Here are transitional kitchen ideas to help you get started:
1. Modern Options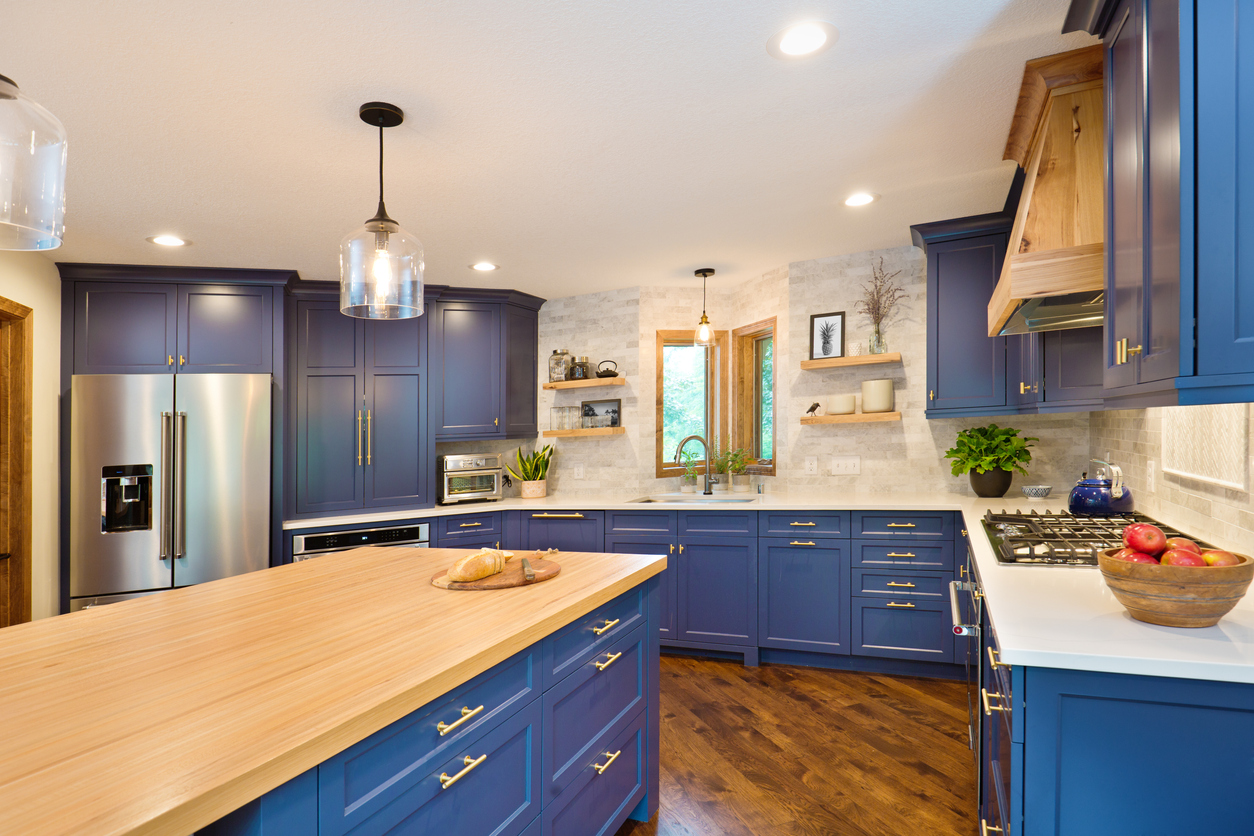 Opt for modern appliances and fixtures that are clean-lined and streamlined, such as sleek countertops, minimalist lighting fixtures, or undermount sinks.
2. Aesthetic Match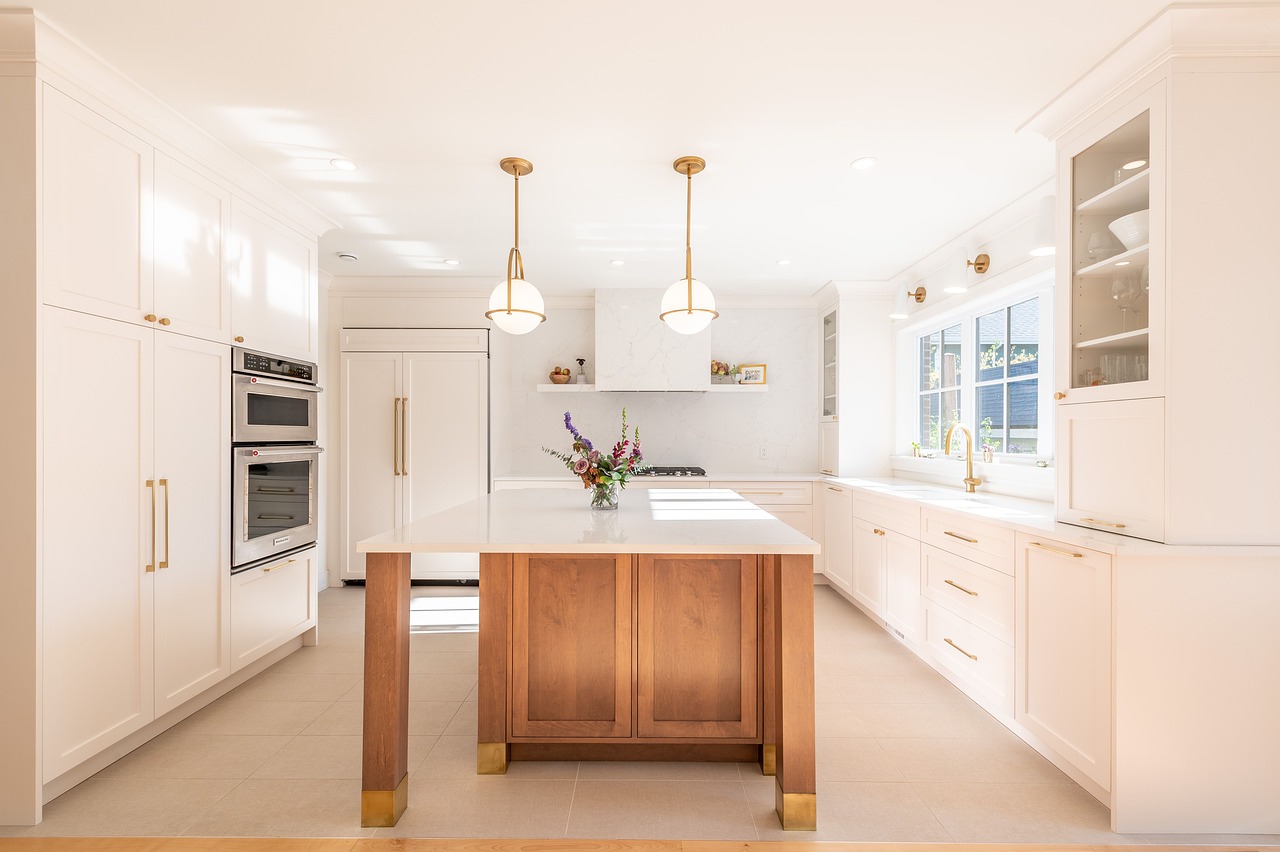 Consider replacing old appliances, countertops, cabinetry, and other features with newer ones that fit the transitional aesthetic.
3. Accent Pieces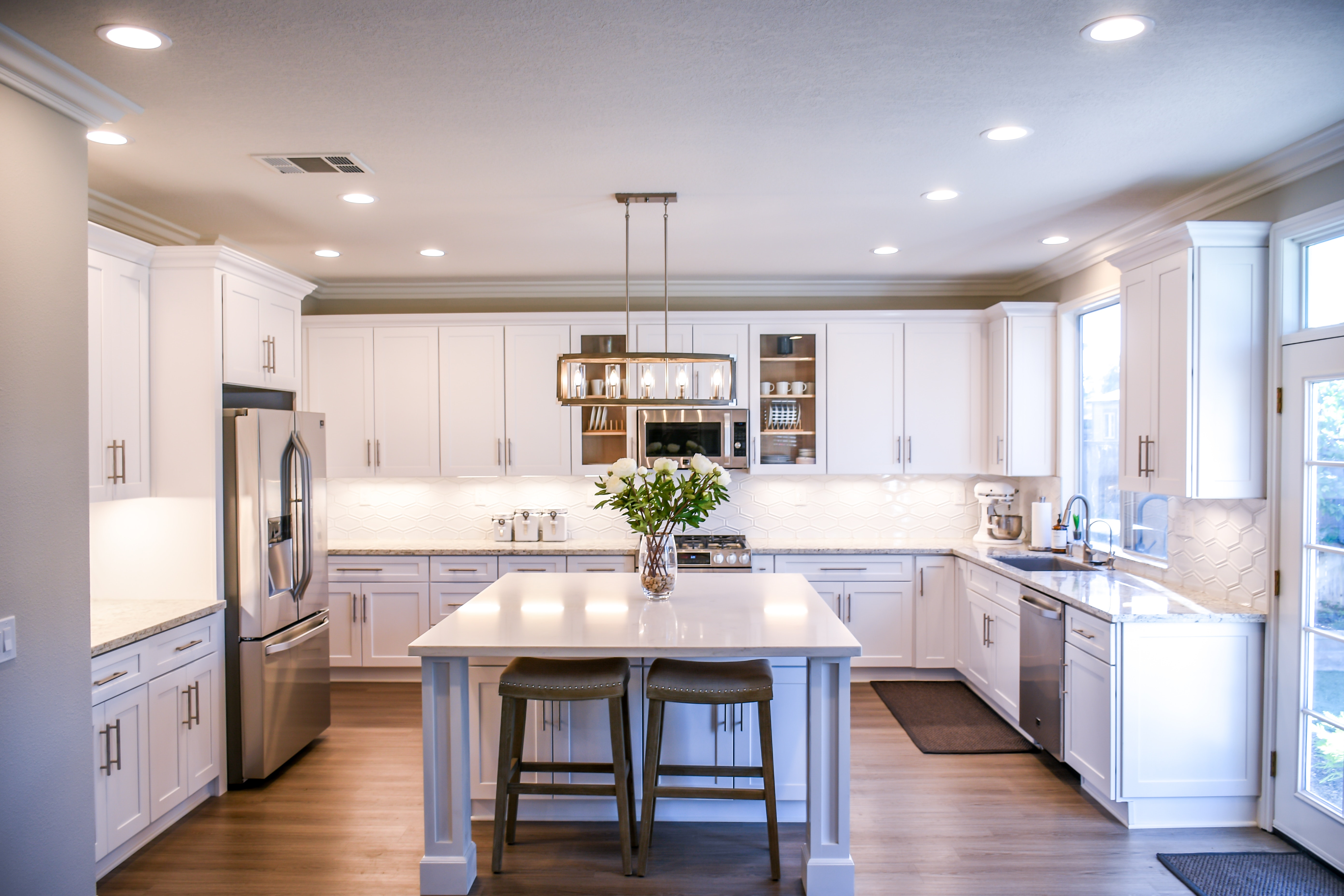 Add texture and visual interest to your space with creative lighting fixtures, decorative tiles, or other accent pieces.
4. Countertops Options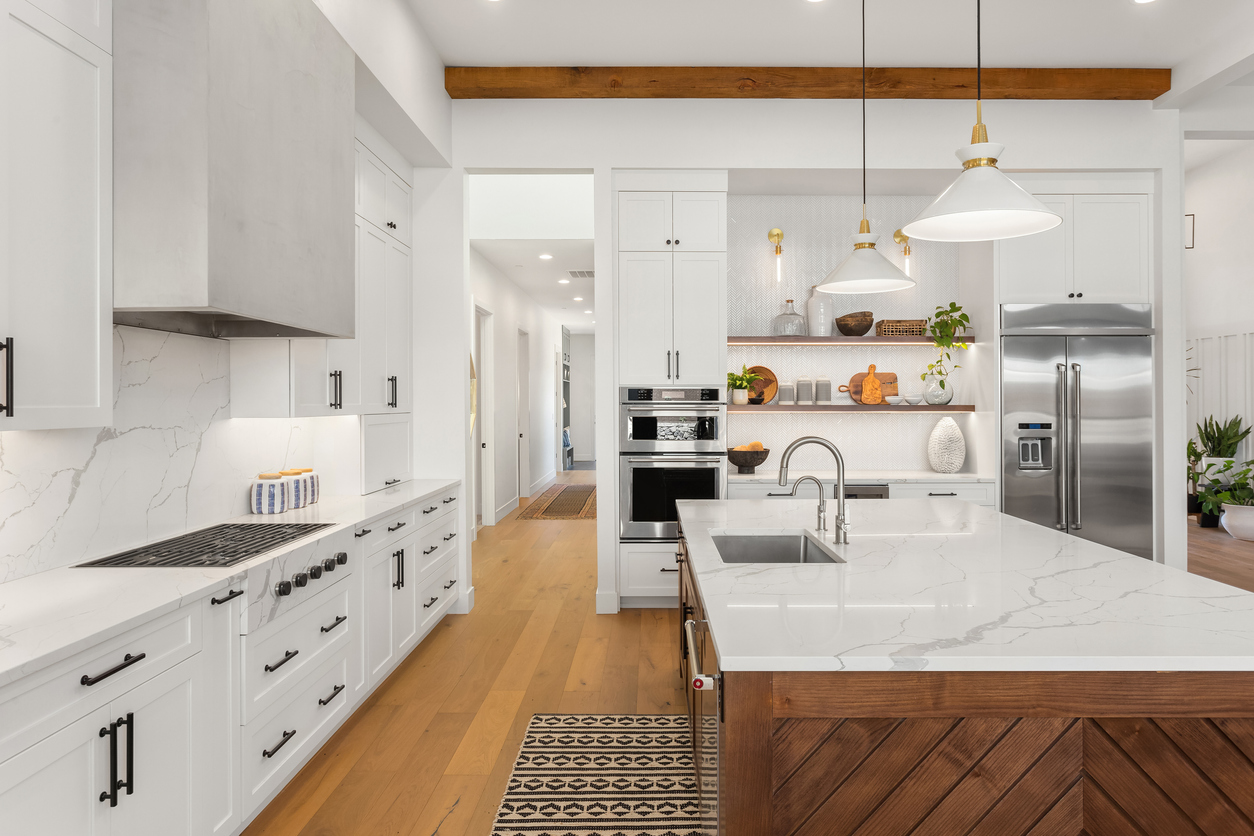 A Marble countertop in a transitional kitchen style can give your space a clean and polished look. Select a warm, neutral color that complements the overall design of your kitchen, such as gray or white. If you're looking for a unique and stylish kitchen countertop, natural surfaces like concrete are a great option. You can customize them with different textures, finishes, and colors to create the perfect look for your home.
5. Color Pop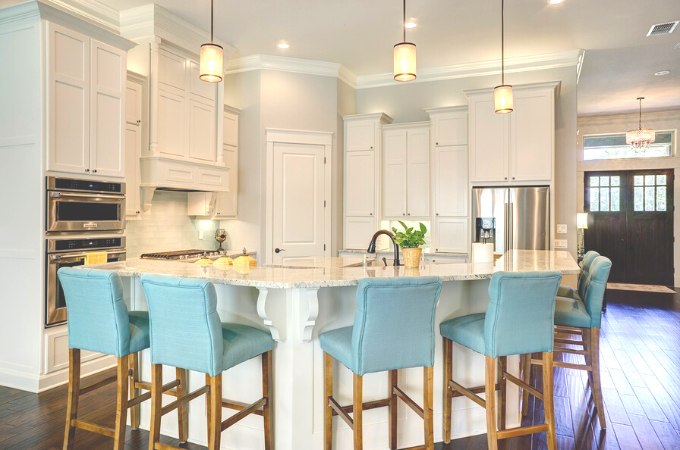 Consider adding pops of color through statement artwork, accessories, or bold paint colors on the walls or cabinets.
6. Natural Light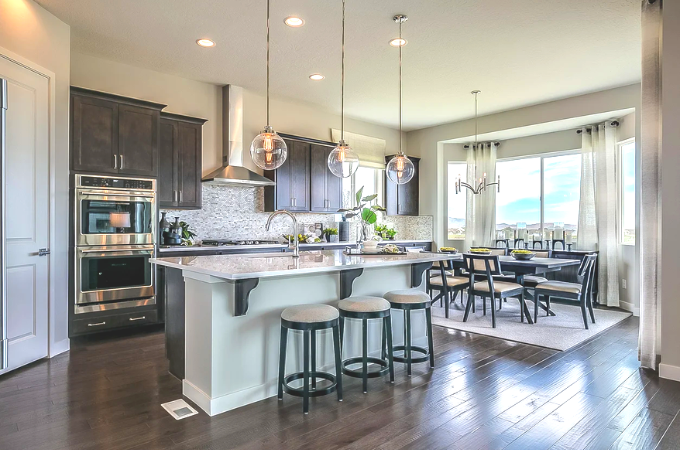 Natural light in the kitchen creates an open feel to your kitchen design. Make sure to choose windows and skylights that let in plenty of natural light, and incorporate modern or traditional window treatments such as shades or plantation shutters that help to block out the sun when necessary.
7. Storage Solutions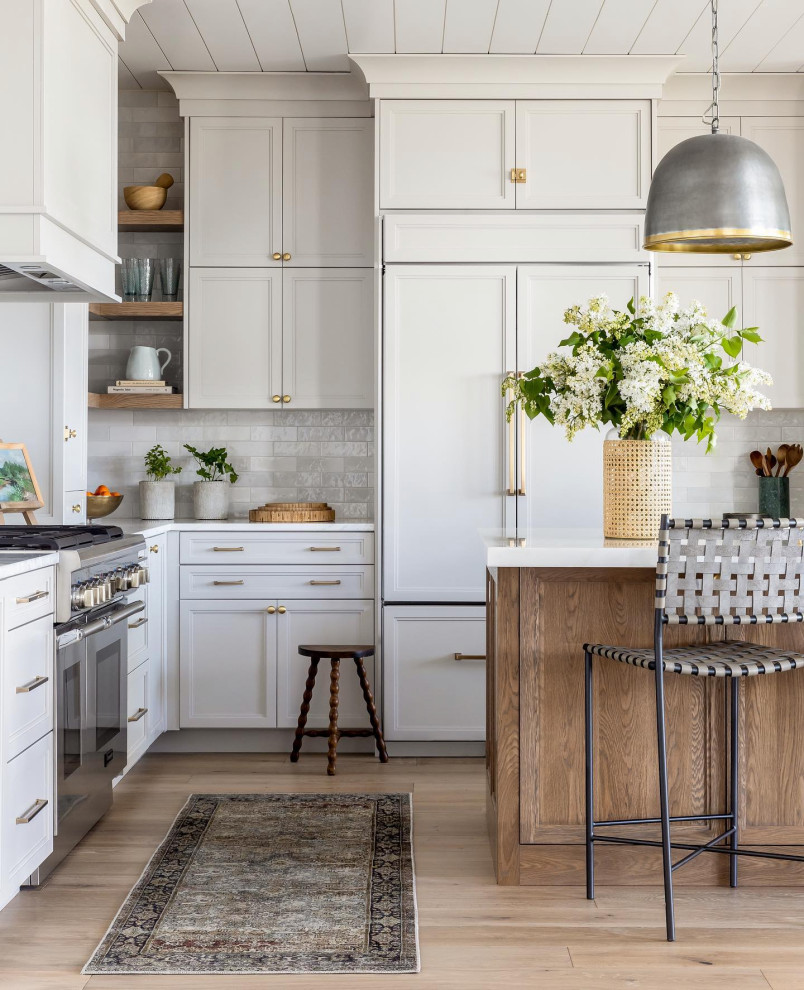 If you're lacking space in your kitchen, try incorporating clever storage solutions or customized storage systems such as pull-out drawers, shelves, or cabinets.
8. Artistic Flair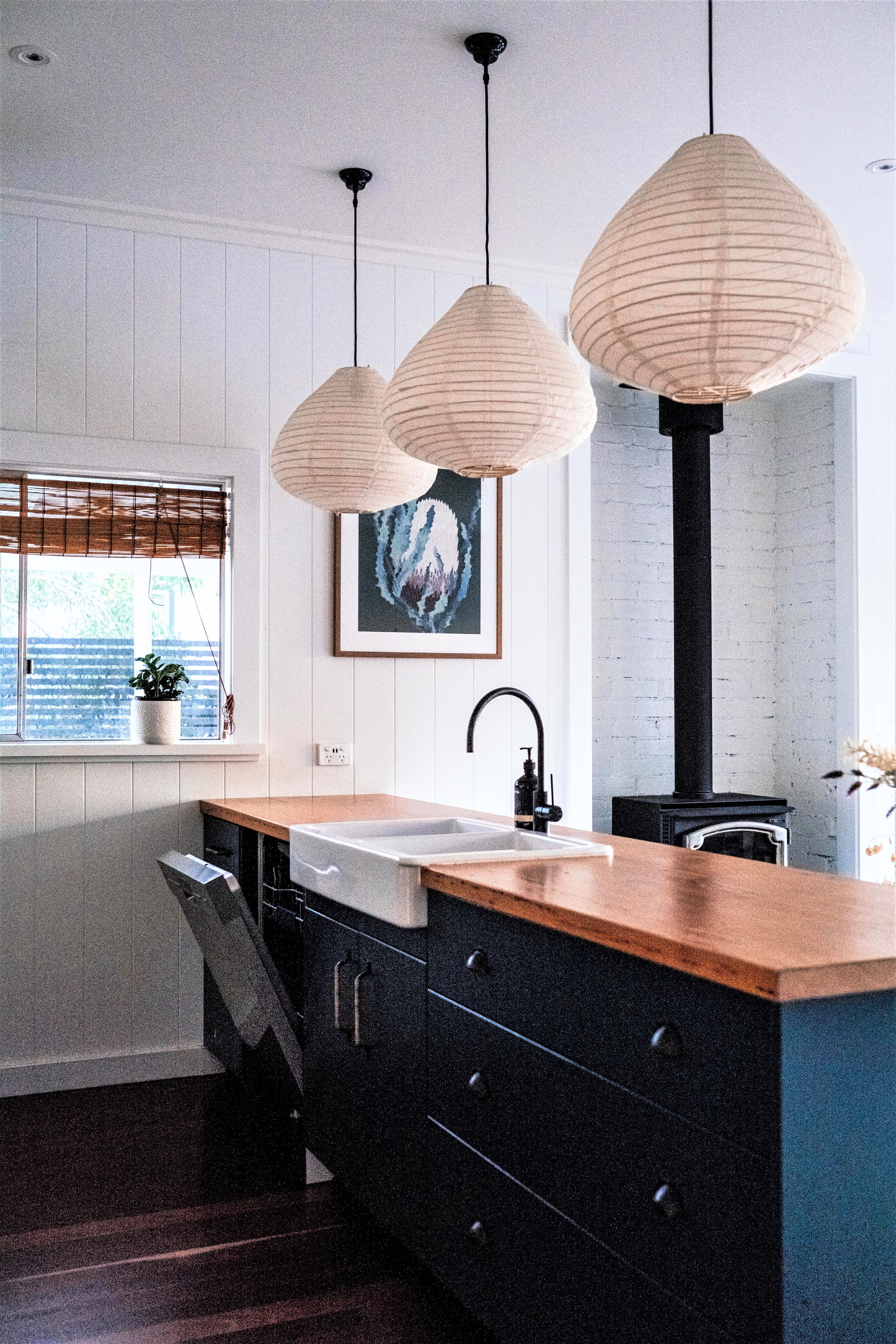 Get an airy and casual elegance in your transitional kitchen by adding artistic flair to your space. Classic silhouettes and shapes mixed with on-trend elements can give your kitchen a fresh and sophisticated look. Think about adding an eye-catching backsplash, statement lighting fixture, or bold color to create a character in the room.
9. Kitchen Island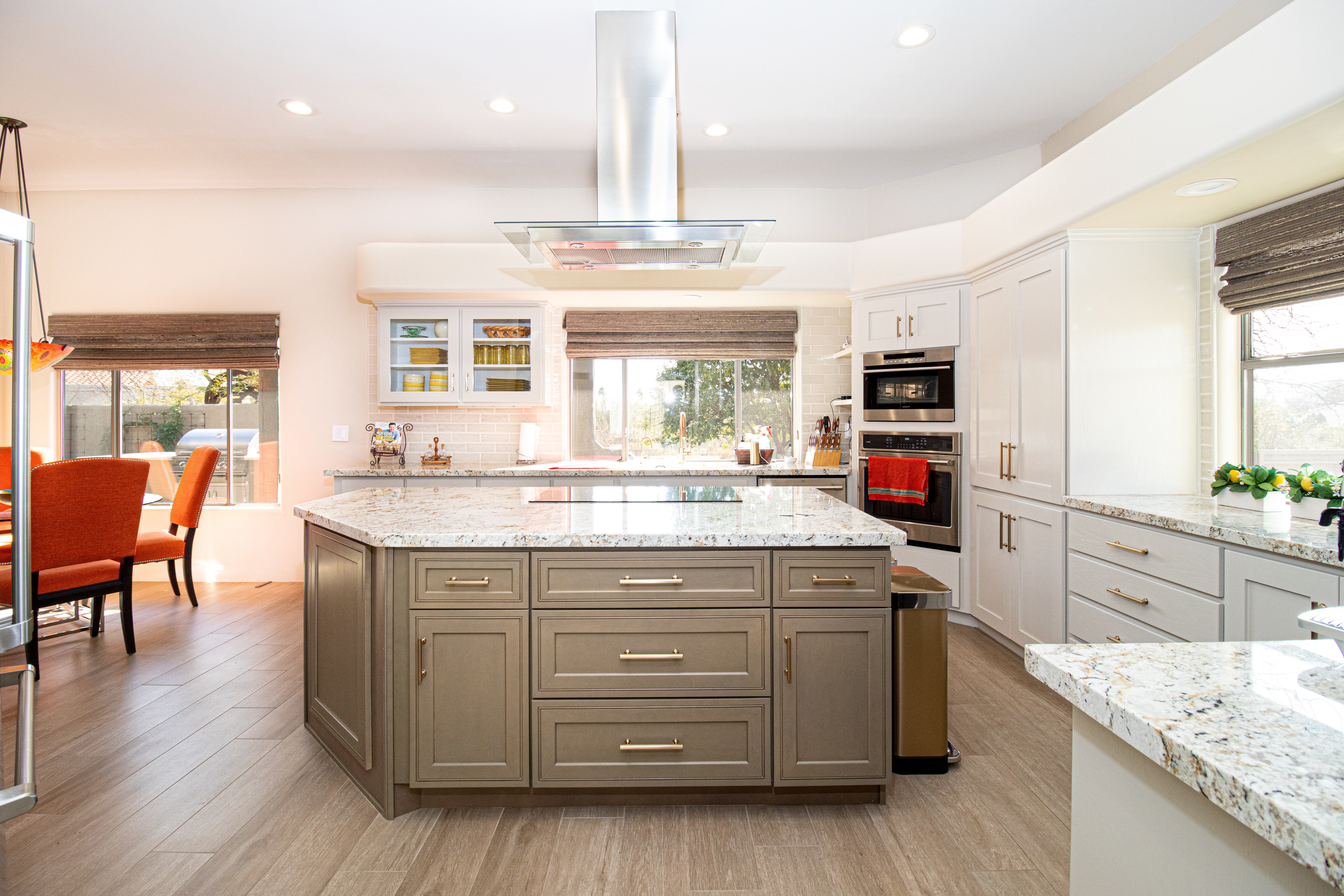 Kitchen Islands make great additions to transitional kitchen designs because they help define the space and add a sense of comfort. Choose an island that has cabinetry, a countertop, or seating options that match your design vision. Get creative ideas for multipurpose kitchen islands from our article: Smart and Practical Space-Saving Ideas with Kitchen Island Cabinets.
10. Dining Table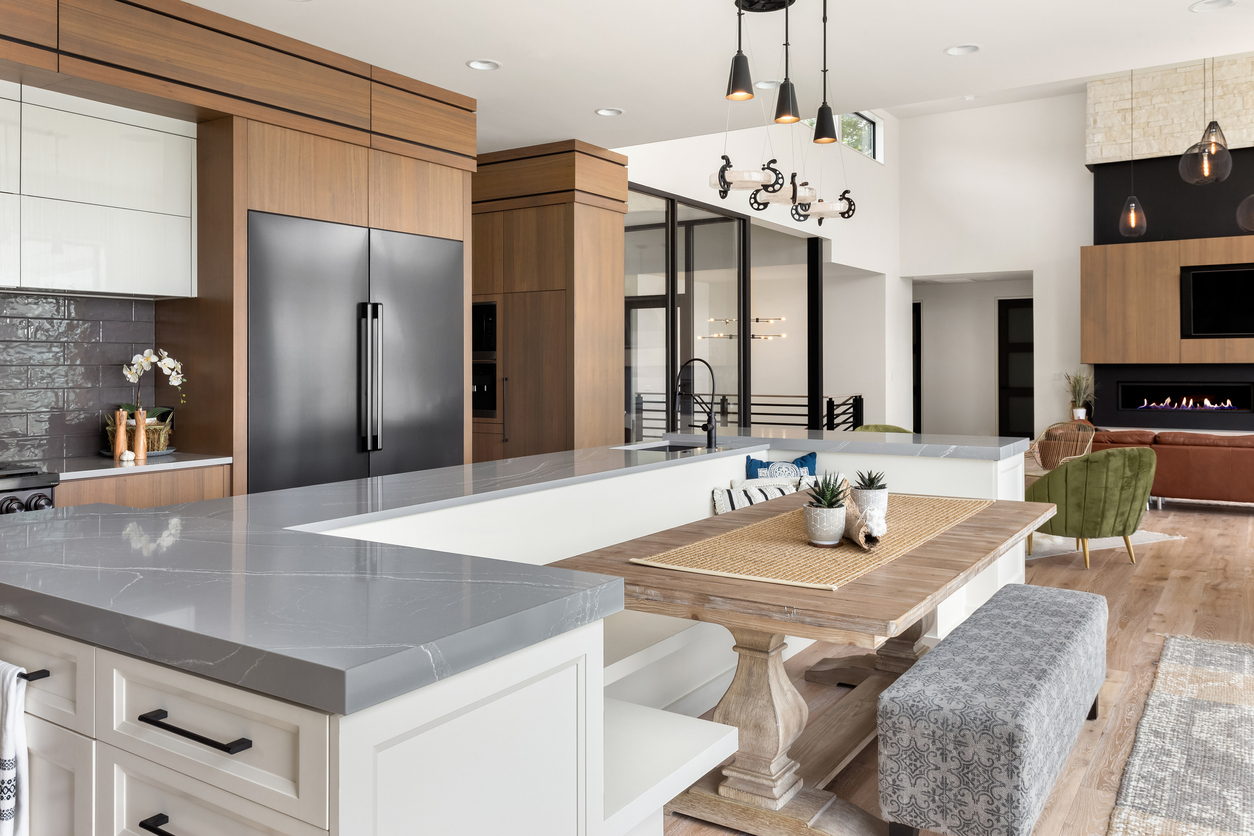 Don't forget about your dining table in a transitional kitchen! Adding an elegant and stylish dining table to your space can help create a warm and inviting atmosphere for the family.
Don't be afraid to get creative and take risks when it comes to your kitchen design. The transitional style is all about mixing old and new, traditional and modern, so the sky is truly the limit!
6. Customer FAQs
If you're considering Transitional Kitchen Style for your next kitchen project, here are answers to some frequently asked questions we get from customers:
1. Does the kitchen shape matter when it comes to the transitional style?
No, the shape of your kitchen plays no role in choosing this style. Whether you have a large kitchen, small kitchen, galley kitchen, or L-shaped kitchen, you can easily achieve a Transitional Kitchen Style that reflects your aesthetic preferences.
2. Are transitional kitchens more expensive?
No, they're not always more expensive than other kitchen styles. Whether you choose to invest in new cabinets and appliances, or you simply want to upgrade your current kitchen appliances, the transitional style can work with any budget.
3. What are the popular colors for transitional kitchens?
Popular colors for transitional kitchens include neutral tones such as gray, beige, and white. However, you can also incorporate bolder colors, such as navy or green, into your design if you want to make a statement.
7.
Pricing. What is the Cost of Transitional Kitchens?
This is a question that many homeowners ask themselves when they are considering a kitchen remodel. The cost of designing a new kitchen can vary depending on the size of the kitchen and the materials used. The best way to get an idea of the cost is to get an estimate for your cabinetry.
Mod Cabinetry is the leading supplier of modern and contemporary kitchen cabinets. We offer free estimates for your Transitional Style Kitchen Cabinets and high-quality cabinetry at an affordable price, with shipping to your home anywhere in the continental United States.
Want firm pricing and a firm layout? Our team will help you design your dream kitchen by providing expert advice on cabinet layout, storage solutions, and finishes that match your style. We can even modify or customize cabinets if you want something unique!
Get Started with Mod Cabinetry Today!