Design
A Kitchen Cabinet Light Wood Dream: Natural Beauty & Comfort
Thinking of having light-wood cabinets in your kitchen? Great idea! Read & discover why light-wood cabinets can be a great addition to your ideal kitchen!
---
For some people, colors other than wood can be overwhelming. It can cramp up the space if the design is not carefully planned. If you're one of those people who love the look and feel of wood, then a kitchen cabinet in light wood is for you. Natural beauty and delight await you when you choose this option. So, read this article and get to know more about a kitchen cabinet light wood dream.
What you will learn:
Beauty and Comfort in a Kitchen with Natural Wood Cabinets
Top 3 Light Wood Cabinetry
Kitchen Color Combos with Light Wood Cabinets
Design Ideas
Click Play For A Quick Summary
1. Beauty and Comfort in a Kitchen with Natural Wood Cabinets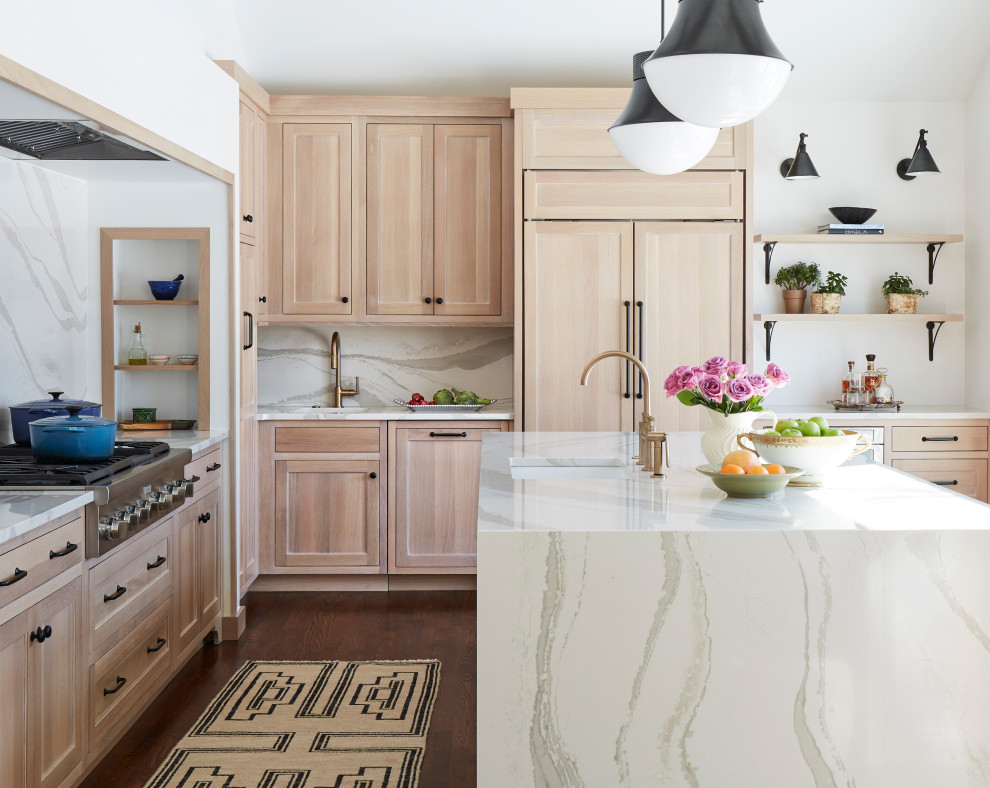 Wood is one of the oldest natural resources utilized in home design. In the past, people only had natural wood as an option for kitchen cabinets since synthetic materials and colors weren't available. However, as time passed, manufacturers shifted to synthetic materials resulting in spectacularly modern-looking kitchens. The allure and charm of natural wood were gradually forgotten. Despite the striking modern appearance of synthetic materials, a certain pleasure comes from the depth and texture of wood grain that cannot be replicated with synthetic materials. Natural light wood cabinets offer exclusive benefits that you cannot get with other types of cabinets. Here are some of those benefits:
1. Organic look and feel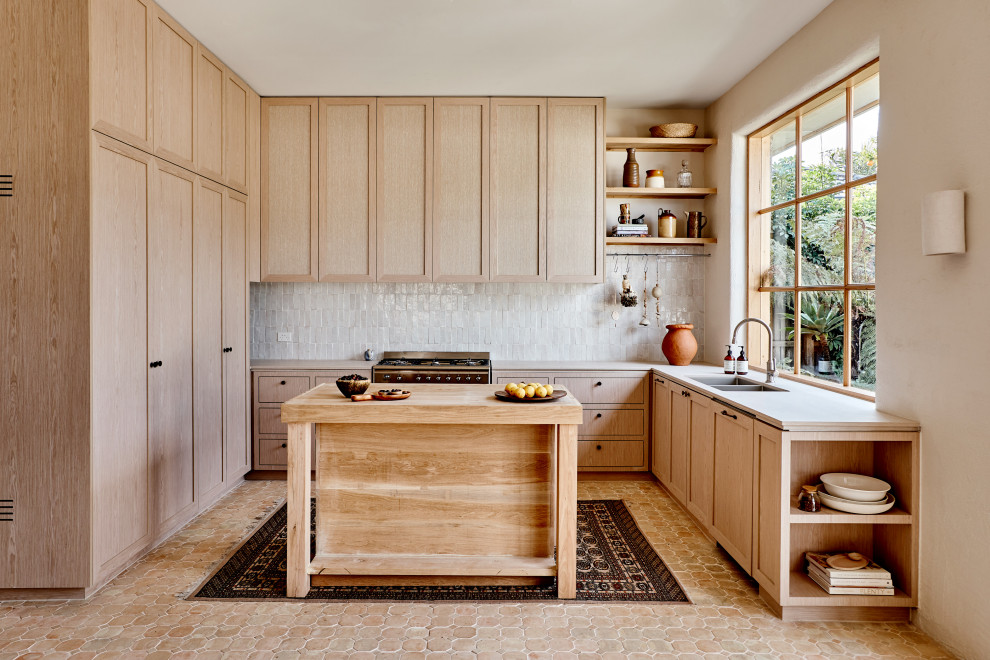 Natural light wood cabinets can give your kitchen a warm and organic look. By selecting the appropriate light wood color and grain pattern, you can match them with the remaining kitchen décor. These cabinets nicely blend in with the other kitchen components and can enhance the coziness of your kitchen.
2. Comfort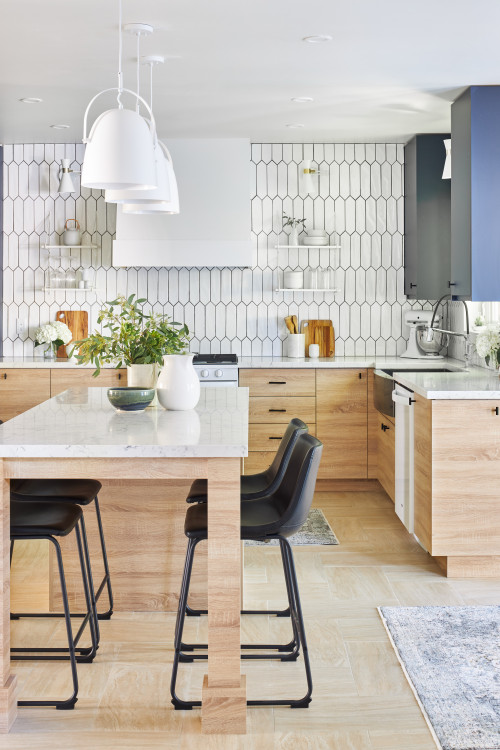 Light wood tones create a cozy and welcoming atmosphere in the kitchen due to their softness when compared to other materials. Medium-tone wood cabinets may create a darker, more intense atmosphere in comparison.
3. Durability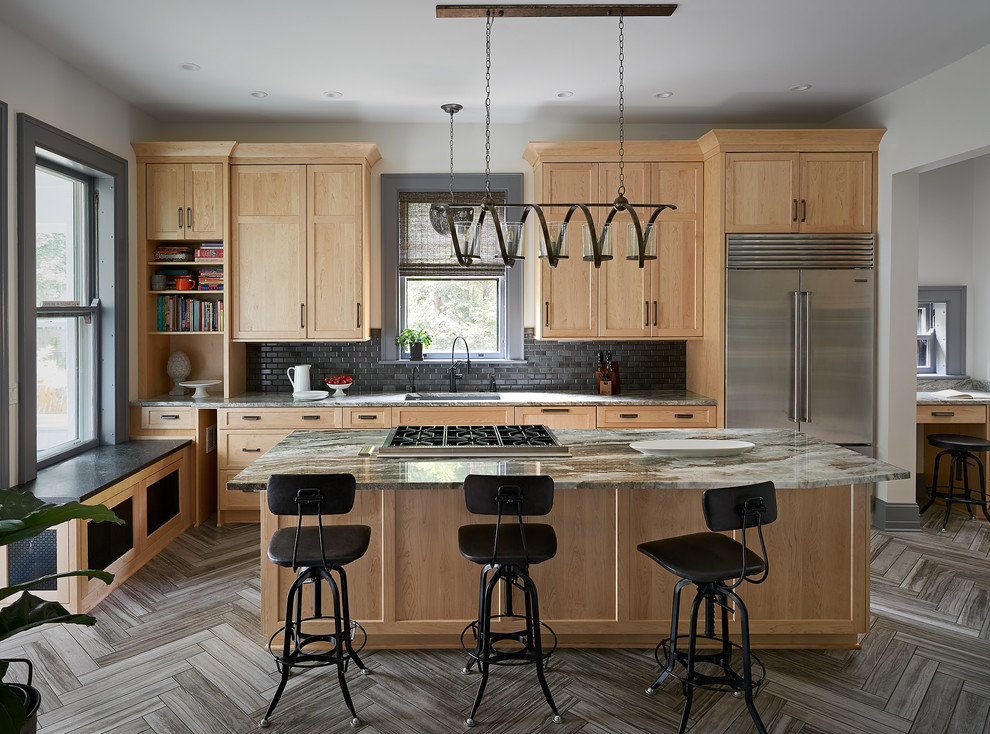 Compared to other materials that need more maintenance, light wood cabinets are a durable choice. They have a natural color and are made from natural materials. You only need to polish them occasionally to provide extra protection and lengthen their lifespan. This will give you assurance about your kitchen's quality.
4. Versatility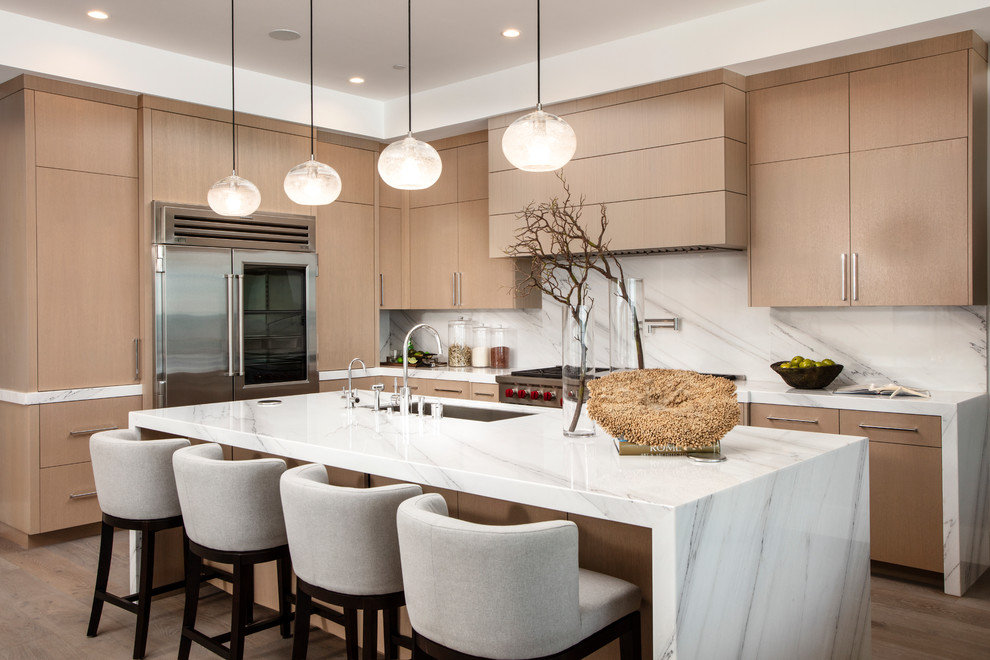 Light wood cabinets offer incredible versatility when it comes to design. You can create sleek and contemporary designs, or go for a more rustic look. The natural tones of the wood will add depth to your kitchen design. You can easily pair them with any other materials and colors to create a unique look for your kitchen.
5. Eco-friendly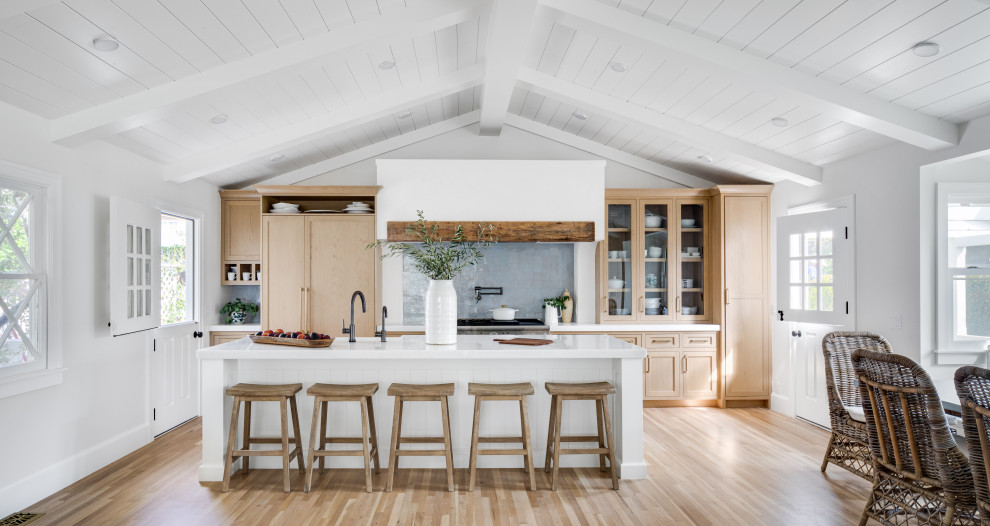 Choosing light wood cabinets is an eco-friendly and sustainable option since natural wood is a renewable resource. This helps reduce your carbon footprint. In comparison, painted cabinets are less eco-friendly as they require more production resources and energy.
Add a touch of natural warmth and a unique style to your kitchen, by using light wood cabinets. These cabinets not only look great, but they are also durable and adaptable. What's more, they offer an eco-friendly option for home decor. For more wooden cabinet options, check out "The Complete Guide to Natural Wood Kitchen Cabinets."
2. Top 3 Light Wood Cabinetry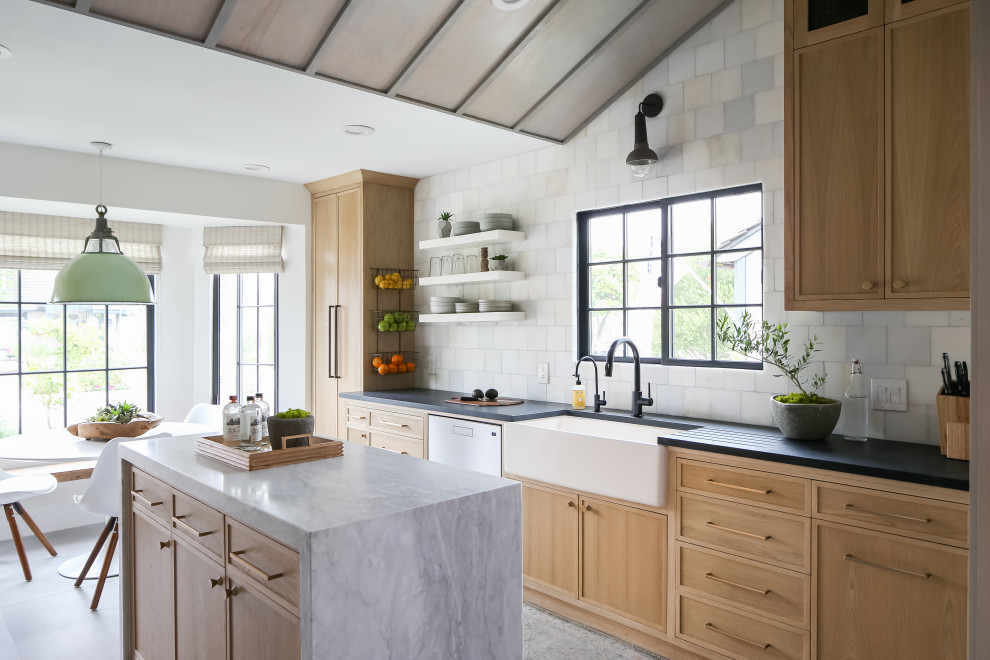 The pleasing aesthetic of light wood cabinetry offers a wide variety of options. Its natural beauty and unique grain patterns make it a desirable choice for any kitchen. Here are the top three light wood cabinetry choices:
1. Maple Wood Cabinetry
Maple is a popular wood choice for kitchen cabinets due to its strength and durability. It comes in a variety of light shades, making it easy to coordinate with any kitchen decor. Maple wood cabinets are known for their beautiful grain patterns and warm tones.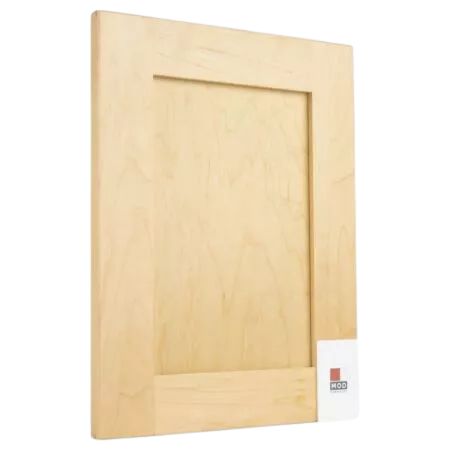 Step into a light and airy space with Maple Natural cabinets. This finish embodies all the beauty of nature with its soft and delicate hue. Adding a touch of elegance to any room, Maple Natural cabinets are sure to please. Bring the beauty of nature into your home with Maple Natural cabinets. See more of these beauties in NATURALS -PRIMO
2. Rift Oak Natural
Rift oak natural is a light wood tone with subtle grain patterns. It's known for its refined look and strength, making it a popular choice for kitchen cabinets. The light color of rift oak can bring light into the room and make the space appear larger.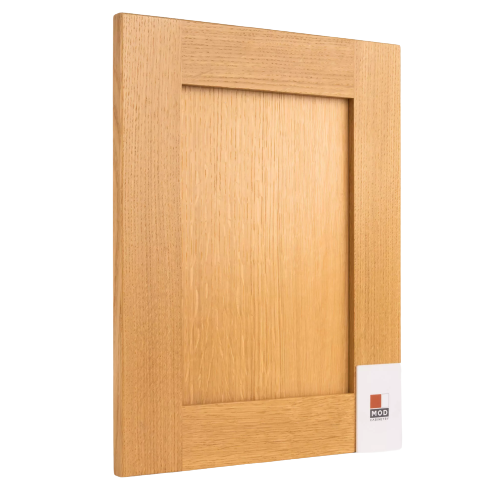 The natural color of Rift Oak is perfect for those who want to add a touch of the outdoors to their indoor space. This lovely shade of brown is perfect for creating a warm and inviting atmosphere in any room. With its rich hue, Rift Oak is perfect for adding a sense of sophistication to any space. Give your home the feeling of a cozy cabin in the woods with Rift Oak. Choose a variety of rift oak finishes in Naturals Primo - Rift Oak.
3. Alder Natural
Alder wood is known for its distinct grain patterns and warm tones. Its light shade makes it a great choice for kitchen cabinets, providing an inviting atmosphere. Alder Natural has a subtle elegance that can easily be paired with any other materials.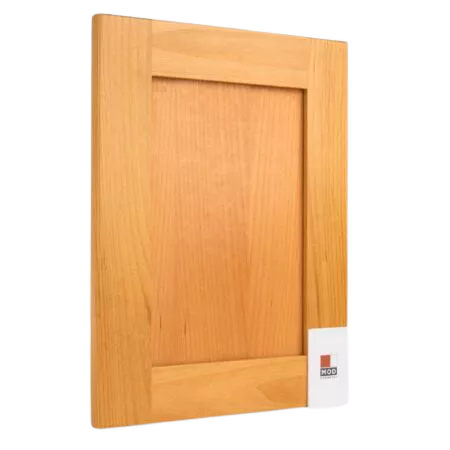 With this lovely Alder Natural finish, you may enjoy the natural beauty of Alder. This streamlined and basic design is ideal for adding a touch of understated allure to your space. Its genuine wood appearance provides your room with a warm and welcoming ambiance. Give your house a face-lift with the traditional and classic look of Alder Natural. Customize your own Alder cabinet in NATURALS -PRIMO
You can find numerous options for light wood cabinetry to choose from. Wood cabinets can add a natural feel to your kitchen, which is great for creating a warm and welcoming ambiance. Regardless of whether you prefer a traditional or modern look, you can definitely find a light wood cabinet that matches your kitchen's style. Check out our collection of natural wood cabinets in The Mod Sample Shop for more ideas.
3. Kitchen Color Combos with Light Wood Cabinets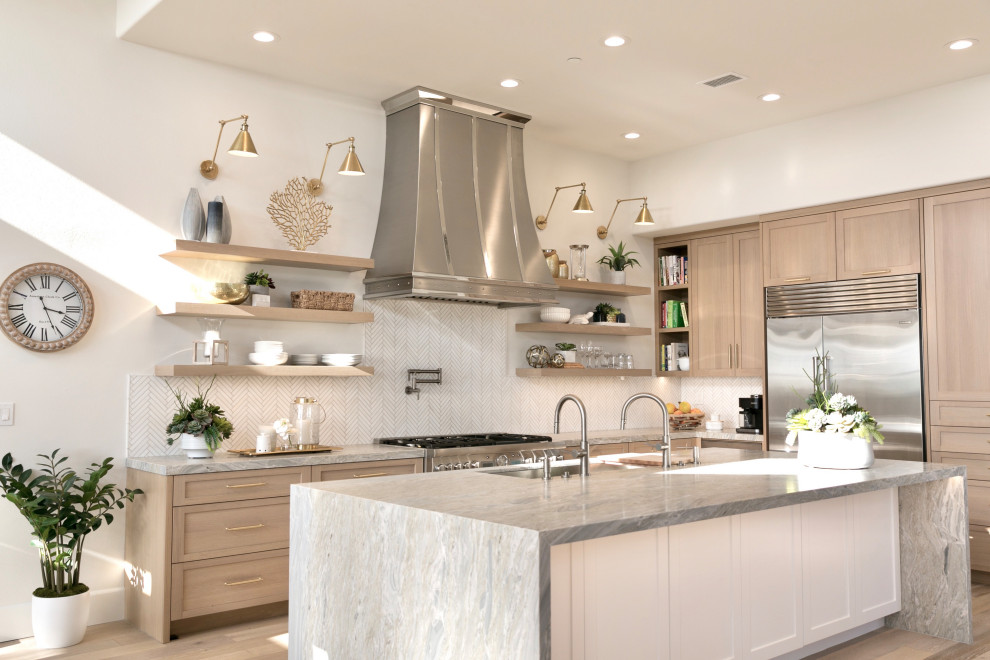 If you think that a light wood cabinet cannot be paired with any other colors, then think again! There are many different ways to combine light wood cabinets with other colors. Here are some of our favorite kitchen color combos that feature light wood cabinets:
1. White and Gold with Light Wood Cabinets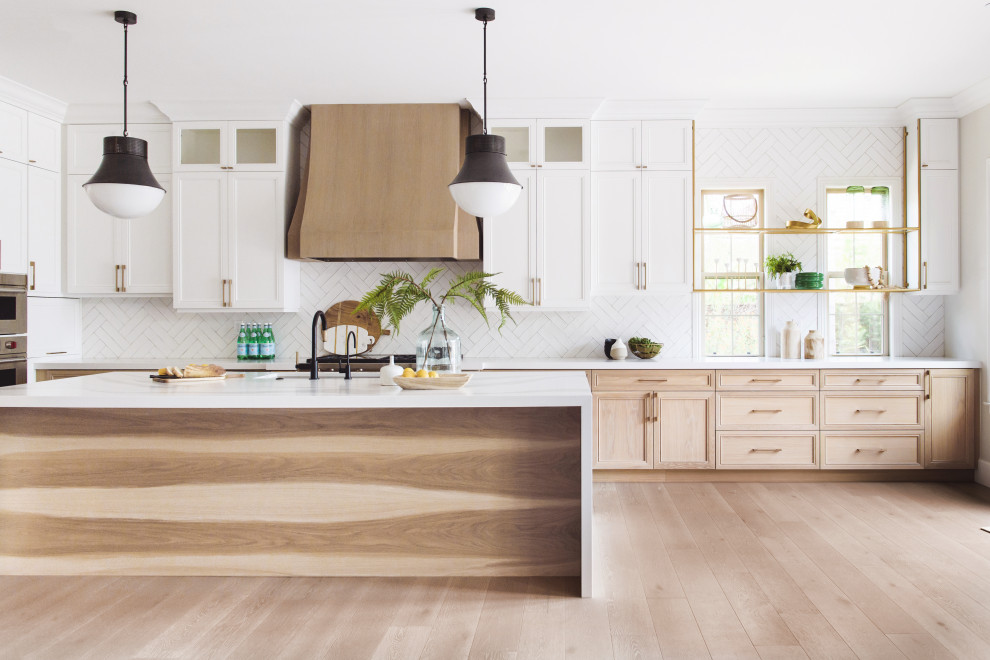 The kitchen looks stylish for all time with the classic combination of white upper cabinets and gold hardware. The gold accents brighten up the atmosphere of the kitchen that has a spacious feel. The light wood floor and cabinets make a beautiful contrast with the white walls and enhance the overall appearance.
2. Sage Green and White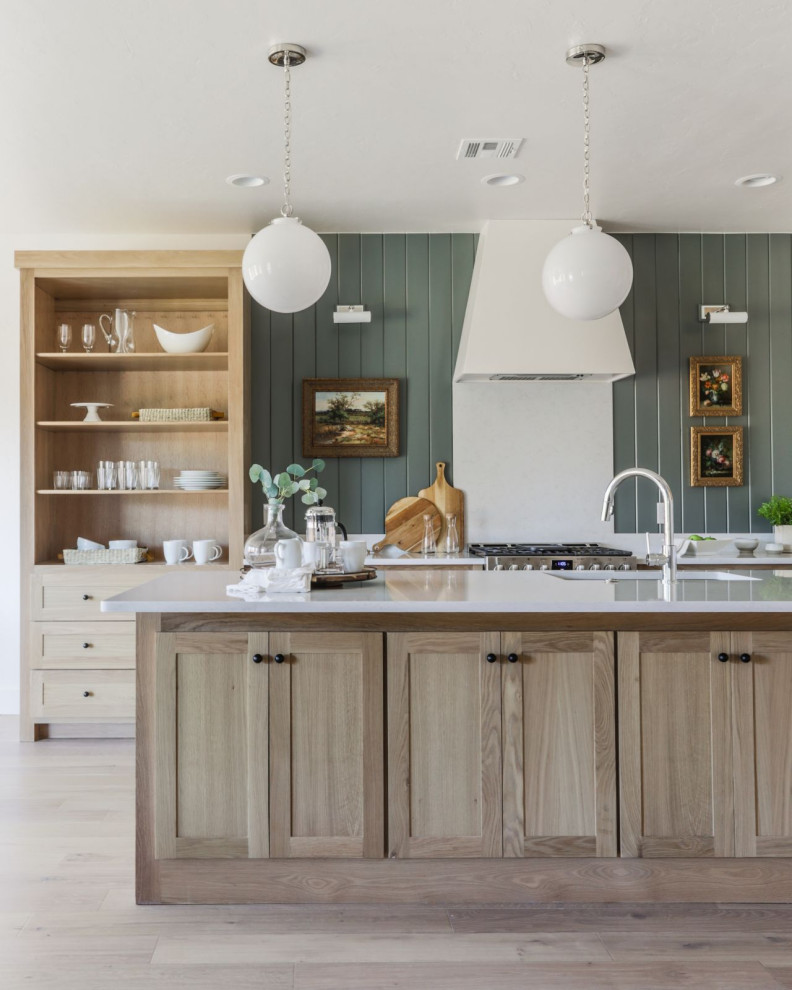 The light wood island complements the white marble countertops nicely, and the sage green walls add a subtle pop of color to the kitchen, making it appear more lively and welcoming.
3. Stainless Steel and Gray with Light Wood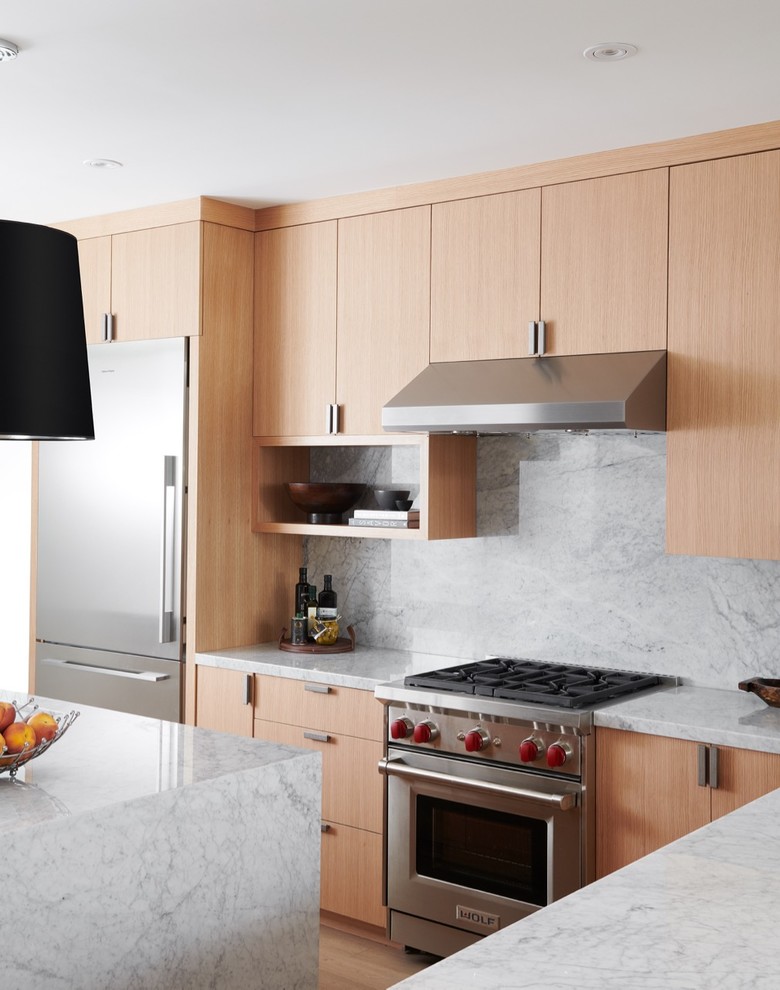 The kitchen has a stone slab backsplash, stainless steel appliances, and light wood cabinets that blend warm and cool colors in a harmonious way. The island and gray countertops complement each other well. The addition of light wood gives the sleek stainless steel a touch of warmth, resulting in a polished and contemporary appearance.
4. Blue, White, and Light Wood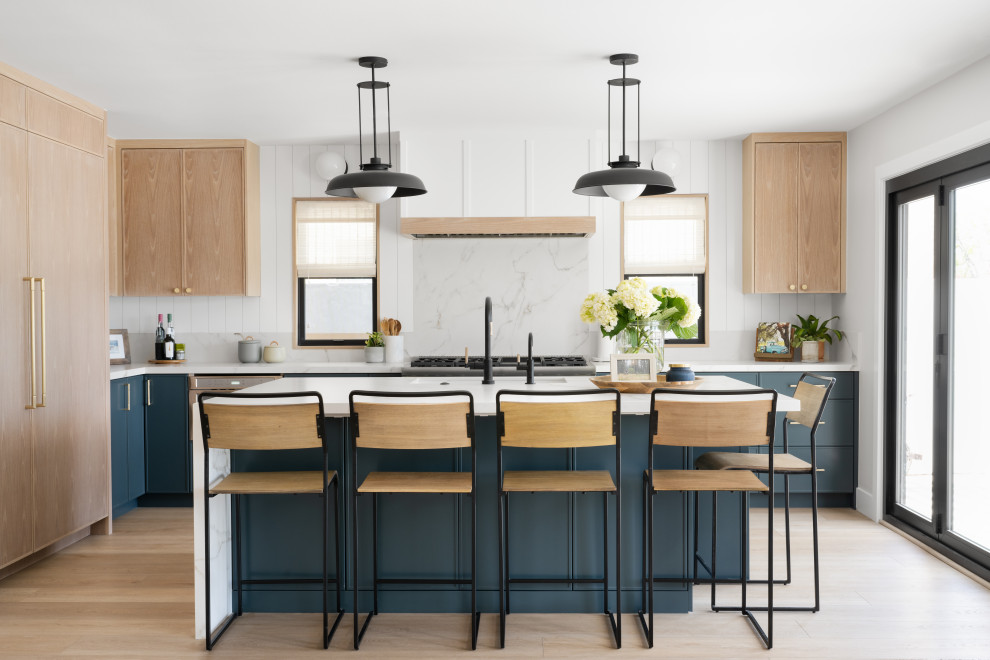 The navy island and white countertops in this kitchen make the light wooden design work perfectly. The blue hue gives the kitchen a refreshing atmosphere, while the thin shaker cabinets in light wood help to soften the vibe and add warmth to the room. It's an ideal combination for a modern and stylish kitchen.
5. Yellow and Light wood cabinets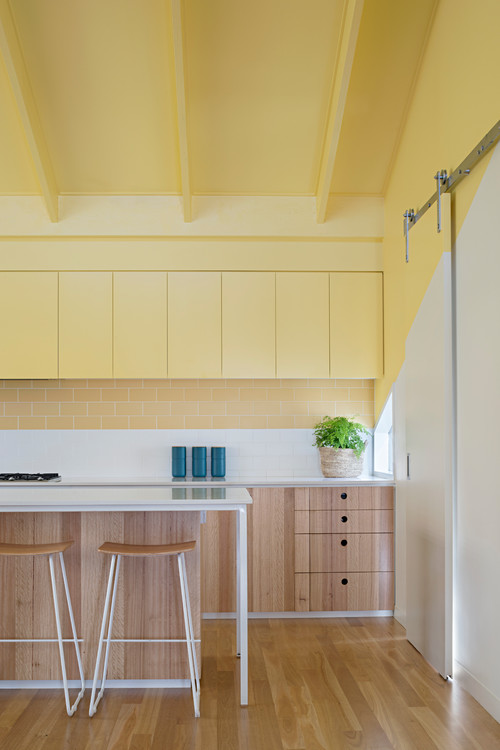 The yellow and white subway tile backsplash gives the kitchen a vibrant and cheerful atmosphere. The addition of light wood cabinets adds depth to the room, while also providing a focal point that brings out the vibrancy of the yellow. It's a perfect pairing for those who want a modern yet inviting space.
Light wood cabinetry can be paired with any color scheme in your kitchen. Whether you are going for a bright and modern look or a cozy traditional feel, light cabinets can be used to bring the perfect ambiance into your home. With so many color combinations available, there is sure to be one that works for you. Explore our collection of natural wood cabinets in The Mod Sample Shop and find your ideal kitchen design today!
4. Design Ideas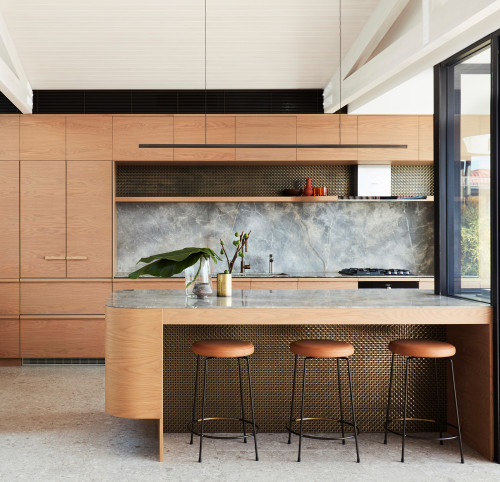 Both a natural ingredient in your kitchen, as well as a design feature, light wood cabinetry, can be used to add character and warmth to the room. Here are some of our favorite ideas on how you can incorporate light wood cabinets into your kitchen design:
1. Add Contrast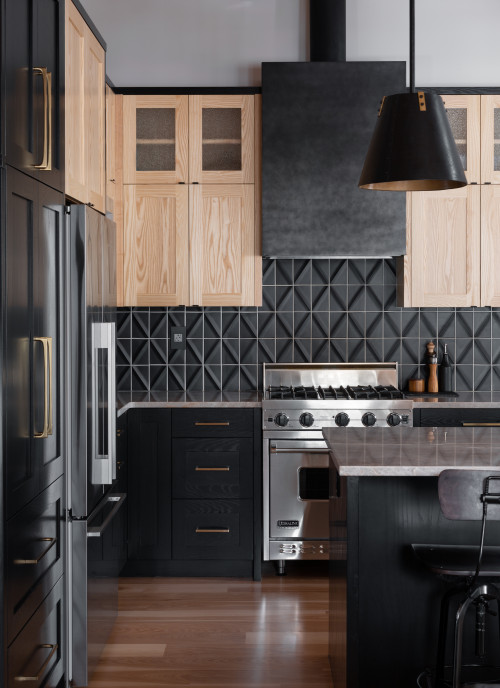 Pairing light wood cabinets with dark walls or countertops can create a striking contrast that adds depth and texture to your space. This contrast can make a statement in your kitchen and add an elegant and sophisticated atmosphere to the room.
2. Create an Open Feel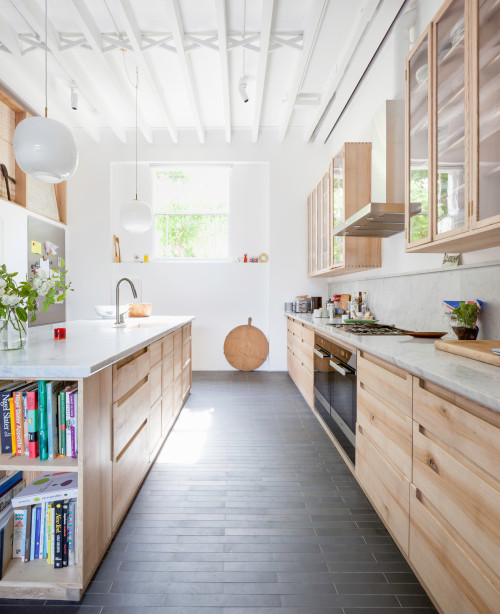 The light color of the wood cabinets will help to open up the room, making it appear larger and more spacious. This is perfect for those with limited space or who just want their kitchen to look bigger than it is. By adding light wood cabinetry to your kitchen, you can make the room look larger and more open. See more open kitchen designs in our article, Make Your Home the Envy of All with an Open Kitchen Design.
3. Mix Materials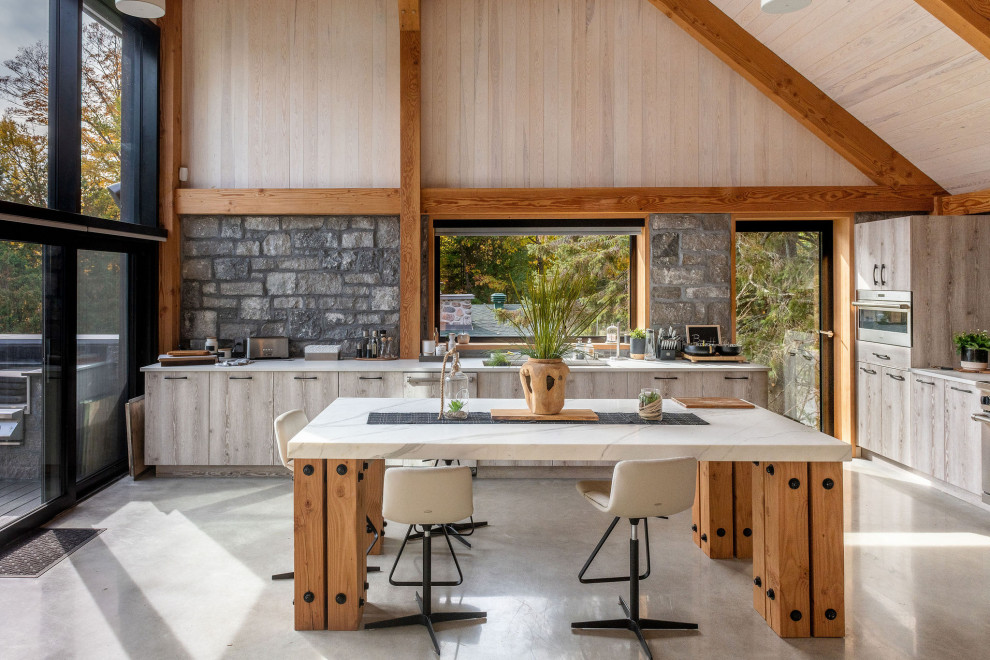 Combining light wood cabinets with a natural stone backsplash in a kitchen can create an intriguing and fashionable look that is also warm and welcoming. Blending various textures and materials can result in a distinct kitchen design that sets it apart from others.
4. Add a stunning island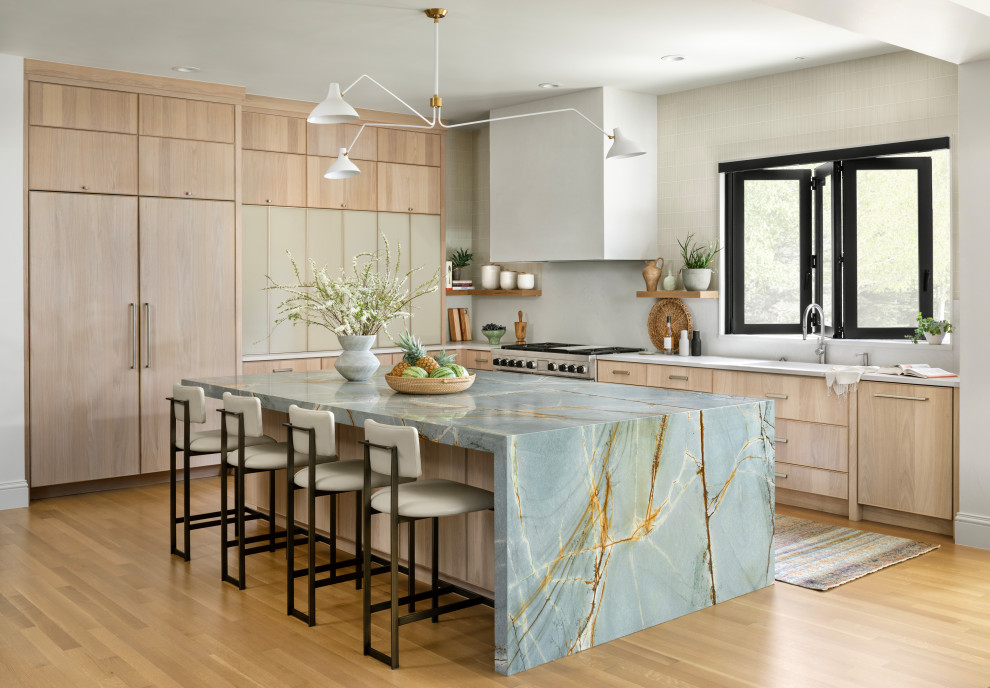 A kitchen island is a great way to add extra storage and workspace to your kitchen. With light wood cabinets, you can create a stunning piece of furniture that will draw attention as soon as someone enters the room. Whether you choose rustic or modern designs, an island with light wood cabinetry is sure to make an impact on your kitchen. See more kitchen island ideas in, Kitchen Island Ideas You Will Fall In Love With.
5. Accent with a backsplash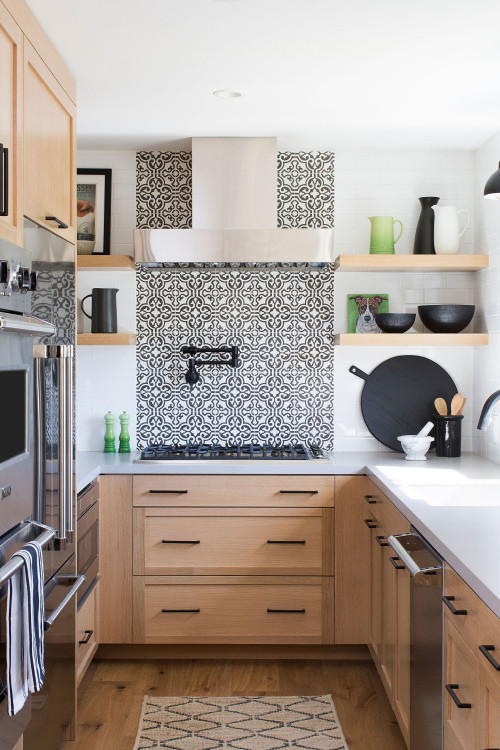 Light wood cabinets are the perfect base for tile and backsplash ideas. Choose a bright color or pattern to add a bit of drama, while still maintaining a natural look.
Light wood cabinets are a great option to make your kitchen feel welcoming. Their timeless appeal and flexibility make them a popular choice. Start designing your perfect kitchen with light wood cabinets today to give your home a modern and stylish update!
5. Customer FAQs
If you're considering light wood cabinets for your design in your next kitchen project, here are answers to some frequently asked questions we get from customers.
1. Will a beige floor kitchen design with light wood cabinets look outdated?
No, a beige floor kitchen design with light wood cabinets is still very much on trend. The neutral tones are a timeless combination, and the light wood cabinets can add warmth to the space.
2. What kind of backsplash can I use with light wood cabinets?
Any kind of backsplash that contrasts the natural tones of your light wood cabinets will look great. You can opt for a marble backsplash for a classic look or a multicolored backsplash to add a bit of drama to the room.
6. Pricing. The Cost for Kitchens with Light Wood Cabinets?
This is a question that many homeowners ask themselves when they are considering a kitchen remodel. The cost of designing a new kitchen can vary depending on the size of the kitchen and the materials used. The best way to get an idea of the cost is to get an estimate for your cabinetry.
Mod Cabinetry is the leading supplier of modern and contemporary kitchen cabinets. We offer free estimates for your kitchen with light wood cabinets and high-quality cabinetry at an affordable price, with shipping to your home anywhere in the continental United States.
Want firm pricing and a firm layout? Our team will help you design your dream kitchen by providing expert advice on cabinet layout, storage solutions, and finishes that match your style. We can even modify or customize cabinets if you want something unique!
Get started with Mod Cabinetry today!