Frameless
Get Ready for Style: Choosing Contemporary Flat Panel Kitchen Cabinets
Looking to upgrade your kitchen? Check out this captivating article to discover sleek, contemporary flat-panel cabinets that will elevate your space!
---
Are you ready to take your kitchen to the next level with contemporary flat panel cabinets? Slab cabinets are a great way to bring modern style and charm into your space, making it a showstopper in any home. Whether you're looking for sleek designs or traditional looks, slab cabinets can make all the difference. Read on to find out how to select the perfect contemporary flat-panel kitchen cabinets!
What you will learn:
Add Style to Your Kitchen: Contemporary Flat Panel Cabinets

Contemporary Flat-panel Cabinets For Every Kitchen

Design Ideas
Click Play For A Quick Summary
1. Add Style to Your Kitchen: Contemporary Flat Panel Cabinets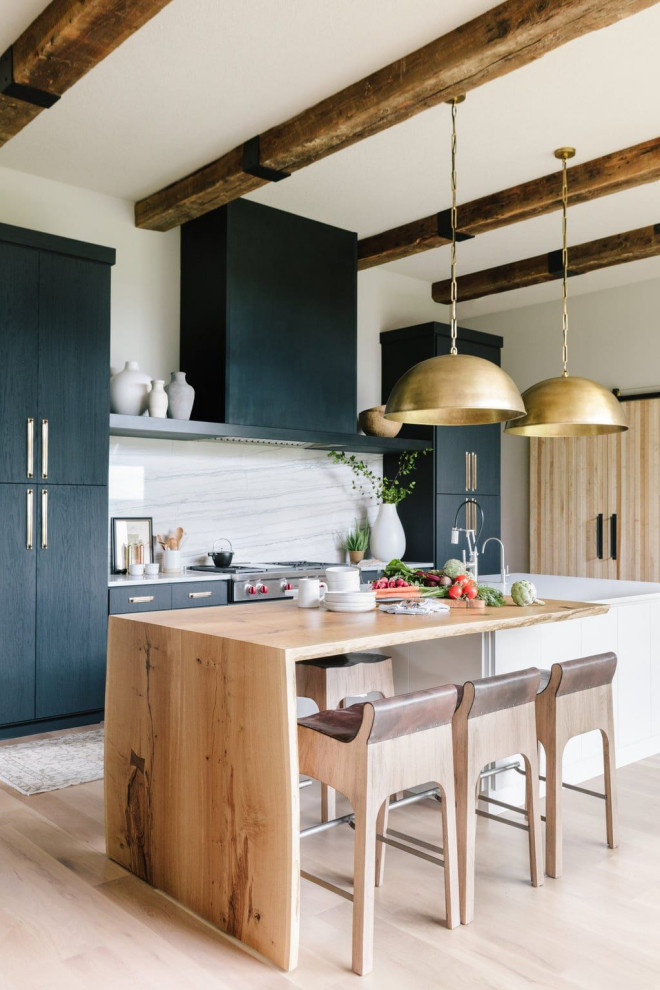 Flat Panel Doors are a great way to add modern style and luxury to your kitchen. With flat panel cabinetry, you can achieve a sleek and contemporary look by simply adding this new style of cabinet to your existing kitchen design. Flat panel doors have a completely flat front with no raised edges, which gives a clean and uncluttered look. Take a look at the smooth appearance of the cabinet doors and you'll see why this style of cabinetry is becoming increasingly popular. See our flat cabinet doors for the best quality and design.
1. Naturals Primo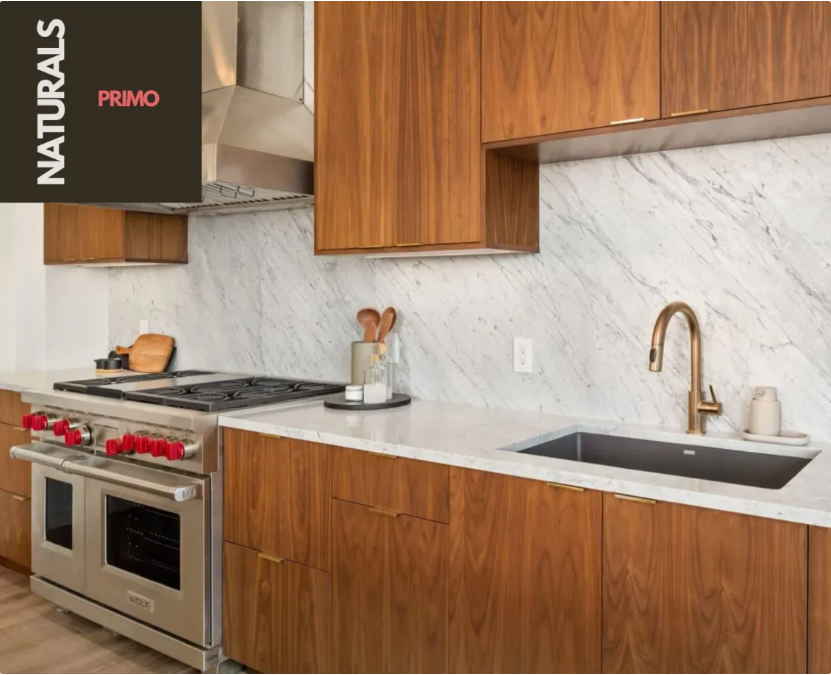 Discover the perfect alternative to custom cabinetry with high-end woods, trending door styles, Blum hardware, customizable features, shorter lead times, and competitive pricing, Naturals Primo gives you the best of both worlds.
Maple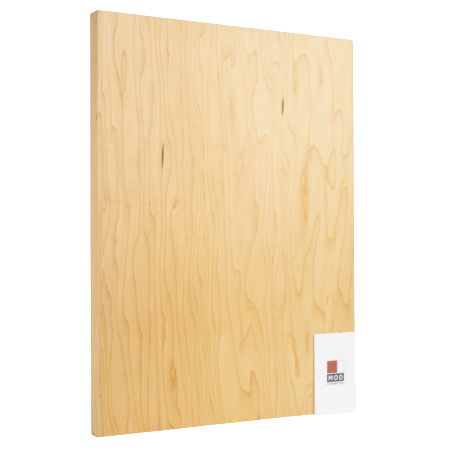 Upgrade the appearance of your kitchen by installing modern maple wood cabinets that showcase a stylish and refined aesthetic. Choose slab cabinets for a simple and elegant touch.
Cherry
Take inspiration from modern cabinetry that instantly freshens up any room. Cherry slab cabinets provide a modern yet classic look that adds a touch of sophistication to any room. Unveil a realm of tantalizing cherry choices! Click here to explore an array of delightful options.
Painted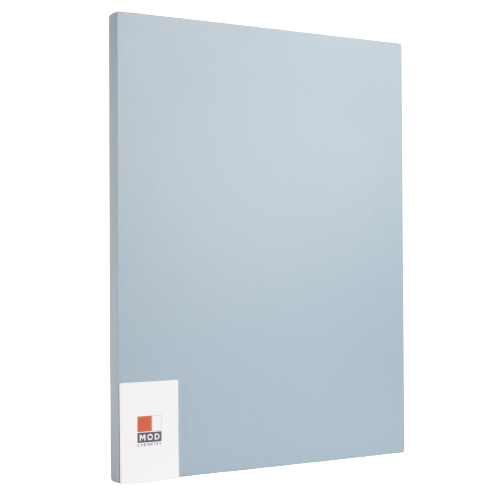 Imagine walking into your modern kitchen and being awestruck by the sleek and sophisticated look of your painted cabinets. The modern paint colors give your cabinets a fresh and contemporary feel that perfectly complements any kitchen decor. More of our Natural Painted Slab Cabinet Doors here: Naturals Primo Painted Slab and Shaker
2. Euro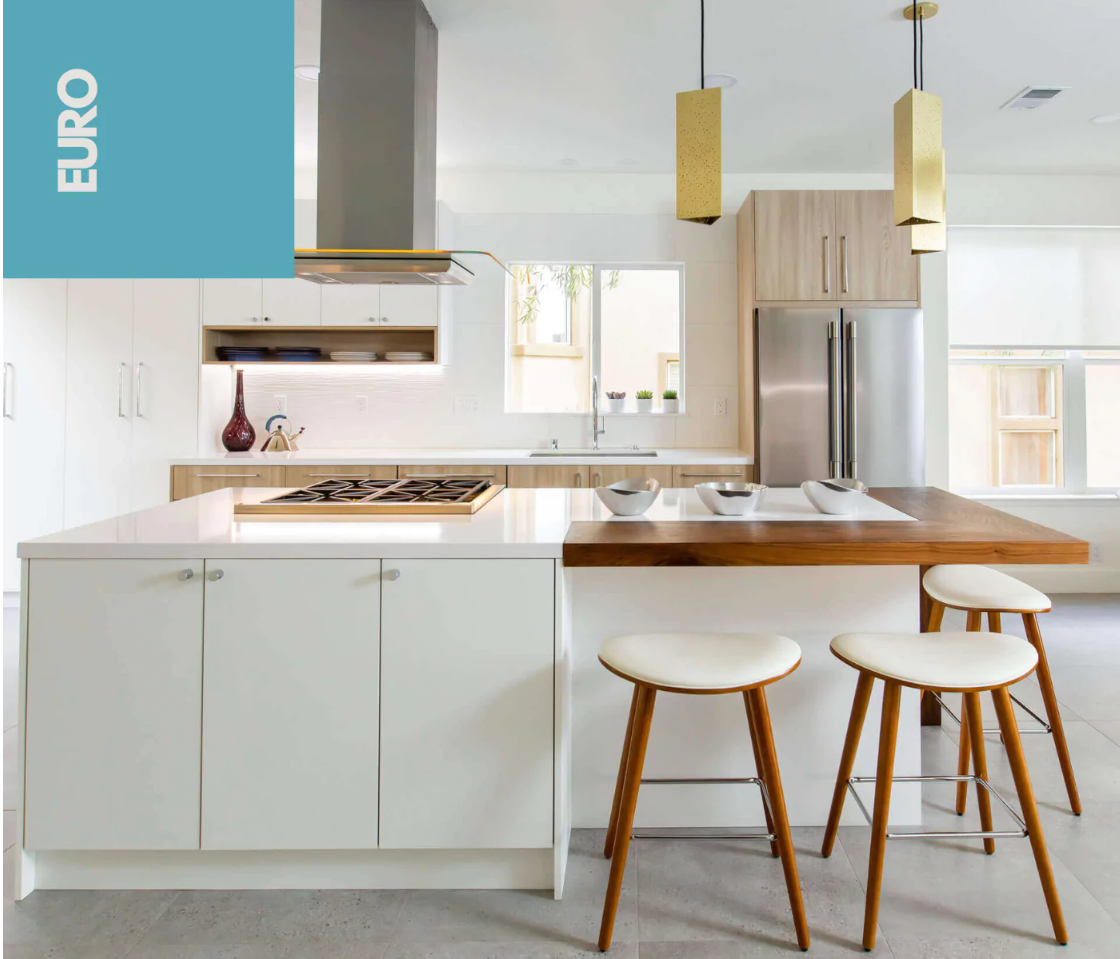 Why settle for anything less than Euro? Experience shorter lead-times and remarkably affordable pricing with our meticulously curated assortment of matte, gloss, handle-free channels, and curved doors. It's an outstanding alternative to the price and lead time for imported European cabinets. Elevate your space with Euro!
Textura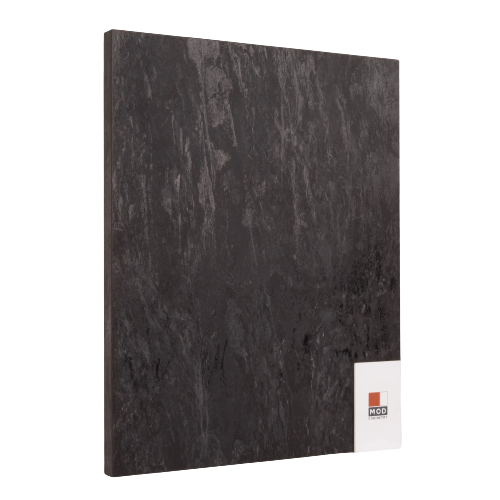 Congratulations! You've discovered the ultimate destination for European Made Textured Structured Surface (TSS) cabinets online. Immerse yourself in the captivating allure of our high-tech finishes by ordering a sample today. Don't miss out on experiencing true craftsmanship! See your options here: Textura Slab Doors.
Matte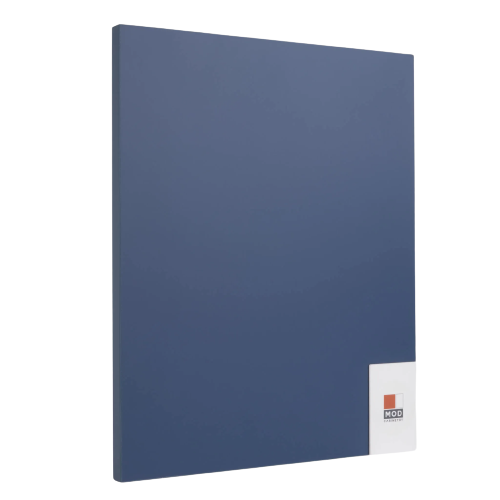 Matte cabinets offer a sleek and contemporary look with their smooth finish. You can easily customize the color of your cabinets to create a unique look that is sure to be the envy of your guests. Explore our selection of Matte Slab Doors for the perfect option for your kitchen!
Gloss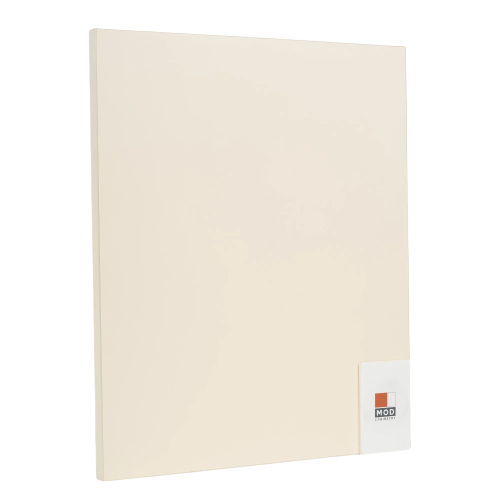 Get ready to elevate your cabinetry with a stunning glossy finish! Our Gloss Slab Doors are designed to add a modern touch and a captivating shine. Whether you prefer a timeless color or a bold and eye-catching hue, our selection has something to suit every style. Make a bold statement and bring sleek and chic vibes to your space with these impeccable doors!
3. Bylder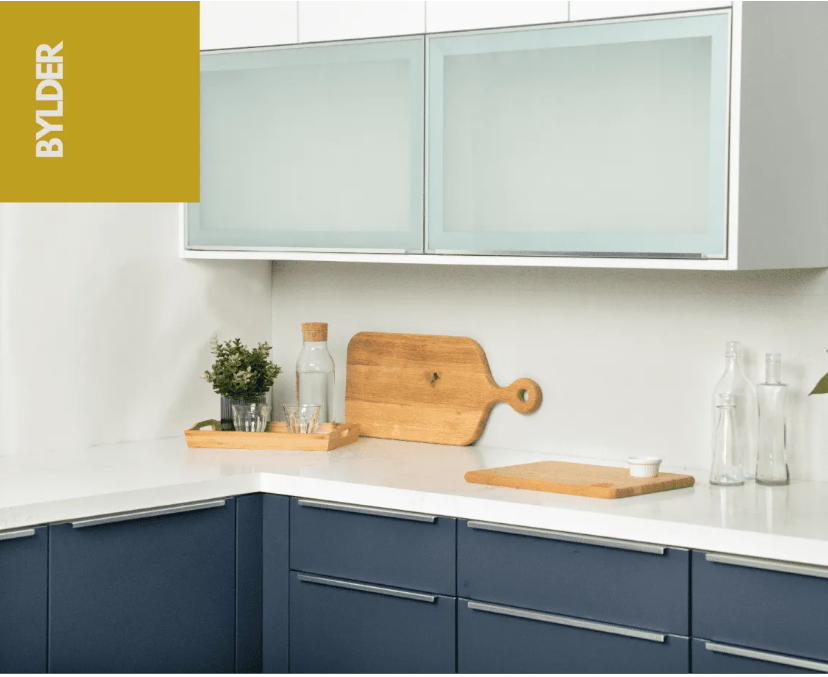 Discover a world of possibilities with our exquisite selection from Bylder! Crafted with durable plywood and delivered fully assembled, our furniture offers a stylish alternative to IKEA. Elevate your home decor with elegance and sophistication, without compromising on affordability or speed. Find your perfect match and transform your space today!
Wood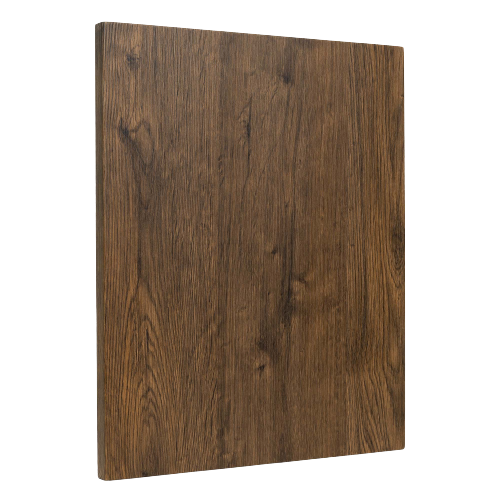 Enhance your kitchen with our exquisite selection of quality thermofoils online. Experience the perfect blend of texture and warmth that adds a touch of elegance to your space. Discover our wood flat panel doors, meticulously designed with natural wood grain for that timeless appeal of real wood, minus the hassle. Click the link to find the perfect complement to your home decor and elevate your kitchen to new heights of style and functionality. (Bylder) Wood
Pop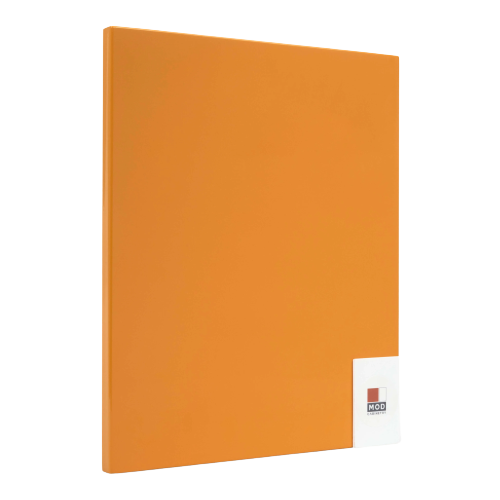 Want some popping colors in your kitchen? Our selection of Pop Flat Panel Doors is sure to leave you mesmerized. Add a unique and statement-making touch to your kitchen without compromising on style or quality – explore our Pop collection today!
Metal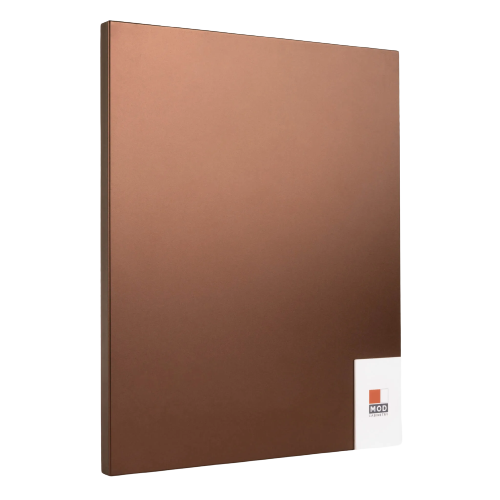 Wouldn't you love the perfect blend of modernity and minimalism in your kitchen? Our Metal Flat Panel Doors feature a smooth metal finish for that contemporary touch – without compromising on quality or affordability. Click here to explore our collection today!
Contemporary kitchens with flat panel cabinets are great for any modern kitchen, as they provide a clean and sleek look. Not only do they look amazing, but they are also relatively easy to install and maintain. Flat panel cabinets come in a variety of styles, materials, and finishes so you can easily find something that suits your taste. Check out the article "Contemporary Kitchen Cabinets: A Classy Kitchen Makeover" for ideas and inspiration on how to transform your kitchen with contemporary flat panel cabinets.
2. Contemporary Flat-panel Cabinets For Every Kitchen
In every kitchen, the cabinets are the star of the show. Flat-panel cabinets provide a modern and sophisticated look that's sure to wow your guests. But how do you know which style is right for your kitchen? Here's what you need to know:
1. Wood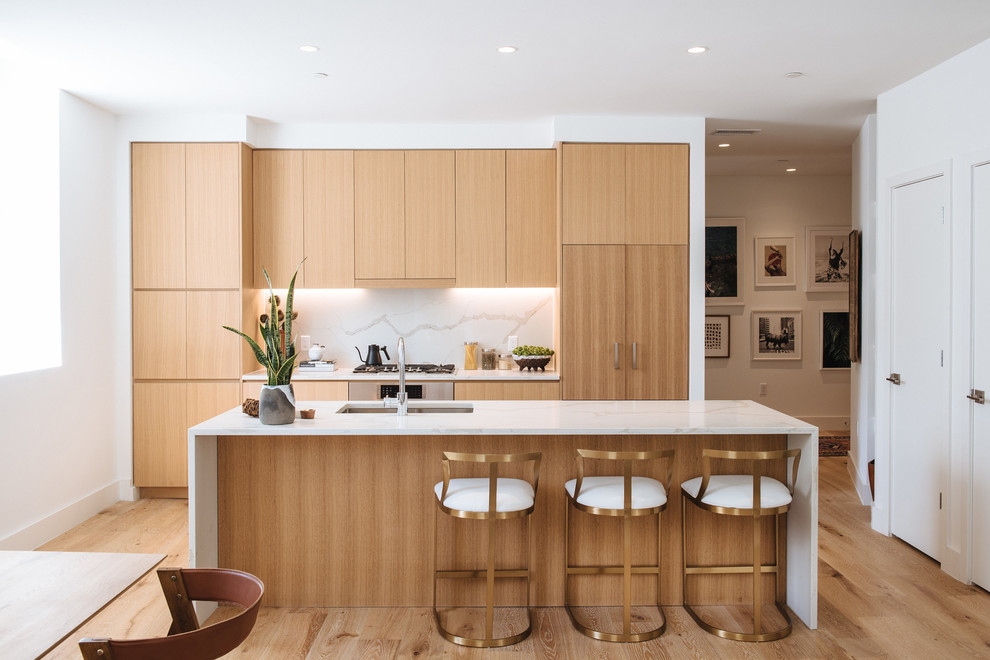 Choose from a variety of wood finishes such as cherry, maple, or oak. The type of wood you choose will depend on the look you're going for in your kitchen. You can also customize the cabinet with a painted finish for an updated look. A hardwood finish will also add an element of luxury to your kitchen. Check out Naturals Primo for custom cabinetry with high-end woods, and trending door styles.
2. Paint
For a more contemporary look, select painted cabinets in any color you like. Homeowners complain that painted cabinets often show fingerprints and it can be difficult to clean them. To avoid this issue, use a high-gloss finish that will repel dust and dirt. Check out samples and finishes of glossy cabinets in our Euro Line and Bylder Line.
3. Metallic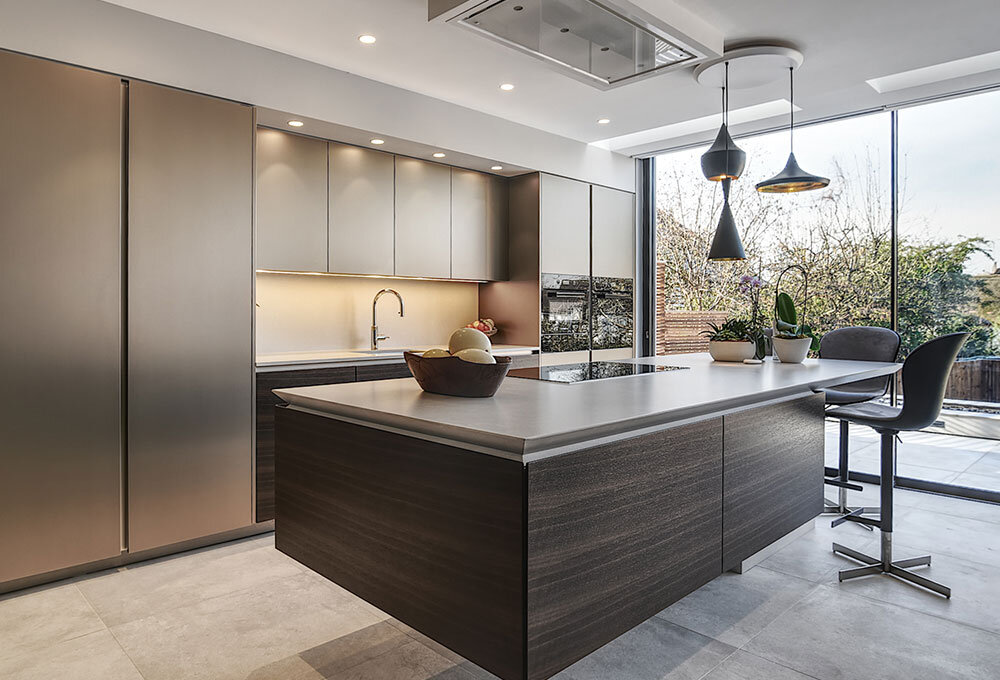 Metallic finishes offer a modern and industrial touch to any space – perfect for a contemporary kitchen. Click here for Metalic Slab Door Options for your kitchen!
4. Textures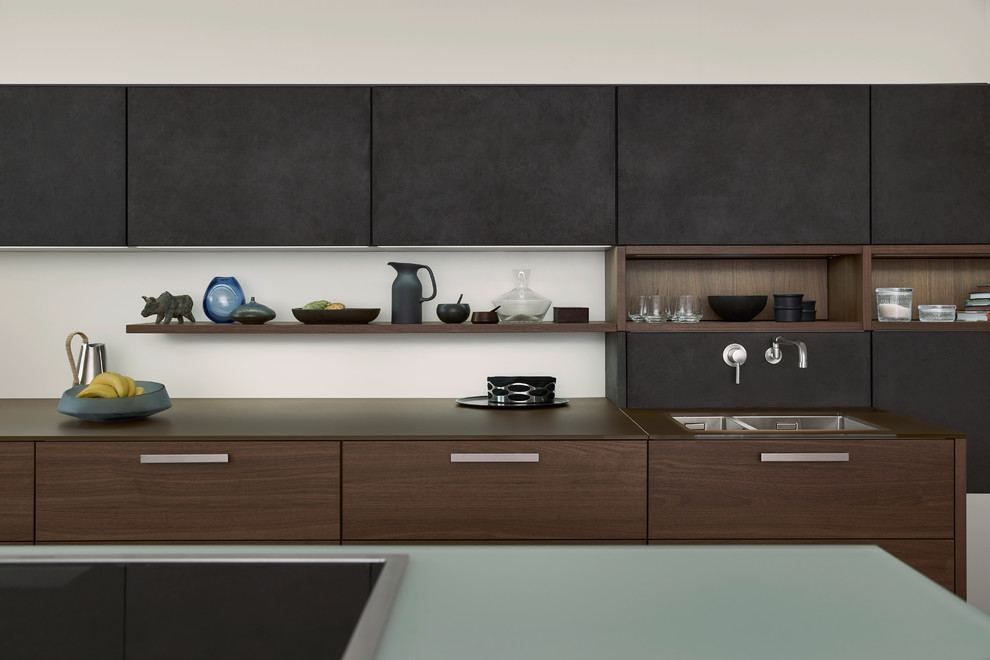 If you're looking to add a unique touch to your kitchen, opt for textured flat-panel cabinets with a variety of patterns. Our Euro Line has some exciting textured options that you won't find anywhere else. From stone to wood grains, there's something for everyone! Click here for your Textured Slab Door Options!
No matter what style you're looking for, there are plenty of options when it comes to contemporary flat-panel cabinets - from wood to metal, paint to textures – you're sure to find something that fits your vision and budget. Whether you're looking to make a bold statement or simply upgrade your kitchen, our selection of flat-panel cabinets is sure to elevate the look and feel of your space. Browse through our selection today and discover the perfect option for your home! Try out Mod Cabinetry Today!
3. Design Ideas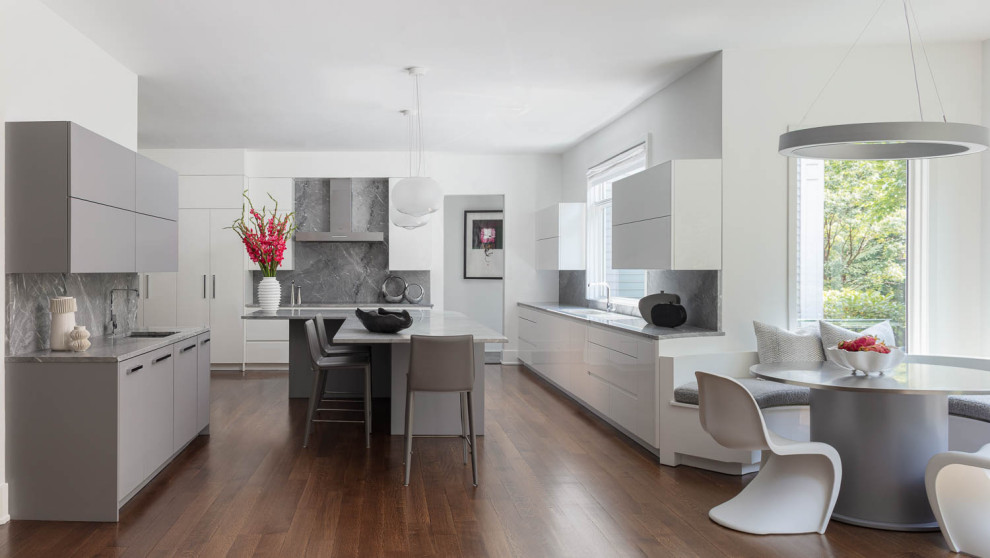 Slab cabinets require a minimalist approach to design, making them the perfect option for people who want to keep their kitchen decor clean and simple. But, cabinet style is not the only way to customize your kitchen. Get into these design ideas to add a unique and eye-catching touch to your space:
1. Custom Hardware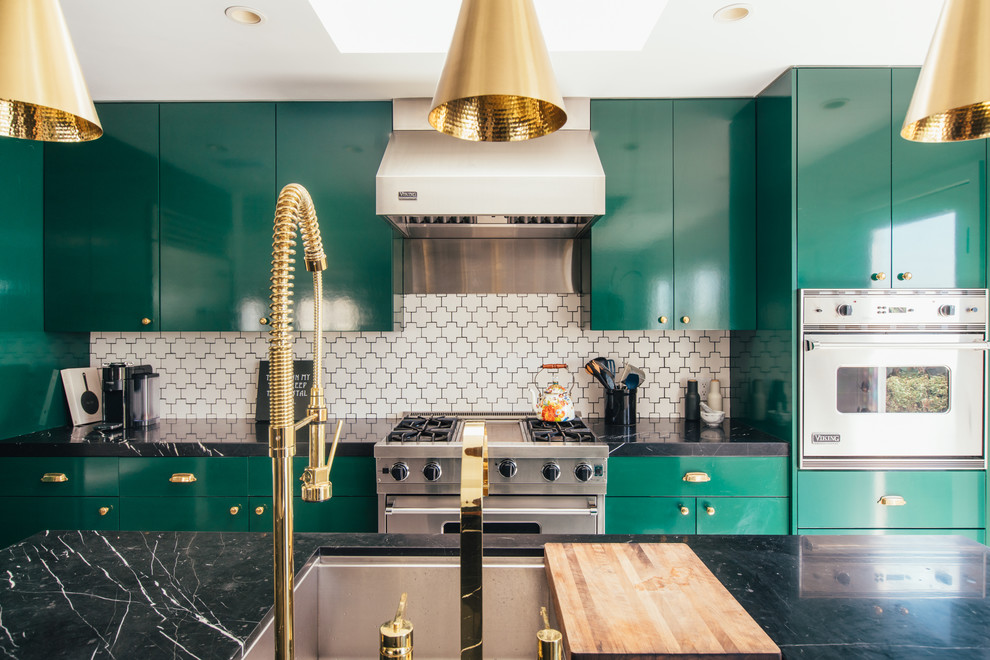 Choose hardware such as handles or knobs for that extra bit of flair. The flat appearance of slab kitchen cabinets makes them ideal for showcasing all kinds of hardware styles, from sleek and modern to vintage and classic.
2. Lighting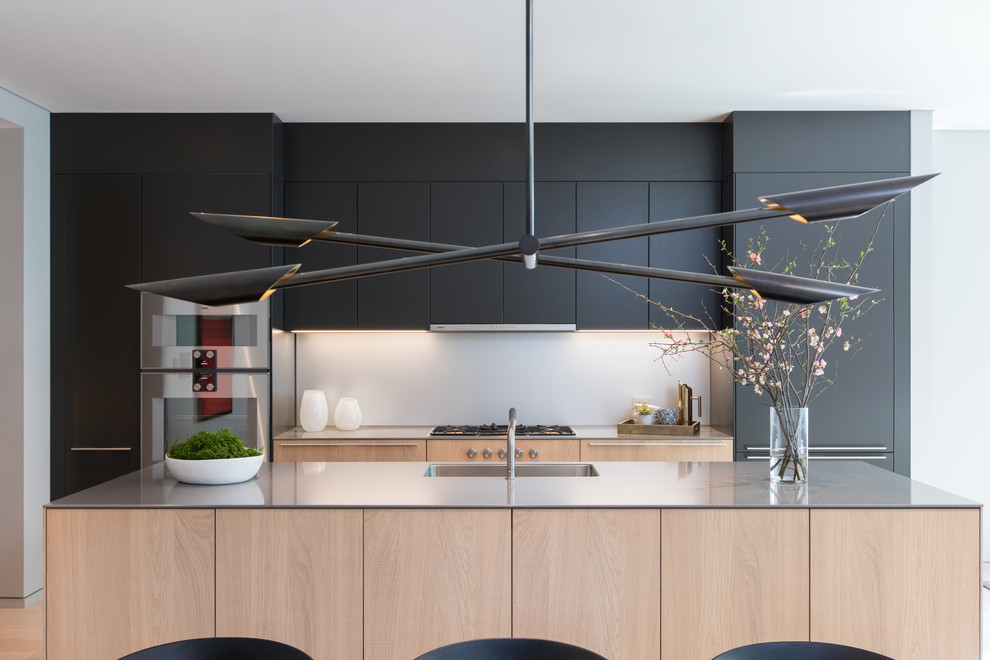 Brighten up the space with task lighting, under cabinet lights, or recessed lights for an extra boost of brightness. The overall smooth appearance of flat-panel cabinets provides an attractive and simplistic backdrop for beautiful lighting fixtures.
3. Countertops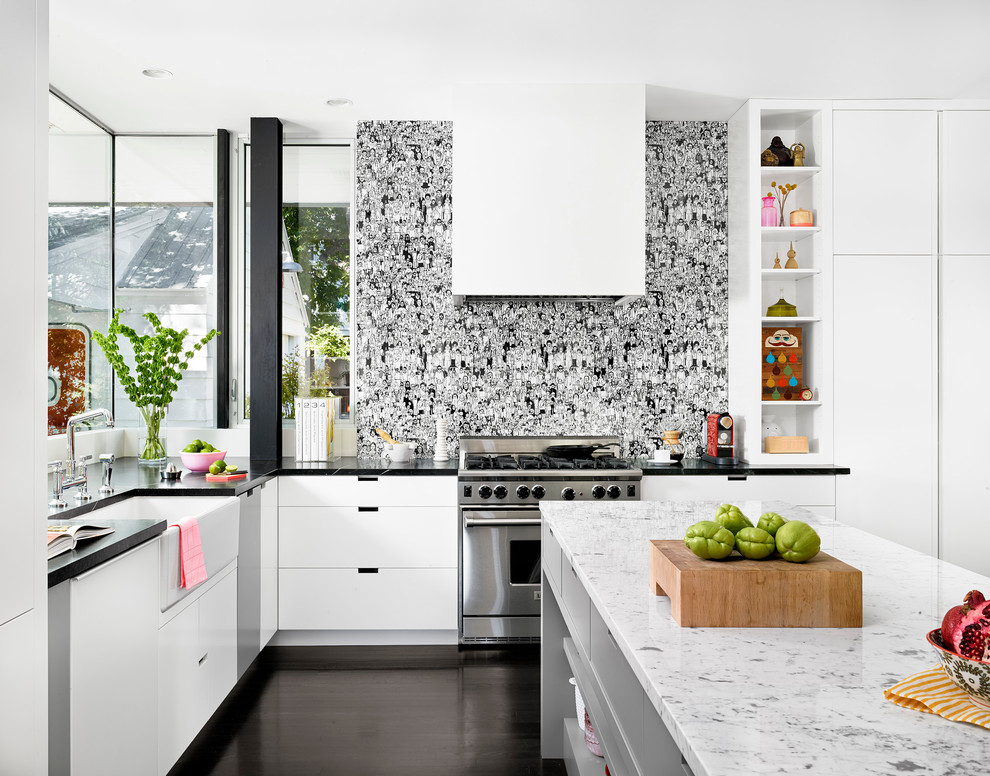 Elevate your kitchen design with a touch of uniqueness! From quartz to marble, wood, and more, choose your favorite materials to bring your vision to life. Create a stunning backdrop with seamless slab cabinet doors, showcasing your custom countertops in all their glory. Let your kitchen be an expression of your style!
4. Clutter-free Look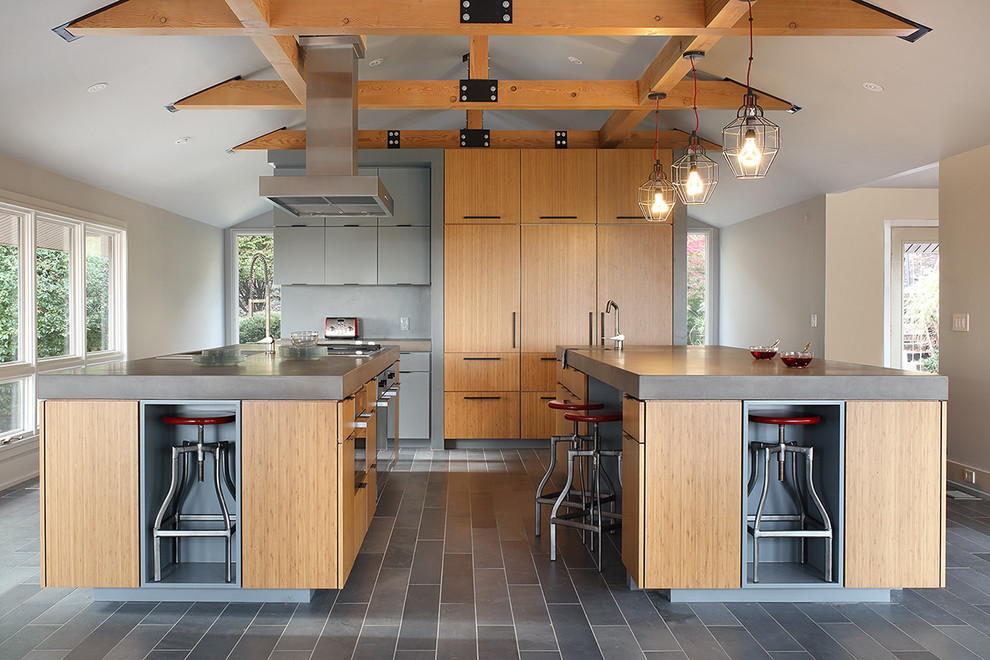 The overall design of flat-panel cabinets is meant to be sleek and clutter-free. With their minimalist look, they're perfect for keeping your kitchen organized and tidy without compromising on style. Choose deep drawers, shelves or hidden compartments to maximize storage without creating a cluttered appearance in your space.
5. Backsplash Options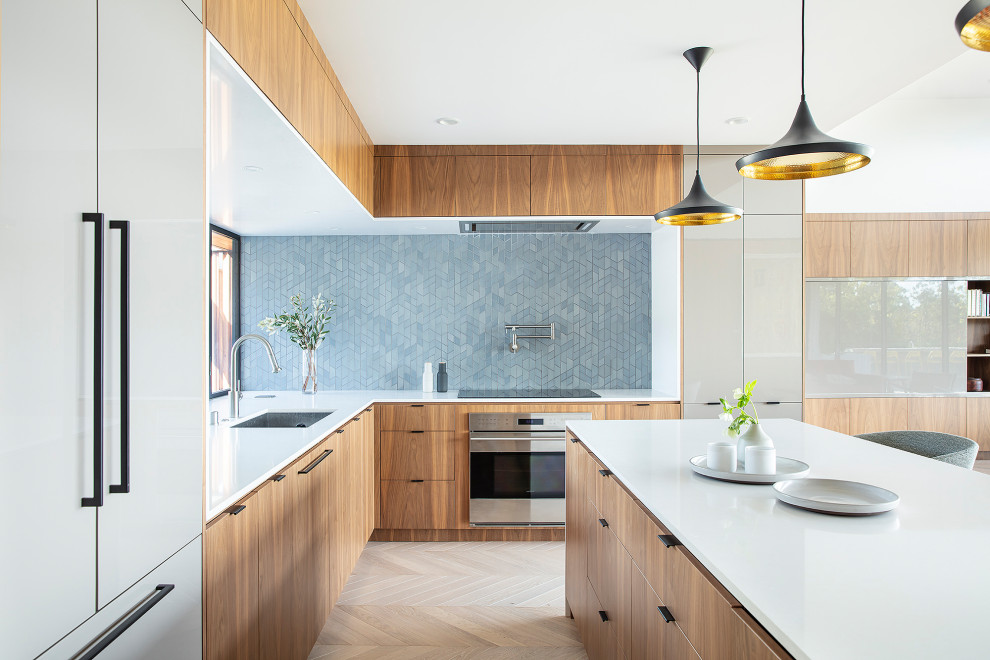 A white backsplash is a great way to enhance the look of modern slab cabinets. For an extra touch of style, opt for a black or marble backsplash with metallic accents. Various shades of backsplash tile can bring out the depth and texture of your cabinets, adding a unique element to your kitchen. Read "Kitchen With Backsplash: Add Color, Character & Pizazz to Your Space" for inspiration and ideas on how to transform your kitchen with a beautiful backsplash.
6. Wooden Slab Cabinets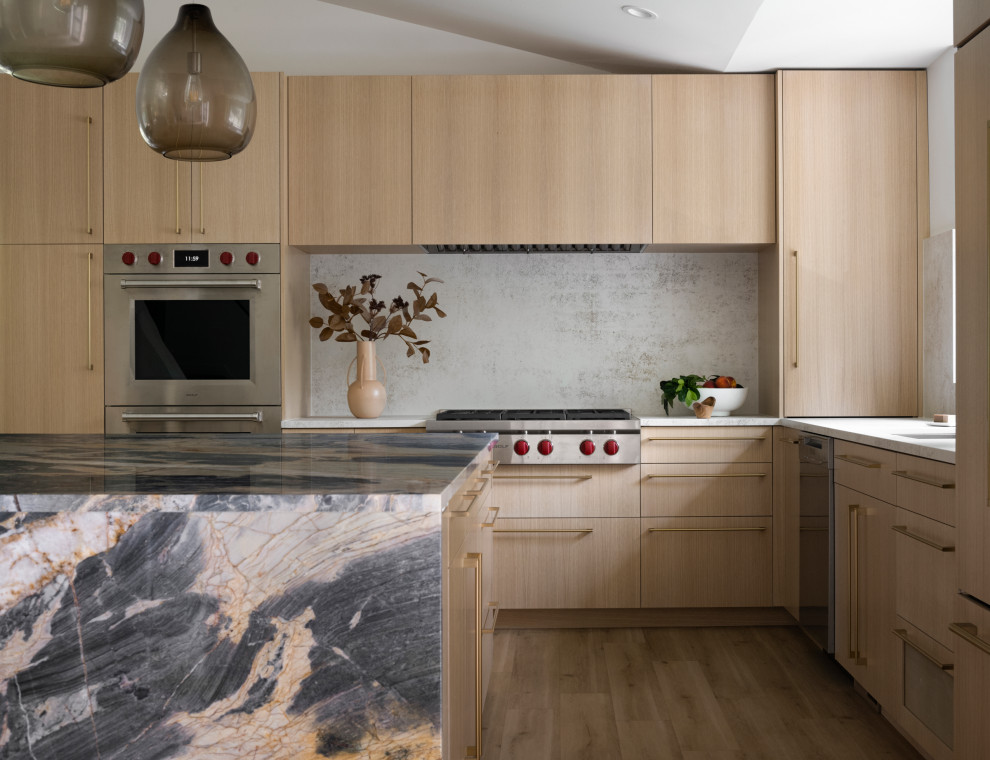 A kitchen cabinet made of wood adds warmth and texture to the space. Choose a natural or painted finish for that rustic charm or go for bright colors for an eye-catching touch. Wood species such as cherry, walnut, and oak are perfect for creating a timeless look.
7. Glass Windows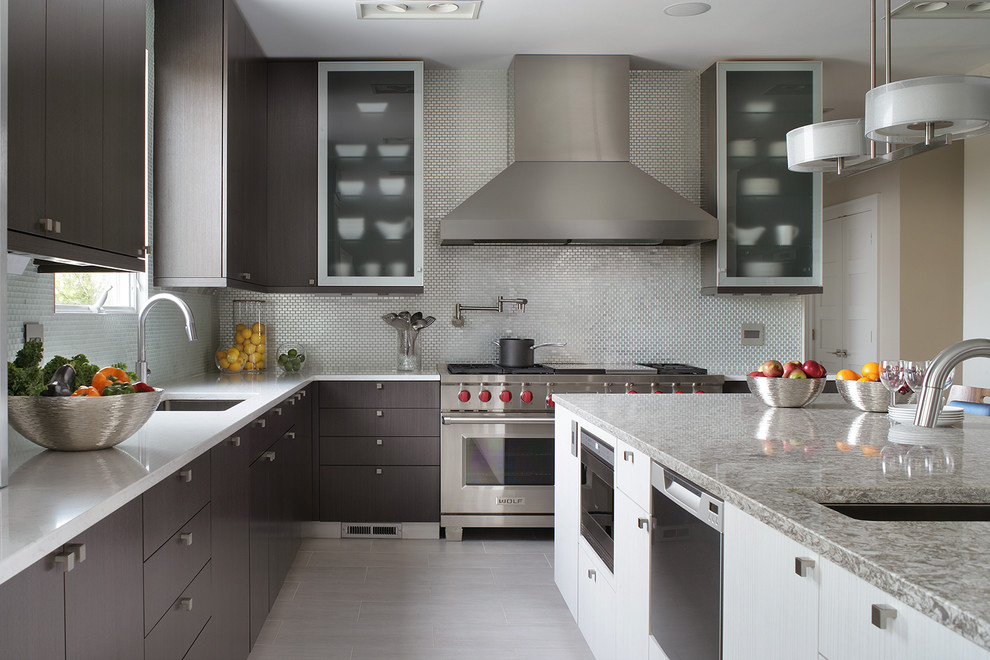 Your space can be further enhanced with the addition of glass windows in your cabinets. From stained glass to frosted and patterned, choose from a variety of glass options for an extra dose of elegance. This modern twist on classic kitchen cabinetry is sure to make a statement!
8. Seamless Appliances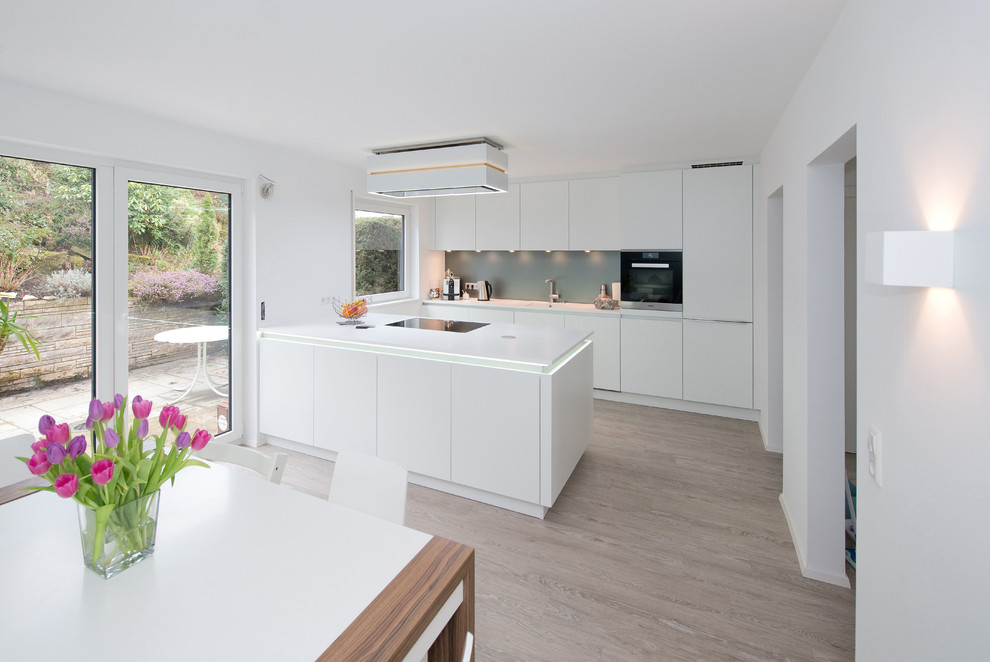 Complete the look of your slab cabinets with seamless appliances. From ovens and cooktops to refrigerators and dishwashers, choose from a variety of modern appliances for an integrated kitchen design. Sleek and contemporary appliances can add a touch of sophistication without compromising on functionality or style!
Kitchen designs can be customized in so many ways with flat-panel cabinets. Whether you're going for a modern, classic or eclectic look, there are plenty of ways to make your kitchen stand out from the rest. Explore our selection of contemporary flat-panel cabinets today and find the perfect fit for your home! Make sure to bring your vision into reality with some of these design ideas.
4. Customer FAQs
If you are considering contemporary flat panel kitchen cabinets for your next kitchen project, here are answers to some frequently asked questions we receive from customers.
1. How can you tell low-end slab cabinets from high-quality cabinetry?
You'll find that high-quality flat-panel cabinets are usually made from solid wood, while low-quality ones are often constructed from particle board or vinyl. The high-quality cabinets also boast superior craftsmanship and durability. So, when you get your cabinets from Mod Cabinetry you can rest assured.
2. What are other cabinet door styles for a contemporary kitchen?
In addition to slab cabinets, another option for a contemporary kitchen design is shaker-style cabinets. Shaker cabinets feature a simple and sleek look that complements the modern aesthetic of your kitchen. They are also versatile enough to work in traditional as well as transitional designs. Transform your kitchen with the sleek and contemporary appeal with door style shaker. Check out The Mod Sample Shop for options that will fit the style you're looking for!
3. Are mid-century modern designs suitable for flat-panel cabinets?
Yes, mid-century modern designs are an excellent choice for contemporary flat-panel cabinets. These bold and simplified cabinet styles bring out the best in a mid-century modern kitchen design. Select solid wooden materials to achieve that authentic MCM look.
5. Pricing. What is the Cost of Contemporary Flat Panel Kitchen Cabinets
This is a question that many homeowners ask themselves when they are considering a kitchen remodel. The cost of designing a new kitchen can vary depending on the size of the kitchen and the materials used. The best way to get an idea of the cost is to get an estimate for your cabinetry.
Mod Cabinetry is the leading supplier of modern and contemporary kitchen cabinets. We offer free estimates for your contemporary flat panel kitchen cabinets and high-quality cabinetry at an affordable price, with shipping to your home anywhere in the continental United States.
Want firm pricing and a firm layout? Our team will help you design your dream kitchen by providing expert advice on cabinet layout, storage solutions, and finishes that match your style. We can even modify or customize cabinets if you want something unique!
Get Started with Mod Cabinetry Today!